Even though number of shelling at Ukrainian position in comparison with yesterday slightly decreased, Ukraine suffers casualties. Security Service blocked adversary's communication channel on government-controlled territories.
Kyiv, May 19, 2016. Two Ukrainian servicemen died in combat in the ATO zone yesterday and two were wounded. Militants shelled Ukrainian troops' positions nine times in the Mariupol sector, using heavy armor four times. "For instance, occupants opened fire from 152-mm cannons near Novomykhailivka. Militants' mortar attacks took place in Krasnohorivka and Pavlopil. Hostile snipers were active in Novotroitske," said the spokesman of the Presidential Administration on ATO related issues Colonel Oleksandr Motuzyanyk at a press briefing at Ukraine Crisis Media Center.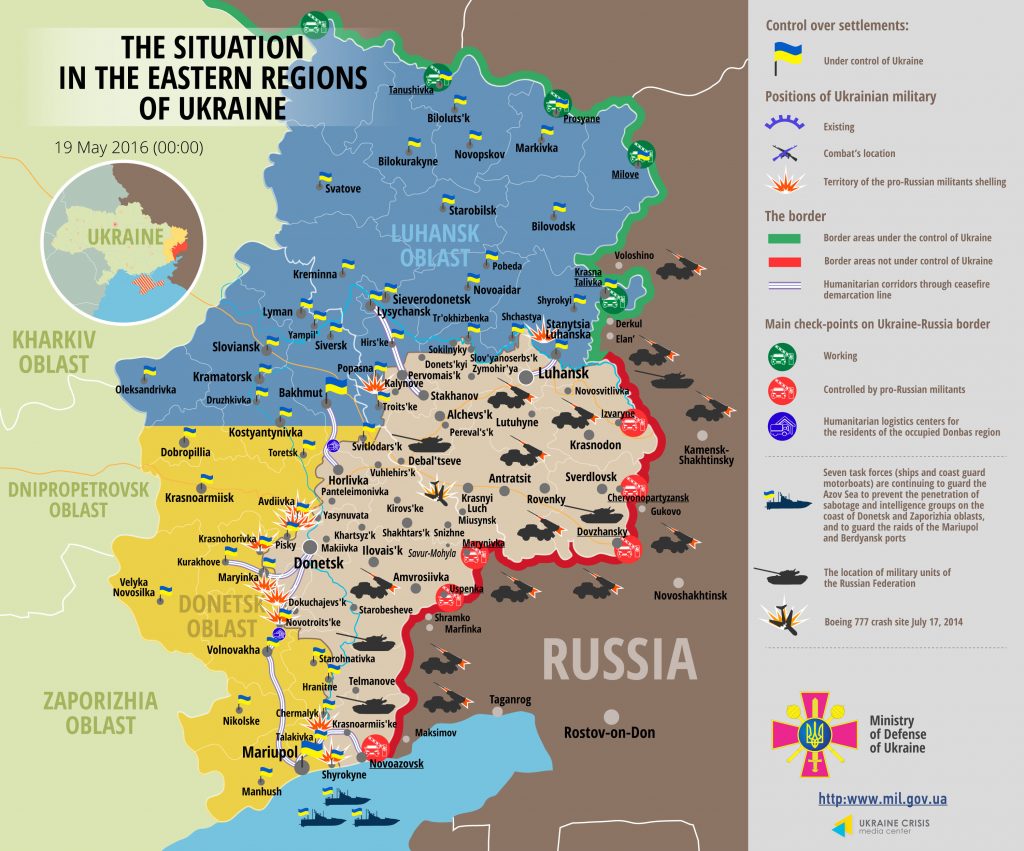 Russia-backed militant groups violated the ceasefire four times in the vicinity of Donetsk in the Donetsk sector. "For instance, exchange of fire between occupants and the Armed Forces of Ukraine near Avdiivka in the evening lasted for 1.5 hours. Mortar shelling took place at "Putylivska coal mine" position, also known as "Butivka-Donetska coal mine". 15 mortar shells were launched," said Col. Motuzyanyk. Militants conducted four attacks in the Luhansk sector – in Stanytsia-Luhanskyi and Popasna districts.
According to Col. Motuzyanyk, a civilian died in Pavlopil, Volnovakha district in Donetsk region, as a result of an accident. "A tractor with two men inside tripped an explosive device. One man died on the spot, another one is at hospital," said the spokesman. He added it was the fifth case this year.
Law enforcement staff in Zaporizhzhia found and blocked militants' communication channel. "Police investigators seized 42 software systems, computer equipment and large number of SIM cards used for militants' actions coordination," said Col. Motuzyanyk. He explained that an inhabitant of Crimea turned out to be the channel organizer. He was administering the telecommunication software together with two inhabitants of Zaporizhzhia to disguise international traffic as voice calls by Ukrainian providers.
The spokesman said that Severodonetsk town court convicted a militant to nine years in prison. He was a member of Russia-backed militant group preparing a subversive attack in the town on August 24, 2014. "The terrorist act was prevented by servicemen and officers of the Security Service of Ukraine (SBU) who entered a battle with militants, destroying one of them and detaining the rest," reminded Col. Motuzyanyk. According to him, the group consisted of nine people. Grenade launchers, "Shmel" flame projectors, F-1 and RGD-5 grenades, small arms, explosives and Russian army field rations were found in their weaponry after detention of the militants. At the same time, an inhabitant of Popasna district in Luhansk region, former militant of "Prizrak" militant group, joined the SBU program "You are waited for at home".