Kyiv, July 6, 2016. Hostilities intensified in the Donetsk sector in Mayorsk-Zaitseve frontline area. Militants keep heavy armor in residential quarters, namely in south part of Zaitseve and the settlement of 6-7 coal mine (Mykytivskyi district in Horlivka), where 82-mm and 120-mm mortar batteries were deployed. "Yesterday was the first time in many days when occupants used Grad-P multiple rocket launcher systems also known as "Partizan". It happened late at night near Mayorsk where the enemy launched missiles twice,"said the spokesman of the Presidential Administration on ATO related issues Colonel Andriy Lysenko at a press briefing at Ukraine Crisis Media Center.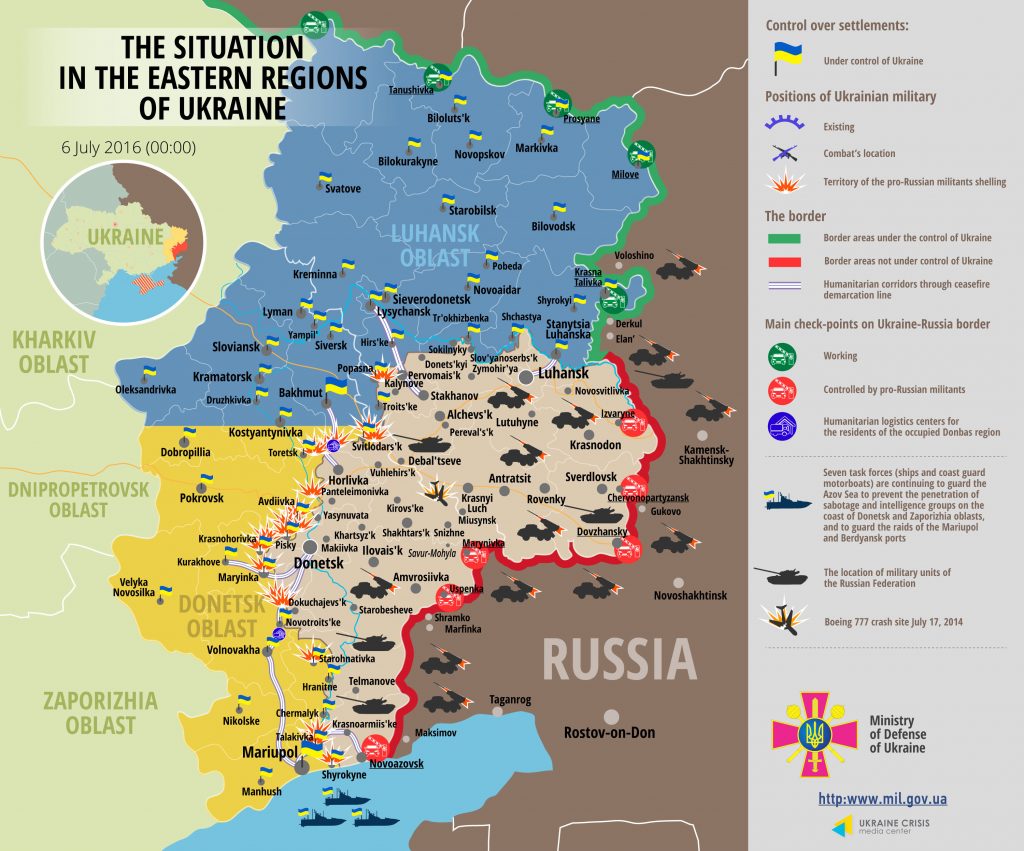 The situation remains comparatively calm at the Svitlodarsk bulge, where militants violated the ceasefire only several times during the day and used hardly any heavy armor. "Evidently, the ceasefire results from replacement of the commander of enemy's so-called "7th brigade". It should be reminded that the former chief of the Russian occupational subdivision, colonel of Armed Forces of the Russian Federation Aleksandr Bushuev died several days ago," added the spokesman. Active hostilities continue in Avdiivka industrial area. Militants repeatedly shot from mortar launchers at Ukrainian troops during the day. The attacks were conducted from the east, Yasynuvata-Yakovlivka area. Ukrainian troops instantly responded with fire in almost all the cases. "The situation is extremely restless in the vicinity of Donetsk airport. The enemy conducted three intense mortar attacks at Butivka coal mine stronghold before dawn. Almost at the same time the enemy used 122-mm cannons deployed in Staromykhailivka. Occupants were shooting at two spots at once, Krasnohorivka and Nevelske, launching 18 shells," said Col. Lysenko. In total, 29 militants' attacks took place in the Donetsk sector in the past 24 hours, 16 involved use of heavy armor.
Militants conducted three attacks in the Luhansk sector yesterday. Members of Russia-backed militant groups were active only in Popasna district near Novooleksandrivka village. Militants opened fire during the hours of darkness.
As previously reported by the military intelligence, militants strengthened their mortar artillery group near coastal area in the Mariupol sector. Russian proxies shelled Ukrainian troops' positions during the day using mortar launchers and 122-mm and 152-mm cannons. The situation was similar in the vicinity of Mariinka and Starohnativka where militants also used heavy armor. "Every artillery attack lasted from 10 to 50 minutes, in each case occupants launched 5-20 missiles. Enemy's mortar fire was even more intense: in total, over 175 mortar shells were launches at our positions in the Mariupol sector yesterday," said the spokesman.
Militants sporadically violated the ceasefire in other frontline areas. Firefight between ATO troops and militants who control Olenivka lasted about one hour in Berezove. "It was the only armed incident in the Mariupol sector from 11.30 a.m. to 7.30 p.m. In total, 29 hostile attacks took place in the Mariupol sector yesterday, 19 of them involved use of heavy armor.
Two Ukrainian troops died in combat yesterday and 10 were wounded.
Militants incurred losses of eight people dead and nine wounded from so-called "3rd bridage" (Horlivka), "11th regiment" (Makiivka), "9th regiment (Novoazovsk) and separate reconnaissance battalion (Donetsk). "So-called "9th regiment" of Russian occupational army incurred the biggest losses. Being strongly impressed by removal of five corpses and evacuation of four heavily wounded "colleagues", eight recruits of the "regiment" deserted the forwards positions and stated their unwillingness to fight," said the spokesman.
According to the Chief Intelligence Directorate of the Ministry of Defense of Ukraine, another batch arrived from Russia to strengthen militants' positions. Three trucks and refueling vehicles came to Krasnodon; eight trucks, four MTLB, four tanks with diesel fuel (200 tons), three railroad cars with foodstuffs and four railroad cars with ammunition (160 tons) arrived at Khartsyzk; six fuel tanks with diesel came to Donetsk, 15 T-72 tanks and 15 unmanned aerial vehicles came to Ilovaisk. Six fuel tanks carrying diesel arrived at Kvashyne.
Ukrainian military engineers rendered safe 451 explosive devices in the near front area. In total, from the beginning of ATO military engineering subdivisions defused 116 782 explosive hazards and cleared over 600 km of roads, 17 km of railways and 105 houses and other objects. Ukrainian troops are setting mine threat signs to save people's lives.