Violations are centred in one triangle in Donetsk region, yet the OSCE SMM reports full silences that started recently.
Kyiv, September 16, 2016. Since 17:00 the previous day, the OSCE Special Monitoring Mission has not registered any ceasefire violations in the east of Ukraine. "All our 14 locations in Donetsk and Luhansk regions have reported that last night was calm. The last ceasefire violation was recorded at 16:50 yesterday afternoon in the Yasynuvata/Avdiivka area. From Stanytsia Luhanska, all the way down to Shyrokyne, no explosion, or even a shot, has been recorded since then. This is quite remarkable and encouraging," said Alexander Hug, First Deputy Chief Monitor of the OSCE Special Monitoring Mission (SMM) to Ukraine, at a press briefing in Ukraine Crisis Media Center.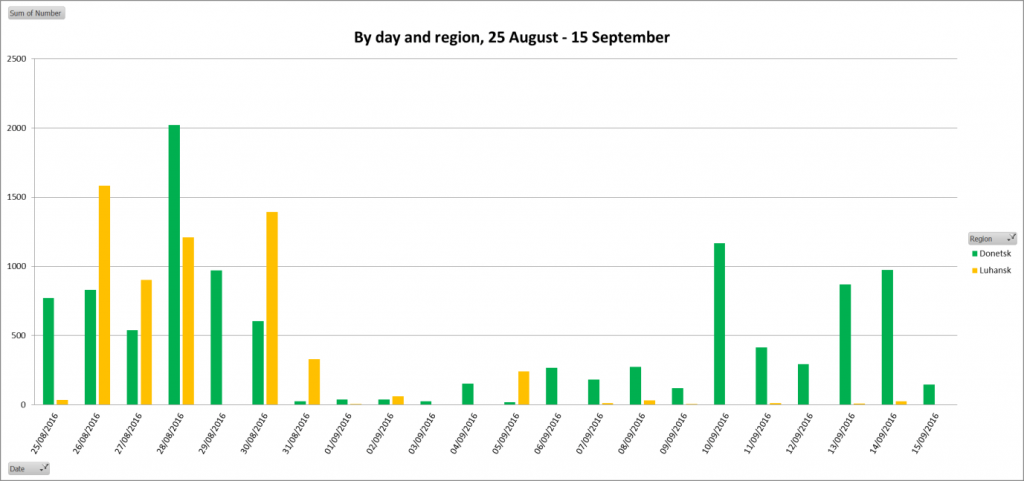 According to Mr. Hug, this cessation of violence over the past twenty hours follows a generally lower level of violence since the start of the new school year on 1 September. The situation has been particularly positive in Luhansk region. "Some days we recorded no ceasefire violations across the entire region," he noted.
In Donetsk region, most of the violence has been concentrated in the Yasynuvata-Avdiivka-Donetsk airport triangle. Mr. Hug said that nearly three quarters of the region's total number of ceasefire violations last week occurred in that area. One of the most tensed days was September 10, when the SMM recorded at least 386 mortar explosions there. "The biggest spike in violence came on Tuesday night. In Donetsk region, we recorded approximately 670 explosions: from Horlivka controlled by the self-proclaimed 'Donetsk People's Republic' ('DPR'), our monitors recorded 128 explosions; from government-controlled Bakhmut (formerly Artemivsk), 58 explosions", said Mr. Hug. The monitors have also recorded approximately 140 explosions from government-controlled Svitlodarsk and approximately 200 explosions from Donetsk city centre. From Shyrokyne, the SMM camera recorded 20 explosions.
Alexander Hug emphasized that the siders are still positioned dangerously close to one another and prohibited weapons are still not withdrawn from the security zone. "Every day, our monitors see them in the security zone – artillery pieces, mortars and sometimes even multiple launch rocket systems. The sides have also failed to carry through on their commitments on mine action," said the First Deputy Chief Monitor. Mr. Hug added that the sides are also still not granting the SMM free and unfettered access, particularly in areas the not controlled by the Government.
"The risk factors remain, and the sides urgently need to address them. They must disengage, withdraw weapons and allow SMM freedom-of-movement. […] I call on the sides to seize this momentum and take action to make the ceasefire sustainable and prepare other steps needed for normalization," said Alexander Hug.