Last month UCMC launched a project "Listen to Ukraine", every week we invite a young music initiative for an interview and a short performance. Here we present you a monthly overview of the artists we hosted in October.
Los Colorados: the sound of Ukrainian soul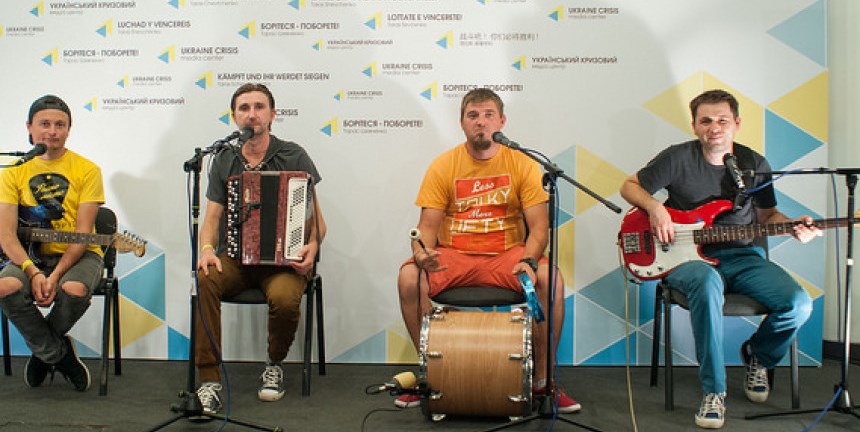 Evening broadcasting on an ordinary day in ordinary 2008 on Ternopil television was not meant to differ from all the previous days: a local quartet performed covers of famous songs in front of the camera. However, the unusual sounding of Katy Perry's song Hot N Cold brought attracted than 4 million views on YouTube to the four guys united under name Los Colorados. The songs of Ruslan Prystupa (vocals and accordion), Rostyslav Fuk (guitar), Serhiy Masyk (bass) and Oleg Petryshyn (drums) in the genre of "agro-alco-pop" spread not only around Ukraine but around the world. Over time, a German label Motor Music noticed the group and offered a contract for an album. Then a former studio employee, English teacher, mechanical engineer and geography teacher changed "alcohol" to green tea and set off for Germany to record an album.
It all started back in 2006 with the same covers. A year later, in April 2007, Los Colorados gave their first concert. This date is considered the "starting point." In addition to a recorded album, the German period culminated in a concert in Berlin at the Brandenburg Gate, and another cover – I Like To Move It – was the logo for the German channel ZDF during Euro 2012 matches.
After returning from Germany, the band paid another visit to Ternopil television: the same studio and setting, the same composition, but this time a cover of Rammstein Du Hast and more than 3.6 million views.
According to the musicians, the glory does not affect them: everyone who wanted autographs received those 10 years ago, and they do not give up their habits and lifestyle. Drink green tea and look for inspiration in Ukrainian music, including the works of Nazariy Yaremchuk and Vasyl Zinkevych.
Los Colorados have recorded two albums – Ukrainian and German, mostly covers – and now they are preparing the third to their 10th anniversary and constantly perform at festivals and concerts, commercial and charitable events, in support of Ukrainian military. According to Los Colorados, their work does not claim to uniqueness, they play what they like and try to attract audience by simplicity.
Romian: non-classical music from academic musicians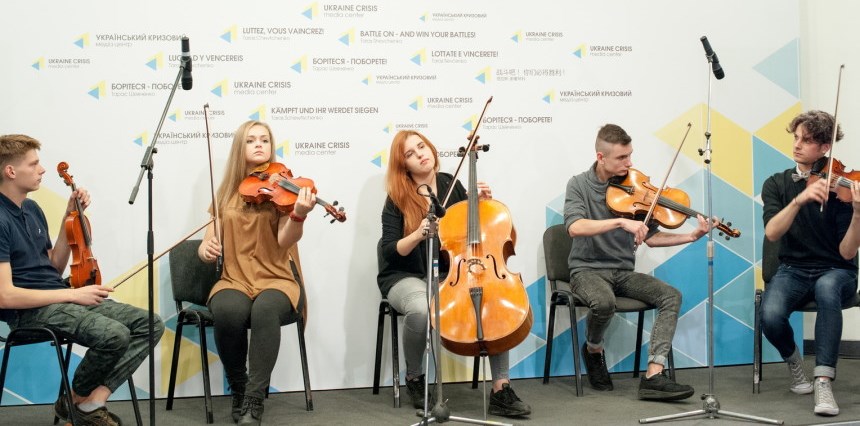 Quintet "The Romian" differs from other musicians, who can be found playing in the underground passages in Kyiv. Firstly, unlike most, they play in a group, not individually; secondly, their repertoire does not consist of classical music but covers of rock and pop performers; thirdly, the oldest of them is 20 and the youngest 16 years old.
Inspired by classical music and also Symphomania, Adele, Apocalyptica, The Romian (by the first letters of the founders' names – Rodion, Misha and Andriy) perform only covers so far because they are only eighteen months old. However, they do plan composing their own music.
The quintet consists of two violins (Mykhailo Bykov and Georgiy Moroz), two violas (Oleksandr Kanke and Vladyslav Osadchyi) and a cello (Tetiana Kravchenko). All of them except Mykhailo go to conservatory or music school. The group has made 20 covers already (System Of A Down, Nirvana, Sia, Jamala and others), they played many hours in underground passages, participated in corporate events, several concerts asnd held their first solo concert this summer.
Besides obvious benefits of playing in underground passages which help them to practice a lot, performing covers allows young musicians to improvise, to go beyond classical music and to overcome excitement before performances.
The Romian cover for "Radioactive" by Imagine Dragons.
ANAKARD: singers of free generation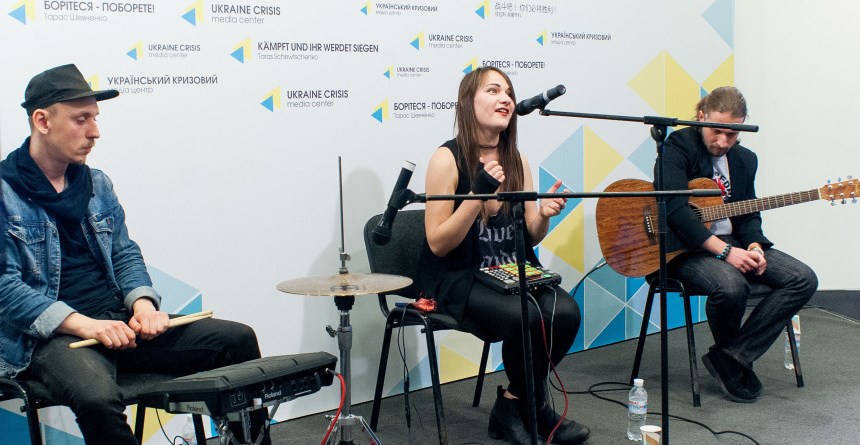 Even though ANAKARD is a recent initiative, you can hardly call them novices. Together, they have recorded one album (We Are Free, many songs tell the veiled stories about the events of 2013-2014 in Ukraine), and are preparing another one. This is just a new step in the work of vocalist Margo Gontar and her colleagues – drummer Juri Ryabchuk and guitarist Anton Korpan. Their music is an unusual mix of indie, synth-pop, hip-hop, electronic music and live instruments. For Margo, it's already the seventh group. She was both a guitarist and a vocalist. She tried her hand at post-hardcore, jazz, dubstep and other genres. Then she realized the need to move on her own.
Creating their project, the musicians wanted to fill a niche on the modern Ukrainian stage. Their group sounds uniquely; they express their thoughts and feelings; their music is in tune with the listeners. The spectrum of music that they find inspiration in is ranges from rock (Bring Me The Horizon, Red Hot Chili Peppers), to pop (Beyonce), and to hip-hop (Bones), and beyond.
ANAKARD recently released a new video for the song We Are Free. After its premiere the musicians more than once have heard the comparison of their visuals with "Games of Thrones" from the lips of independent commentators. The idea of the video was to show young Ukrainians as a young generation that will surrender their liberty to no one.
NastiaZnykaje: to create drive to live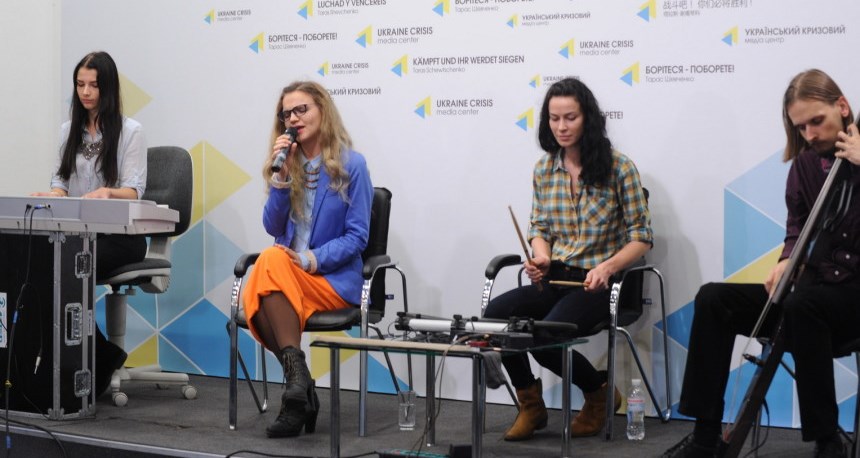 When you first see the name of the group NastiaZnykaje ('Nastia' is a female name, short version of 'Anastasia' and 'znykaje' means 'disappears' in Ukrainian), the most logical questions are 'Who is Nasitia?' and 'Where is she disappearing to?' As vocalist Anastasia Osypenko explains, her name was given to the once-solo project. Nastia is disappearing only in the name of the group, she doesn't actually disappear. Their music is driving and energetic, but at the same time it is melancholic soul. With their music the band wants to make their contribution and not disappear completely. After releasing their debut album, Nastia felt a willingness to create a group. Half a year ago Juri Shakalov (bass), Natalia Vovk (keyboards) and Olena Borychevska (drums) joined her.
Inspired by The Beatles, Amy Winehouse, Norah Jones, Miles Davis and John Coltrane, this year the young performers are preparing to release their first album together, but they do not reveal the details. Besides, they participated in such Ukrainian festivals as Land of Dreams, Fajne Misto, JazzKoktebel, and performed on stage in 10 Ukrainian cities and the Czech capital, city of Prague.
Nastia used to write music and lyrics alone, and after the band was created they began to compose music together as a group. It is hard work, joint and independent, that they put first to succeed. However, they emphasize that it is far not enough for promotion of the Ukrainian music. Musicians should be able to hand this part over to a professional producer and to focus solely on music.