Valeria Sochyvets is a Ukrainian film director, producer and co-founder of CUC – Contemporary Ukrainian Cinema organization that unites young Ukrainian film makers. Over the recent years young Ukrainian cinema gained large audience inside the country and numerous awards internationally. UCMC speaks to Valeria on how young film directors are making films with zero budgets, where their stories come from and how CUC is hunting young talents.
UCMC: When did CUC emerge? What are its current activities?
Valeria Sochyvets: After graduation everyone had their graduation films. These were the films that only our parents and close friends saw. They got good feedback at the defense session but were simply dying inside our computers after. I started collecting the films and taking them to various film clubs to show. We started getting invited to various small cities of Ukraine.    
CUC had its first impulse and emerged as a community at Gogolfest [Ukrainian contemporary art festival with a particularly strong theatrical program as well as with film, visual arts, literature sections – UCMC]. I was a film curator at the festival, I was offered to compile a program of Ukrainian films. There was not only me collecting these films, but also their authors, it was team work. The name CUC (СУК in Ukrainian) first appeared at Gogolfest in 2013 as the name of the program.
Later that year "Molodist" film festival took place with film directors Philip Sotnychenko, Nariman Aliev, Mykhailo Masloboyshchykov, Nikon Romanchenko, Novruz Hikmet participating in the event. It is probably then that we first felt the spirit of the community. There were many international students at the festival whom we communicated a lot with. By then we were already arranging film screenings in Kyiv as well as compiling Ukrainian film programs that I was screening in various places each month. Then in March 2015 we got officially registered and started working as a non-governmental organization.
We currently have the "Kinosereda" (Film Wednesday) project: each Wednesday at Art Prychal location in Kyiv Ukrainian movies are screened or meetings with filmmakers are organized. If we get requests from the regions of Ukraine we bring them something to see, if they have an opportunity we also bring them film directors. We keep filming and in 2017 we would like to release a short film program in cinemas.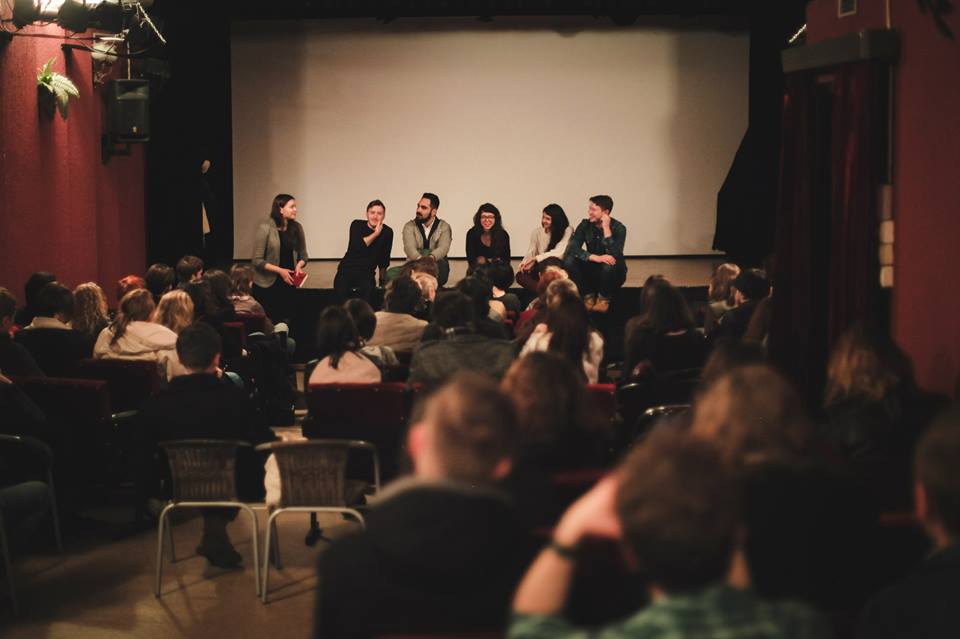 UCMC: Who are CUC members? How many active participants does the organization have?
V.S.: CUC unites filmmakers: film directors, actors, directors of photography, sound designers etc. There are also volunteers who are helping us with administrative tasks. Our film directing team at CUC includes Philip Sotnychenko, Nikon Romanchenko, Kateryna Gornostay, Novruz Hikmet, Mykhailo Masloboyshchykov, Yuriy Shylov, Anna Korzh, Antonio Lukich and others. There are also people who have many important functions and are active participants of CUC remaining "in the shadow". There are about 20 active participants.
UCMC: Could you please tell us about the competition and award "Zoloty SUK" (Golden CUC).
V.S.: Films that were nominated for the "Zoloty SUK" award [the organization's award – UCMC] were selected from all submissions by a selection committee that included film directors Nikon Romanchenko, Philip Sotnychenko and Kateryna Gornostay. These are awarded professionals. This year 250 applications were submitted for the "Zoloty SUK" award, they were short films and music videos. Representatives of Molodist and Odesa film festivals attended our screenings and they could select some new names for their events.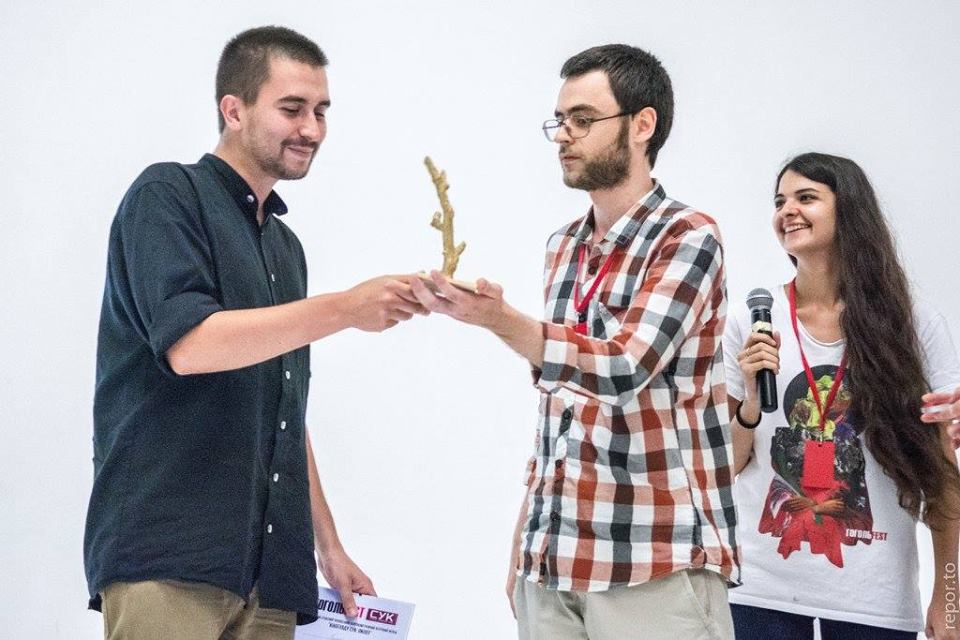 UCMC: The program of what festivals have you compiled with your colleagues?
V.S.: Gogolfest, Kyiv Comic Con, Intermezzo, Porto Franko Gogolfest, Wiz-Art, we were also making a separate program of Ukrainian films for "Molodist" film festival. We also organized a public discussion with film critics and film directors for the Odesa International Film Festival.
UCMC: Where do the funds for contemporary Ukrainian film production come from?
V.S.: Turns out that we have all graduated as film directors, but our work is like an expensive hobby. You have studied, you know how to do it properly but you cannot earn money with it. So we have to work somewhere else, look for clients to produce a musical video or an ad in order to be able to shoot a film –something that we would actually like to be doing, something that we do not know how to live without.
We were pitching Philip Sotnychenko's film "Technical break" ["Tehnichna pererva" in Ukrainian – UCMC] to the Ukrainian State Film Agency, it was getting bad marks by the expert commission. This time we were submitting the project for the third time. It was the last time when we would be eligible to submit it. If it had not passed that time, we would have probably filmed it ourselves. After we established and started presenting ourselves as CUC, the expert commission gave better marks to the script, although the script never changed. We have shot a film, it is currently at the editing and sound editing stage. I will be filming my debut film and it will be financed by the Ukrainian State Film Agency. Nikon Romanchenko and Mykhailo Masloboyshchikov will be also filming their director's debuts financed by the state agency.
Our previous films are student works. We are very happy, we need not limit ourselves now. We usually film in the following way: "Oh, mate, I got an idea, I need your camera so much, just for a day, please". It sometimes happens that your director of photography has filmed several scenes with you, but at the moment when you need him, he is shooting a TV series and gets paid, so that job is more attractive to him. Then we are calling our film directors and say: "Philip, Nikon, could you please film it for me". Film directors have good vision so that they can film well.
Once we needed a pretrial detention center as a location for the "Son" ["Syn" in Ukrainian – UCMC] film by Philip Sotnychenko, it was provided to us at a police station in Podil district of Kyiv. We are writing official letters explaining that it is not for commercial films but for the films that will be representing Ukraine at international festivals. When we just started filming using the state money we were saying: "Oh, no, it is probably easier to film without money". It seemed easier, than to file a pile of documents. No cash is used and you need to have all the contracts. Yes, it's true, majority of the films that we produced over the last years (2013-2016) we shot by helping each other as professionals.
UCMC: In your opinion, what financial scheme could best stimulate and support the development of Ukrainian cinema?
V.S.: Competition-based financing that the Ukrainian State Film Agency offers is good but it is not enough. I guess there need to be private funds and investors. In our team we were discussing the need to deposit a certain sum monthly. In case anyone of us needs the money, for example, for tickets to go to a festival, we will be able to send them. There are several (private) funds that cover the flight cost when it's needed for example, to get someone to a festival. These are "Open Ukraine" Arseniy Yatsenyuk's Foundation and Igor Iankovskyi Foundation, before there was the Rinat Akmetov Foundation that was also financing film production. There are also grants disbursed by the President's Office in which scripts compete.
UCMC: What are CUC's international activities, how Ukrainian cinema is perceived abroad?
V.S.: Last year together with the "Son" film of Philip Sotnychenko we got to the Clermont-Ferrand International Short Film Festival, it is a class "A" festival. It has a very big film market. There is a possibility to sell a short film to TV channels, for example to Canal+. I think young film directors have to try and visit film markets, other film festival selectors are also attending these events. For now Ukrainian national stand is presented at Berlinale and at Cannes. However, for example, at Cannes it is like a huge ocean and it is quite unlikely that a stand with Ukrainian films will get the attention for long. I think the policy that Ukraine has as to where Ukrainian stands are is not quite right. They are much more needed at small festivals, for example, there is no Ukrainian stand in Clermont although at least one Ukrainian film is being selected to each festival's edition over the past five years. This year there have been two screenings of Ukrainian films at the Cannes film market. Igor Iankovskyi Foundation helped financially to have them organized.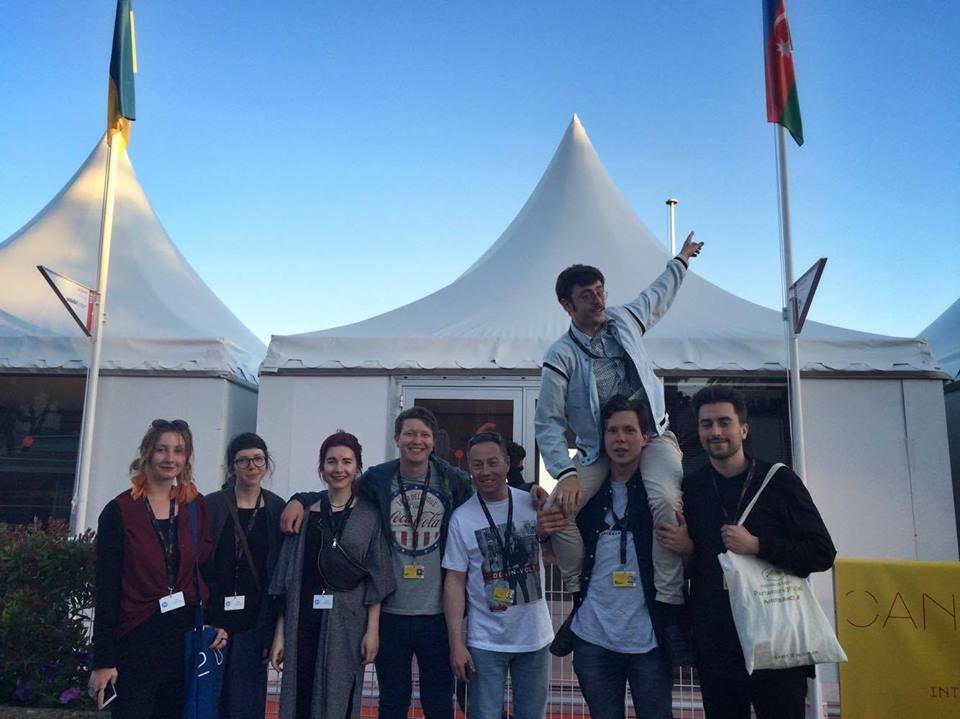 I think there are festivals that would be more useful to Ukrainian cinema. For example, the Fribourg International Film Festival (Switzerland) is targeting the countries in which the film industry is under-developed. You would not see there the films produced in Germany, France or even Romania. Ukraine was the only European country present. Last year Philip Sotnychenko was presenting Ukraine, a year earlier it was me. There are also festivals with focus on Eastern Europe. Ukraine needs to be submitting films there more actively. They are supporting film scripts, they have funding tools and interest to finance Eastern European projects.
Young film directors should not be sitting at home, they should be constantly active. You sit at home and think: I am the most genius and talented, when would anyone finally need me? It is not going to work until you come and present yourself.
UCMC: How are Ukrainian films perceived abroad? Are they easy-to-understand?
V.S.: Some are and some are not. I realize that for example I would not see the film "Blood Sausage" ["Krovyanka" in Ukrainian – UCMC] in the selection at Clermont-Ferrand (film by Arkadiy Nepytalyuk, winner of the national competition at Molodist International Film Festival 2016 – UCMC). International audience does not get it at all, all the funny scenes are for the Ukrainian audience only. I would though see Nariman Aliyev's film "Sensiz" (Without You) there. For some reason festivals are reluctant to take Yuriy Shylov's "Panorama" film. When the film was screened in Poland everyone was laughing a lot, especially at some swear words that are similar to Ukrainian ones. It was well perceived also because they understood the language.
Festivals are often not interested in the genre films or films crafted to audience's tastes, they are more interested in the films that show suffering and draw on socially important themes. If you want to get selected to Cannes or Berlin you need to create something brand new, experimental or to find a new film language.
UCMC: New Ukrainian cinema is different from the films that were shot before, particularly the way the story is told is different. What is this new language of the Ukrainian cinema?
V.S.: Turning on the TV and seeing a film we may immediately identify it as for example a French film, judging by its filming manner or colors. I guess there is a common trait that is emerging in the Ukrainian cinema. I do not know what it is like though. One common feature I see is that those films are the ones where everyone is suffering, even though they are funny. It is probably something that is with our people and in our lives now. We cannot actually say that we are witnessing the New Ukrainian Wave but I think it will emerge soon.
UCMC: Do you ask each other for professional advice?
V.S.: We have closed meetings where one may read their script or show their rough cut. The colleagues will listen and say what they think. We say that the film is born at editing stage, as by changing the sequence of frames, you may change the film's dramatic composition. With my film "Blood" ["Krov" in Ukrainian – UCMC] I showed one option, than another one, film director Dmytro Sukholytky-Sobchuk was long arguing with me. Such meetings are very useful. Afterwards you feel anxious to get to the computer and try whether the suggestions will work or not, it is a good push forward.
UCMC: Majority of recent Ukrainian films have topical plots. Where do the stories of your films come from?
V.S.: Many films do not have a separate scriptwriter. Often the film director is the one who writes the script. Most often the plot becomes a story that the film director saw, lived through or heard somewhere and added something personal to it. We are trying to work with scriptwriters, we are reading their scripts but we often feel that these scripts are "not ours". I also tried to do so, you work out an idea and the context, and then pass it to the scriptwriter. When you get your script back you read it and realize that it's not yours – my character does not talk like that, I was not thinking like that. You are choosing the people into your team who understand you to the extent when you may not even need to talk. Your team understands you from the first word. The film director is the one who inspires the team and sets the mood for joint work. It's a team work in the end.
Valeria Sochyvets was born in Kyiv in 1992. She studied film direction at the Kyiv Ivan Karpenko-Kary National University of Theatre, Film and Television. As a student Valeria directed two short feature films "Krov" and "Analgesia". She is currently directing her debut film. Sochyvets is co-founder and president of the CUC (Contemporary Ukrainian Cinema) – a formalized group that unites young Ukrainian filmmakers.
UCMC has collected for you some of the trailers (subtitled in English) to films of the actual or former CUC team members. Enjoy!
"Blood" by Valeria Sochyvets

Blood (trailer) from Valeri Sochyvets on Vimeo.
"Son" by Philip Sotnychenko
"Away" by Kateryna Gornostay
"Golden Love" by Pavlo Ostrikov
"Without You" by Nariman Aliyev
 More information on CUC activities is available from their Facebook page.