Donetsk and Mariupol sectors remain hotspots in the combat zone. The area near Avdiivka and that between Pavlopil and Shyrokyne are sites of most intense hostile attacks. Ukrainian troops incurred no lethal casualties and 16 servicemen were wounded.
In the combat zone, namely in the Donetsk sector violence keeps escalating near Avdiivka. Yesterday combat actions in this area lasted about 14 hours. Russia-backed militants started attacks in the morning and did not cease them until late evening. It was reported by Colonel Andriy Lysenko, spokesperson of the Ministry of Defense of Ukraine on ATO-related issues at a press-briefing at Ukraine Crisis Media Center. About 150 mines and several dozens of artillery shells were launched, as well as the shells launched from tank-mounted weapons. Snipers were spotted at the frontline on the militant side. Ukrainian troops are intensely returning fire. Militant groups were mostly firing upon Avdiivka from its eastern side (Yasynuvata), however there were also militant attacks registered from the southern (Spartak) and south-eastern sides (Mineralne). "Tense situation was also observed yesterday to the left of Avdiivka's industrial zone. Occupants made two attacks from mortars and tanks near Kamyanka," Colonel Lysenko added.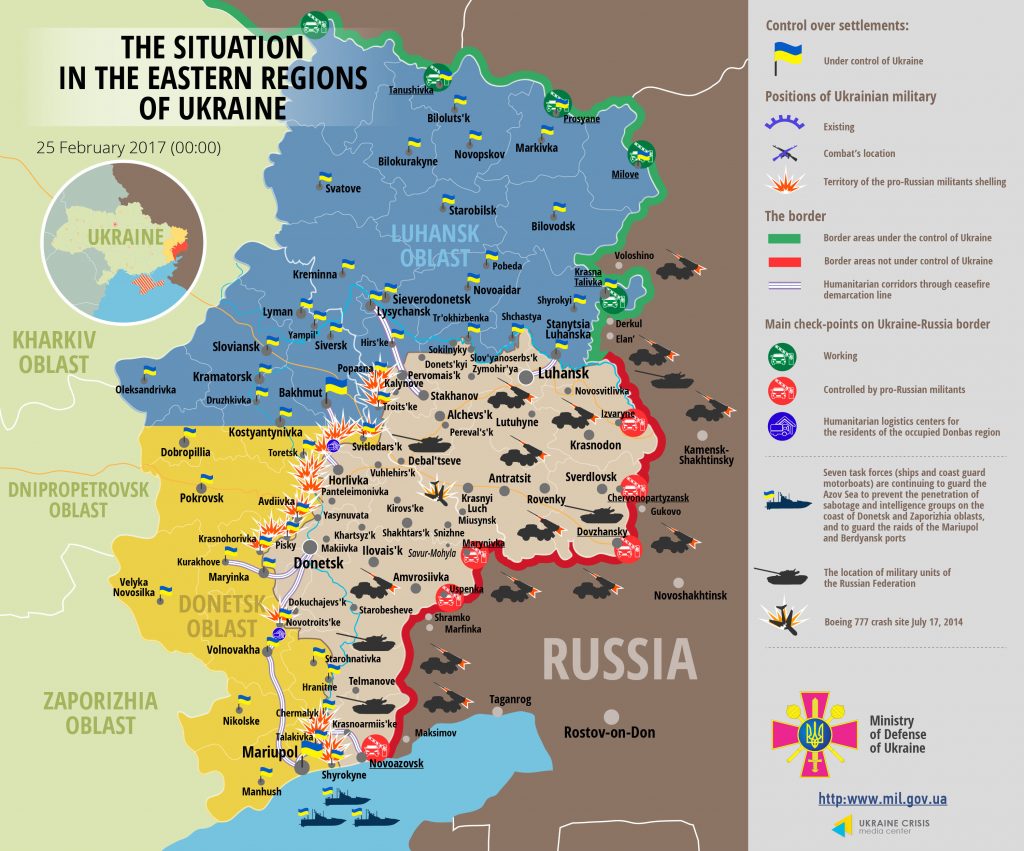 ATO spokesperson also said that at about 11pm yesterday massive attacks by Russian-occupational troops caused power cut and gradual decrease of heating temperature in Avdiivka. Cell phone and internet connection are problematic. Representatives of central- and local level authorities keep helping local people. Infrastructure of vital importance is being connected to power generators. Water is supplied according to the established schedule. Repair brigades require lasting ceasefire guaranteed by militant groups to proceed with fixing of facilities at the Donetsk water filtration station.
In other near-front areas: at the Svitlodarsk salient, around Horlivka and in the Donetsk airport combat actions of average intensity continue with the use of heavy weapons on the part of militant groups. Militants intensify their activities closer to the evening. "It comes also as an intention of the hostile command to disperse attention of the ATO staff in order to distract the attention from the epicenter of combat actions – Avdiivka's industrial zone," Colonel Lysenko noted. A total of 41 hostile attacks were registered in the Donetsk sector yesterday, 22 were made from heavy weapons. Over 400 mines and shells were fired upon Ukrainian positions.
Ukrainian troops incurred no lethal casualties over the last day, 16 servicemen were wounded in action.
In the Luhansk sector, combat actions were registered only in Popasnyansky area only in the second half of the day. Russia-backed militants mortared several Ukrainian base positions. They fired over 20 mines. The attacks were mostly short-lasting. There were 11 hostile attacks in the Luhansk sector yesterday, four of them included the use of heavy weapons.
In the Mariupol sector main combat actions continue east of Mariupol, between Pavlopil and Shyrokyne. "Adversary is getting considerable ammunition supplies from Russia, and is massively using mortars and howitzers. Thus, there was a massive hostile artillery attack in Pavlopil late in the evening yesterday that lasted thirty minutes. Tense situation was observed in Hnutove, Vodyane and Shyrokyne yesterday. In contrast to other combat areas, militants are firing here both during the day time and at night," said Colonel Lysenko, ATO spokesperson. Russia's proxies also violated ceasefire in Krasnohorivka and Novotroyitske actively using heavy weapons. A total of 40 militant attacks were registered in the Mariupol sector yesterday, seven of them included the use of heavy weapons. Over 70 mines and 30 shells were fired upon Ukrainian positions.
Report on the military developments as of February 24 is available here. Interactive data on the shelling: chronology shelling chart and the interactive map.