On February 18-20 Ukraine is commemorating the most tragic days of the protests on Maidan. Millions of Ukrainians recall the death of activists – Heaven's Hundred, juxtaposing their sacrifice with the present day. Europe is also remembering Euromaidan. On February 19, Donald Tusk, the President of the European Council, spoke at the Verkhovna Rada – Ukraine's Parliament. His speech broadcast by the "Rada" parliamentary channel touched the hearts of Ukrainians, while the MPs present in the hall, burst into long-lasting applause a number of times as he was speaking. On February 20, the web site of the European Parliament and the Ukrainian media "Europeiska Pravda" (European Truth) published another message from the EU on the anniversary of Euromaidan. It is a text by MEP from Poland Michał Boni called "A letter from the European Parliament to the Heaven's Hundred hero." The letter came as a sincere and true gesture of solidarity with Ukrainians. UCMC publishes an abbreviated translation of these two addresses.
"There is no Europe without Ukraine" – Donald Tusk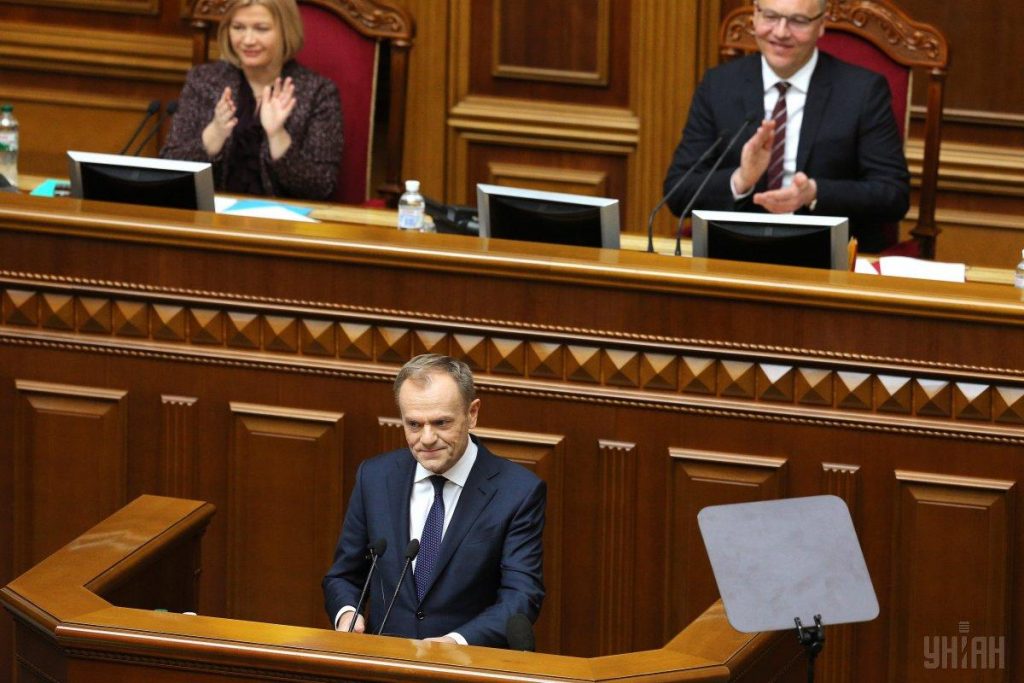 Dear Ukrainian friends!
I came to you on the fifth anniversary of the dramatic events in Maidan, on the anniversary of the Revolution of Dignity, to thank all Ukrainians and their deputy elects present here, irrespective of the differences between their parties, interests and of their ideological disputes.
(…)
First of all I would like to thank you for your fortitude. You stood your ground in the hardest moment of your history. You have stood your ground and will remain proud and unbreakable despite the geopolitics, despite the vicious intentions of the aggressive neighbor and despite the indifference and hypocrisy of many influential actors on the international political scene. You have stood your ground, even though your partners are not always helping you the way they should – I know it well. I know it as probably quite a few do.
(…)
Many of us have heard your cry, listened to this scream and understood it. Even if it took some a long time. That's why here today, in the Verkhovna Rada of Ukraine I can repeat it in front of you not only in my own name but also in the name of the entire European Union: We are with you! And we want to continue helping you.
I would like to reconfirm here the first words of the Association Agreement: "The  European Union  acknowledges  the European  aspirations  of Ukraine  and  welcomes its  European  choice." I would like to repeat that Europe will never recognize the Russian annexation of Crimea and will not refuse the sanctions until Russia implements its commitments. Also the European Union will not put up with any act of violence in the Azov Sea. I will do my utmost so that the EU stays united in that.
Secondly, I would like to thank you for your bravery. The boys of the Heaven's Hundred have entered the pantheon of not just Ukrainian but of European heroes as well. I swear to all the mothers of the fallen: Europe will always remember your sons. The lesson of courage that you gave the whole world five years ago in February, has changed us all. Ukraine demonstrated that it is worth being brave and full of dignity, that the good can overcome the evil, that heroism can be more than just a moral call, that it can become key for the victory. You gave the biggest gift to the many people in the world who are humiliated and enslaved – the hope that weak today as they are, they will also see the victory day coming.
(…)
I would also like to thank you for your Europeanism. I will always remember the flags with golden stars on Khreshatyk during the Revolution and the "Ode to Joy" playing all across Ukraine.
I often repeat it to my colleagues in Brussels: don't teach them to be Europe, learn from them what Europe is.
Let me repeat my words that I once addressed the leaders of the European Union with: "Only those who stand in solidarity with Ukraine have the right to call themselves Europeans. Those ready to sell Ukraine are selling the future of Europe."
It is not by chance that often those politicians that question the European integration, get to also question Ukraine's integrity. Tell me what you think about Ukraine and I will know what you think about Europe!
When we, Poles, started our way towards the EU, Pope John Paul II told the world: "There can be no just Europe without the independence of Poland marked on its map!" here and now I would like to say that there is no just Europe without independent Ukraine. There is no safe Europe without safe Ukraine.
In simple words, there is no Europe without Ukraine. (…)
 "Your country was heard" – Michał Boni, MEP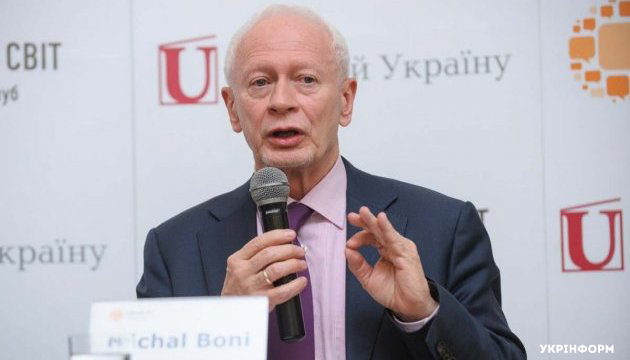 A letter of the European Parliament to the Heaven's Hundred hero
Dear friend from Ukraine!
Today is exactly five years since the day when you left home for the last time carrying a deep belief that freedom, democracy and justice can be brought back to Ukraine.
It is exactly why on that day you did not go to work but to the Maidan Nezalezhnosti (Independence Square). It is exactly why you joined your like-minders. And you acted, you went forward without knowing what is expecting you.
Or maybe you did know… but were ready to fight until the end.
Your sole aim was to live in a free country.
In the country where your parents are getting a sufficient pension, children have a chance to get a European scholarship and may freely go to study abroad if they want to, wherever they want to.
And you were striving to live in the country where no bribes are paid and there is no pressure from the authorities. Or maybe you simply wanted to graduate, get educated and you had all your life ahead of you…
But exactly on that day policemen were ordered to use their weapons. (…) A shot was fired… You did not know that it will all end up like that…
I am writing these lines as I am returning back home from work in the evening. I am writing them to You, my Ukrainian friend, to tell you that not everything ended with your death.
You did pay the highest price in the name of your people but since then Ukraine has managed win the changes it was fighting for.
Your country let the entire Europe know out loud, that it wants changes and that it is going to fight for them.
It was heard.
Today we are working together to make everything you were dreaming of come true. So that your parents get a decent pension, children can freely go and study in Europe. And we already have the visa-free regime!
Each day we are working to implement the reforms that started several years ago.
Unfortunately you cannot see it… Or maybe you can… from somewhere in heaven and you support Ukraine.
You may be disappointed that not everything is done as quickly as you would have liked it to. May be it is not the way you were dreaming… But I do believe that this sacred time will come.
Having sacrificed your life you gave faith to the millions that are living today – in Ukraine, in Europe, in the entire world.
And you have our deep respect for that. We will always remember your name!
Hold on there. May the heaven be light for You!