Situation in the combat zone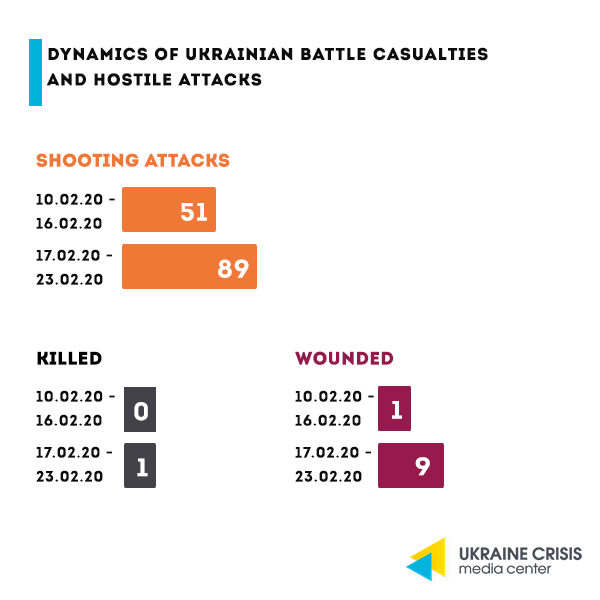 Last week the situation in the combat zone escalated. On February 18 there was a massive five-hour combat. Russia-backed militants fired upon the Ukrainian troops' positions from Minsk-proscribed 122-mm and 152-mm artillery, 82-mm and 120-mm mortars as well as from tanks, weapons mounted on infantry-fighting vehicles, grenade launchers, heavy machine guns and small arms. Outside Orikhove Russia's proxies attempted to storm observation posts of Ukrainian troops. Ukraine's Joint Forces suppressed hostile fire and stopped the offensive of the subversive group. Ukrainian troops stayed on their positions.
Russia-backed militants then asked for a ceasefire. One Ukrainian serviceman was killed in action. As per Ukrainian intelligence four hostile troops were killed in action and six were heavily wounded.
---
Donbas: Ukraine's Ministry of Foreign Affairs on peacekeepers at the state border and amendments to Minsk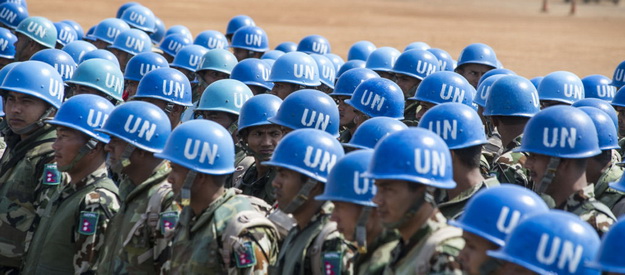 New version of the Minsk agreements. Ukraine's Foreign Affairs Minister Vadym Prystaiko confirmed that Ukraine is working on a new version of the Minsk agreements while Russia has publicly declared it is against the amending. "It's 2020 and we have not yet achieved peace. That's why we are convinced that it's not that the document can be changed – it has to be changed as some of its paragraphs are impossible to implement," the Foreign Affairs Minister said. Prystaiko added that the Ukrainian side is now working to "make all participants agree that the Minsk agreements have exhausted themselves and require changes." Ukraine's foreign policy chief also said that some changes had already been introduced into Minsk – the "Steinmeier formula" and the "disengagement of troops" in particular, without "Russia having any objections".
Peacekeepers at the border: Ukraine's Foreign Affairs Minister speaking to the UN General Assembly. On February 20 Foreign Affairs Minister Vadym Prystaiko spoke to the UN General Assembly on the situation in the occupied territory of Ukraine.
In his address Prystaiko said that Ukraine counts on deployment of the UN peacekeeping contingent to the uncontrolled part of the Ukraine-Russia state border. He said it will help hold local elections in Donbas.
"We hope to hold local elections all across Ukraine this coming autumn. However without basic security conditions and political pretext Donbas residents will not have a chance to vote in a democratic election that has to be recognized legitimate by Ukrainian authorities and the international community while being based on the existing standards," Minister Prystaiko said in his address.
"That's why security – according to the logic of the Minsk agreements, is at the heart of the settlement process. Russia has to immediately implement the security agreements made by the Normandy Four. One can hardly expect that peace will be achieved as long as the 400-kilometer Ukraine-Russia border is an open door for weapons and troops coming from the Russian Federation. International representation under the UN mandate at the border could become an answer," Prystaiko said.
To remind, the peacekeeping mission in Donbas has been a disputable issue between Ukraine and Russia for several years. During Poroshenko's presidency Ukraine was counting on a full-scale mission that will be deployed to the entire occupied area including the state border. Russia kept insisting on a "security mission" that would safeguard the OSCE monitors at the contact line.
In October 2019 President Zelenskyi voiced the idea of deploying the peacekeepers only to the border between Russia and the areas it occupied in Ukraine's Donetsk and Luhansk regions.
---
Six years of Crimea's occupation – expert discussion at Ukraine Crisis Media Center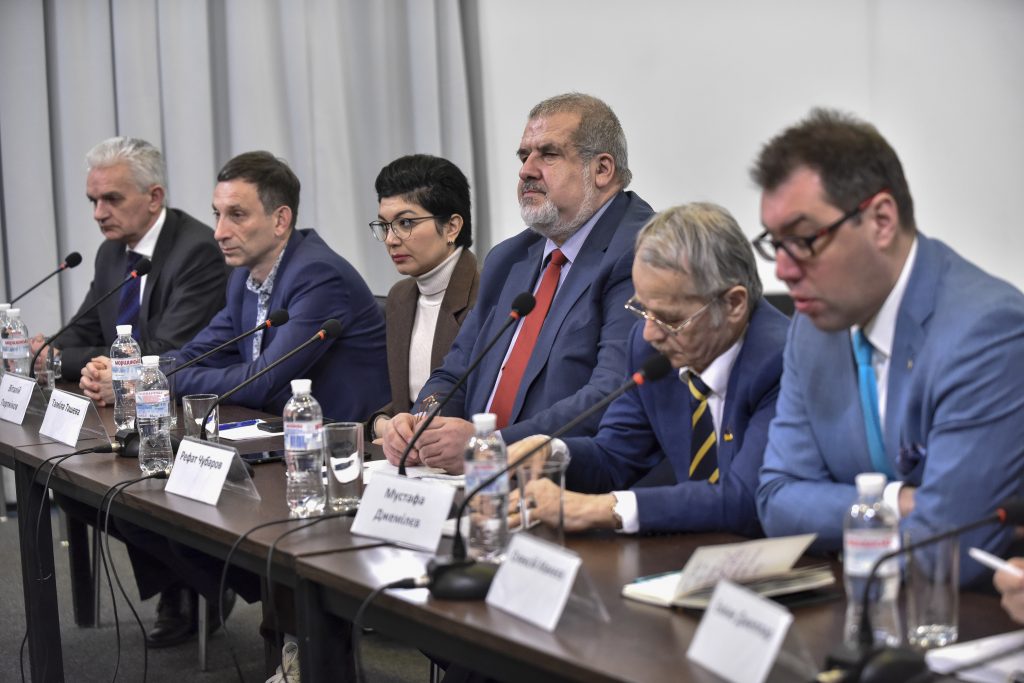 February 20 marks six years since the start of Russia's special operation to occupy Crimea. While the Russian special forces seized buildings of the Parliament and of the Cabinet of the Autonomous Republic of Crimea on February 27, 2014, February 20 is the date stamped on the medal "For return of Crimea" issued by the Russian Defense Ministry.
Annexation of Crimea by the Russian Federation was recognized illegal by absolute majority of the countries and sanctions were imposed on Russia. The UN General Assembly has adopted a number of resolutions on Crimea including the resolution on support to territorial integrity of Ukraine, on human rights violations in the occupied peninsula, on Russia militarizing Crimea, the Black Sea and the Azov Sea. The peninsula stays under occupation for six years. Russia continues repressions against disloyal Crimeans and keeps bolstering its military capacities in the region.
Ukraine Crisis Media Center gathered experts, leaders of the Crimea Tatar people, representatives of authorities and opinion leaders who shared their opinion on what conclusions Ukraine has to draw and what further steps it should make.
Lesson 1: Not separate the issues of Crimea and Donbas. "One of the major dangers about Crimea is that the illusion of the bloodless annexation that was not actually bloodless along with absence of active combat actions is used as a pretext to postpone the issue and focus on Donbas instead where they are actually shooting. In Crimea they're not shooting but in Crimea they oppress. It is a problem of the same security level despite the absence of active combat actions," said Oleksiy Melnyk, co-director of Foreign Relations and International Security Programmes at the Razumkov Center.
"The prevailing point of view suggests putting all efforts into liberation of Donbas, later we will get to Crimea. In our opinion it is a mistake. Russia has no intention of annexing Donbas – it will keep the actual situation in order to hold Ukraine in uncertainty, to create problems so that it cannot develop and become a flourishing European state. Russia's priority is Crimea. If we keep sticking to this concept, the issue of Donbas will also start resolving," said Mustafa Dzhemilev, MP, leader of the Crimean Tatar people.
Lesson 2: Not forget the information battle."The information frontline is less visible but very influential. Unfortunately Russia is waging this war in a stronger and powerful way than we do. Russia's work aims at breaking the ties between the occupied Crimea and mainland Ukraine, discredit the state of Ukraine and its leaders as much as it can as well as the Mejlis of Crimean Tatar people. (…) There is a need to organize additional platforms where the Ukrainian authorities will be able to articulate this politics," said Emine Dzheppar, journalist, former Deputy Minister for information policy of Ukraine.
Lesson 3: Keep and reinforce international support to Ukraine. "Sanctions were imposed on Russia and they will last until Crimea is de-occupied, even though it is a difficult task for Ukrainian diplomats," said Oleksiy Makeyev, political director at the Ministry of Foreign Affairs of Ukraine.
"The declaration by Pompeo is probably the main comprehensive document that records the US position. We think that the US could open it for European states to join, or if we are not considering the role of the US and think what Ukraine can do – it can be a declaration that Ukraine can initiate and open it for all other countries that support this politics to join (they are the majority of all civilized states in the world).
The second task is the key one – to launch a multi-level institutional platform on Crimea at the highest political level. It will not de-occupy Crimea but will make the issue discussed at the highest level (…) It can give space for various aspects to be considered including the cultural and humanitarian aspect, human rights, security bloc and the problem of militarization of the region. It could be started from the Forum that we launched," said Emine Dzheppar.  
Lesson 4: Be consistent in actions. "We announced Crimea that is an area of terror, abductions and murders, a free economic zone. Eighty-five per cent of food products used to be supplied to Crimea from mainland Ukraine. We used to supply water and electricity to Crimea actually satisfying the needs of the occupant.
We insist that the West has to extend the sanctions and start discussing how to earn by trading with the occupant. Western states have a logical question: is Crimea of bigger concern to us than to you?" said Mustafa Dzhemilev.
Lesson 5: Think today of what to do with Crimea after it is de-occupied. "The problem of Crimea can explode again, not only from the security standpoint and can again explode unexpectedly. Imagine the improbable situation when Russia breaks into pieces and Crimea will fall us in the hands. Is Ukraine prepared for the day when Crimea is de-occupied?" asked Oleksiy Melnyk, co-director of Foreign Relations and International Security Programmes at the Razumkov Center.
"We need to have legitimate local authorities of the territory that is currently occupied and they need to work on the government-controlled territory as long as it will be needed – 20, 30 or 50 years," said journalist Vitaliy Portnikov.
Lesson 6: Be prepared for all scenarios. "We are paying not enough attention to the security threat for Ukraine coming from the territory of Crimea. Just an example – the North Crimean Canal. It's not just an ecological threat but also a military one. If at a certain point the problem sharpens somuch that Putin will have to make quick decisions – we know what decisions he has got on hand. The military operation to open water supply in Crimea is quite real," said Oleksiy Melnyk of the Razumkov Center.
"We say that we are negotiating with Russia but we are actually negotiating with ourselves. No one will give us anything back. All these talks are just efforts for further destabilization. The primary aim of these talks is to prepare the ground to seize new territories. (…) Lviv or Uzhgorod becoming the capital of Ukraine is a real risk if we don't become realists," said journalist Vitaliy Portnikov.
"Each our think tank has to be constantly analyzing what is going on in Crimea. It has to ordered by the state and the situation needs to be subject to precise analysis: what is going on, what Russia's actions are and how we need to respond to potential threats," said Valeriy Chaly, Chairman of the Board at Ukraine Crisis Media Center.