Ukraine, Turkey, UN sign deal on grain exports
On Friday, July 22, Ukraine signed a deal with Turkey and the UN to unblock the exports of Ukrainian grain from the ports in the Black Sea. Minister of Infrastructure Oleksandr Kubrakov represented Ukraine at the signing ceremony in Istanbul. Russia signed a "mirror" agreement with Turkey and the UN. Ukraine did not sign a direct agreement with Russia.
The deal opens a path for exports from Ukrainian ports Odesa, Chornomorsk and Pivdennyi, Deputy Infrastructure Minister of Ukraine Mustafa Nayem said on Telegram. The full text of the deal will be made public, he added.
Preliminary shipments can already begin Saturday, the UN said.
Turkish, Ukrainian and UN staff will monitor the loading of grain on to vessels in Ukrainian ports. Ukrainian pilot vessels will guide commercial vessels transporting the grain along the safe routes. The vessels will then cross the Black Sea towards Turkey's Bosphorus strait while being closely monitored by a joint coordination center in Istanbul, containing representatives from the UN, Ukraine, Russia and Turkey.
Ships entering Ukraine will be inspected under the supervision of the same joint coordination center to ensure they are not carrying weapons.
"Ships will be inspected exclusively in harbors, on entry and exit to/from Turkey's [Bosphorus] strait. Joint inspection will keep our ports safe from 'Trojan horses' – [potential danger] under the guise of civilian vessels," Minister of Infrastructure Oleksandr Kubrakov said.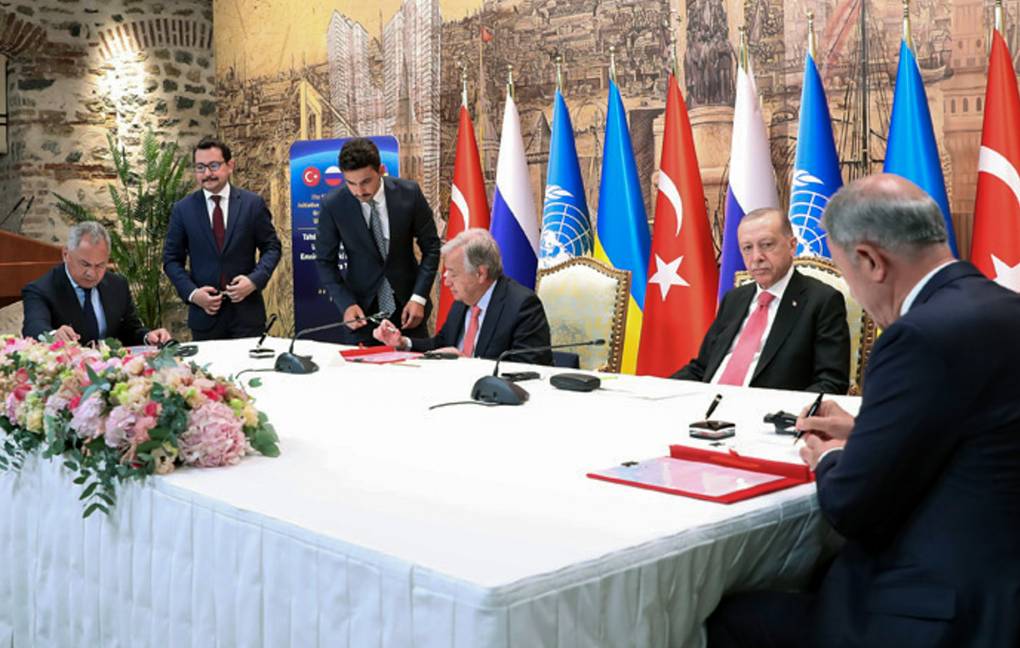 Ukrainian troops strike Russia's camp, equipment near Zaporizhzhia nuclear power plant
A video released by the Main Intelligence Directorate of the Ministry of Defense of Ukraine shows the moment of the strike. "Ukrainian troops precisely strike the Russian positions near Zaporizhzhia nuclear power plant," the description of the video reads.
The Ukrainian Armed Forces struck a Russian camp and equipment with a kamikaze drone, including air defense and BM-21 Grad missile systems.
Ukraine losing around 30 troops a day, Zelenskyi says
At the peak of fighting in May and June, Ukraine was losing between 100 and 200 troops a day, now, it is down to some 30 fatalities a day and around 250 wounded, Zelenskyi said in an interview with The Wall Street Journal.
Zelenskyi declined to disclose total Ukrainian military losses since the war began, he said they are a number of times lower than Russia's.
Recent shipments of U.S. and allied weapons, particularly the HIMARS multiple-launch rocket systems and 155 mm howitzers, have helped to blunt Russia's offensive in Donbas and stabilize the situation there, President Zelenskyi said. The Russians used to fire 12,000 artillery shells daily against 1,000 to 2,000 by Ukraine, he said. Now, he added, Ukraine can fire some 6,000 shells a day while Russia is beginning to feel a shortage of ammunition and troops.
Russian propaganda for the West: trends and changes. Ukraine in Flames #134
Russian disinformation has been at the center of attention for the last several years. However, the tradition of using information as a weapon goes back to the early Soviet times. Since then, the Kremlin has developed a broad tool-kit and different methods to develop and promote disinformation – and a significant part of it was used to destabilize and weaken the West. What new trends emerged after the start of the large-scale invasion of Ukraine? Watch Ukraine In Flames #134 to find out.
Speakers:
Andrej Poleščuk, Analyst, Kremlin Watch Program, European Values Center for Security Policy
Olaf Böhnke, Senior Advisor at the Alliance of Democracies Foundation
Anneli Ahonen, expert on disinformation
Maria Sahaydak, expert at the Center for Strategic Communications and Information Security of Ukraine