Ukraine strikes key bridge in Kherson again
On the night of July 26 into July 27, the Ukrainian troops conducted more strikes on the Antonivskyi bridge in occupied Kherson. The bridge is closed to traffic. A Ukrainian attack on a Russia's key supply route sparked uproar on social media. 
On the morning of July 27, the so-called "deputy head" of the Kherson regional military administration installed by Russia Kyrylo Stremousov said that the Antonivskyi bridge was damaged and shut to traffic. "More holes added," he said.
In his first statements, Stremousov denied that the bridge was damaged, while social media reports said that both the road deck and foundations were damaged.
Spokesperson of the Operational Command South (Pivden) Natalia Humenyuk said that the Ukrainian Armed Forces do not ruin the infrastructure, but enemy's plans. Attacks on the Antonivskyi bridge aimed to demoralize the Russian forces, she said.
"Precision strikes by the Ukrainian artillery targeted the Russian forces' morale," Humenyuk said. The latest Ukrainian attack was a warning to the Russians in Kherson region, advisor to the head of the Office of the President of Ukraine Mykhailo Podolyak said.
"You can call the Antonivskyi bridge a mean of Russian air defense that intercepts all Ukrainian missiles, but you cannot escape the reality – occupiers should learn how to swim across the Dnipro River, or should leave Kherson while it is still possible. There may not be a third warning," he twitted. 
Victims and rubble as Russia strikes Bakhmut, in Donetsk region
A Russian missile strike on Bakhmut on July 27 killed two people, damaged an apartment block and hit a hotel. There are people under the rubble.  
Search and rescue works continue, two bodies were pulled from the rubble of an apartment block and of a hotel. There was at least one survivor, Ukraine's Emergency Service said. He was taken to hospital.
There are people trapped under the rubble. "Acoustic contact is maintained separately with one injured person. Rescue works continue," the State Emergency Service said.
Eight-in-ten Ukrainians rule out ceding territory to Russia, poll finds
Eighty-four per cent of Ukrainians say it would be unacceptable to cede territory to Russia to end the full-scale invasion, a poll conducted by the Kyiv International Institute of Sociology finds. 
Their share is growing. In May, 82 per cent ruled out ceding land to Russia. Only 10 per cent say ceding some territory to achieve peace and preserve independence would be acceptable.
A vast majority of Ukrainians in all regions oppose territorial concessions. In eastern Ukraine, where intense fighting rages, 77 per cent oppose the concessions, and only 16 per cent are willing to make the concessions. In the south, 82 per cent oppose the concessions, and only 10 per cent are willing to agree to them.
Only 17 per cent of Ukrainians who left for the government-controlled area as Russia occupied their homeland after February 24, are willing to make territorial concessions. Eighty-two per cent say it would be unacceptable to cede territory to Russia. Seventy-six per cent of Ukrainians who speak Russian at home oppose territorial concessions to Russia, only 14 per cent are willing to make them.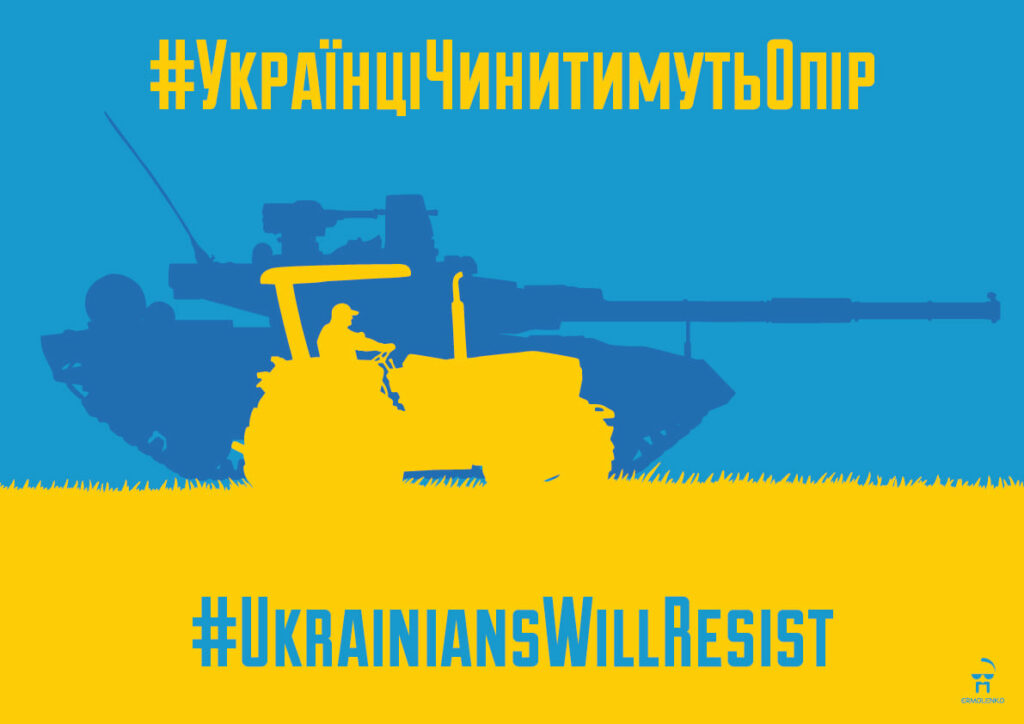 Nineteen per cent of Ukrainians flee home since invasion. Poll looks at plans to return.
Nineteen per cent of Ukrainians fled their homes, of which 58 per cent fled eastern Ukraine, a survey conducted by the sociological group Rating finds. 
Only 10 per cent of the displaced have no intention of coming back home, but their share goes up over time. In June, eight per cent wanted to get permanent resettlement, up from three per cent in April.
Sixteen per cent of Ukrainians say they will return home soon, and 18 per cent say they will return after a while. Half of Ukrainians say they will return after the war ends, and their share is growing.
How Russia turns international institutions into a facade. Ukraine in Flames #139
With the start of the large-scale war against Ukraine and the genocide of the Ukrainian people, Russia stopped fulfilling its obligations as a member of many international organizations. However, it remains its full-fledged member, which legitimizes its military aggression and undermines its reputation. Watch Ukraine in Flames #139 to know why the international organizations, such as the UN, should be relaunched and why Russia should be turned into a pariah state.
Speakers:
Valeriy Chaly, Ukraine's Ambassador to the US (2015–2019), UCMC Chair of the Board
Volodymyr Yelchenko, Permanent Representative of Ukraine to UN (1997-2001, 2015-2018), Permanent Representative of Ukraine to international organizations in Vienna (2005-2010)
Pavlo Klimkin, Minister of Foreign Affairs of Ukraine (2014-2019) 
Oleksandr Merezhko, Ukraine's MP, Committee on Foreign Policy and Inter-Parliamentary Cooperation Chairman.