Ukraine aims to retake Kherson by year's end, CNN says
Ukrainian forces are making gains in the south, with the ambitious goal of taking back most of the Russian-occupied region of Kherson by the end of the year, senior U.S. officials and Ukrainian officials tell CNN.
The U.S. has observed Ukrainian forces achieve some success in attacking Russian supply lines, with the intention of cutting off and isolating Russian troops currently deployed west of the Dnipro River, according to a senior U.S. official.
According to Ukrainian officials, the goal is to take at least all territory north or west of the Dnipro River, including not only the city of Kherson but also Nova Kakhovka, site of an important hydroelectric plant as well as the canal that supplies Crimea with much of its water.
At the same time, Ukrainian forces have stepped up attacks in Eastern Ukraine in order to prevent Russia from shifting forces to the South to attempt to repel the Ukrainian counteroffensive there, U.S. officials said.
In recent days, Ukrainian forces have pushed towards Russian supply lines south of Kharkiv, taking several villages and towns in the process.
U.S. officials acknowledge the Ukrainian goal of recapturing Kherson by the end of 2022 is ambitious but remains possible if Ukraine continues to make progress in its current operations.
In the buildup to the current Ukrainian counteroffensive, the U.S. urged Kyiv to keep the operation limited in both its objectives and its geography to avoid getting overextended and bogged down on multiple fronts, multiple U.S. and western officials and Ukrainian sources previously told CNN.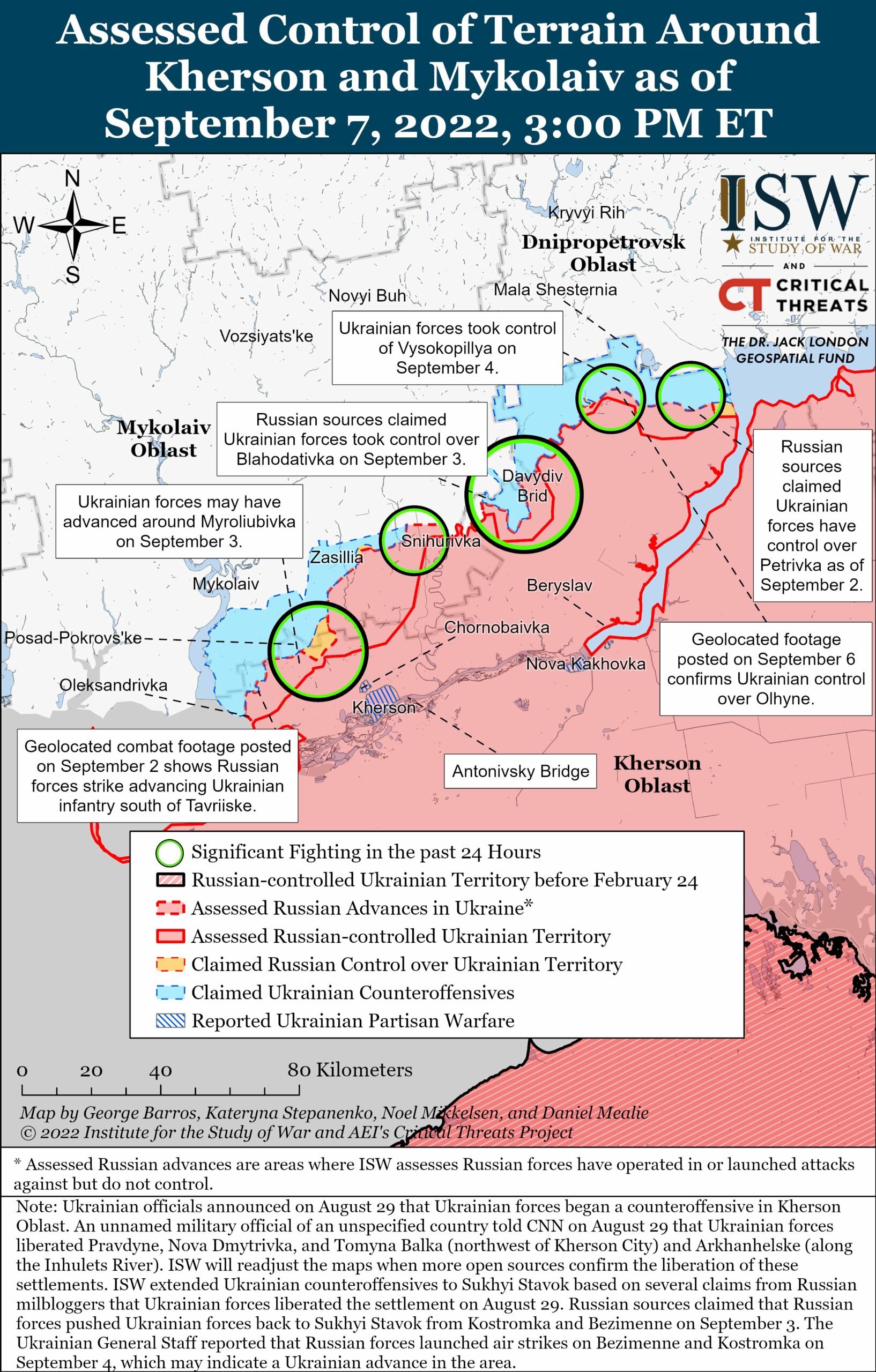 Ukrainian troops push back Russian forces near Balakliya, in Kharkiv region
Balakliya, in Kharkiv region, halfway between Kharkiv and Slovyansk, became a hotspot for the Russian forces on Tuesday as the Ukrainian troops launched a surprise offensive in the area. The reports are not yet confirmed by the General Staff of the Armed Forces of Ukraine. Detachments of the Samara and Bashkiria special forces were reportedly encircled, Russian Telegram channels say. Ukrainian offensive on Kupyansk (to the east of Balakliya) and Izyum (to the south-east, toward Slovyansk) gains momentum, same sources say.
The area of Balakliya and, particularly, the nearby city of Izyum are important logistical nodes that Russia uses to supply its forces advancing in Donbas.
In early August, as the Ukrainian troops retook Dmytrivka and Dibrivne near Izyum, the Institute for the Study of War underscored exceptional importance of Ukraine's capability to launch large counteroffensive operations on multiple axes.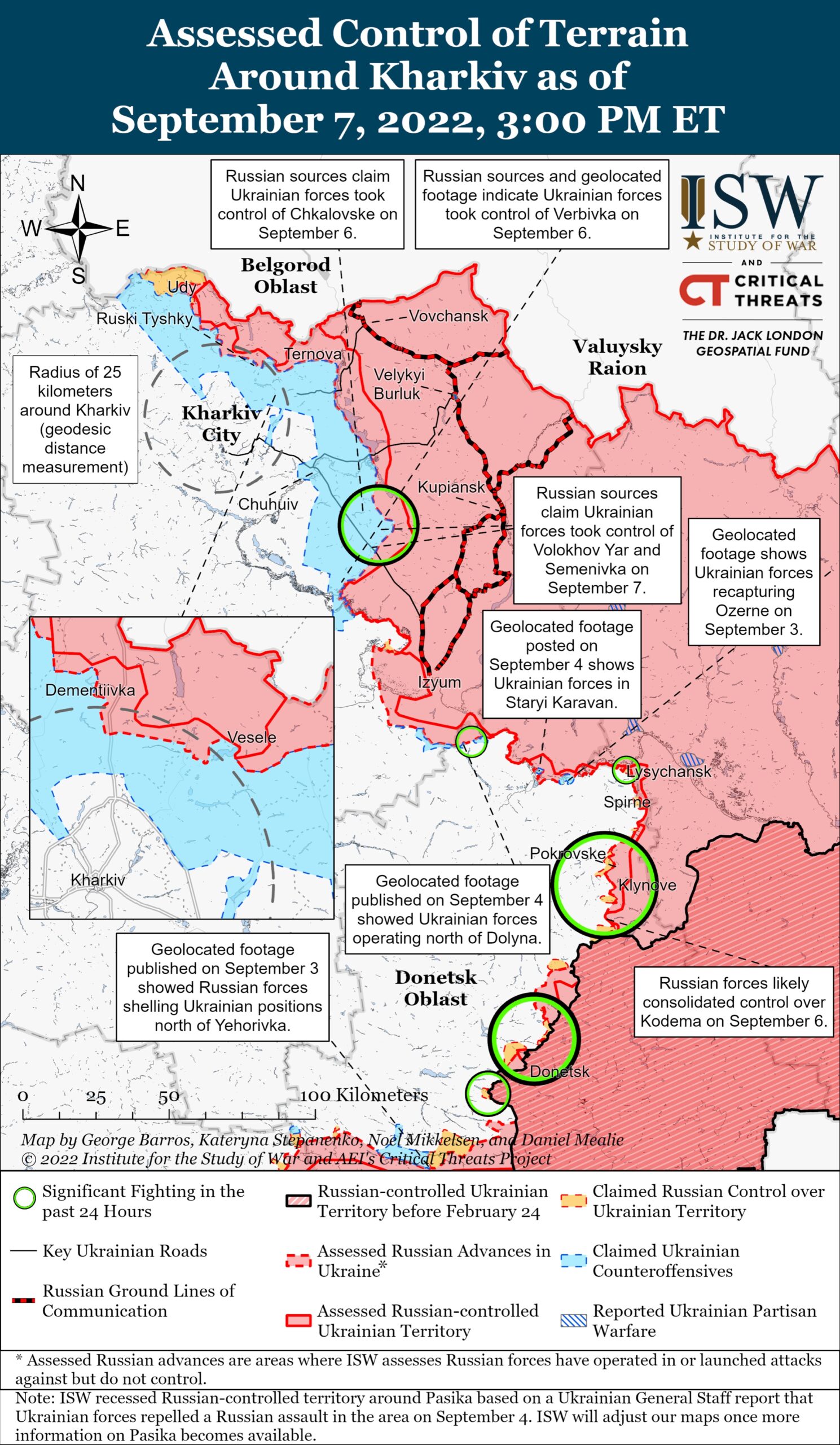 Ukraine claims responsibility for air strikes on Crimea
A series of successful missile strikes hit air bases in occupied Crimea, Commander-in-Chief of the Ukrainian Armed Forces General Valeriy Zaluzhnyi and first deputy head of the parliamentary defense committee Mykhailo Zabrodskyi wrote in a joint article published in Ukrinform on Wednesday, September 7.
Russia massively overpowers Ukraine in terms of manpower and weapons. Its strategic operation against Ukraine targets a vast area. Yet it's disproportionate capabilities that are decisive in the war, the article reads.
The generals admit that it is impossible to immediately strip the enemy of such a significant advantage, but it is quite possible to counter them with capability to act similarly, operating at a similar range.
"We are talking about Ukraine's partners supplying the relevant weapon systems or certain types of ammunition with appropriate range," the article reads.
It's not so much about some certain models, for example, MGM-140B ATACMS Block 1A missiles for M142 HIMARS.
"A comprehensive approach must be applied to re-equipping artillery and missile forces, tactical aviation, Navy, and other components of Ukraine's military might," the article says.
Successful efforts of the Ukrainian Armed Forces to physically move the fighting area to temporarily occupied Crimea prove that the approach is correct and well suited for this year, Zaluzhnyi and Zabrodskyi said.
"This was done by a series of successful missile strikes on the enemy's Crimea-based air bases, first of all, the Saki airfield," the article reads.
How to prevent next Chornobyl: Ukraine's experts on IAEA report. Ukraine in Flames #181
The IAEA mission visit at the Zaporizhzhia NPP in the occupied city of Enerhodar on September 1 was aimed to inspect the security measures and stop Russia's nuclear provocations. Watch Ukraine in Flames #179 to know what is going on at Russia-occupied Zaporizhzhia NPP and how the global community can stop Russian nuclear terrorism.
Speakers:
Olha Kosharna, expert on nuclear energy and nuclear safety
Volodymyr Omelchenko, director of energy and infrastructure programs of the Razumkov Cente
Victoria Voytsitska, secretary of the Committee of the Verkhovna Rada of Ukraine on fuel and energy complex, nuclear policy and nuclear safety