Before the war, Ukrainians' most popular films were perhaps Hollywood movies based on comic strips about fantastic heroes. Leaving the cinema, children dreamed of real adventures in distant worlds, bought video games, made character collections. All those films had one thing in common: no matter who the main villain was, the good always won.
Neither kids nor adults thought about the nature of heroism. They lived, grew up, studied, worked, got married, and raised their kids. And so it was, until the enemy came to the land of Ukraine and began to destroy it with fire. It changed people instantly. Men became more courageous, women more resilient, kids more mature. The concept of "hero" has become commonplace.
The war is going on. Each defender has family, friends, and loved ones at home, and they fight for them. To a large extent, the effectiveness of battles is ensured not only by weapons, equipment, and organization of soldiers' everyday life, but also by their confidence that their kith and kin are at least relatively safe, that they are not hungry or ill.
The desire to be helpful grew into volunteering
The heroine of my story, Tetiana Dekhtiaryova, claims that home front is a second front, where kindness and help is the mainstay of everything. She recalls how people in Pechenihy, the Kharkiv region, reacted to the russian neighbor's invasion.
"People panicked. What to do, where to run? Goods were rapidly disappearing from the shelves of shops and pharmacies. Our village was left with no connection on either side. I often recalled my grandmother, who always had supplies of matches, salt, cereals and other things," says Tetiana. "It was so painful to look, especially at the elderly people."
Everyone knows Tetiana for her kind-heartedness and generosity. She always helped with food, services, and advice. That's why she did not lose heart and started looking for an opportunity to help people. She managed to get acquainted with like-minded people and find at least small portions of humanitarian aid.
"We brought various cereals first, and then canned meat, hygiene products, medicines, and the like," says Tetiana. "Of course, we wanted more, especially in the early days of the war. But later, the military, the Red Cross, and other volunteers started delivering food for people, so it became easier."
Now the beginning volunteer has found an acute problem and is trying to be helpful to her fellow villagers and other people of the community again. Constant shelling turned a lot of houses into ruins or partially destroyed them. So, people badly need building materials.
"Winter is coming, and with it the cold. You know that our people do not wait, as they say, for the mercy of nature or the government, but repair the destroyed by their own efforts. But construction materials are very expensive today and not everyone can afford them," Tetiana says. "Firewood is also hard to find. Although we live among the forests, you have to pay a tidy sum to buy it. Do grannies or mothers with kids have big money?"   
The woman managed to attract a charity fund in the community, which provides the materials they need, and is now taking care of the delivery of winter repair kits for the most affected. People receive building materials, firewood, and some even potbelly stoves.
Tetiana also helps to apply for the UN aid for vulnerable people.
"Everything is done online, and the elderly find it difficult, some cannot do it at all," she says. "It all started simply: first I did it for my parents, then to my neighbors, and then it was already the word of mouth."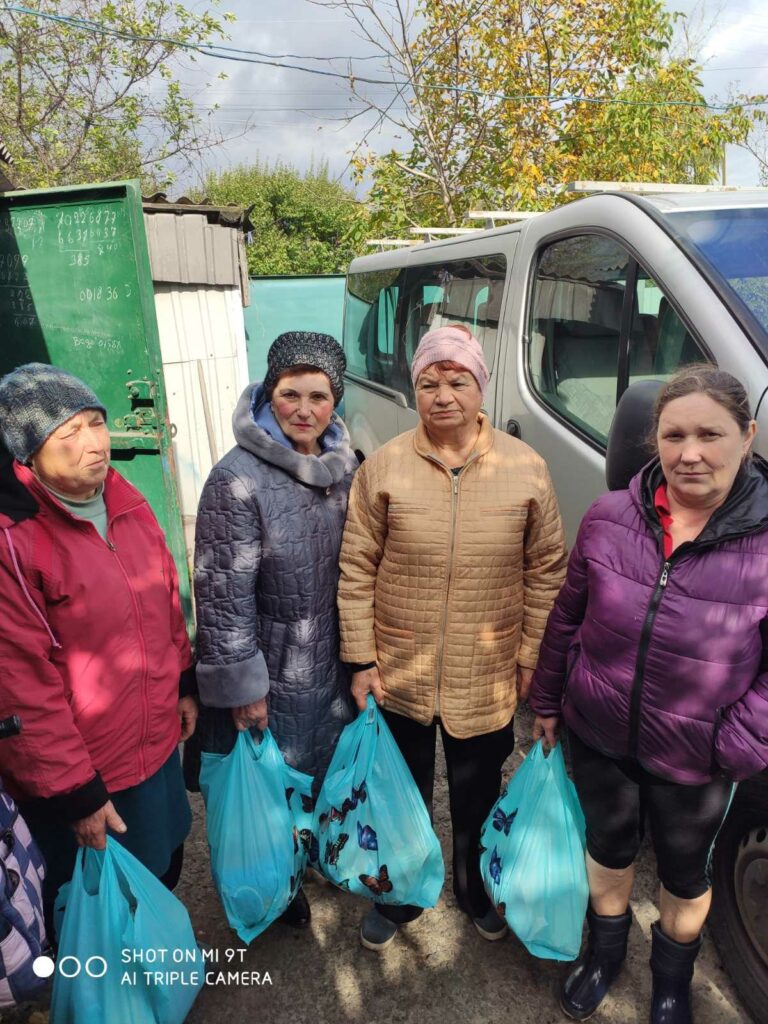 The world divided into "before" and "after"
Tetiana is sure to remember the outbreak of the war, February 24, for the rest of her life.
"It was very loud from explosions, and no words can express that feeling of horror. Having come to senses, my husband Viktor and I went to my parents'. Mom and dad were also scared, we started packing together, medicine and other necessary things," Tetiana recalls. "We packed in case we had to leave, because we didn't know what to expect."
Already at 10 in the morning, Oleksiy's family with two kids came to their house from Chuhuyiv. The family had lived in an apartment located near the military airfield. The very first blast destroyed their apartment.
"They came to us scared, because the explosion ripped through their apartment, so the house wall collapsed and almost fell on their three-year-old daughter. Thank God, Oleksiy's wife managed to grab the kid at the last seconds. They put their kids in the car and left in a hurry. I cannot think about this without crying."
The family was accepted and comfortably housed. Masha's, their granddaughter's, cot came in handy. They also found clothes and a bathtub for the kid so that everyone would feel comfortable.
And then brother Serhiy came to their hospitable house with his family and his wife's relatives. There was a room, a kind word, and a delicious lunch for them.
"14 people were accommodated at my parents' house, and Victor and I also housed our friends from Kharkiv. There were eight of us," Tetiana says.
It wasn't easy, because people came with practically nothing, so everyone had to look for food. But that was not the worst thing. They spent the first day and night in the cellars, because there were explosions and it was very scary. To say that they were cold, especially children would be an understatement. So in the morning, the men started arranging those hiding places. They took canned food from there, placed boards on the floor, and welded two potbelly stoves.
"And they also installed a blower for the heat from the potbelly stove to dissipate better in the cellar," says our heroine. "It got better and warmer, but not easier for my heart."
They gradually got used to their new way of life. As Tetiana recalls, she had to bake 8 loaves of bread.
The world is big, but our Motherland is here
They lived together for more than a month. The situation did not improve. The orcs had already entered the neighboring villages, so Pechenihy was threatened with occupation as well. People began to leave gradually. Women with children found refuge in Poland. Tetiana went abroad to her daughter Anna.
"Every day she begged me to come, cried: 'take grandma and grandpa and come.' I did not manage to persuade my parents, they flatly refused to leave their home, and I went alone. At least, I had time to chat and play with my granddaughter Mashenka. But all I could think about was my home."
So in May, when Grads hit Tetiana's house and yard, she packed her things and returned home. Her husband tried to persuade her to go to relatives in the Zhytomyr region, but she did not.
"Where can I go? There's no place like home. There is no such country as ours, because everything is ours here. That's why I told my husband that we could not leave our vegetable garden and household; besides we had to rebuild our house. And if we left, we would remain without canned food and lose the golden time – summer – for patching the roof."
They decided to stay. In addition to her own troubles, Tetiana is engaged in helping her fellow villagers again. Currently, she works as an accountant in private enterprises. Her employers also help the needy.
"In summer, our village was shelled several times, people hid in basements. But when the Kharkiv region was liberated, it became quiet," shares Tetiana. "I couldn't believe it when I heard the news that the orcs had been driven away from the neighboring villages. And the realization that we are free did not come immediately."
But when it was officially confirmed that the Kharkiv region had been liberated, the heroine together with her neighbors cried and chanted "Glory to the AFU!"
"Now it's easier, because our soldiers have been liberating the territories. It is clear that missile attacks on energy infrastructure are a terrible disaster. But we can survive it. We will survive the winter, and will meet the spring, and we wish the victory would come sooner!" Tetiana Dekhtiaryova concludes.
Tetiana Syromyatnikova
29.11.2022