According to a definition, faith is a mental state of confidence in the truth of anything. No wonder this is the name of a young woman from Kramatorsk, who made a tough decision to stay in the city and help its defenders. And although today – after visiting her children – she is already in a safe place, her heart is with Ukrainian servicemen, who are courageously defending her native area
Vira's life changed in an instant, like of all other people in the country. Early in the morning of February 24, she heard the sound of explosions. She woke up the family and said that the war had begun.
Her husband and she had an evacuation plan because they had already experienced the Russian occupation of the city in 2014. The car was gassed up, documents and a suitcase packed, and the children warned.
But the next day, her husband said plans had changed and he would stay and defend the city.
– You will drive on your own when needed. I can't do otherwise, – he said.
In the first days, something chaotic and baffling was happening in the city. Everyone was running somewhere, doing something, no one knew exactly what and how, but it was necessary to act.
The first call was from a former neighbor who had been serving in the Armed Forces for the past few years. She asked to find and bring some important things and was sure Vira would do that.
And she did. First she found money, then transport, they bought and delivered everything.
"I remember very well how embarrassed I was to call my friend – he is a businessman and I was sure he had money. I had never asked anyone for anything, and it was the first time I had to do it. He just asked "How much?" and immediately transferred money to my card.
A few hours later, another serviceman called, and then another. Needs grew like mushrooms after the rain. Shovels, axes, cable, cauldrons, sleeping bags, sleeping mats, uniforms, thermal underwear, shoes and bulletproof vests. I had to recollect old ties and look for new ones, call friends abroad, because it was next to impossible to find anything in Ukraine.
Good deeds attracted good people.
Our team grew. We had a girl who could find inaccessible things in closed shops of the frontline town, such as power banks and warm socks, which in the first weeks of the war were extremely scarce, a guy who could find equipment and shoes within hours and also find a bus, UAZ, and arrange delivery from western Ukraine while we were having our morning coffee. Another girl knew how to write a request to the funds so quickly that no sooner had we finished unloading a bus than she sent a new letter.
The war revealed the true nature of everyone and people began to show their best qualities.
Of course, there were cases of dishonesty, but I do not want to recall them or those people.
Instead, I want to recall a vegetarian café that made 50 hot lunches every day, which we delivered to the checkpoints. You should have seen how the guys enjoyed those hot dumplings and pilaf. I would like to recall the craft cheese shop, which gave all its supplies to the military and we tried to make sandwiches from parmesan and camembert. Or about an ordinary man who found my number somewhere and brought twenty boxes of Philadelphia cheese. We give the boys food, I say, "We have this kind of cheese, and that one, this is Philadelphia, and you can spread it on bread. And he looks at me so pitifully and asks "What about instant noodle?"
But there were no instant noodle; we lacked dried foods in the first weeks. Kind people collected them for us in the west of the country, and entrepreneurs gave us sausages and frankfurters.
Such manifestations of humanity and support have always brought tears to my eyes. You hold on for a long time, don't let all the horror go through you, and then someone brings five boxes of sausage for our soldiers, and you are crushed.
And this mutual support in the volunteer environment – I can talk about it endlessly.
– I've brought you a vest, left it in the warehouse.
– What do I owe you?
– Well, nothing, but if you really want, give me those binoculars I saw there.
"I couldn't get through to you, people are ready to help, I duplicated my needs and I'll bring half to you one of these days."
"I left boxes with military boots in your warehouse, because your phone is busy, you owe me champagne after the victory."
"Do you need tourniquets? I'll tell you at once that they are good, because I can't give you bad ones, you will twist them all on me"…
It is a great honor for me to work with such people.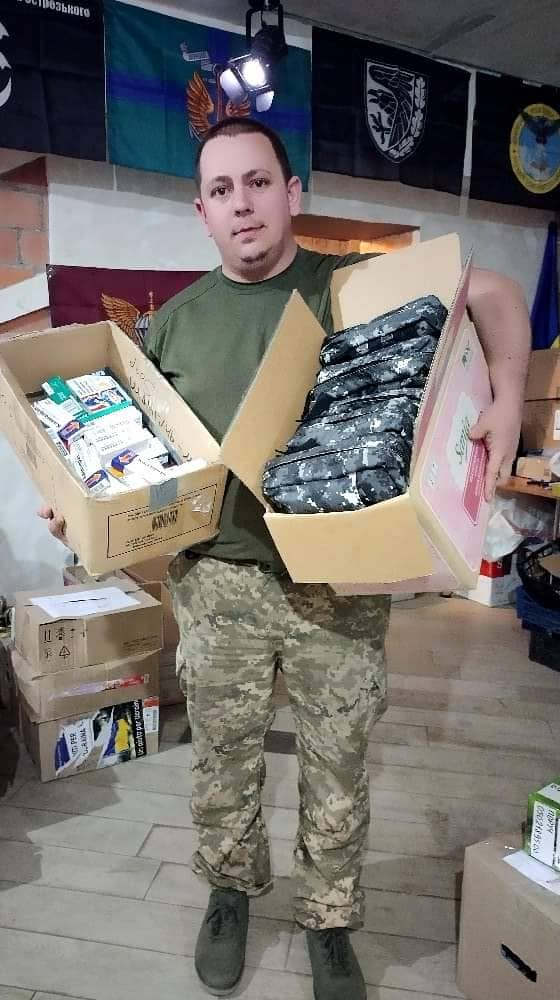 Family
"At first, we all lived at my father's, because his flat was on the ground floor and it seemed a bit safer there.
Endless sirens made us a little tense, but the situation seemed to be under control.
We hid in the corridor and made a pantry there. After the second airstrike on the city, we decided to take the children to a safe place. Vira didn't even think about going with them.
I love my children very much, but I couldn't leave our volunteer center at that time, my mobile never stopped ringing, we were constantly solving hundreds of issues, buying something for someone, ordering and delivering. I felt that I had to be there," says Vira.
The children understood all this, so they heroically agreed to go with their grandmothers.
"Do you promise to come to us soon? Do you really promise?" Our younger daughter looked into my eyes while hugging her teddy bear on the platform.
"I'll call you every day, and you'll answer the call. Promise me to always answer the call. Do you hear me?" The elder was pulling at her sleeve anxiously and distractedly.
"Those were the hardest moments of my life. When I put the kids on the train and walked along the empty station, I thought: how can a person feel such strong love and hatred at the same time? I was trembling, tears were rolling down my cheeks, but I knew that was the only right decision."
Cold and monotonous days began, when I woke up at six o'clock to my alarm clock ringing, went to the center, did my job, came home dead tired in the evening and closed my eyes.
Now it is difficult to calculate how many tons of supplies we received and how much it cost. How many cartons and boxes were loaded, re-sorted, and delivered to the military.
How much coffee we drank and how many cigarettes we smoked. Frost and constant explosions with the sound of sirens were exhausting. But understanding that the boys were going through much tougher times gave us strength to endure. We tried to support each other, kept joking, teasing, and dispelling our growing anxious thoughts.
There were more and more unanswered calls and unread messages. Within a month, each voice on the other side of the phone became near and dear to us.
I remember once some guys called and asked to buy them antifreeze. We did and placed three canisters in our center. I'm calling – no connection, try another number – the same story. A day passed, then the second, and then a week. "Can we take it to the warehouse? – the girls ask, – No, they will come, I know they will come." So the antifreeze was in the corridor for about three weeks, and I seemed to accept the fact that no one would come to pick up it, and then I saw a familiar number on the mobile screen.
"We're fine, Virunka, we're alive."
"You will make me turn gray before my time." I feign scolding them while fighting tears.
In early April, I realized that I had to see my children, and that longing for them prevented me from thinking straight and working. I boarded our bus going to the western part of the country, and promised to return in four days.
I really wanted to surprise my children. So only the grandmother knew about my arrival, the little ones knew nothing. We hadn't seen each other for a month and I was very worried. The younger daughter walked out to open the door. I remember her screaming and hanging on to my neck. We sat right outside on the steps. Rain was falling, mixed with snow, and we were sitting outside, embracing one another tightly and crying.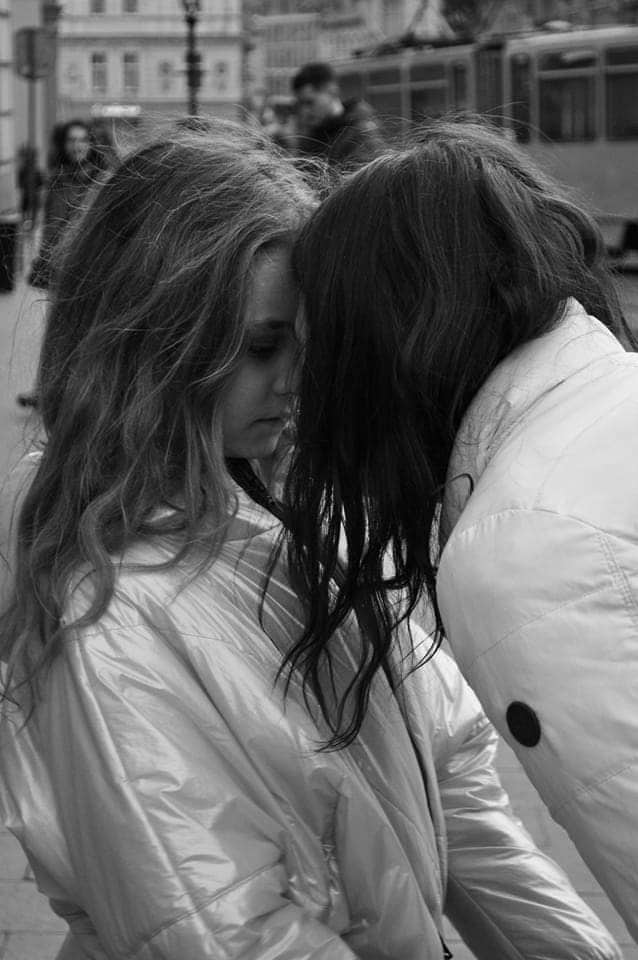 Then we walked the streets a lot. I stared in surprise at people who sat in cafes, shops that were opened and pharmacies with painkillers and corvalment.
The days passed very quickly. The night before I left, I couldn't sleep and heard the younger daughter whimpering.
"Can you please stay? See how many people are here, none of them there, why are you and dad there? I cannot be without you, stay please."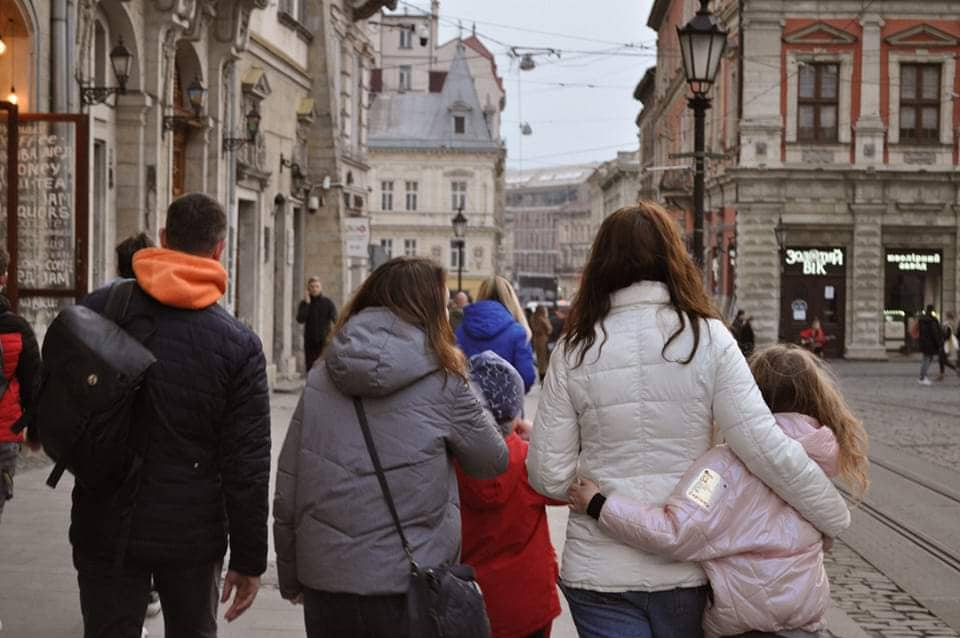 In the morning I went to the East. The road was difficult and the news from the city was hardly comforting.
At night, my husband called and asked not to go the city. Then the military guys called and also asked all our volunteers to leave. Then a few others called.
Yet we decided to go because we had to bring important things to the city. Along the way we called all our colleagues and made a tough decision to leave the city that evening.
We took three dogs, seven cats, a rat and snails by two buses. We also took five volunteers who didn't want to go anywhere at all. Nobody knew where we were going and what would happen next. We just drove on the night road, leaving behind the sirens of the city that stood on the abyss.
Life in the rear
For the first few days I simply laid there and hated myself for my decision. I was berating myself day and night. A hard call brought me to my senses; they were looking for a car to evacuate the wounded.
I realized that the time for self-destruction was over and we needed to work again.
Since that day I have had almost no days off. We buy, load and deliver everything again.
A few people, who due to certain circumstances cannot leave the city, have stayed in the center. So they receive there, and we search and deliver the goods here.
Our volunteers now live all over the country, the central and western regions are acting in unison, buying uniforms, food and equipment, looking for vehicles and helping our people in the east.
Most of the soldiers we help have never seen me, because they entered the city after we left it. But they know a code phrase that always makes me get up and do something for them: "They say you can help."
Although our share may seem quite small ("a drop in the ocean") and we should do more, we do our little job every day, and there are millions of us. Each of us is doing our job, which brings our Ukraine closer to Victory.
---
Valeria Pimkina, journalist of the Kramatorsk Post online media, Kramatorsk, Donetsk region.
30.05.2022
The material was created under the joint project of Ukraine Crisis Media Center and the Estonian Center for International Development with the financial support of the US Embassy in Kyiv and the Ministry of Foreign Affairs of Estonia.