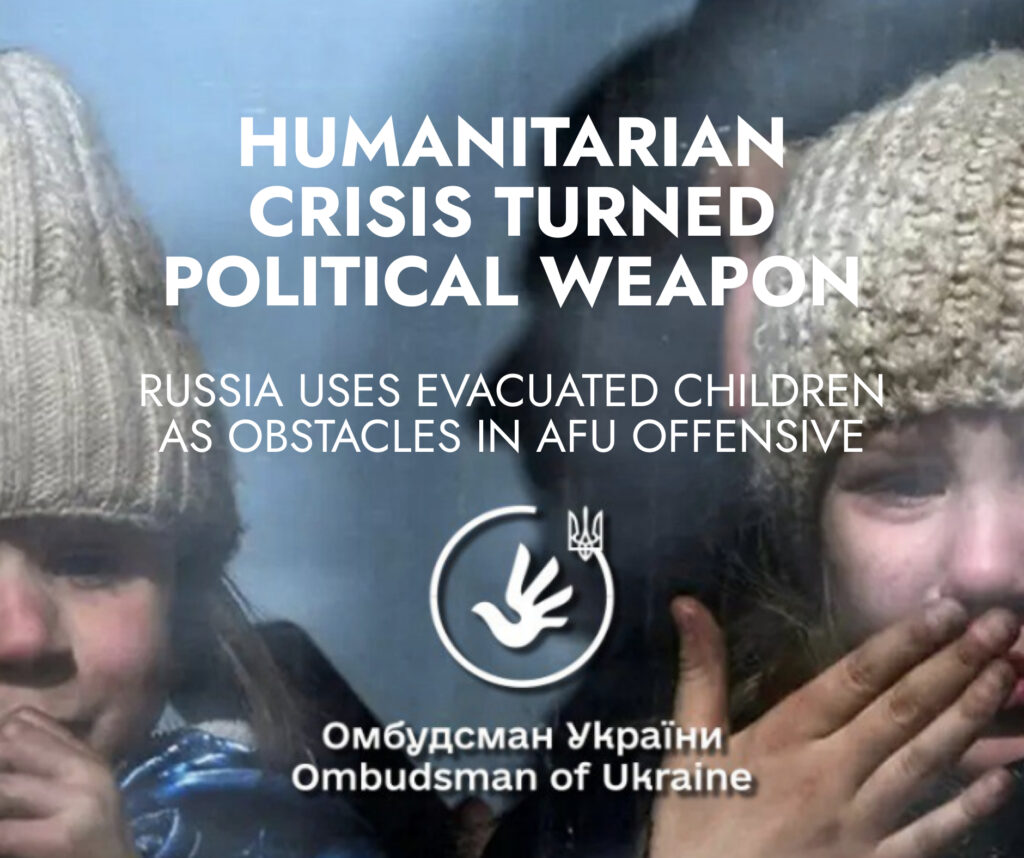 Translation – The Ukrainian Parliament Commissioner for Human Rights, Dmytro Lubinets
The Russian FSB intends to relocate children from flooded Nova Kakhovka to Crimea, strategically positioning them as 'roadblocks' to Ukraine's counter-offensive. This action is intended to impede Ukrainian forces, undermine their legitimacy, and elicit international condemnation against Ukraine.
---
Under the guise of constant shelling, the Russian Federation's Federal Security Service (FSB) may implement a series of pre-planned measures to transport Ukrainian children from temporarily occupied territories and neighboring regions to Crimea. 
During the summer, the children will be housed in camps and recreation centers across the peninsula.
The aim?
To reduce the likelihood of a Ukrainian counteroffensive in the direction of Crimea, conditions must be created.
To undermine the legitimacy of the Ukrainian Armed Forces and portray Ukraine as a "terrorist country." Already, pro-Russian narratives alleging that Ukraine blew up the Kakhovka hydroelectric power plant on its own are circulating in the media.
In short, the abduction of Ukrainian children is an act intended to resemble a "rescue operation." In addition, the Russian FSB believes that it is necessary to locate troop control points, nodal units, such as missile or artillery units and equipped places of concentration (withdrawal) of Russian occupation forces, in children's recreation areas, should the Ukrainian military's advance into Crimea.
According to the Russian FSB, the presence of a "neighborhood" of children near military facilities will significantly complicate the Ukrainian military's ability to fire on the main units and command posts of the ROV, significantly limiting or slowing down the pace of the Armed Forces' advance through Crimea and, if necessary, allowing for provocations with mass casualties and discrediting the Ukrainian Armed Forces in the eyes of the international community.
The State Duma of the Russian Federation has already initiated a similar appeal to the government to organize the evacuation of children from bordering Ukrainian regions to summer camps and other institutions in the Autonomous Republic of Crimea.