The Ukraine Defense Contact Group meets at Ramstein Air Base in Germany. Zelenskyi receives an invitation to attend a NATO summit in Vilnius in July. Russia launches Shahed drones overnight on Kyiv and Poltava region.
Results of 11th meeting of Ukraine Defense Contact Group
The Ukraine Defense Contact Group met for the eleventh time at Ramstein Air Base in Germany on Friday, April 21. The first such meeting was held on April 26, 2022, also at Ramstein.
Last April, senior defense officials from more than 40 countries, including all NATO member states, gathered for the first time to discuss the possibility of sending assistance to Ukraine.
U.S. Secretary of Defense Lloyd Austin chaired the gathering. Recent meetings of the Ukraine Defense Contact Group have had participants, representing more than 50 nations. They met in-person or by video link.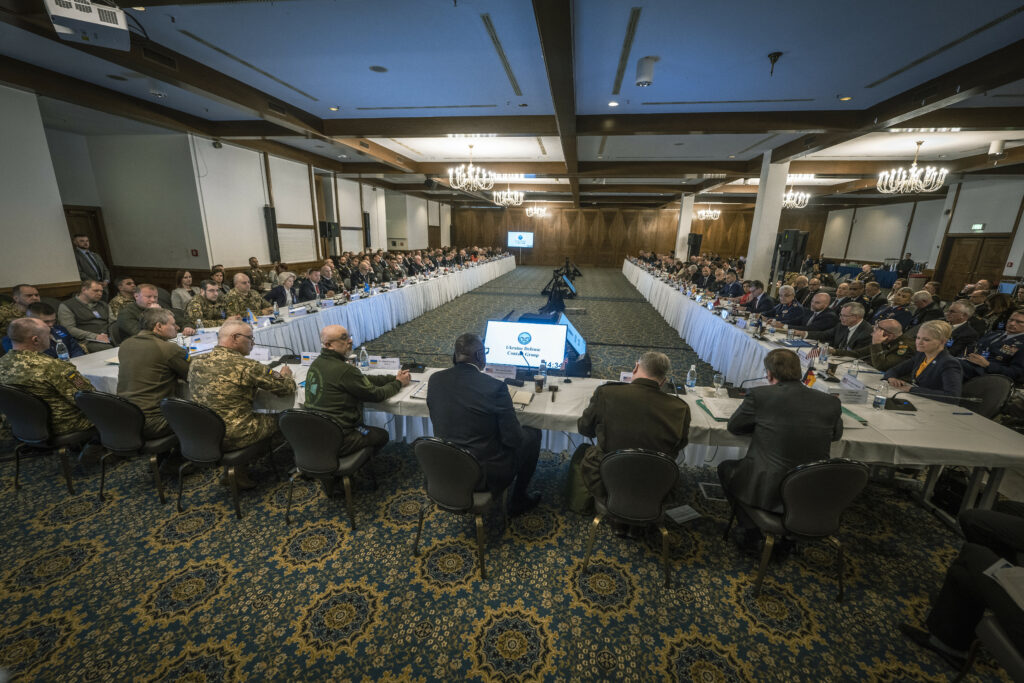 Battle tanks. Poland will set up a hub to service Leopard battle tanks that are being sent to Ukraine, Ukraine's Defense Minister Oleksiy Reznikov said Friday.
"Today, we signed the Letter of Intent for establishment of a Maintenance and Service Center in Poland for Leopard 2 main battle tanks of Ukraine. It will contribute to the strengthening of our cooperation and the capabilities of Ukrainian defenders," Reznikov tweeted.
"The 'armored fist' formed by collaborative efforts will thwart the terrorist regime's aggression against Europe and the entire free world," he added.
The United States will begin training Ukrainian forces on how to use and maintain Abrams tanks in the coming weeks, the AP quotes the U.S. Defense Secretary Lloyd Austin as saying.
According to the officials, 31 tanks will arrive at Grafenwoehr Training Area in Germany at the end of May, and the troops will begin training a couple weeks later. Officials said the troop training will last about 10 weeks.
What about the fighter jets? Asked whether there was a chance the United States had changed its mind about providing Ukraine with F-16 fighter jets, Chairman of the U.S. Joint Chiefs of Staff General Mark Milley said that those were policy questions that'll be made by political leaders. From a military perspective, the task is to control the airspace, he added.
Ukraine has been "denying the airspace to effective Russian use. The Russians have been flying some sorties in Ukraine but limited amounts of sorties over Russian-occupied Ukraine. Russians have not done battlefield air interdiction deep into Ukraine territory, except through missiles and rockets that have been fired from over Russian territory, (…) because the Ukrainians are shooting Russian aircraft down. So the Russians are cautious to come into Ukraine because of the effective use of the Ukrainian air defense system," General Milley said.
Ensuring the rigor of that air defense system "is the most critical thing right now," he added.
"In terms of the aircraft themselves, there's a long lead time for training of pilots," Milley said.
Zelenskyi to attend NATO summit in Vilnius
NATO Secretary General Jens Stoltenberg said he had invited Ukrainian President Volodymyr Zelenskyi to attend a NATO summit in Vilnius in July and had "discussed the preparations" with him. "I have invited him to attend the meeting and I'm glad that he has accepted the invitation and will attend the NATO Summit in Vilnius," Stoltenberg told reporters in advance of the Ukraine Defense Contact Group meeting on Friday.
"All NATO Allies have agreed that Ukraine will become a NATO member," Stoltenberg said after his Ukraine visit. After Russia's full-scale war against Ukraine ends, the alliance needs to "ensure that Ukraine has the military strength, the capabilities, the deterrence to prevent new attacks". "The main focus now is on how to ensure that Ukraine prevails," NATO Secretary General emphasized.
"When the war ends, we need to ensure that history doesn't repeat itself, that Russia is not able to continue to attack and to wage war again against Ukraine and to continue to chip away at European security," Stoltenberg said.
Russia launches Shahed drones overnight on Kyiv
On the night of April 20 into April 21, Russia launched Iranian-made Shahed drones on Kyiv, in the first such attack after 25 days. Ukrainian troops intercepted eight drones. Russia also launched drones at targets in Poltava region, where they hit civilian infrastructure facilities.  
Gender dynamics in the context of war. Ukraine in Flames #407
All wars are gendered from the start, in the sense that it has different effects for people of different genders. Gender inequality is magnified in situations of war, and women are disproportionately disadvantaged in terms of personal safety, access to resources, and human rights. Watch Ukraine in flames #407 to find out about gender aspects in various areas in which war crimes and violations by the russian federation were recorded: deportations, destruction of infrastructure, sexual violence, as well as opportunities to restore justice for the victims.
Guests:
Kateryna Shunevych, Head of the JurFem Analytical Center, Сoordinator and Сo-author of the analytical study "Gender Dimension of War"
Kateryna Levchenko, Government Commissioner for Gender Policy
Khrystyna Kit, Head of the JurFem Association of Women Lawyers of Ukraine
Kateryna Busol, Lawyer, Сo-author of the analytical study "Gender Dimension of War", Senior Lecturer at the National University of Kyiv-Mohyla Academy