How community's youth center brings together support for internally displaced persons
How it all began
The youth center "Youth space", located in Dmytrivska village territorial community (hromada) of Kirovohrad region, was created in January 2020 on the idea of a graduate of Dmytrivska secondary school, Mariia Shvedchykova. Now Mariia is a student of the Central Ukrainian State Pedagogical University named after Volodymyr Vynnychenko.
As stated in official documents, the center is based on the communal property of Dmytrivka village council of Kropyvnytskyi rayon, to meet the youth needs of the community residents and address issues of social formation and development of young people.
In short, the community wants their young people to develop comprehensively, actively and diversified, in parallel acquiring the basic skills and abilities necessary for life, in particular, in entrepreneurial activity, so that their social activity increases. Therefore, the youth project, which became possible thanks to the international donor program, on the terms of co-financing, became very useful.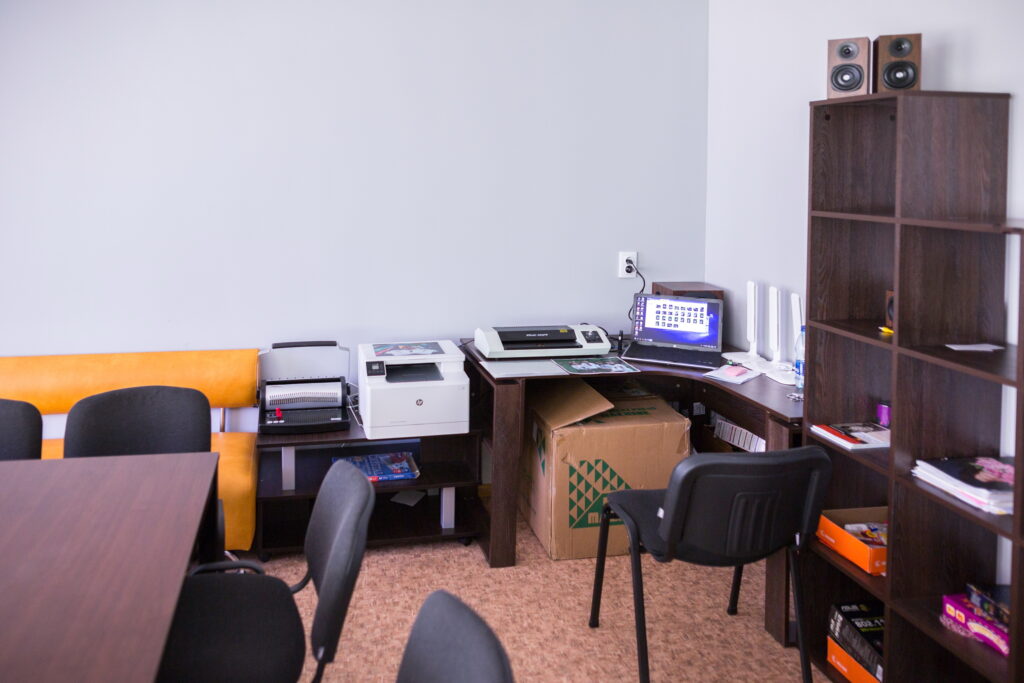 As part of the project, the community took over the provision of the premises and their renovation. And with the support of international assistance program, they purchased furniture, multimedia equipment, a heat press, a binder, a laminator, a camera and other equipment.
More activities – useful and diverse
Having such a material and technical base, the director of the youth center Dariia Zhyrova, despite the fact that she has been working in her position for only a year, together with active girls and boys, adult activists, volunteers ensured a considerable number of various events.
"The first of them was the 90s party," said Dariia Zhyrova. "Thanks to this event, young people learned how their parents had fun in their time. As it turned out, it was very interesting and relevant – in particular, in the summer, film screenings were in demand, to which young people came with pleasure, and played "Mafia".
Video to the Independence Day of Ukraine
"Together with the children, we chose the video format and created a patriotic poster. There is no limit to the creativity of young people, so our video turned out to be wonderful," their mentors admire their pupils.
There were also memorable meetings. In particular, the youth center was visited by representatives of the regional minor academy of sciences, who conducted a training and told the tenth grade students in detail about what young scientists do, what perspective in life give the classes at the academy, and presented their research and inventions.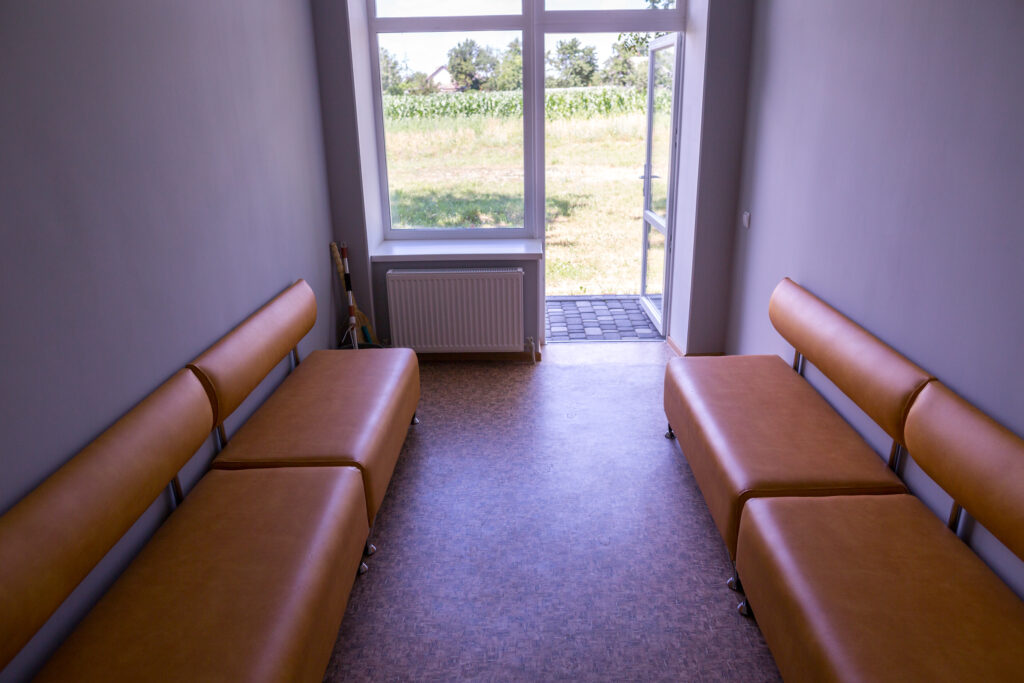 Young people, together with their adult mentors, also created a humorous video congratulating teachers on Teacher's Day, and held a master class on making greeting cards for primary and secondary school students. During this work, kids offered a lot of creative ideas.
Activities for patriotic education and historical research do not bypass here either. So, in memory of the tragic events in Babyn Yar, 7th grade students and their class teacher Tetyana Tarasova created a video "No right to be forgotten", in which they talked about the events of those tragic times and reproduced them in excerpts in the video.
"We are against bullying"
This is how the participants of another important educational event, a training under the same name in the youth center, spoke, noting that bullying is, unfortunately, an existing, but unacceptable phenomenon. Young people talked about what terrible consequences it could lead to and that it had no place among the youth of Dmytrivka.
"Out of format" – to make it more interesting
To participate in the now popular among the youth Halloween party, Dmytrivka young folk willingly created their own images and used original makeup. Creepy scenery created a mystical atmosphere, and interesting competitions intensified emotions. As part of the holiday, everyone also watched a horror movie together.
And for the little ones
The youth space also visited a magical holiday, on the occasion of which children are waiting for gifts under their pillows – St. Nicholas Day. Here they approached him in an original way – they held a master class on making postcards, according to which the children decided to congratulate their parents. And later they organized a similar one for the production of New Year's cards. A humorous video was also shot for the New Year. Pupils of the 6th and 7th grades prepared and conducted the game program "In the world of fairy tales" for their little friends from the 1st and 2nd grades.
The children of internally displaced were accepted in Dmytrivska hromada as their own
With the outbreak of war on the territory of Ukraine and the appearance of temporarily displaced persons, the format of work of the youth center "Youth space" has changed. Currently, entertainment events and master classes are held here, games and films and cartoons are organized for children and youth from families of temporarily displaced persons.
"All educational institutions of Dmytrivska community: school and out-of-school, kindergartens, and a youth center have united and are engaged in volunteer activities," said Natalia Boyko, head of the education department. They created a humanitarian HUB to help Ukrainian soldiers, people fleeing the war who are constantly arriving in the community. We pay a lot of attention to IDPs and their children.
In particular, we try to help children to adapt from what they have experienced and provide socio-psychological assistance to children who suffered during the hostilities and families of internally displaced persons. For that, a practical psychologist of Dmytrivska school named after Taras Shevchenko, Olena Larionova, provides advisory services, and the director of the Youth Center Dariia Zhyrova organizes recreational activities for them. During meetings in the youth space, children get to know each other, play, participate in stress relief classes … And also … think about plans for the future.'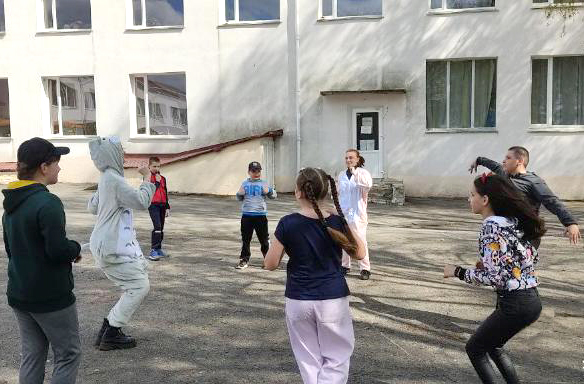 "We try to support children so that they do not feel like strangers in a new place, because now we are as one," said Lidiia Myrkotan, head of the culture department of the village council.
The children of IDPs were accepted as their own. Kids were surrounded with care and amused with a variety of events to distract them from experiences and disturbing thoughts.
Dmytrivska community head Nataliia Styrkul: "Providing all the necessary for internally displaced persons: a roof over their heads, clothes, food and other essentials is one of our important tasks. It is our duty as citizens, Christians, and just normal people to accept them well.

Almost a third of them are children, many elderly and disabled people. These people need constant attention."
Fact. As of May 16, almost 500 refugees from Donetsk, Kharkіv, Kyiv and other regions affected by the war found shelter in the territory of Dmytrivska community. Among them are 121 children: under the age of three – 23, from three to six years – 19, and from six to 17 years old – 78.
Currently, temporary IDPs live in the villages of Dmytrivka, Tsybuleve, Ivankivtsi, Makarykha, Hostynne, Ploske and Veselyi Kut.
Children of internally displaced are involved in distance learning. They find themselves in clubs and in youth space. A psychologist and a speech therapist work with children.
"For example, if we plan to watch cartoons, we discuss them next," said Dariia Zhyrova. – In this way, we also develop their mindfulness and imagination. Necessary part of the routine – games, board games or entertainment. Traditionally, these children also like the game "Mafia", in which they can feel like a detective, doctor … They are interested in discussing this. Such games not only develop imagination, creative thinking, sketch work, but, most importantly, give them a good mood for the whole day.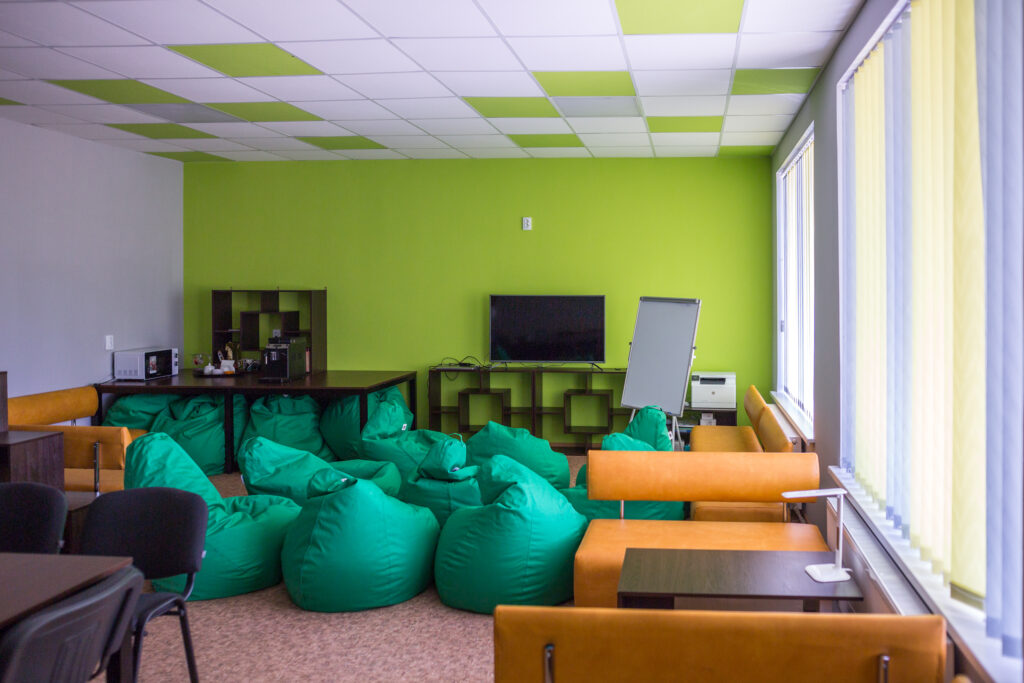 Together with the children, we planned to create a video project "The Talented Future of Ukraine", where each of the kids will be able to show their talents, hobbies…".
Any war always ends. In Dmytrivka, in the youth center, they are convinced that this must end as soon as possible. And only with our Victory. For children must return to their homes, live peacefully and happily, grow up and learn in love and care. And the youth space should return to its everyday, peaceful life, for which it was created.
Author: Petro Melnyk