How to find yourself in a new place? In peacetime, the answer to this question is often sought by people who are not fully confident. And they do not find. The heroine of this story is not like that. She has enough life force to do just about anything. Maybe it's her Sloviansk origin. Spoiler: ancient epics have nothing to do with this.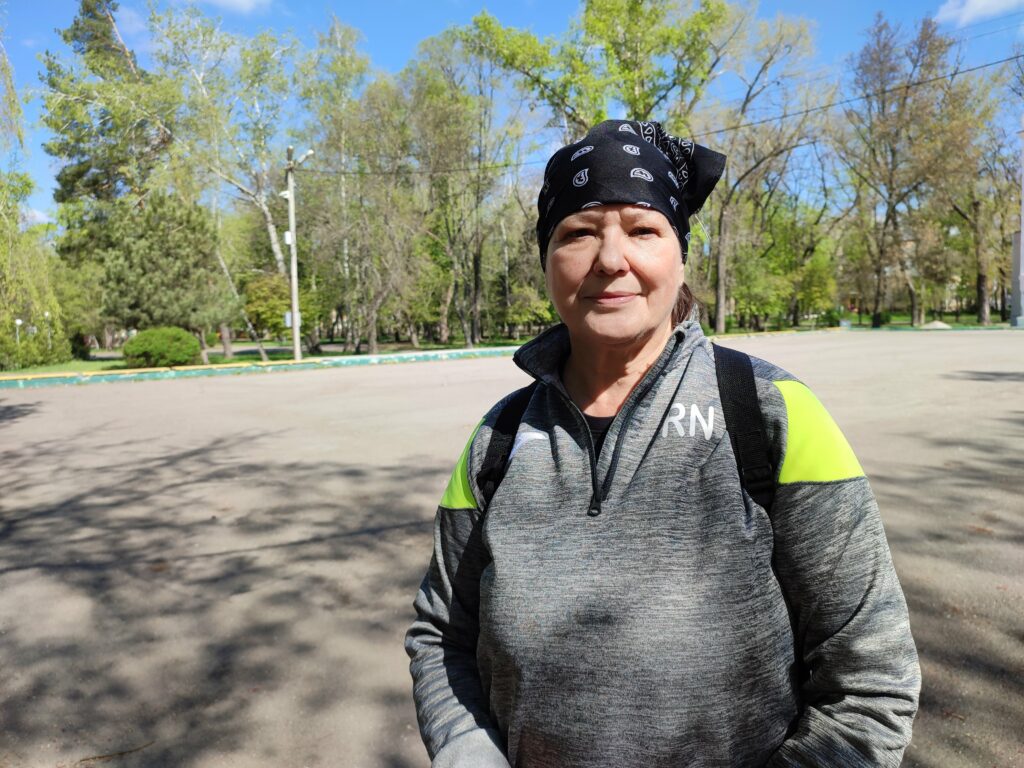 Development plans crossed out
Natalia Bondarenko is the head of the Age of Happiness Foundation for the Support of the Elderly in Sloviansk. For five years in a row, this woman encouraged elderly people to be active: she taught them Nordic walking, computer literacy and being socially useful to their community.
After the war began, Natalia Bondarenko moved to Kropyvnytskyi and continued her work there. Now she takes care of elderly people and encourages IDPs to restore their emotional resources in the new place.
She is well-known in Sloviansk as a public figure and an activist. About five years ago, she created the Adult Development Center as part of the local Culture and Leisure Center.
Together with women aged 50+ she started Nordic walking classes. Later, she used a grant to purchase laptops and open a computer literacy class. Natalia, together with like-minded people, did her best to make the lives of retired people interesting and useful.
All her development plans changed completely on February 24 this year. From the first day of the war, Natalia, along with other concerned people from Sloviansk, began helping the needy through the volunteer center. She conducted online psychology classes to help the frustrated locals. She used her own car to deliver humanitarian aid to Kharkiv and take people out of the shelling.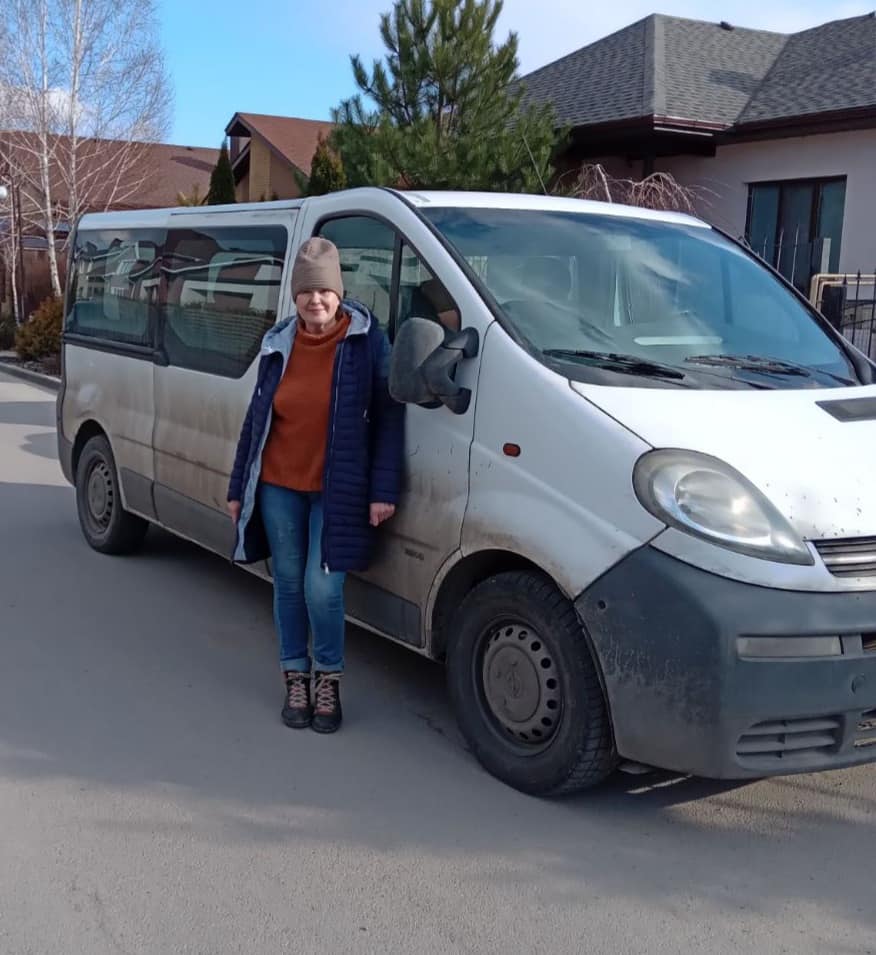 New life in Kropyvnytskyi
Late in March, Natalia had to leave her hometown herself, it was too dangerous to be there. She chose Kropyvnytskyi for shelter. In this city, she not only found refuge, but also continued her life's work – integrating the elderly into society.
Natalia did not want to go far from her home. This is one of the reasons why she stopped in Kropyvnytskyi. There were other advantages over, for example, going to the west of Ukraine.
"Due to my social activities, I know a lot of people all over Ukraine, in different regions. I could have gone anywhere. But I decided to stay in Kropyvnytskyi. I know well Victoria Talashkevych and Goncharenko Center here. I was in Kropyvnytskyi on an educational visit in autumn and fell in love with the city. I feel calm and well here," Natalia Bondarenko explains her choice for a peaceful life.
Nordic walking in Kovalivskyi Park
Nordic walking classes were new to Kropyvnytskyi. Local people learned about collective free classes from social media.
Natalia Hurdiyan came to the first lesson together with her childhood friend, who had been her classmate. The 71-year-old woman gladly joined the classes. Now she attends them twice a week.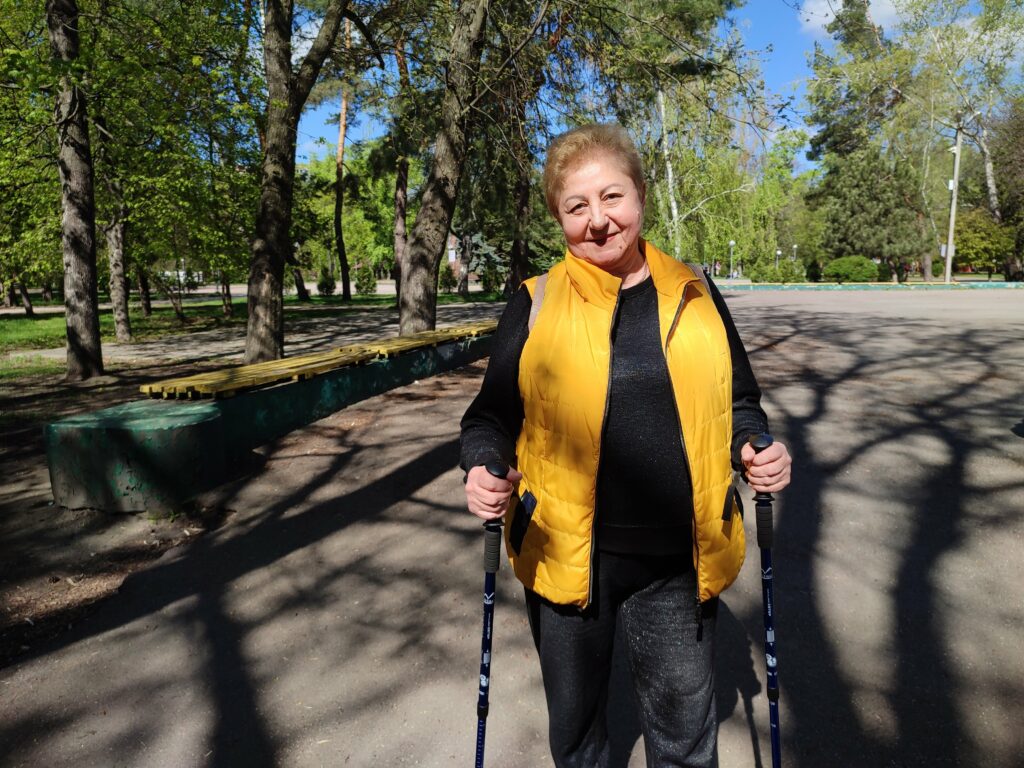 Classes are held in the open air in Kovalivskyi Park. The park is located in the city center, so it's easy to get there. A class lasts up to 90 minutes. They start with warming up all the muscles. Then there's "energy connection with the universe", an interesting meditation exercise, communication with the wind and birds. And after that they start walking with a prior instruction on how to move properly. American friends helped to buy walking poles. Natalia also took her kit with her, but kindly provided it for general use.
"We walk three circles, watching the load, breathing and posture. The age of participants varies from 50 to 75. There are more people on weekends. Thanks to the help, we also bought mats. When it gets warmer, classes will be varied. We will add Pilates on the roof of Goncharenko Center," says Natalia Bondarenko.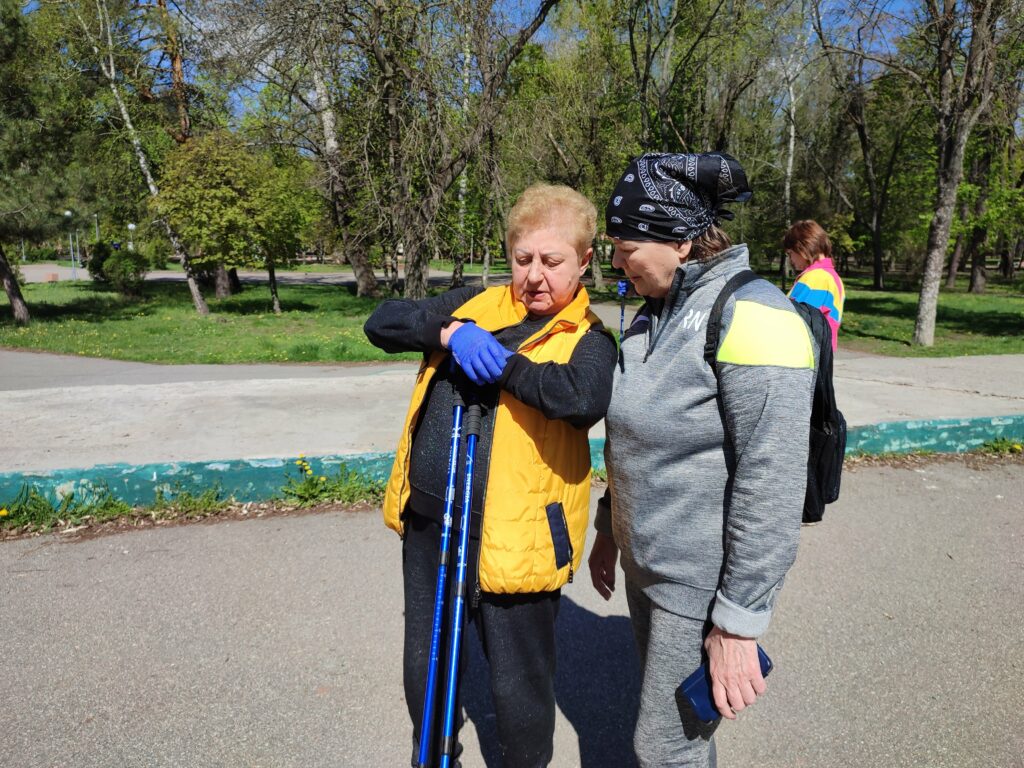 "We managed to buy sports equipment for Nordic walking and roll mats for future yoga and Pilates classes thanks to the generous donations of our compatriots and their friends from Florida, USA.
When the participants learn the intricacies and rules of Nordic walking, we will make trips to nature, to the arboretum or other interesting places," – Natalia Hurdiyan shares her plans.
She made new friends here; she does walking not only for the sake of health, but also for communication. She also gladly joined computer literacy classes. She plans to take oriental dance lessons and join a psychological assistance group.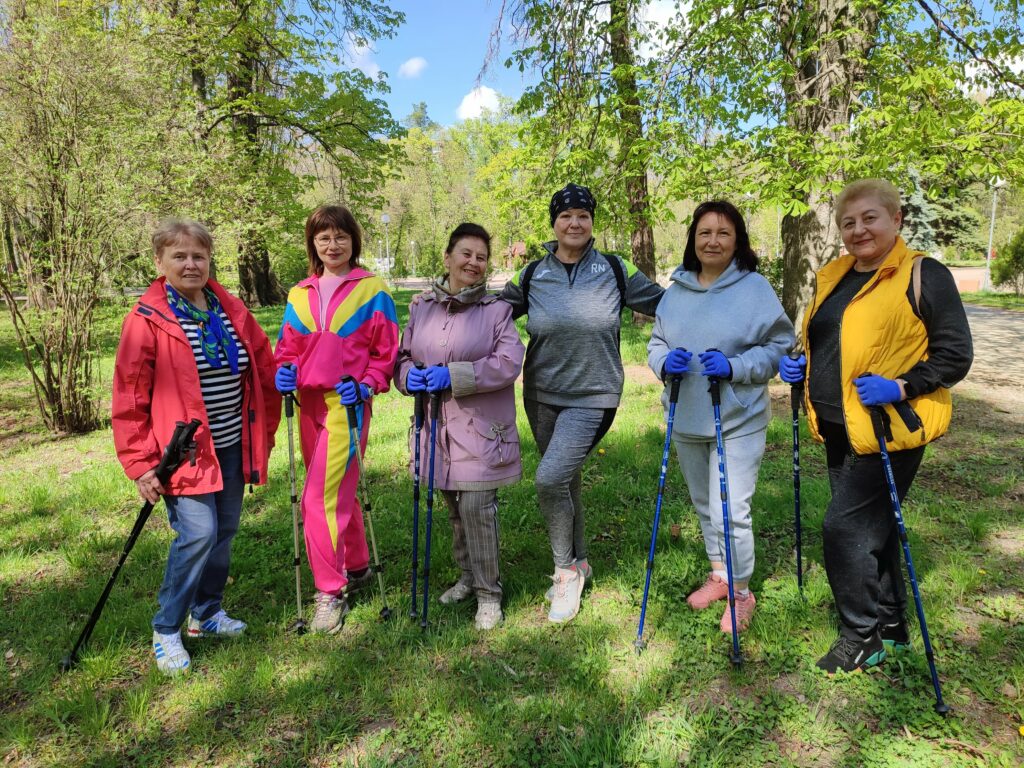 Computer classes for beginners
Her classmate and friend Lilia Yurkovska also learned about computer literacy classes through the Goncharenko Center information channels. "I visited the center after Diia was launched, because I wanted to install the application on my mobile. I learned to use it."
"When I learned about computer literacy classes, I willingly joined them. I am glad that the classes are free. We learn how to work with a laptop from the basics. The first lesson was about how to turn on and off a laptop, monitor the battery charging status, the second – how to use a keyboard. We will also learn how to create a text document and many other things.
In general, the computer literacy course is designed for two-month classes. It is for people who don't know how to use a computer. We will learn how to type, register on social networks, search on Google. Finally, we will be able to access our personal accounts in the Pension Fund, online banking and other modern services, without which we can no longer imagine our lives."
Natalia managed to take the laptops out of Sloviansk. So they have equipment for 10 people at a time. Lessons are held at Goncharenko Center. But Natalia Bondarenko already dreams of separate premises. She has submitted an application for grant funding that will allow them to expand their capacity.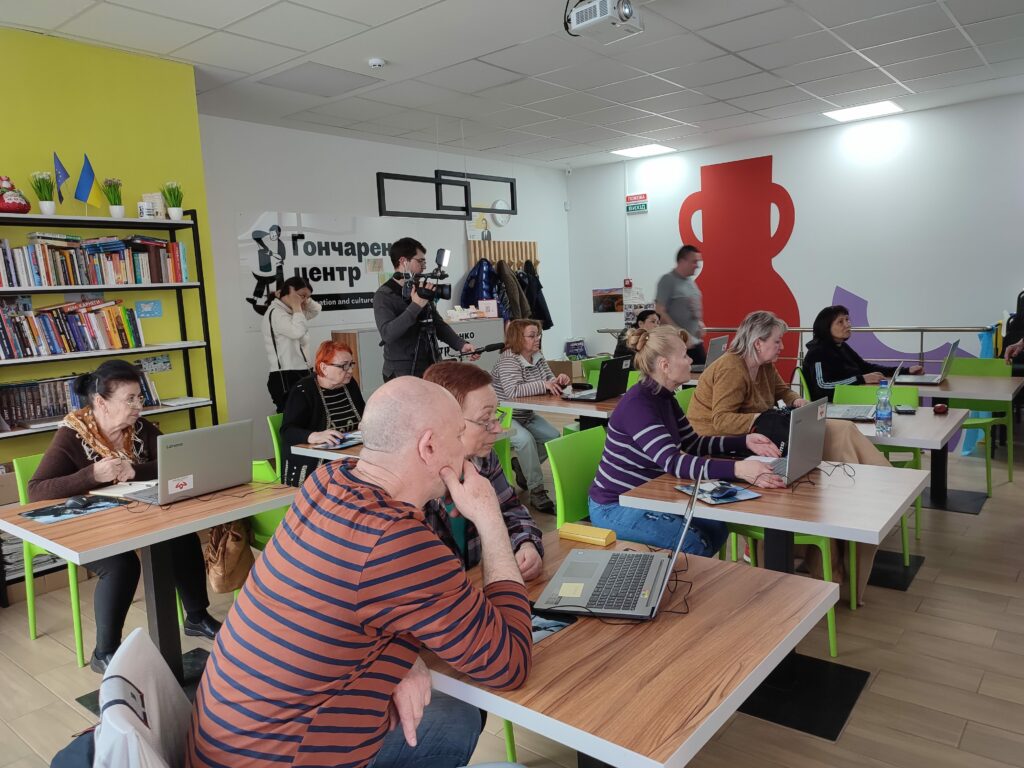 For the sake of restoration of IDPs' resources
The first to join the Age of Happiness Foundation activities were the locals of Kropyvnytskyi. But Natalia is making efforts so that classes could be attended by IDPs who found refuge in Kirovohrad region.
To promote the IDPs' adaptation and restoration of their psychological resources – this is what the activities offered by the Age of Happiness and Natalia Bondarenko are aimed at.
Natalia says: "Sometimes they say that now is not the time for that. Nordic walking and computer literacy courses are out of the question, because there are a lot of unsolved problems. But Natalia, a psychologist by profession, is sure: This is a good time for everything, all this allows people to restore their resources and start to be useful for their loved ones and the community.
"This is my front and my responsibility. That is what I do in life, – says Natalia Bondarenko about her work. – All activities are aimed at developing people aged 50+. Ukraine is inevitably aging. But elderly people are not a burden for the state. This is an opportunity for their development; the main thing is to give them an opportunity to be useful."
Mutual support during the war
Every week Natalia Bondarenko gathers a mutual support group. This is extremely important during the war, – the psychologist is convinced. Similar online classes were already held in Sloviansk when hostilities broke out. Natalia continued the format of live meetings in Kropyvnytskyi.
"In times of crisis, when the country is at war, it is very important to be able to gather and talk. Talk about what worries you, talk about the future, your feelings and the challenges of the present. And to get support – to find those "pearls" that will help restore psychological resources and live on," – the organizer of such meetings says.
It is definitely necessary to conduct such meetings. Natalia Bondarenko, who has enough strength and resources to be useful to others, is convinced that our psychological state is also a resistance to the enemy.
---
Olha Nikulina, journalist of the Anti-Crisis Media Center, freelancer, Kramatorsk. The article was prepared during her stay in Kropyvnytskyi
May 18, 2022
The material was created under the joint project of Ukraine Crisis Media Center and the Estonian Center for International Development with the financial support of the US Embassy in Kyiv and the Ministry of Foreign Affairs of Estonia.