It was yellow like a sunflower, soft and… two-meter tall. This teddy bear embodied my childhood dream. I saw such a toy in a store in Mariupol three years ago.
"Teddy bears are no longer trendy," said a saleswoman, noticing how thrilled I was. "You'd better take that long-pawed cat Vasyl. And if you dream of a huge toy, we can order a 4.5-meter-tall unicorn from a factory."
That's how I first heard about the factory of soft toys, children's and women's clothes "Marie and Paul."
And then I found out that the factory owner, 26-year-old Ruslana Shcherbyna, had lived in Dnipro since recently. Together with her husband Andriy and their three-year-old son Myroslav, they left their native Mariupol on February 24. Now Ruslana is trying to revive her production in a new city.
Such actions can only be welcomed, as the war results in more and more losses for entrepreneurs. Already 42% of the member companies of the European Business Association have reported losses of property or other assets in Ukraine as a direct result of hostilities. The question arises: if everyone leaves, who will revive our economy after victory?
You have to act to make a dream come true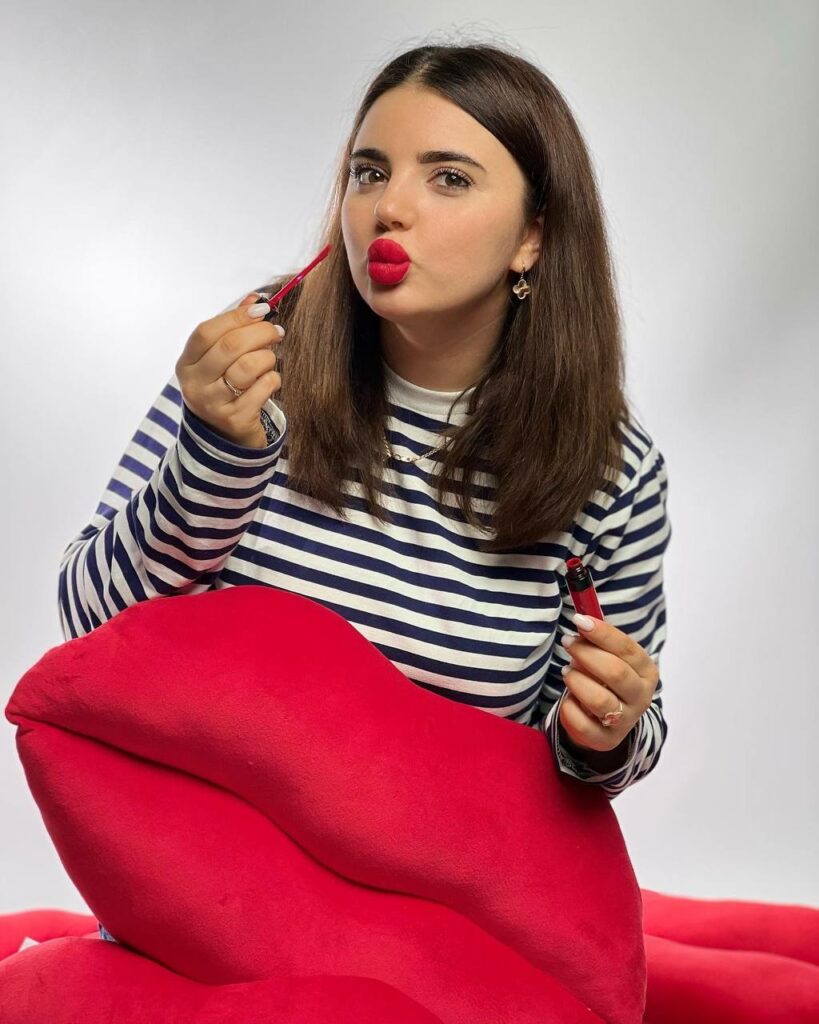 She comes from a large family with brothers and a sister. Their mother, who worked in a kindergarten, was responsible for their upbringing. Though the family didn't have a lot of money, the kids had plenty of soft toys. It was Ruslana's love for teddy bears, which she still collects, that later turned into a childhood dream of a toy factory. It turns out that dreams do come true if you make an effort to implement your idea.
While studying at the Law Faculty of the Mariupol University of Humanities, Ruslana opened a small store selling men's clothing under a franchise. Even then, her entrepreneurial talent made itself felt! And later, the businesswoman set up her own production of soft toys, which she had been dreaming of for many years.
"The main challenge I faced was financial. I understood that I did not have enough money to start a business, so I began to actively seek additional sources of funding," she recalls.
Being a fourth-year student, Shcherbyna read information on the Mariupol City Council website about "Ukrainian Donetsk Kurkul" small business support and development program.
Then, in 2017, the local government supported the student's business plan and gave Ruslana a cash grant. The girl bought equipment and started production. She named the mini-factory after her native and most beloved city – "Marie and Paul". The team included garment cutters, seamstresses, and embroiderers. At first, there were three of them, and then the team doubled in size. There was no one among the girls who had sewed toys but not clothes before. So they gained their first experience of making toys together.
"Plush" life
The factory was born long and painfully, the whole process took 9 months. It was as if a baby came into being. Ruslana admits that it was very hard at first. There was even a fear that production would have to close. But, luckily, advertising on social media eventually paid off. The Mariupol business's soft toys became popular not only in the Azov region.
They were just starting to stand on their feet when Covid-19 began. During the quarantine period, the factory started sewing medical masks. That helped them survive a tough period and even launch a line of kids' and women's clothing. All models were beautifully embroidered and in demand. Two years later, they managed to establish the manufacturing of new products.
"We started sewing plush embossed toys, tactile, very pleasant to touch," Ruslana continues her story. "It's hard to calculate how many plush animals and fairy-tale characters the Marie and Paul craftspeople made per month."
They invented characters and patterns independently. One girl helped Ruslana cut the details of the toys. The girls constantly developed something new, sewed, and adjusted. They tried to fasten the parts to the toys firmly so that a kid would not tear off, say, an eye – such elements are screwed on, from the inside it looks like a bolt with a washer, and not just stuck on glue.
"I was not on maternity leave – I was already working a week after my son was born," Ruslana recalls. "Since the baby was two months old, he had gone to work with me. We had to coordinate our production with him: when Myroslav slept, we turned off the equipment so as not to wake him, and when he woke up, we turned it on again. He grew up at my work and, of course, could take home any toy, as well as pillows and plaids. My son loves our plaids. They have plush on one side and cotton on the other."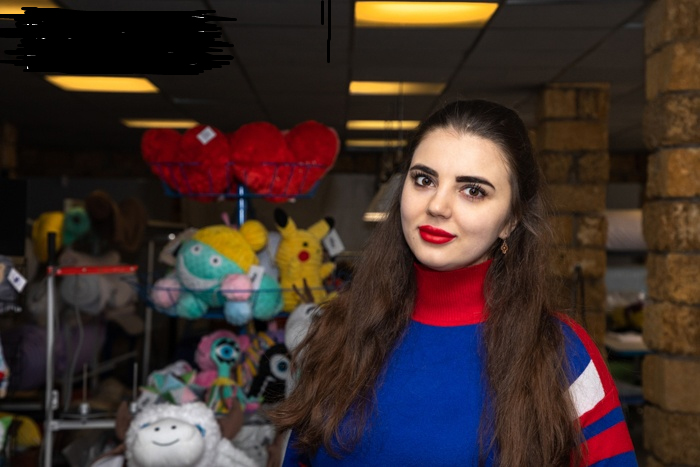 "Marie and Paul" will return to Mariupol!
In a few years, the entrepreneur managed to open and develop a new production. "Many people constantly complain about their circumstances, but if there is a desire, you can achieve anything," Ruslana Shcherbyna explains her success.
She dreamed of increasing production thanks to the income from it. She worked not only with local stores, but also established connections with large retail chains and large stores in other regions of Ukraine.
"There was an opportunity to cooperate with stores abroad – the Czech Republic, Slovakia. I have relatives there who will help overcome language barriers when it comes to negotiating with stores about cooperation. For Europe, you need to meet certain quality criteria and pass a series of checks. I started working on this issue to satisfy even the most picky moms."
But the morning of February 24, 2022 thwarted all plans. After learning that hostilities had resumed and the russian army had entered Ukraine, the woman called her co-workers, informing them that she was leaving Mariupol.
"We got used to distant explosions back in 2014-2015," Ruslana sighs. – But when missiles began to hit the city, I decided that I could not risk the life of my child."
They hastily packed the most essential things, and took only money and gold with them from valuables. Ruslana miraculously managed to grab two of Myroslav's favorite plaids and throw them into the car. She also took a pillow. Being confused, she didn't take any of the toys. They planned to spend several weeks in the village, so they took a minimum of seasonal clothing, money and documents.
"None of the factory staff agreed to leave Mariupol. Neither did my mother-in-law. She is still there; we left our cat with her. Only recently, volunteers brought our pet to me," the interlocutor continues.
The family went to the west of Ukraine, where Ruslana's parents had been living for several years. Ruslana's family spent a whole month there. Then she called Kyiv and Dnipro about the relocation of her business. Finally, after weighing all the pros and cons, the family moved to Dnipro.
Ruslana is trying to keep in touch with her co-workers and relatives in Mariupol. She learned from them that her apartment had been ransacked. Even the interior door was removed. Many neighbors died.
"Today there are many bloody wounds on the map of Ukraine. Mariupol is one of the deepest, – Ruslana reflects. – Every inhabitant of this city by the sea, which has been almost completely turned into ruins, has a heartbreaking story. One of my co-workers, together with her husband and eight-year-old son, left Mariupol at the end of March – beginning of April on foot, literally over corpses. While they were walking, they saw severed arms, legs, and heads scattered around. Her husband held their son's hand and kept repeating: "Don't be afraid, you're with me, you're with your dad."
Ruslana had to leave UAH 3 million worth of sewing equipment in Mariupol, and that's not counting finished products and purchased fabrics. The factory employees managed to take some of the equipment to their homes to keep it safe from "nationalization". Unfortunately, it is still impossible to take it out of the city. Nevertheless, Ruslana is morally ready to start all over again.
"Many people remain in Mariupol because of elderly parents who refuse to leave, – just like my mother-in-law, who is there with my husband's sister," she sighs. "My workers are all ready to leave as soon as I announce that production will start again."
Pending the tender procedure, the entrepreneur has already ordered sewing equipment in Poland. She plans to initially revive the production of children's and women's clothing under the brand name "Marie and Paul," as well as clothing for Ukrainian military. The businesswoman does not hide the fact that she intends to hire mostly IDPs from Mariupol.
"I am a fan of my city," she explains. – I chose Dnipro primarily because it is close to Mariupol. My son asks me: "Can we go and repair our house, which was damaged by tanks?" When my city by the sea is liberated, I will return to it very quickly."
And now Dnipro has become the safest and most comfortable city for Ruslana and her family. She does not want to go abroad.
"If everyone leaves, who will revive our economy after the Victory?" – she asks.
Her choice, her activity is the answer to this question.
Liudmyla Maslova
13.08.2022