If anyone tells you that Mariupol is alive, don't believe it. Half of it is destroyed; almost 90 percent of the buildings are damaged. According to rough estimates, only a fifth of the population remained from half a million in pre-war times. No one knows how many were killed on the streets, in yards and in apartments. The number of victims will be more or less clear only after the de-occupation of Mariupol.
Those who managed to escape from the Russian invasion do not want to revive those memories, put them on pause and describe everything they experienced. But we managed to persuade Viktoria to tell her story. She says that at that time she already realized that there was no way out. No two walls or even a basement would save from a bomb. The only thing she wanted then was to die instantly. And together with her mother, who had senile dementia. She remembers what happened 30 years ago, but does not know what happened yesterday. Every morning her mother would wake up and forget that a war was going on. At first, the daughter explained everything to her, and then stopped, so that she would not get upset and worry about her son. She said that there was thunder. One day, while returning home, she saw someone's legs lying near the entrance. The rest of the body hung on a tree.
Viktoria lived in Mariupol all her life, it was her city. Home, sea, school, family – everything was there. The war went on for eight years close by, her husband and brother were in the army, she herself was engaged in volunteering. She was sure that Mariupol was well protected and would survive a full-scale invasion. So in the first days, on hearing the explosions, she wasn't going to leave. She took her sick mother to her house and bought some food. And then there was endless horror and fear: cold, hunger, airstrikes. She will tell you herself.
"In the early days, we tried to support each other by phone. We could hear explosions. But it's a war, no wonder, – I thought, – they'll kick those Russians in the teeth, and everything will be over. On March 2, electricity, water, and the Internet were cut off, there was no communication. We hoped everything would be restored, we had to be patient. This March was very cold, the temperature in the apartment quickly dropped to +3. We had to wear several sweaters, socks, and wrap ourselves in blankets.
I will never forget this cold. It felt like my bones were frozen and could not move. The most important thing was to get boiling water. I would take water from the bathtub, run outside and look for a fire, boil the water over it and pour it into a thermos. We drank tea and made cereals all day. I didn't want to eat, but I had to feed my mother.
I couldn't take my mother down to the basement, it was hard for her to walk, and I couldn't leave her alone either. So we sat together under a blanket under continuous shelling. They hit us with everything: Grads, tanks, artillery. But the worst thing was airplanes. That sound was simply numbing.
I left my mother only to fetch water and then boil it. Water was taken from wells, it was bitter and salty and impossible to drink. Those who took a risk got poisoned and suffered a lot afterwards.
Once I came to the well, and saw dead people lying there. A man was holding a five-liter can and a woman was holding two. The living stood in line, quickly collecting water. When I returned, someone's legs lay near the entrance and the rest of the body hung on a tree.
Every day there were more and more corpses. The dead were wrapped in sheets and stacked along the road. Later, we stopped noticing them. There was no time to get into a stupor, we had to hide in time so as not to lie like them. It was impossible to leave. There was no evacuation at all. The Russians did not allow it.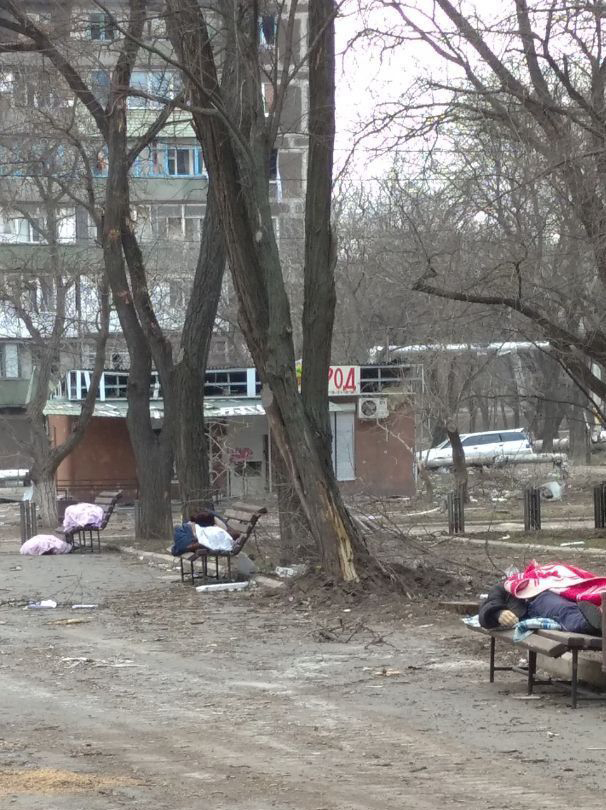 Shops closed long ago. People went looting, stole everything, even flowers on March 8. Then they took things out of other people's ruined houses. It became scary to walk around, as they could take your water or porridge or just kill for a warm jacket. We began closing the entranceway for the night.
There was no information, we did not know where our army was or where the Russians were, what was happening in Ukraine, we thought that there was such horror and chaos everywhere. I didn't know anything about my husband and brother. Some people had old radio sets, and they told us Ukrainian and Russian news while we were queuing for water. That contradictory information made it even worse.
Kids kept crying in the basement, they wanted to eat. Their parents fled on foot from the city center, where fighting was already taking place, but they did not bring any food. The whole house fed one-year-old twins.
Once I was lying on the sofa under a mountain of blankets. Suddenly I saw a very bright white light in the window. This is how God usually appears in movies. Then I saw a flash and heard a roar. A shell hit our house. A powerful shock wave shattered the windows and lifted me up on the sofa. It was even colder.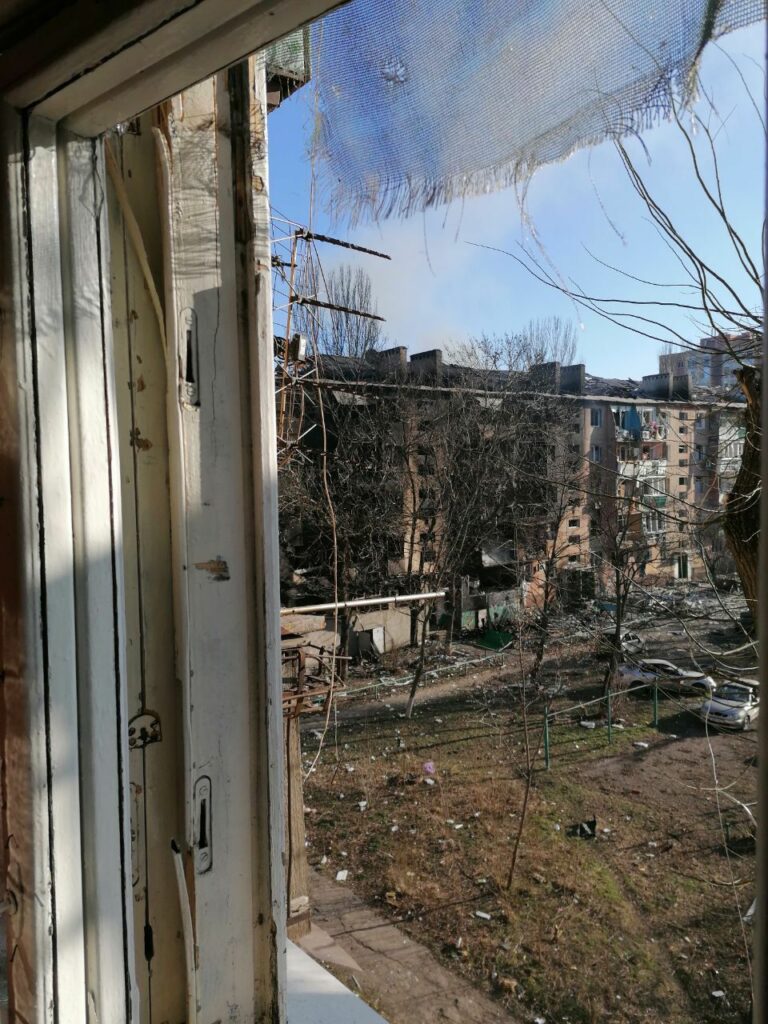 The situation got worse every day. I was confused about the days. And when the clock stopped, it was totally unclear whether it was morning or evening and the sweltering darkness seemed to be eternal. Nights were eternal. Then we realized that the plane was flying and bombing around 4 in the morning. Three hours of bombing – and the sun will rise.
On March 15, a neighbor brought russian rations. I realized how close they were. The orcs were deployed in the 23rd district. It was dangerous to stay in the city.
On March 17, our neighbors were going to leave, I persuaded them to take me and my mother. We were very lucky. Our acquaintances helped us buy five liters of gasoline; it was just a precious treasure. I packed my suitcase and we left. Mariupol was scary, it was dead.
But when we reached the occupied Bilosarai spit, 30 kilometers from the city, we saw intact houses, it was relatively quiet there, there was electricity and water, and we could buy some food. At that time, it was not clear why they hated Mariupol residents so much. Why did they kill peaceful people?
I managed to charge my phone and hear familiar voices. The Buryats with guns were walking around. We could hear russian ships hitting Mariupol from the sea and understood that every sound was dozens of lives.
We went to Zaporizhzhia three days later. At the first checkpoint, the russians stopped us because they saw a lawyer's business card with a trident in my passport, and decided I was a Nazi. They began to torment me with questions. And then they found a photo of me with the flag of Ukraine next to the Ukrainian military in my phone folder. They asked me to show my hands and phoned someone more senior.
The senior russian officer arrived two and a half hours later. I said that we all took pictures with the Ukrainian military. I kept silent about the fact that my relatives were fighting. I was afraid that they would somehow track that, but there was no access to the bases at that time. What saved me was that I had my work pass with me. Besides, my mom was very sick; I said that we were taking her to hospital. They looked at each other, looked through all the bags, took what they liked and let us pass.
I just threw my phone away because there were more than 10 checkpoints ahead. The orcs ordered the men to strip to the waist and checked them for tattoos. I was afraid that my mother would say something. Sometimes her memory returned to her and she said: "Putin – motherfucker."
Finally, we arrived, saw the Ukrainian flags, and cried. After we left, I learned that many friends and acquaintances had died in Mariupol. My colleague burned down in her apartment. A friend's 14-year-old daughter died. They were cooking in the yard, when a shell hit them.
All this stays in my mind. I couldn't sleep for the first two months, I couldn't talk about what I experienced, I cried all the time.
Now we live in Dnipro, we do not leave abroad. My boys, husband and brother are alive and fighting. People remained in Mariupol for various reasons. Many want to leave. Someone cannot leave their old sick relatives, someone will not pass the filtration. I feel sorry for them; they continue suffering under occupation. It is said that many have gone mad. Someone committed suicide, could not survive the loss of relatives or property. I don't want to talk about those who run with tricolors; they were, they are.
But I believe that Ukraine will definitely win, Mariupol will be liberated and we will return to our city. We will rebuild it and will live as happily as before.
YULIIA SVIASHCHENKO