While the war is going on, no one will publish official data on the number of soldiers who lost their lives defending Ukraine. Who needs this statistics today – it makes it difficult to look into the face of each dead person. The main thing is that for us they will be heroes forever.
Yet some figures are known. At the end of August, the Commander-in-Chief of the Armed Forces of Ukraine, Valery Zaluzhnyi, said that there were already 9,000 fallen heroes. He added: "Not only servicemen and not only those who took up arms take part in this war – our little kids who are not guilty of anything, except that they were born right here and at this very time. They really do not understand anything that is happening, but they definitely need protection in Soledar, Bakhmut, Velyka Novosilka, as well as here, because their father is at the front and may be among those almost nine thousand heroes who have died."
Here is one of these nine thousand stories
They are still in front of my eyes. Two grieving women, black from distress. Yulia and Lilia. The wife and sister of our countryman Volodymyr Oleksandrovych Leonenko from Zeleny Kut, who was buried on September 30 at the Alley of Glory at the central cemetery of the village of Krynychky. In the village of Zaytseve, the Bakhmut district of Donetsk region, according to the official notice (funeral letter), "during mortar shelling, he received wounds incompatible with life and died on September 25 at 4:30 p.m." He turned 33 on August 29…
The youngest of the Leonenko family, Volodya was born in the Petropavlovsk district of Dnipropetrovsk region. In 1995, their family moved to Krynychky. Father Oleksandr Vasyliovych worked as a mechanic, and mother Natalya Volodymyrivna worked as a milkmaid at the then collective farm named after Lenin. Volodya studied at Stepanivska School. Then he went to the Shchorsk Agricultural Vocational Technical School, where he was trained to be a mechanic. He got another degree in welding in one of the schools of Dniprodzerzhynsk.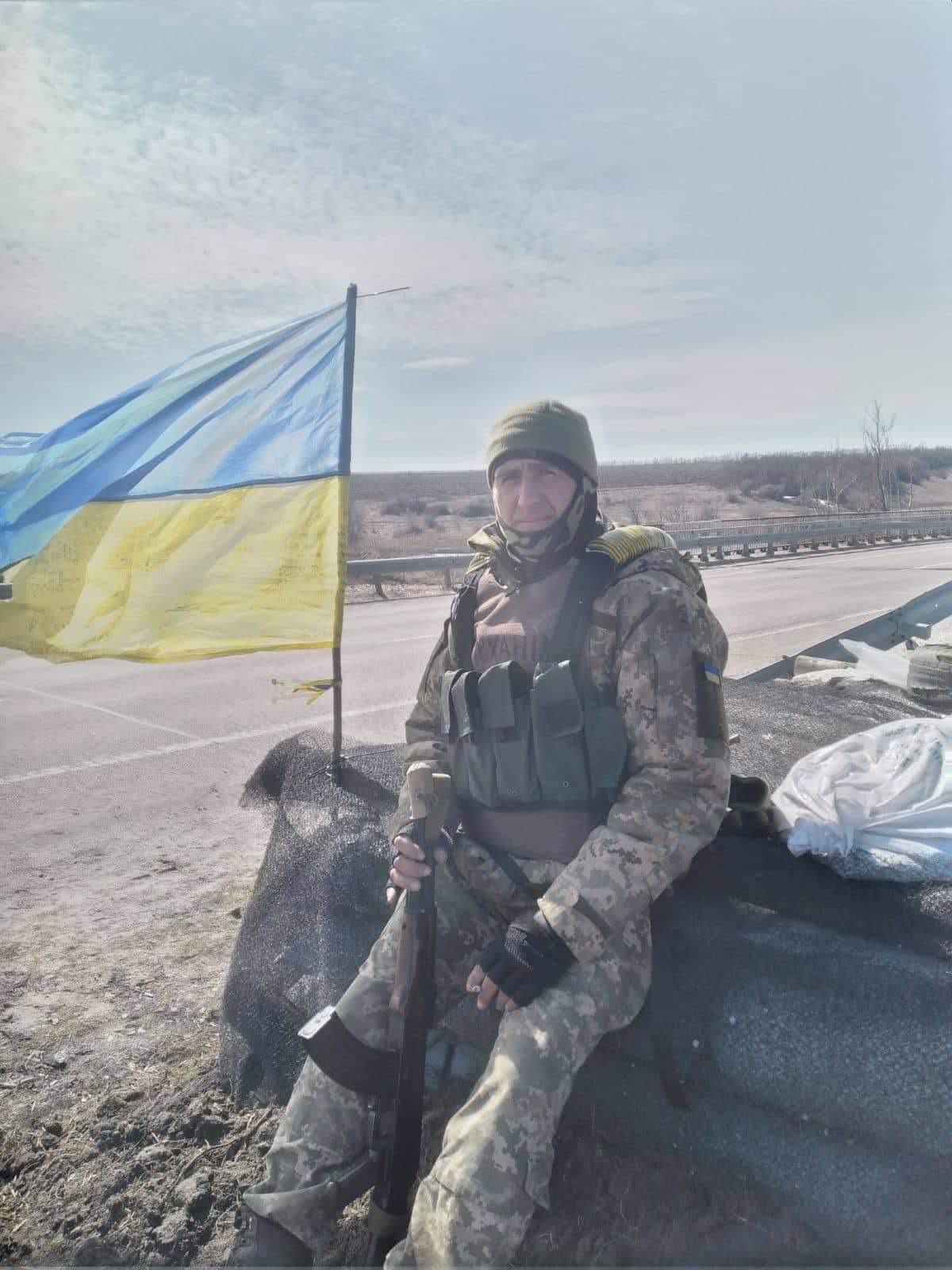 The war for him began in 2015, when he became a member of the anti-terrorist operation. He served in the 9th Motorized Infantry Battalion "Vinnytsia" of the 59th Motorized Brigade. He was in the hottest spots, for example, in Popasna, the Luhansk region, for a year and a half. He knew what he stood for then and now at the very "zero" in the east. As he told his family, "I fight for my country, I defend my Motherland." These were not just lofty, pathetic words. Behind them were his wife, children, parents, sister and brother, fellow villagers, you and me. He did everything possible to prevent the enemy from advancing deep into the country.
Maybe he would have stayed to serve under the contract (he had such an idea, and he fought skillfully), but Mechanic (Volodymyr's military nickname) wanted to see his son, now seven-year-old Artur, grow up. In order to provide for his family, he worked in the ATB trading network, the Agrocenter K pig-fattening complex, at construction sites together with his brother.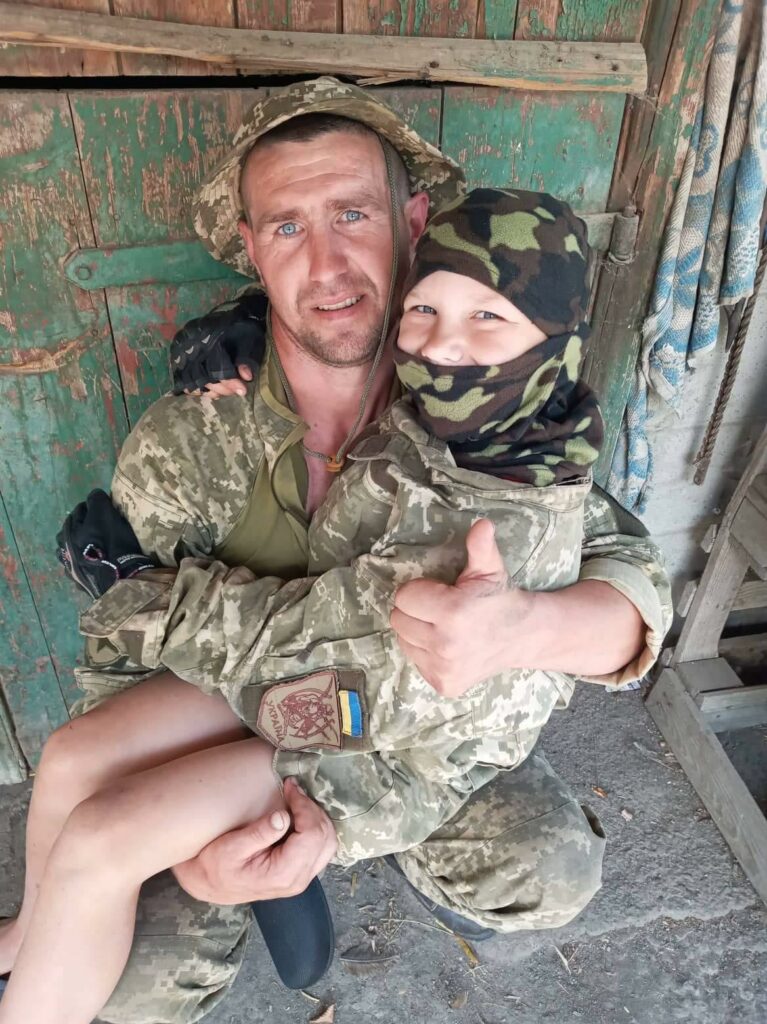 From the first minutes of russia's full-scale invasion of Ukraine, Volodymyr knew that he would take up arms again to defend the most precious things. On March 3, he was already far from his home. At first, he guarded strategic facilities in the Kharkiv region, together with his comrades he held back the enemy at the border of the Donetsk and Dnipropetrovsk regions near Mezhova, in a special purpose unit near New York (there is such a settlement in the Donetsk region), then near Zaytseve, just 200 meters from the enemy's positions .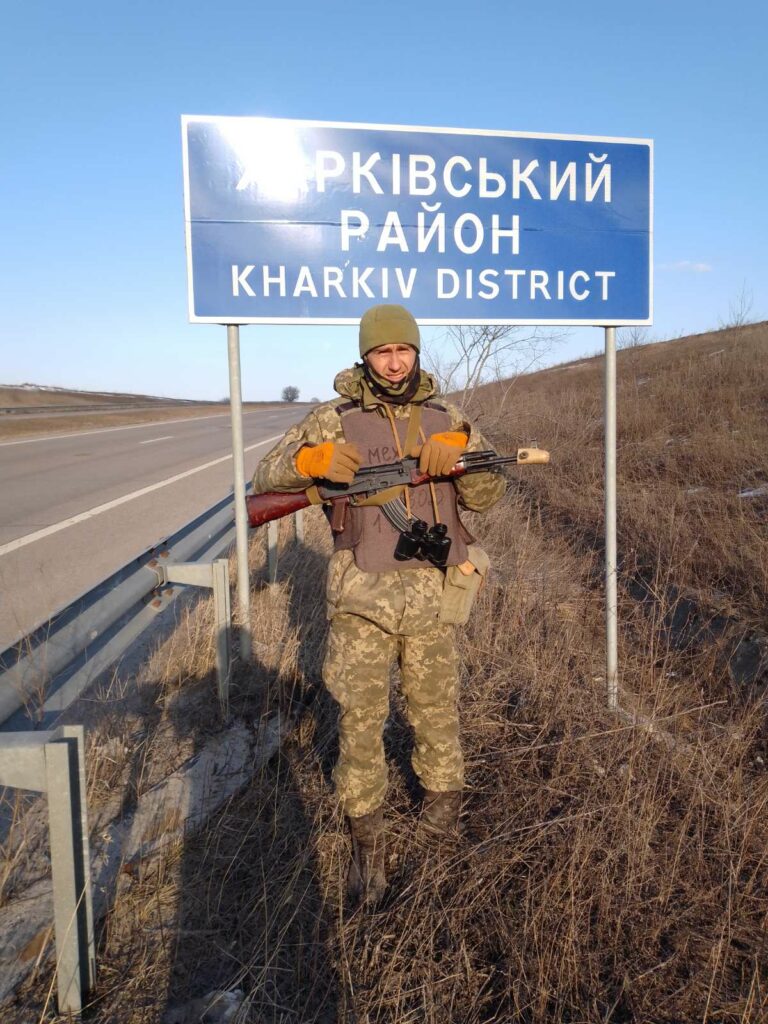 According to his family (and they were told by Volodya's brothers-in-arms), that position was terrible. The enemy attacked from all sides. And our soldiers began to retreat. Vovchyk covered the boys, fired at the orcs with a machine gun, which saved the lives of many of his comrades. His life was cut short by a sniper's bullet. Mechanic worked too well and was too dangerous for the enemy…
"Your Vovchyk was lucky," servicemen told his family. He was lucky, because his comrades were able to take the hero's body from the battlefield. Fortunately, his family and fellow villagers had the opportunity to say farewell to Volodymyr. He spent his last night on earth with his family, in his home. How many our countrymen did not have such a chance…Their families do not know where they are buried, they do not have the opportunity to cry at the grave of their son, husband, father, brother.
"He was very kind to us, like a little sun," says his sister Lilya. "He shared everything we sent to him from home and gave the last. It was cold, it was raining. We sent him three pairs of warm pants. He gave them to boys who had nothing to change into. He gave sweets to his comrades, local kids."
Volodymyr Leonenko had the right not to go to war back in 2015 and now in 2022. He wasn't fit for service due to his health condition – he had a severe head injury. He "had no complains" at the medical board. He forbade his wife to tell anyone about his illness. "Just try," he said. "I'll go anyway." She did not talk. She kept sending drugs to Volodya so that he could at least ease his never-ending splitting headache. She also sent everything else – clothes, food, military equipment.
"A lot of people are jealous: the boys receive 100,000 each. They did not. And what they received was spent on the war. There was a lack of everything, even weapon was scarce. In order to be mobile, we bought a car collectively," says Yulia.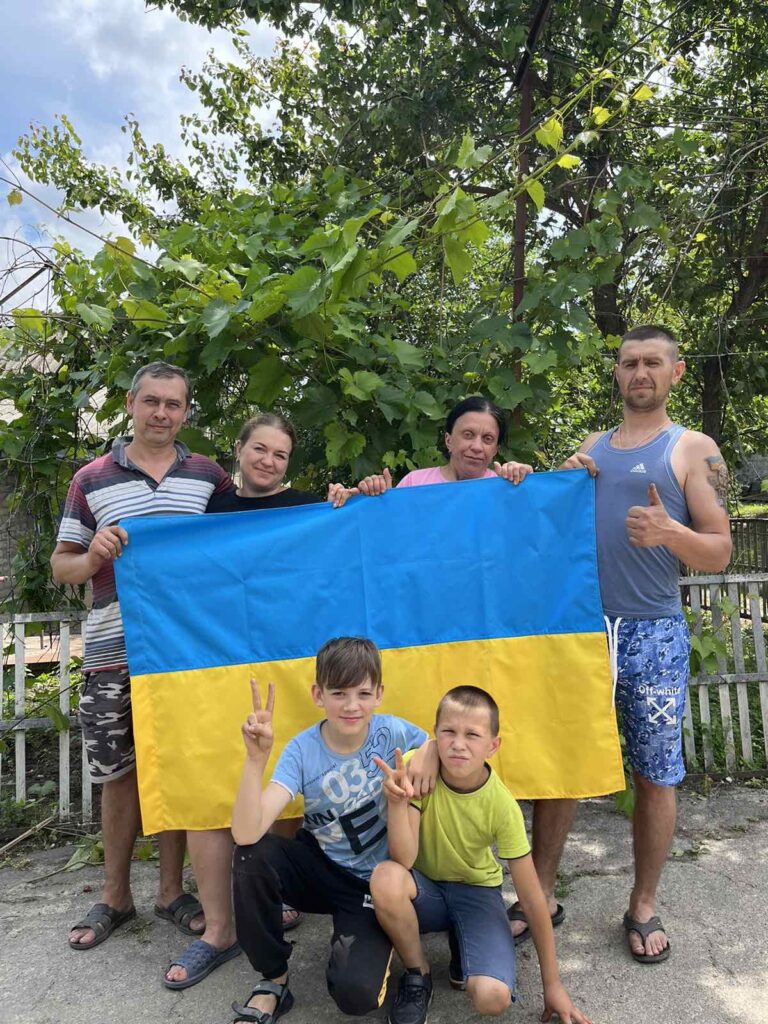 Volodymyr was everything for her. The woman found her happiness with him. Someone abandons his own children, while he raised her Tetyanka as his own from the age of seven, never said no to anything. For a nineteen-year-old girl, the death of her stepfather is also an inconsolable grief. By the way, Tanya edited a touching video about what Volodymyr was like in the war. And what a grief it is for seven-year-old Artur… Who is still waiting for his dad, even though he saw him buried. A child's mind cannot fully comprehend what has happened. Although he tries. Because sometimes the boy asks: "Who should I call dad now?"
"He took such care of us. Even there," Yulia continues. "He called on the morning of the 24th, asked if we had bread. And you? – I ask. We will have, he says. While on leave, he tried to do all the men's work, to spend more time with our son. He promised me to come back: "I will return. With a shield or on a shield…" And he kept his word. Because from the very beginning, his position was never surrender; die, but not surrender."
"It was like he was feeling something," Yulia continues. "He tried to do something nice. One day a courier delivered a huge bunch of 51 roses. I was stunned. I say: "You seem to have come to the wrong address. It's not for me." And the courier said: "Nahirna, 7?" "Yes," I say. "So, it's for you," he claims. But from whom, I ask. Look, everything is written there. The bouquet was from Volodya. He ordered luxurious flowers for me from the war. They were delivered to me off-road (just after the rain). You can imagine how happy I was. And it turns out it was the way he said goodbye to me. He wrote in the postcard: "To my beloved wife. Thank you for everything you do for me…"  
Lilya cannot talk about her brother's death without tears either.
"He wasn't conflicted at all. He could not and probably did not want to obtain any material benefits. I don't know why but everything ended on him. He didn't even receive health benefits. There weren't enough money. But he did not care about it. Because, I repeat, he was fighting for his native land and not for money. He always emphasized this. We were very close with him. He was a caring brother. Our little brother. He often reassured me. I was very afraid when Kamianske was hit. And he would say: "Don't be afraid. Everything will be fine. You have good air defense." He also told me not to worry, because they would not let the enemy into the Dnipropetrovsk region.
Volodymyr kept his word to his sister and his family to the very last. The mechanic did not just destroy the enemy himself – he taught young fighters to do this. Those two months in 2015, which he spent at the Shyrokyi Lan training ground, were not in vain. Combat science came in handy for Leonenko at the frontline. Everything he knew, he hastened to pass on to his younger comrades-in-arms.
He tried to be in touch with his wife and sister every day. At least with one of them. And then they called each other, their parents, and their brother Oleksandr. Just to let each other know that he is alive, nothing else was important…
September 19 was the last time "Brother Vovchyk" was online. He texted: "Sister, everything will be fine. Everything will be Ukraine." And she wrote back: "I miss you very much, I miss your smile and positivity. I wish you were home. I often remember how you joke and laugh when you're in a good mood." And then: "We love you, come back home, we are waiting for you."
And he wrote: "Thank you, everything will be fine, I'll be back soon." And sent the last photo: "Mechanic and Pokemon." Lilia answered: "You made me smile, brother." And then she added: "Brother Vovchyk, take care of yourself. May the Lord protect YOU. We are praying for YOU."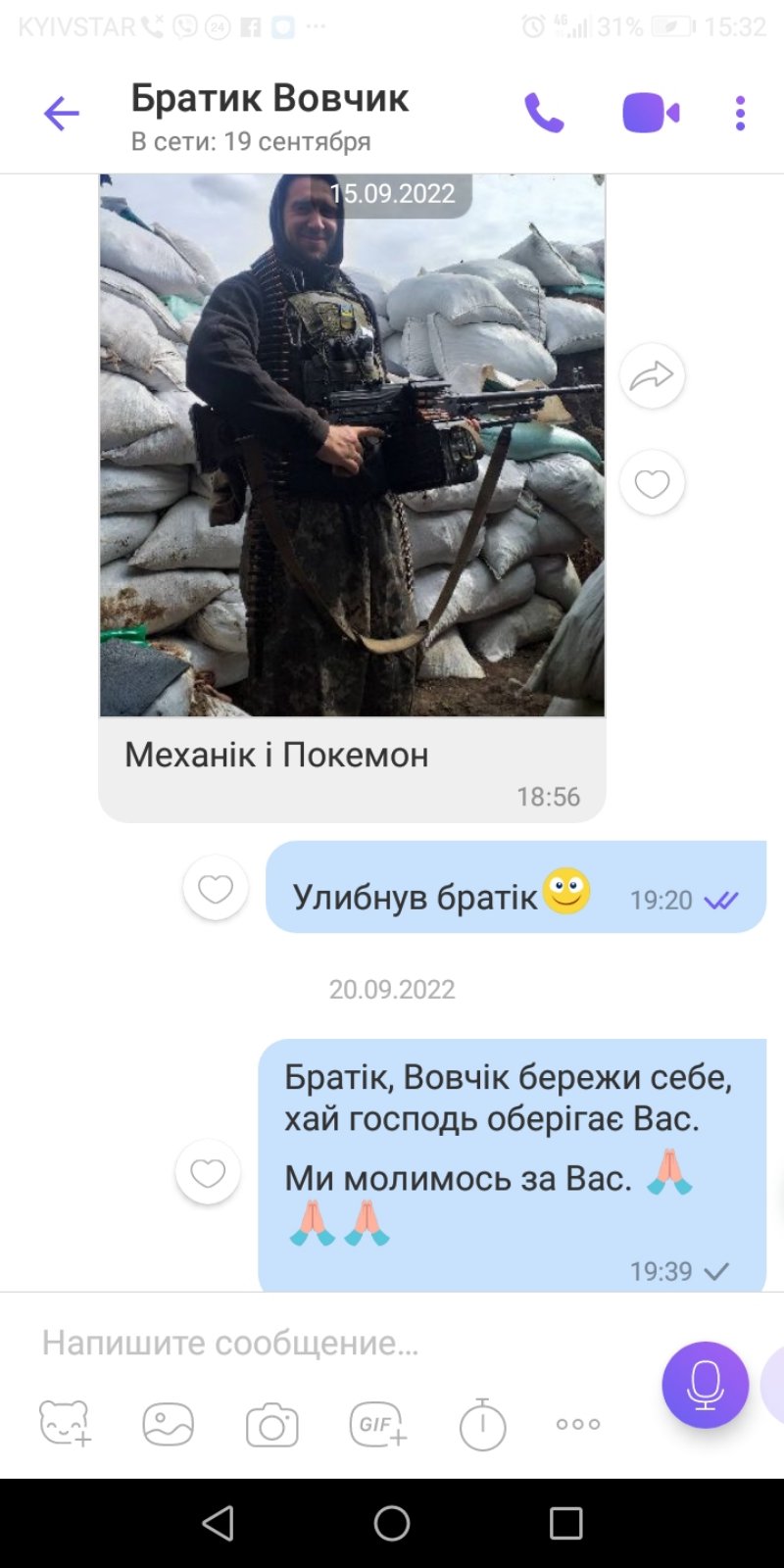 Brother Vovchyk Mechanic did not read the last message from his sister. Neither did he receive the last package from home. It lay in Kostyantynivka and returned home…
…However, the boys repelled Zaitseve. I think that Volodymyr Leonenko sees it from there, from heaven. And he sees other villages and cities liberated by the soldiers of the Armed Forces of Ukraine. His soul rejoices at this up there in heaven. And the souls of relatives, their hearts are racked with loss, pain and sorrow. And with the injustice of earthly laws. Because there are dashes in four columns in Volodymyr's death certificate – "Birthplace", "State", "Region", "District". Since his documents burned out, according to the instructions, it is not indicated where he was born and what state he was a citizen of. Although there are other documents – a birth certificate, a marriage certificate, there is no passport, on the basis of which a death certificate is issued. His relatives went to the passport office and consulted a lawyer. But… such is the law, such is the order. And such the situation is not only in Mechanic's family, but also in many others. Because the documents are not important compared to a purposeful destruction of the people…
My dear, golden people! Volodymyr's parents, wife, children, brother, sister! I will try to console you. The death certificate does not say where he was born. But the place of death is clearly indicated: Ukraine, Donetsk region, Bakhmut district, the village of Zaitseve. Your son, husband, father, brother Volodymyr Leonenko died on the battlefield for Ukraine!
Our dishonorable enemies! We will never forget, we will never forgive you for the deaths of the best sons and daughters of Ukraine!
Halyna Lytovchenko