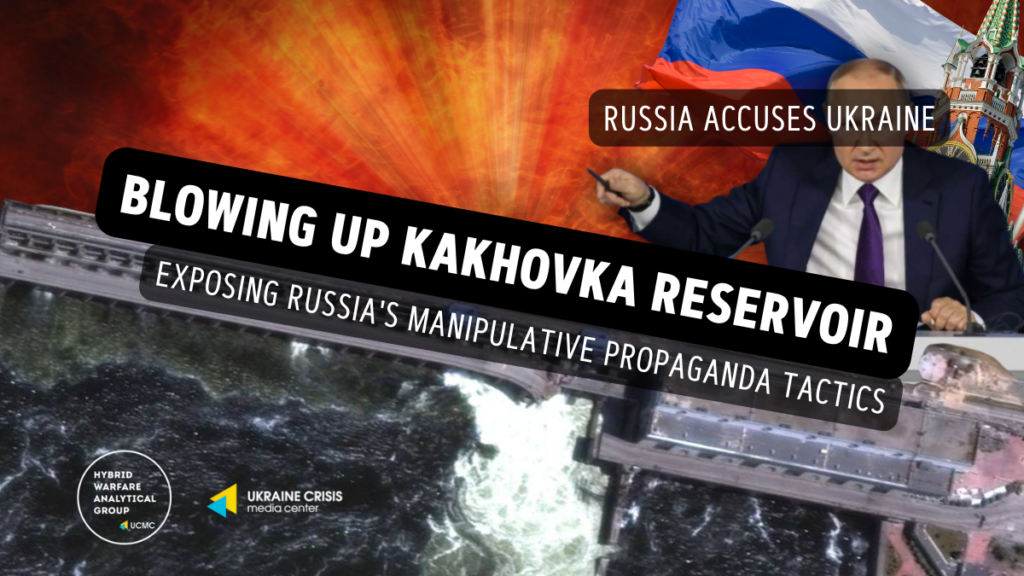 Russia employs the deceptive technique of "copycatting" to influence public opinion and shape a false narrative. In a recent propaganda video blaming Ukraine for the Kakhovka dam collapse, we can see how this tactic is used.

Video translation – "TO DIVERT ATTENTION AWAY FROM THE FAILURE ON THE BATTLEFIELD, UKRAINE'S POLITICAL ESTABLISHMENT SACRIFICED THOUSANDS OF PEOPLE'S LIVES, A TRAGEDY THAT HAS RUINED MANY PEOPLE'S LIVES. THIS IS THE ONLY WAY THEY CAN ACHIEVE THEIR OBJECTIVES. WE WILL NEVER FORGET ZELENSKYY'S CRIME."
Let's break it down:
Exploiting Ukrainian Language: Amplifying Confusion and Exploiting Trust
The propaganda video addresses Ukrainians in the state language, Ukrainian, which has become a defensive weapon for many since the beginning of the full-scale invasion, intentionally attempting to create a connection with the Ukrainian population. By using familiar quotes and language that the audience has encountered and trusted before from Ukrainian officials, Russia aims to establish credibility, sow doubt and therefore sway public opinion. The use of Ukrainian language capitalizes on the significance of linguistic heritage, evoking pride, a sense of cultural authenticity and trust. The video also uses Ukrainian to appear authentic. It capitalizes on the belief that native-language information is more reliable. Knowing that linguistic affinity can influence public perception, Russian propagandists are using this tactic to persuade Ukrainians.
Discrediting Ukrainian Leadership: Mirroring Rhetoric to Undermine Trust
Rather than inventing new narratives, Russia copycats Ukraine's own rhetoric and manipulates it to undermine public trust in the Ukrainian leadership. The propaganda video deliberately distorts phrases and borrows words from its Ukraine's message to support its narrative. By twisting the meaning of phrases like "sacrificed thousands of lives," (meaning Zelensky having ordered this sabotage) the video portrays Zelenskyy as a dictator who is willing to sacrifice countless lives for his own military conquests. But, in reality, this reflects Putin, a man who is unconcerned about the number of men who die in his senseless and unprovoked war, sending hundreds of thousands of men to their death. 
Philological Manipulation: Distorting Words to Serve the Narrative
In the Russia-Ukraine war, propaganda relies on wordplay and manipulation to shift blame onto Ukraine and downplay Russia's role. By selectively twisting phrases and misrepresenting the original intent or context, the video seeks to portray Ukraine as a reckless actor capable of causing an ecological disaster. However, it is Russia that has shown disregard for international law and military doctrine throughout the war, such as militarizing Europe's largest nuclear power station as a means of defense, threatening Nuclear War and targeting civilians on a daily basis. The video's word manipulation supports the narrative of Ukraine's alleged wrongdoing while diverting attention from Russia's actions.
Desperation in the War: Failed Bombardments and Resource Shortages
Contrary to the propaganda's claims, it is Russia, not Ukraine, that appears desperate in the war. The nightly bombardments of Kyiv, the inability to protect its own borders, and the ongoing military resource shortages demonstrate Russia's military failures. As Ukraine strengthens, with international support only set to step up, Russia faces a different fate: diminishing manpower and military resources unable to counter an impending Ukrainian offensive. These factors indicate a level of desperation on Russia's part, pushing them towards potential desperate measures, such as the destruction of the Kakhovka dam.
Inflammatory Language and Copycat Comparisons: Discrediting Zelenskyy
The video concludes with the statement, "We will never forget Zelenskyy's crime." Russian propaganda mimics Ukraine's numerous statements and words of condemnation of Putin and Russia's wart. By using inflammatory language and copycat comparisons, the video aims to sway public opinion and discredit Zelenskyy to force Ukraine to the negotiation table.