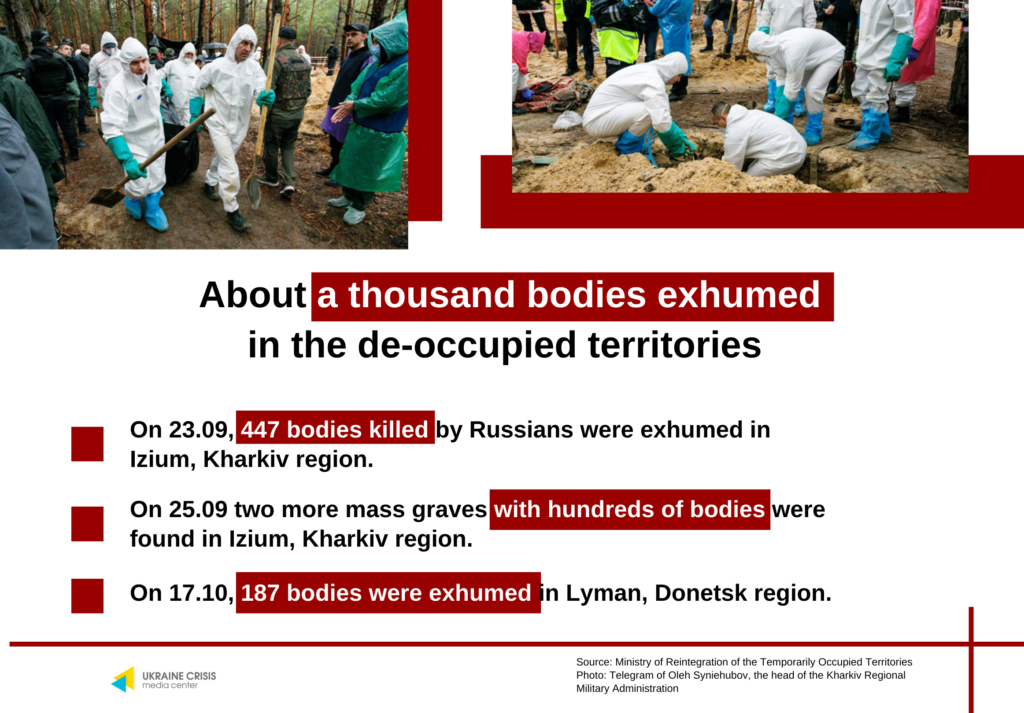 In September and October 2022, about a thousand bodies of dead military and civilians were exhumed in the recently liberated territories. This was reported by the Ministry of Reintegration of the Temporarily Occupied Territories.
To recap:
 On September 23, exhumation of the mass grave of civilians and soldiers killed by the Russians was completed in Izium, Kharkiv region. In total, 447 bodies were raised. Among them 215 women, 194 men, 5 children and 22 servicemen. In addition, the remains of 11 people were found, the gender of which is currently impossible to determine.
On September 25, President Volodymyr Zelenskyy said that two more mass graves with hundreds of bodies had been found in de-occupied Izium, Kharkiv region.
On October 17, law enforcement officers reported that 187 bodies had already been exhumed at a mass grave in Lyman, Donetsk region, including 35 military and 152 civilians.
They reminded that there is a hotline of the Commissioner for Missing Persons: 0 800 339 247.
On weekends, messages are accepted in Viber and Telegram by phone: (095) 896-04-21.