Psychologists give different advice on how to maintain your resilience in the war conditions. You can keep a diary, run in the morning, drink coffee at sunrise, plan for 1-3 days, and also keep in touch with friends and make a lot of posts on social networks. Perhaps that will help. But where is the laser that will remove the scar in your soul and soothe your wounded heart?
There is no answer to that question. However, there is a question that everyone asks themselves: how can I be useful? This strange interweaving of thoughts, voices, and sudden ideas distinguishes Ukrainians, no matter what country they are in. That is the wave that every Ukrainian serviceman feels behind him. It moves him forward, fills him with courage and bravery, and blocks out fear.
It is not surprising that this wave is created mainly by women. That is also the Ukrainian nature of the situation. Not without reason, people say: the land is a mother. She gives new life and she protects with everything she can. Men start wars, but thanks to women, conflicts end.
Evacuation: a road to the unknown
At first, I thought that the war had deprived me of everything and that it was unfair. However, it was impossible to suffer pain each time you experienced losses. Losses of people, houses, property and work (I had been working as a journalist for the Mykolayiv branch of the Public Broadcasting Company of Ukraine since 2005), eventually, the loss of senses and vision of the future. I realized that even if you live in a temporary state, when you live one day, you have to do at least something so that all the traumatic war experience didn't drag you back again and again. It did not prevent me from living that one day joyfully, with dignity, with benefit for myself, for people, for Ukraine. If I could turn the pain of loss into strength, it would be better for everyone.
Like everyone else, the first time I felt that pain was at 5 a.m. on February 24, when Mykolayiv woke up to explosions. Later we found out that missiles had been fired at the Kulbakyne airfield, a kilometer and a half from our house. The walls of our house were shaking, the roof tiles were falling off, the windows were broken. My kids (a six-month-old daughter and an 11-year- old son) and I quickly ran to the basement in our pajamas. Then there were new explosions again and again.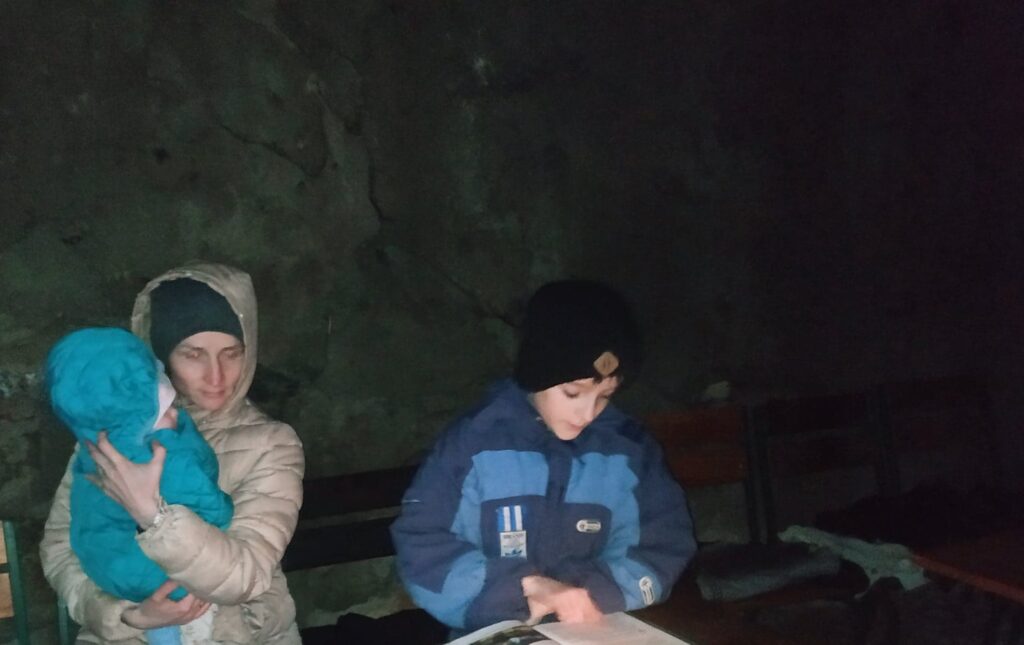 We realized that a full-scale war had begun. It was dangerous to stay near the military airfield. That's why we decided to go to my mother's place in a village 100 kilometers north of Mykolayiv, near Voznesensk. It took us nine hours to drive there. There was a lot of traffic. Women and children fled from the Kherson region.
My husband Ruslan, went to the military commissariat. He is a person who clearly demonstrates his leadership qualities in times of danger. Such people cannot hide behind others' backs or, saving their families, flee from the country that needs defending. He believed that the duty to defend our native land from the russian invaders was above all else. He hoped the kids and I were in a safe place.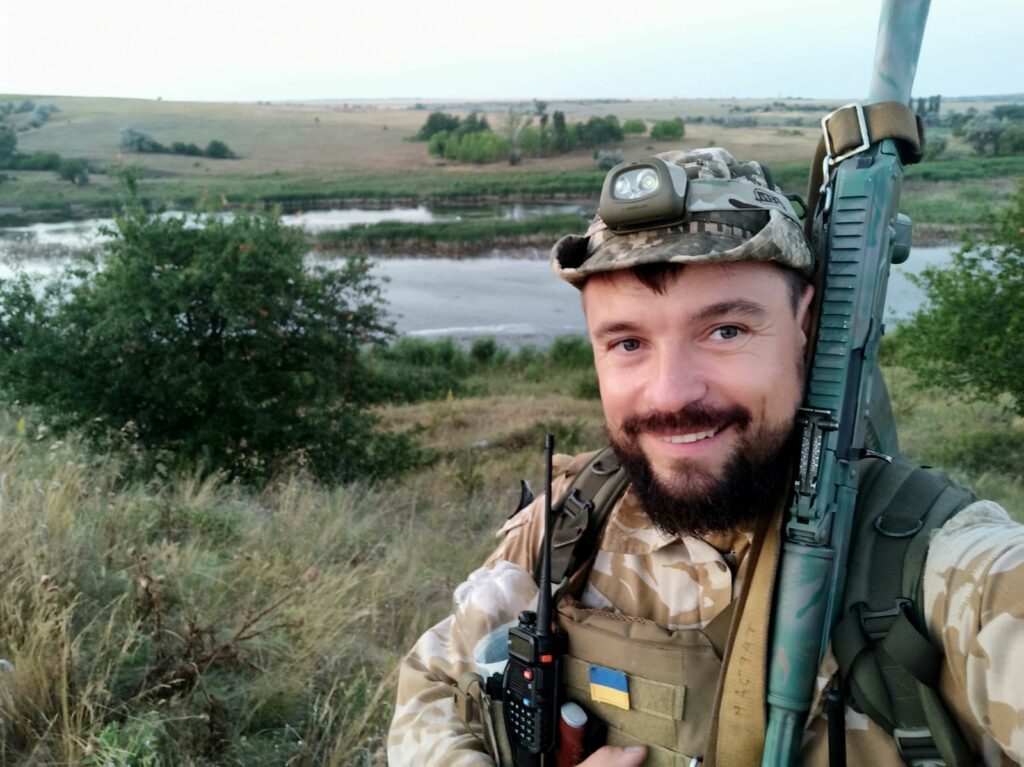 A few days later, the battles for Voznesensk began. Convoys of enemy vehicles arrived there. Again explosions, siren sounds, we were hiding in the basement. People were evacuated from the destroyed areas. Missiles were targeted at the military unit that was a few kilometers from our home. I read the news that the russian troops' goal was to capture the South Ukraine nuclear power plant, 30 kilometers from Voznesensk. When in early March russian invaders seized the largest nuclear power plant in Europe – the Zaporizhzhia NPP, I was afraid that the fighting near the South Ukraine NPP, where we lived at the time, could lead to a disaster. I started looking for a safer place, closer to the border with Poland. It turned out that there was no such possibility. The bridge near Mykolayiv was blown up. We couldn't get to Odesa by rail either, because the railway bridge was also destroyed.
Although it was dangerous to go by car, because the roads were shelled, we left at dawn. We went into the unknown. We were helped by Natalya Hrynko's family, whom we met by chance on that day. When we arrived in Odesa, we found out that the evacuation train would be at 10:00 p.m. Natalya and her husband invited us (strangers) to their home. They fed us and bought us food for the trip.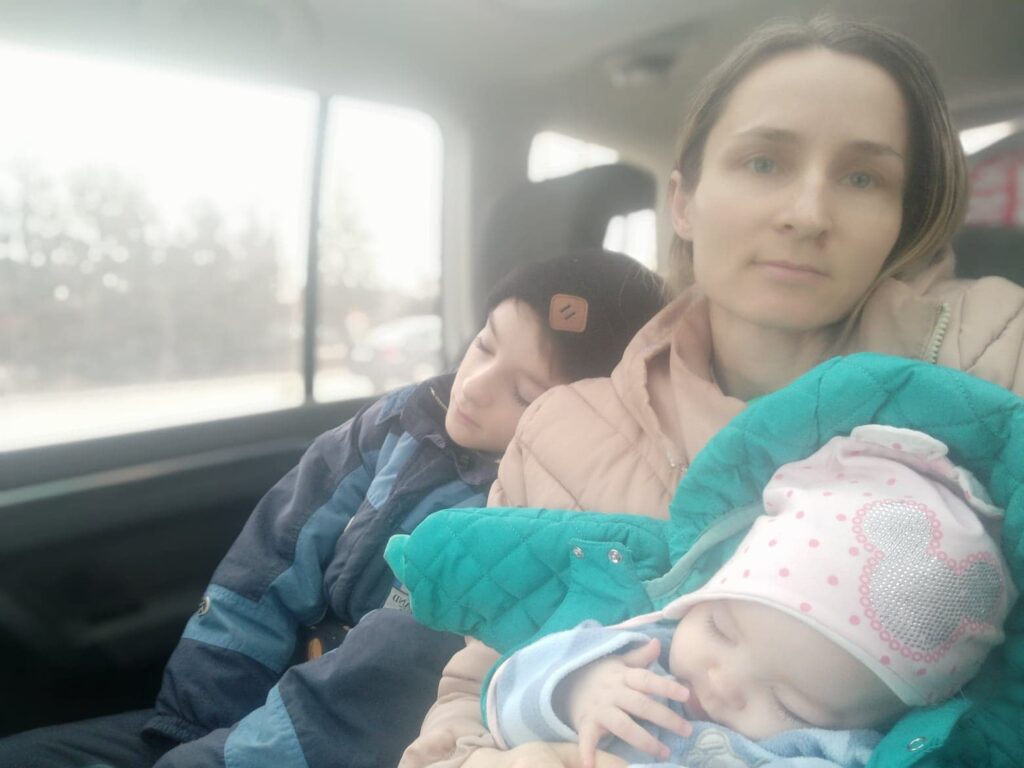 At the train station, we got in line for the evacuation train at 5 p.m. It was cold, windy, a baby was crying all the time. There were a lot of people. Everyone was nervous, angry, irritated. Suddenly I realized that we wouldn't be able to get on that train, because there would hardly be enough space for all the people who were standing in line, and we wouldn't get on. It's dangerous to be in such a crowd with a baby in your arms. We didn't know whether there would be a train next day. We had nowhere to sleep and it was impossible to return. I called the police and told them about our situation. A train station security officer called me back. He said he could help, because my husband is in the AFU. We were allowed to join a group of servicemen's families who were waiting for a train in a separate room at the station. When the train arrived, we were told that people from that group could be the first to enter one of the four cars. The nervous, tired people who had been standing in line all day did not let us get on the train. Again we were helped by the security service. My children and I were the last to enter the train.
The conductor said we could go in any compartment with less than six people. The people who were already there did not let us in, because no one wanted to be in a compartment with a six-month-old baby. We had to leave our baggage at the station. We took only a backpack with food and medicine. Most of all, I was sorry to leave my son's dobok for taekwondo classes. But the 11-year-old boy comforted me: "Don't worry. We have already lost so much that a dobok is a drop in the ocean. We'll buy a new one." Then the conductor said that the train would not leave until there were no seats for us, and asked, "Maybe your daughter needs diapers? We were given some by volunteers. Take your pick. What kind do you need?"
Around 2 a.m. our train finally left for Lviv. We were in the same compartment with a woman who was traveling to Germany with her three teenage children under the Red Cross program. Her husband worked there and there was already free accommodation for them. She explained why she hadn't wanted to let us into the compartment at first: "The Red Cross promised a comfortable journey for our large family. But nothing can be done, come in."
Lviv volunteers – everything for the victory
We reached Lviv in the evening. We were met at the station by Ksenia Klym – journalist, volunteer, mother of soldier Marko Klym. At the beginning of March, Marko defended our Mykolayiv region from the Russian invaders, including Voznesensk, from which we went to Lviv. Ksenia invited us to stay with her for a few days. She did not want us to go to Poland by bus that day. There were no tickets for evening buses, and such a long journey would have been very difficult for the kids. In addition, six-month-old Myroslava had a fever. We had to go to the children's hospital.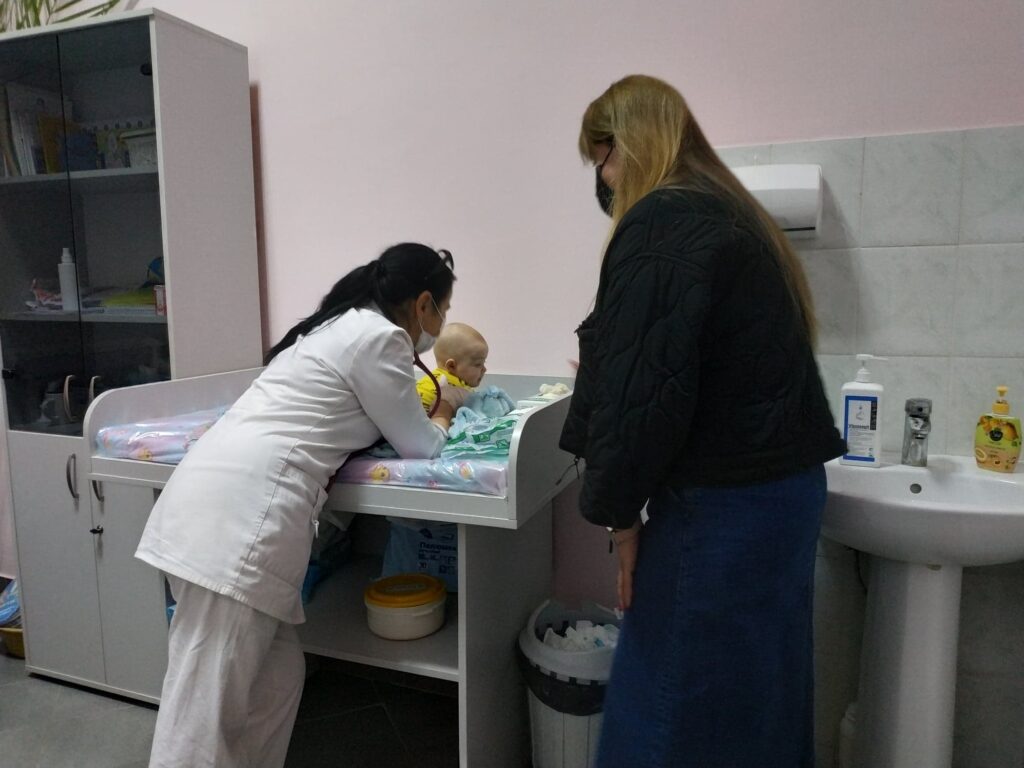 Ksenia introduced us to volunteer Khrystyna Brukhal, who helped us get to Poland by evacuation bus. First, we arrived at the building where Khrystyna and her colleagues had set up a shelter for people who wanted to go to Poland. Khrystyna gave us warm clothes (so that we wouldn't freeze in line at the border at night), diapers, food for children and even a new backpack. In the evening, two evacuation buses left for Warsaw from the building where the shelter was. I had a feeling that all the volunteers came out to see our family off. It was indeed a very touching moment. In such a short time, strangers in Lviv gave us so much love that it seemed as if we had lived a whole life together. They became a family for us. I'm still grateful to them for everything.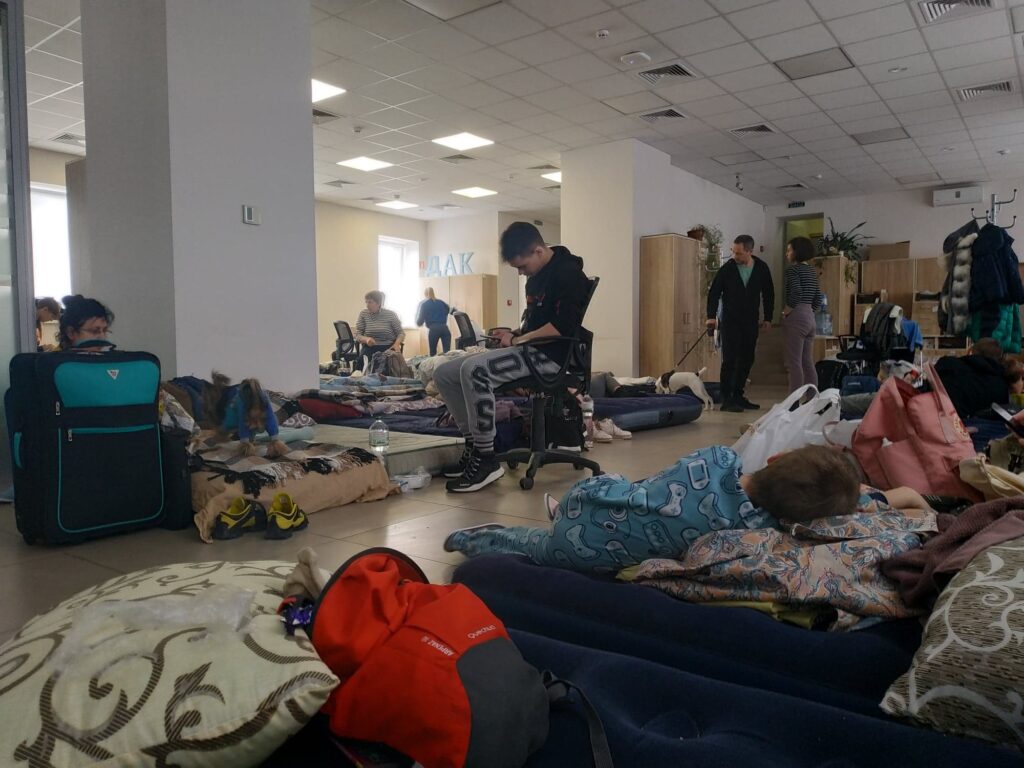 That very evening, Ksenia Klym, together with other Lviv residents, took humanitarian aid to soldiers in the Mykolayiv region. To the place where terrible, hellish, fateful battles were fought. To the place where the history of the struggle for the freedom of Europe is written with the blood of Ukrainians.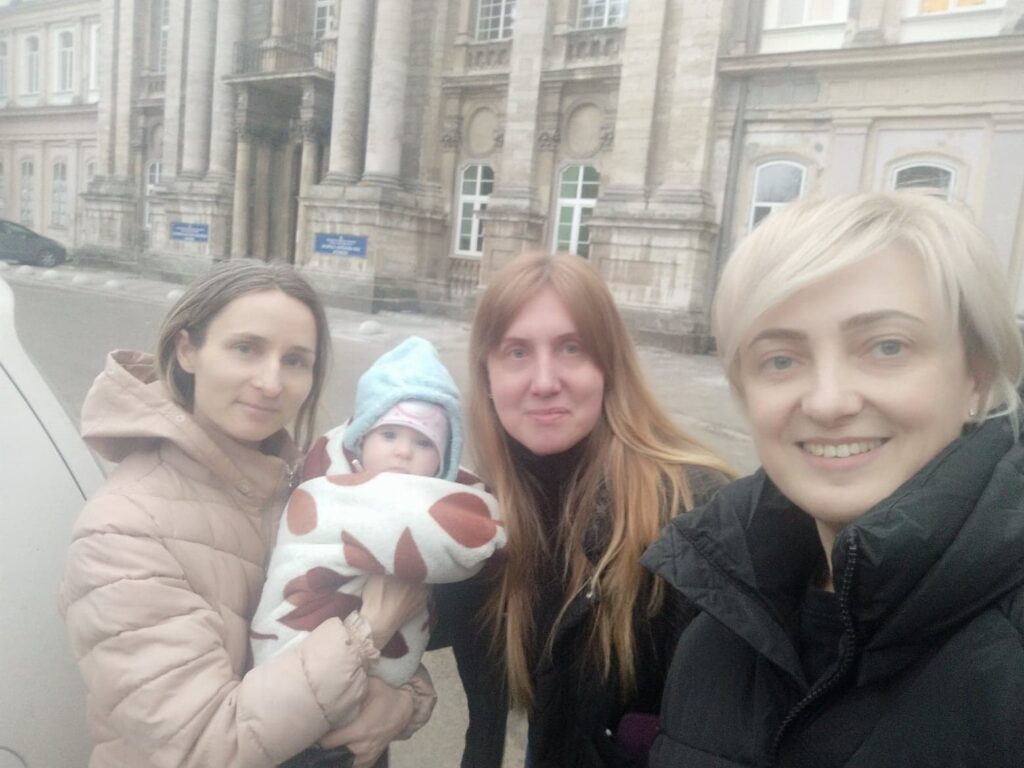 Ukrainians in Poland – living together
From Warsaw, we went to the village of Paterek, the Kuyavian-Pomeranian Voivodeship. Anna Urbanska, whom I met on Facebook, invited us to her home when the full-scale russian invasion began. Anna offered to help. Her family and friends gave us necessary clothes and food. In addition to our family, Anna helped another 11 people from Mykolayiv. Tomasz Milevski, the deputy mayor of Nakło County, came to Anna's home to meet us and ask what we needed. He came up with the idea of organizing the first meeting of Ukrainian refugees with representatives of local authorities and volunteers on March 18. In those days, more than 500 people from Ukraine came to that district. The youngest was my six-month-old daughter Myroslava.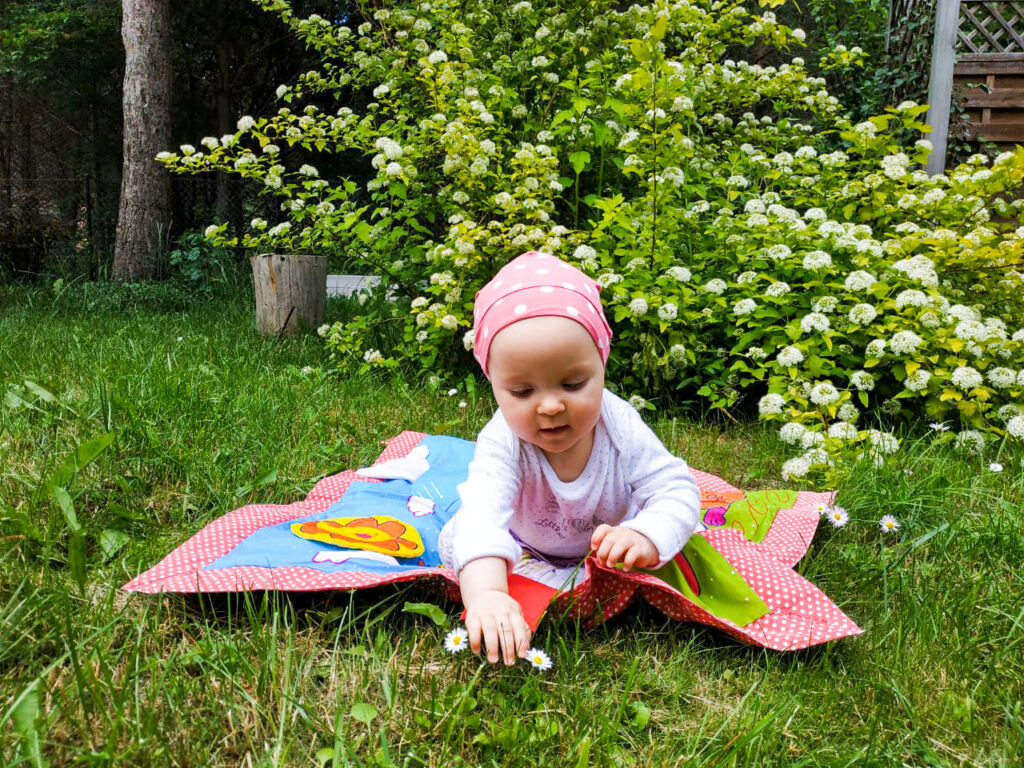 In April, we moved to the city of Olsztyn, the capital of the Warmian-Masurian Voivodeship, where my son Myshko could continue practicing taekwondo (my son's coach, the head of the Mykolayiv Regional Taekwondo Federation, Hryhoriy Khozyayinov, defends Ukraine in the AFU). The coaches of the Start Olsztyn club, Marcin Horzhelevski, Karol Vilgosz and Tomasz Kobrynski, conduct free classes for Ukrainian taekwondo players who were evacuated due to the war in Ukraine. The coaches gave Myshko a new dobok and all the necessary equipment.
The last battle for the Ukrainian south: "Keep fighting — you are sure to win!"
On August 4, 2022, near the village of Lozove, Kherson region, my husband Ruslan Khoda was killed in action during the enemy artillery fire, defending his native land from the russian invaders. Ruslan was the commander of the reconnaissance platoon of the 36th separate marine brigade named after Rear Admiral Mykhailo Bilinskyi (military unit A2802, Mykolayiv). Scouts always go first. Ruslan also went first. He turned 37 on August 25. He left behind two children: Mykhailo – 11 years old and Myroslava – 11 months. He died 25 days before his daughter's first birthday. The bodies of Ruslan and his comrades-in-arms could not be taken away. The ruscists constantly bombarded that territory. Therefore, there was no funeral. We are still waiting for news about him from the brigade command.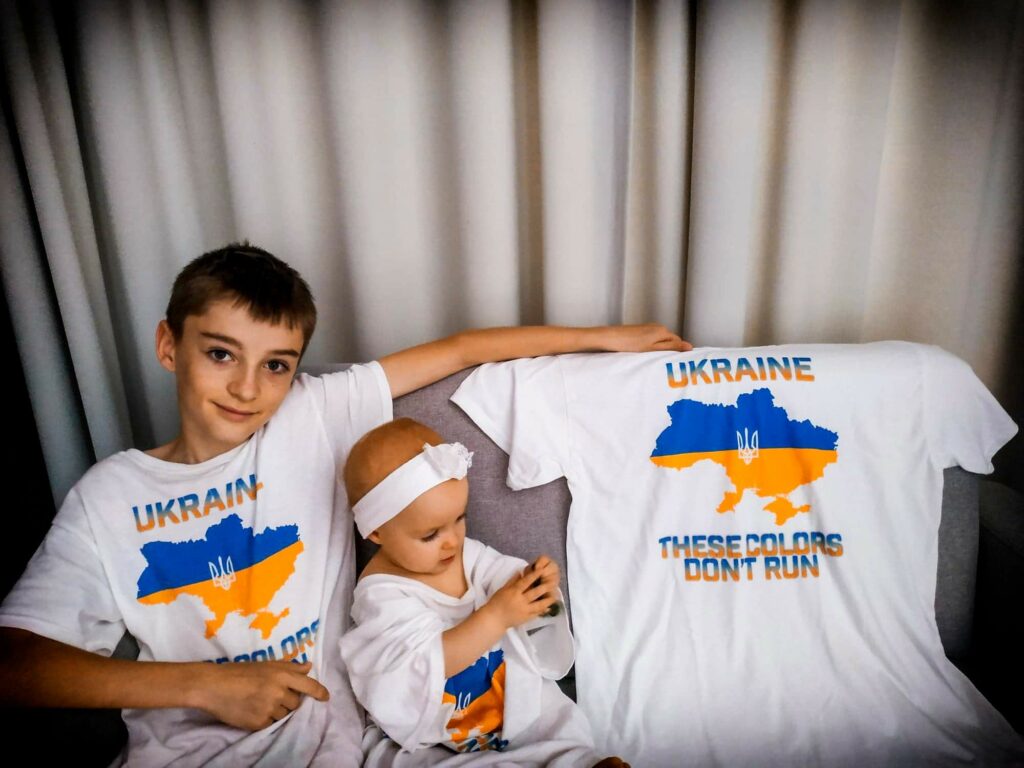 Ruslan went to war not because he hated russians. His mother, two sisters, and nephews now live in the suburbs of Moscow. He made his choice because he loved his family and friends in Ukraine. He believed that russia could not forcefully take from us what we did not want to give. For him, it was an uncompromising struggle for the opportunity to choose his future, for freedom, for a chance to live in a world of peace and justice.
Consoling my son and me, psychologist Mr. Andrzej Kendzerskyi said that people who voluntarily go to defend their homeland in times of danger deserve the greatest respect from society. Because these people are ready to sacrifice the most precious – their lives, heroically protecting the safe future of Europe and the world. Like all Ukrainian soldiers, Ruslan is a hero of our time. Because "no one has greater love than this: to lay down one's life for one's friends."
In 2014, when the russian-Ukrainian war began, Ruslan was mobilized. Our son was three years old. We had lived in our own house for six months. Even then he could flee to Poland, as many of his friends did. But this was not his way. He believed that in this war we have to defend ourselves, it is russia's war not only against Ukraine, but also against all democratic countries and values ​​in general. He said that he had to be with those who would resist in order not to allow the aggressor country to go further and occupy the Ukrainian south. Between low gas prices and freedom, he chose freedom. And for him, that war did not end in 2015, when he returned home. He was ready to pay the highest price for the victory of Ukraine, for the victory of good. "Keep fighting — you are sure to win! God helps you in your fight! For fame and freedom march with you, and right is on your side!"
The Hero City of Mykolayiv – an uncompromising struggle for the Ukrainian south
During the full-scale war, Mykolayiv increasingly turns into ruins. Missiles have destroyed the student dormitory where Ruslan and I met 18 years ago (when the Orange Revolution began in 2004); the university where we studied for 5 years; one of the enterprises where Ruslan worked; schools and hospitals, a church where our children were baptized; the theater we went to on holidays…
We have been building our house here since 2008; have planted a garden. We always wanted to live only at home, to do something useful for our community and for Ukraine. On the evening of February 23, 2022, Ruslan conducted his last taekwondo training (he trained children for free in Shevchenkove, Mykolayiv district). And the next day, all the people of our community were advised to evacuate, because the area became an epicenter of the fighting for the south of Ukraine. Since then, every day and every night, people who had to stay there for various reasons have lived under crossfire, often without water, electricity, gas, and medicine. These people regularly single-handedly put out fires that arise due to shelling, feed and treat other people's cats and dogs that have been injured. These people are the heroes of the legendary city, which valiantly resists the invaders.
FOSA: opportunities for the integration of Ukrainians
In Olsztyn, the workers of the Federation of Social Organizations (FOSA) have been helping Ukrainian refugees since the beginning of the full-scale war. For example, when my husband died in the war, FOSA psychologist Andrzej Kendzerskii helped us get through this grief. Aneta Fabisiak-Hill and her husband Trevor, Monika Lange, Magdalena Hojnatska, Kateryna and Mariusz Mazurkiewicz, Alina Bilous, Agnieszka Koprutska invited us to various cultural events, bought medicine, clothes, food, toys and everything we needed.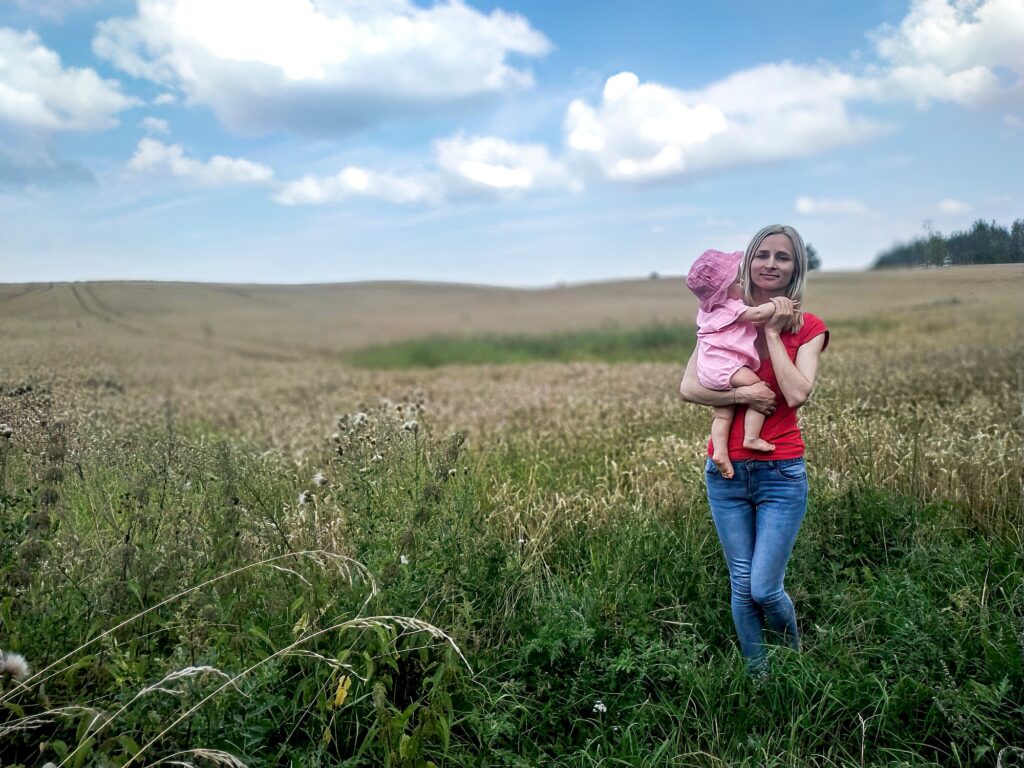 Thanks to the cultural and educational project "Cafe Ukraine", my son and I became participants in free Polish language courses. At the beginning of the summer, our Polish teacher Monika Hausman-Pniewska asked if I would like to work as a translator in a new project to help Ukrainian refugees. In September, when the Program for the Social Integration of Ukrainian Refugees began to be implemented, the director of the organization, Petro Pnievskyi, offered me that job again. My daughter, who has turned one, can stay for free in the "Children's Club", which was also opened as part of the Program. This is one of the most comprehensive projects to support Ukrainians in Poland. Assistance is provided in various areas: employment, housing search, specialist consultations (lawyer, business consultant, psychologist, translator, nutritionist, etc.), Polish language courses, trainings and courses helping to acquire employment competencies. There are group classes for children with animators, cultural and entertainment events. The program is financed by the Labor Fund. The FOSa is like Poland in miniature. Without relatives or friends in this country, without knowing the language, we do not consider ourselves homeless refugees and feel strong support thanks to these people. We are incredibly grateful to the Polish people for feeling at home here. For me, this is a unique opportunity to bring more benefit to Ukraine.
Tetiana Bakotska
17.10.2022