Hippocrates, an ancient Greek physician, argued that horses can heal, and direct contact with these animals helps patients recover much faster and more effectively. Over time, the first general conclusions that riding frees from dark thoughts and evokes bright, cheerful and positive emotions were proved by research findings. Already in the second half of the 20th century, medical rehabilitation specialists began to show interest in such therapy. Later, the term "hippotherapy" appeared. Today it is successfully used in 45 countries. Ukraine is no exception.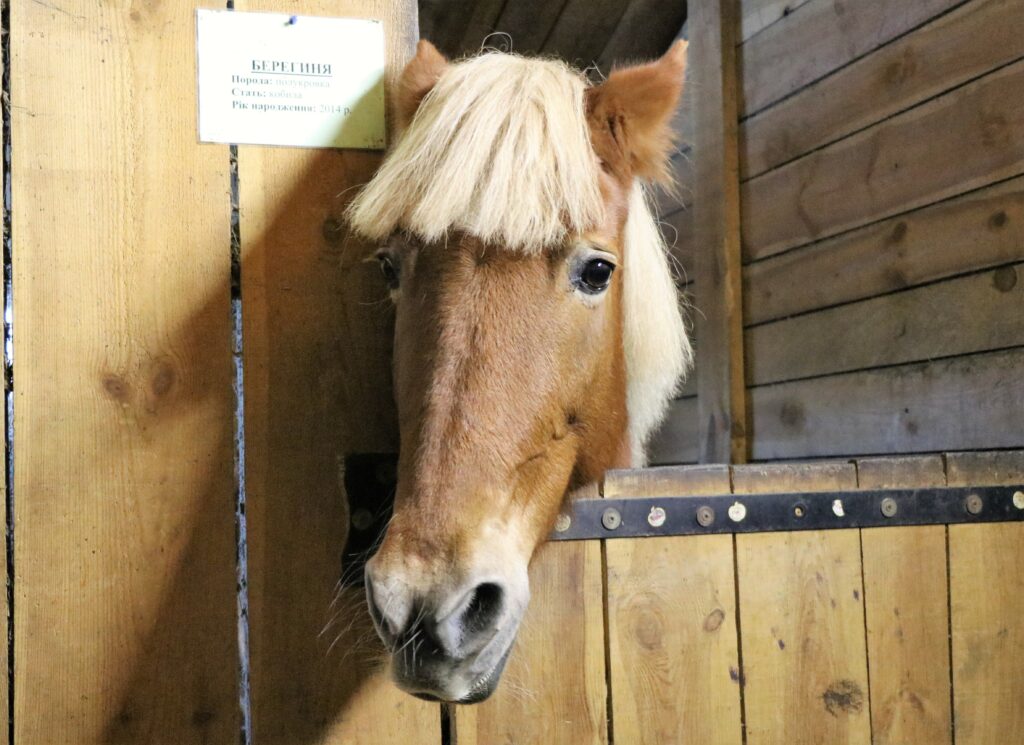 The war has become an ordeal for our people and it is still going on. In order to remain resilient and determined to go to victory, people have to draw strength from somewhere, despite the pain of losses, find opportunities to get a charge of positive emotions. That's what the Berehynia Polissya Hippotherapy Center in Zhytomyr works on. Horses help people to heal body and soul during the war, relieve stress and recover psychologically.
The Center has been practicing hippotherapy for 15 years. This method of treatment is based on human interaction with a specially trained horse. Horse riding affects the entire human body and helps to treat osteochondrosis, scoliosis, gastrointestinal diseases, diabetes, neurasthenia, cardiovascular diseases, etc. Children get positive emotions when interacting with horses and the biofield of these animals helps to get rid of the feeling of loneliness and hopelessness.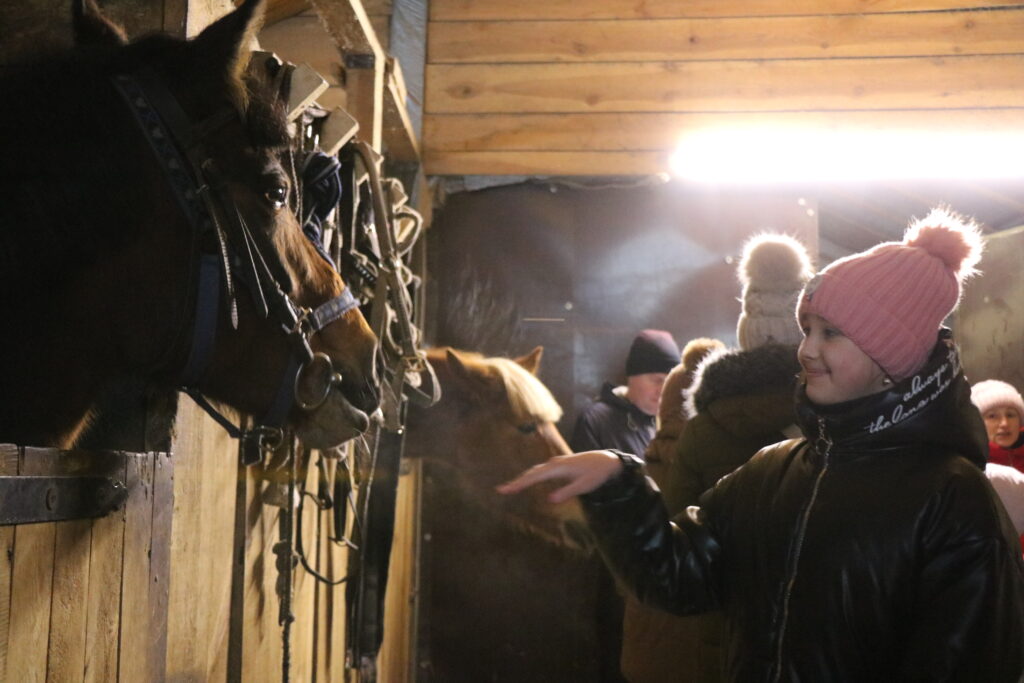 Hippotherapy is often used to help children with cerebral palsy and autism. Besides, it's a great way to relax, psychologically recover, lift your spirits, and be one with nature.
Horseback riding is useful not only for people suffering from certain diseases, but also for those who want to balance their emotional state or improve their physical condition.
According to Olha Mankovska, head of the NGO Berehynia Polissya, despite the war and numerous difficulties, the Hippotherapy Center continues working, because there is a demand, and people really need such help.
"After the full-scale war began, the number of visitors decreased, and we have difficulty with fodder for the horses. I was told to give them away somewhere, because it's very difficult to keep and feed horses during the war. But we won't give them away! The war will end anyway – we will live through all the difficulties," says Olha.
Over 15 years of work, there were many children with serious diseases whose condition was improved with the help of hippotherapy. There are many examples of successful rehabilitation. To conduct it, they use their own unique programs developed for each child individually. The Center's specialists also use music therapy.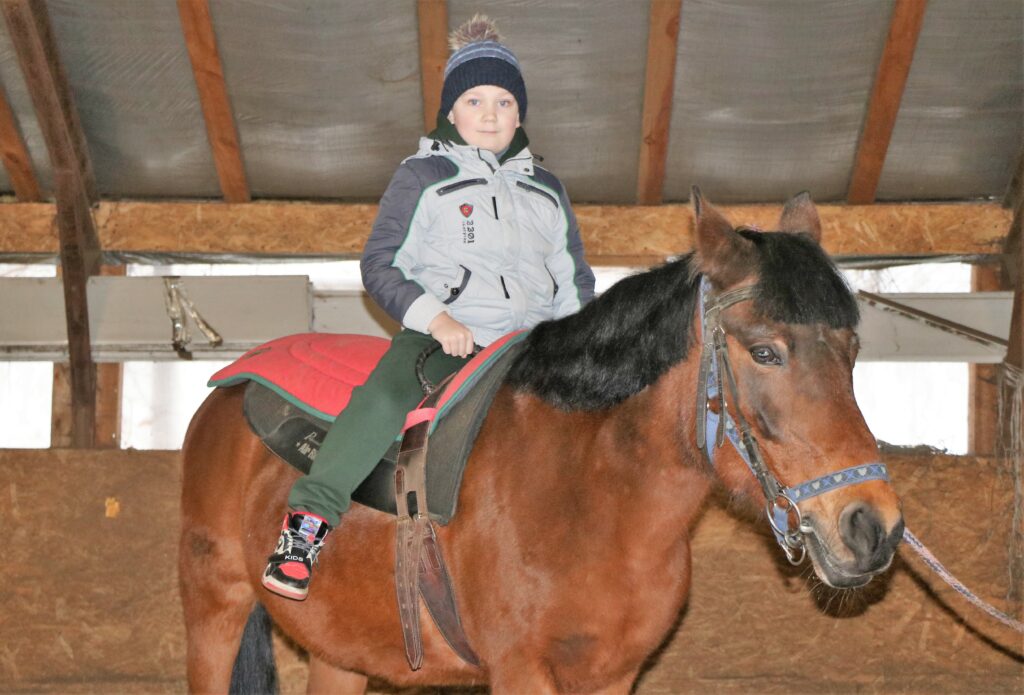 Groups of little visitors come to see horses. There are seven horses here. The Center's specialists hold quizzes for children, tell them various interesting facts about horses, in particular about the Hutsul breed – strong, hardy though small animals used as riding horses for children. For those who stay in the saddle the Center offers the Ukrainian Saddle Horse breed.
Hippotherapy is also helpful for the military, wounded, people affected by war, forced to evacuate to safer regions.
In December 2022, as part of the Integration Program for War Victims, implemented by the Zhytomyr Community Foundation with the support of the Global Fund for Community Foundations, the Hippotherapy Center was visited by families with children who had left their homes and moved to Zhytomyr due to the war.
At first, the children approached the horses hesitantly and fearfully, they were afraid to touch them. But with every minute they became braver, held out apples in their palms to feed their new friends, smiled as they stroked the horses and fluffy cats that also live here.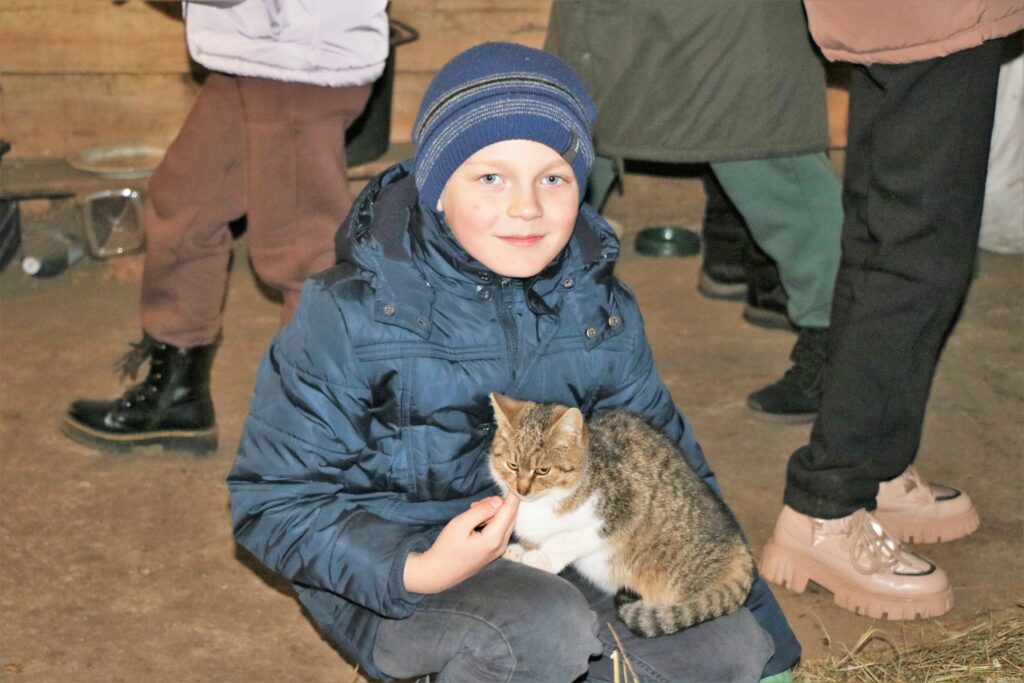 Some kids rode a horse for the first time. Eight-year-old Sofiyka from the Zaporizhzhia region said that before the full-scale war, she had ridden horses every year.
"We are glad that there is an opportunity to ride horses in Zhytomyr. Sofiyka used to ride horses every year. It is a nice gift for winter holidays. We have not put up a Christmas tree here yet (in their apartment in Zhytomyr). My husband said: "Maybe we will go home for the New Year." We look forward to the time when it will be calm there and we will be able to return. On her birthday, Sofiyka had neither a party nor presents – we were fleeing then. Later, when we recovered a little and adapted to Zhytomyr, we brought our daughter to the store and let her choose a gift for herself. We thought she would like something big and expensive. But she asked for a small toy," shared Tetiana from the Zaporizhzhia region.
The boys waited impatiently in line for riding. After riding, they expressed their joy emotionally, and their parents were very happy.
After interacting with the horses, visitors leave and return to everyday life a little happier, calmer, with smiles – even their eyes become warmer. Meetings with animals that share their energy and sincerity and help people can make such a small miracle.
Olha Bortnikova
5.12.2022
The material was created under the joint project of Ukraine Crisis Media Center and the Estonian Center for International Development with the financial support of the US Embassy in Kyiv and the Ministry of Foreign Affairs of Estonia.