They are energizers of the liberation war. Thousands of volunteers throughout Ukraine energize us with hope and faith in victory over the enemy by collecting and delivering aid. Yesterday they were eagerly awaited in Mykolayiv and Izyum, today in liberated Kherson. Every day, humanitarian cargoes go there from all over the country, and the flow never stops.
Volyn delivered 500 food kits, 300 kilos of warm clothes, 30 pairs of tactical shoes, over 50 tourist gas stoves, 13 potbelly stoves, 9 generators, and also tactical sleeping bags, candles, sweets, convenience food, coffee and tea to Kherson.
A district in the Rivne region collected 400 food kits, 16 cubic meters of firewood, 6 potbelly stoves, 2 tons of salo, lard and jam for the people of Kherson.
Five cars will go to Kherson from Cherkasy. They will carry things collected by kindergartens and schools. When this happens, no one wants to be stay away.
Every Ukrainian has felt the impact of the war. Some went to the front, some took up volunteering, some continue working in different areas and thereby support the people and the budget of Ukraine. All are trying to find their place in this difficult time and help our country survive. Serhiy Ovcharov is one of many. He was born in the steppe area near Nyzhni Sirohozy. Until February 24, he headed the combat sambo and judo federation in the Nyzhni Sirohozy community. Coaching brought its fruit – his pupils often became winners in competitions of various levels.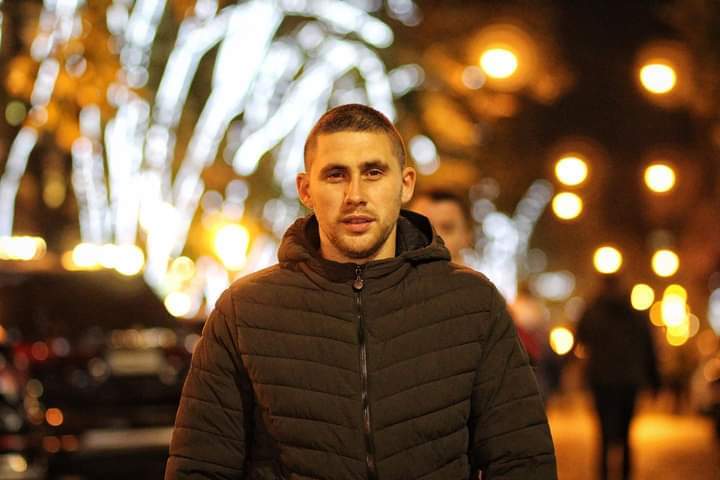 "I can't imagine my life without sports. It doesn't only shape a person's healthy body, but also forms a special way of thinking, which continues to guide you through life. That's why I so actively involved local kids. The federation was doing well. We had proper sports equipment, the number of pupils increased; we won competitions. There were many plans for the future, a lot to work on, to move forward. I know that I will have to start all over again, but I'm not afraid, I only wish everyone were alive and healthy. I am very worried about my big sports family. If anyone gets in touch, I am happy," says Serhiy.
He and his family, like millions of Ukrainians, had to look for a new home and a job and try to find his place in life again. Serhiy became a volunteer right after the all-out invasion. Together with other caring people, he distributed food in his village in the Kherson region, but when the knot of occupation tightened, he and his family moved to the controlled territory and joined the Support Kherson charitable foundation team.
"Like most Kherson residents, I stayed at home until the end and wanted to wait for the de-occupation of the Henichesk district. But it turned out different. On leaving for the controlled territory, I instantly joined the charitable foundation team, for it is people like us who bring the victory of Ukraine closer, and soon I will return to my free community," says Serhiy.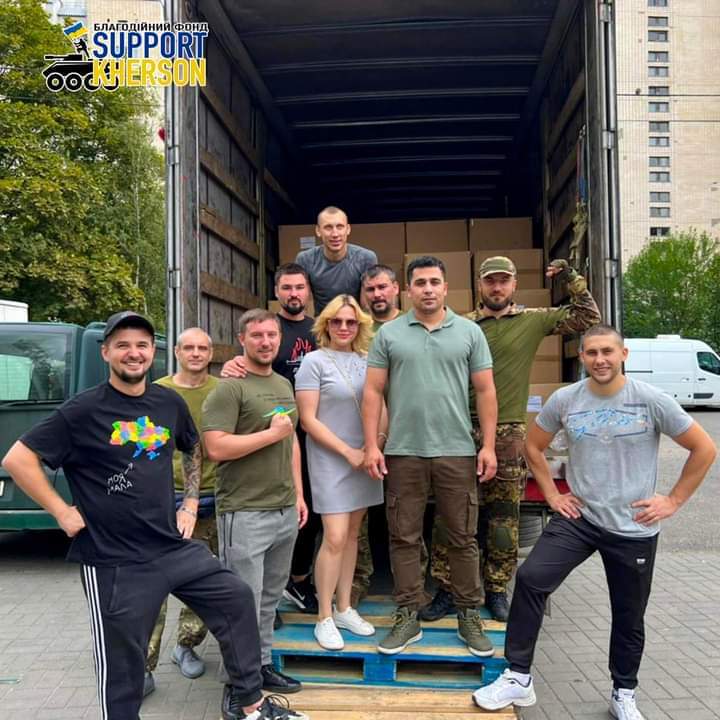 The Support Kherson charitable foundation is a new organization, founded by Nisar Ahmad in 2022. Serhiy says they help the population of the Kherson region affected by the russian aggression. The foundation managed to do a lot even in the first 3 months of its activity. They delivered 1.5 tons of medicines and dressing materials to the military in the Kherson sector, to the de-occupied communities of the Kherson region and to the temporarily occupied territory; 14,000 individual food rations for the AFU; 210 tons of foodstuffs for the de-occupied territories of the Kherson region (Vysokopillia, Novovorontsovka, Kochubeyivka, Velyka Oleksandrivka, Chornobayivka, Bilozerka territorial communities), for internally displaced persons from the Kherson region (Kyiv, Kryvyi Rih, Mykolayiv); 40 tons of hygiene products for the de-occupied territories of the Kherson region; 90 tons of drinking water to the settlements left without water supply. They also did a lot of other things for our compatriots.
"November 11, 2022 will always be in our minds as a day of Kherson liberation. Other settlements of our region will follow. Because the Kherson region is Ukraine! It always was and will be!" – says the volunteer.
With the team of the Support Kherson charitable foundation, Serhiy comes to the de-occupied territories with humanitarian aid. They bring not only food, water, warm clothes, hygiene items, medicines, but also discuss existing problems and try to contribute to their solution.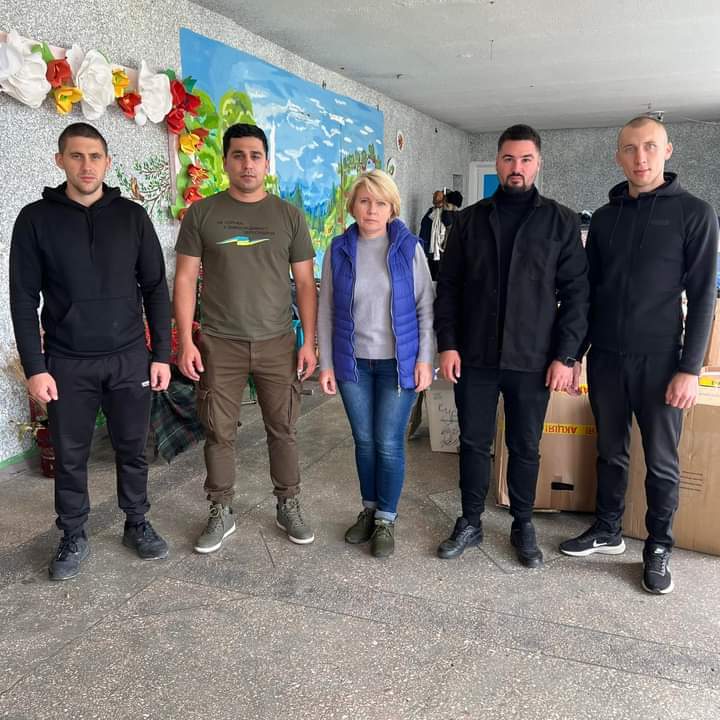 Serhiy remembered the Kochubeyivka community, to which volunteers brought humanitarian aid after its deoccupation. Before the full-scale invasion, this community was known not only in the Kherson region, because it was an example for other communities in terms of the effectiveness of the implementation of decentralization reform tools. Previously, representatives of other communities often visited it to gain experience. But, unfortunately, everything changed after February 24. Ruined infrastructure, residential buildings, water supply, lack of electricity and many other problems faced by the once flourishing community.
"When visiting such settlements, I sometimes cannot believe that in our time it was possible to do so much harm to people. They were left with nothing. When I talk to them, I always admire their sincerity and kindness with which they greet our team. And the most important thing is that they have not lost their humanity. Exactly what our enemy lacks. That is what will make our country win, says Serhiy. – If possible, I would like to appeal to everyone who cares to support our charitable foundation so that it continues to help people. Believe me, you are a happy person if you have such elementary goods as a roof over your head, food, and water. There are many problems, and their solution cannot be delayed. Especially since winter has begun. You don't have to be a millionaire to help. Every 10, 20, 50 hryvnias is a great support. I will be grateful for every hryvnia. Let's unite for victory!"
You can help "Support Kherson" following the link https://www.support-kherson.com.ua or by the Bank details indicated below.:
– PayPal: [email protected];
– MonoBank «Support Kherson» https://send.monobank.ua/jar/5KnabNti7C;
– hryvnia ₴: UA673052990000026002006817157 (JSC CB "PRIVATBANK"), dollar $: UA373052990000026007006814423 (JSC CB "PRIVATBANK"), euro €: UA033052990000026002016808242 (JSC CB "PRIVATBANK"),
ERDPOU code 44834913.
Recipient: "CF SUPPORT KHERSON".
Apparently, the strength of our Ukraine lies in its people – indomitable, compassionate, strong in spirit. So victory in this war will be ours.
Kateryna Nikolayenko
5.12.2022
The material was created under the joint project of Ukraine Crisis Media Center and the Estonian Center for International Development with the financial support of the US Embassy in Kyiv and the Ministry of Foreign Affairs of Estonia.