Save our souls – translated from French. These words are a call to preserve not only Ukrainians, their houses, streets, villages, cities, but also to take care of the unique cultural heritage. According to the Ministry of Culture and Information Policy, the russian occupiers' shelling destroyed and damaged 139 facilities. A total of 361 art objects and cultural institutions were ruined or vandalized. These are religious buildings, libraries, museums and nature reserves. The russian occupiers committed most of the crimes against Ukrainian culture in the Kharkiv and Donetsk regions. The Luhansk region was also affected.
Lysychansk is one of the many cities of Donbas, whose development was impossible without European capital. In the late 19th century, a Belgian engineer and entrepreneur Ernest Solve together with a merchant Lyubimov founded a soda factory here. A colony with 300 apartments and three barracks for the unmarried was built for workers and their families. There was also a canteen, where plays were staged.
Later, some began to call this residential quarter the tenth province of Belgium, others – the Belgian heritage of Luhansk. We talked to a history teacher Valeriy Negmatov about what the Russian invasion had done to it and how it might affect the souls of Luhansk residents.
How can you describe the Belgian heritage of Lysychansk?
It is a jewel of the Luhansk region, of the entire Donbas. It is very extensive, large-scale. It is not only the most famous Belgian hospital – there is a whole complex: residential buildings of various types, a school that was actually dying, without a roof, without anything, a bunch of different technical buildings.
I had a dream to make the Belgian heritage a place of interest for tourism, various cultural events. Perhaps it would have been possible this year. I wanted to get through to people with influence, to the authorities, maybe to those who have access to Belgium, so that we could preserve it all. It was necessary to make a plan, combine everything, calculate, and most importantly, decide how that heritage could be used for tourism purposes.
Last year, there were attempts to organize something in the region, some projects were presented. For example, there was an idea to create a youth hub on the basis of the Belgian Hospital, with various things, from an observatory to leisure activities for young people. Why not? The main task was to implement that. Unfortunately, Mykola Lomaka, an architect from Lysychansk who was the first to raise the issue of preserving Belgian heritage, died last August. No matter how much I criticized Wikipedia, the article written by Mr. Lomaka on Belgian heritage is worth reading, it was written by an expert, and can be relied on.
So, there were plans to restore the heritage. We considered contacting the Belgians directly. But now we have lost it, perhaps forever.
What exactly is lost?
Russian army's shelling burned down the gymnasium built by the Belgians over a hundred years ago. It was among the top 100 best schools in the country and part of the Belgian architectural heritage of the city. The institution survived two world wars and the battles for Lysychansk in 2014, but burned to the ground in May 2022.
The tuberculosis dispensary, which was located in a historical house built in 1891 for the director of the Donetsk soda factory, was destroyed as well. It was also founded by the Belgians and burned down as a result of enemy shelling. The building of the former Belgian hospital, which was awaiting restoration, also came under fire.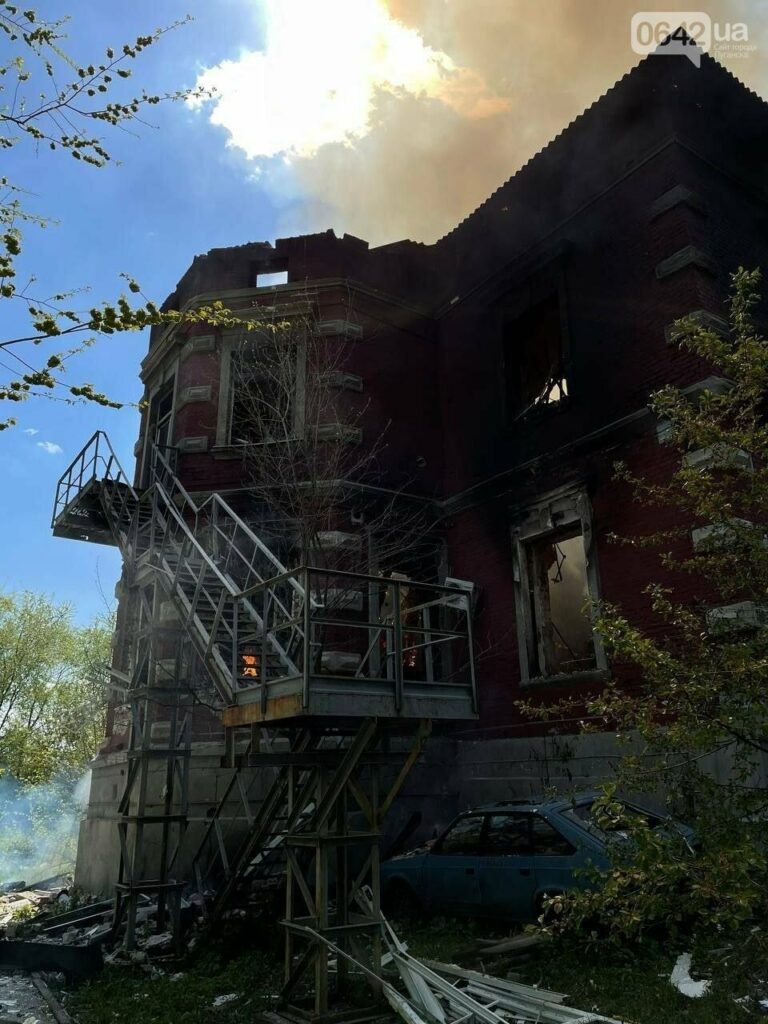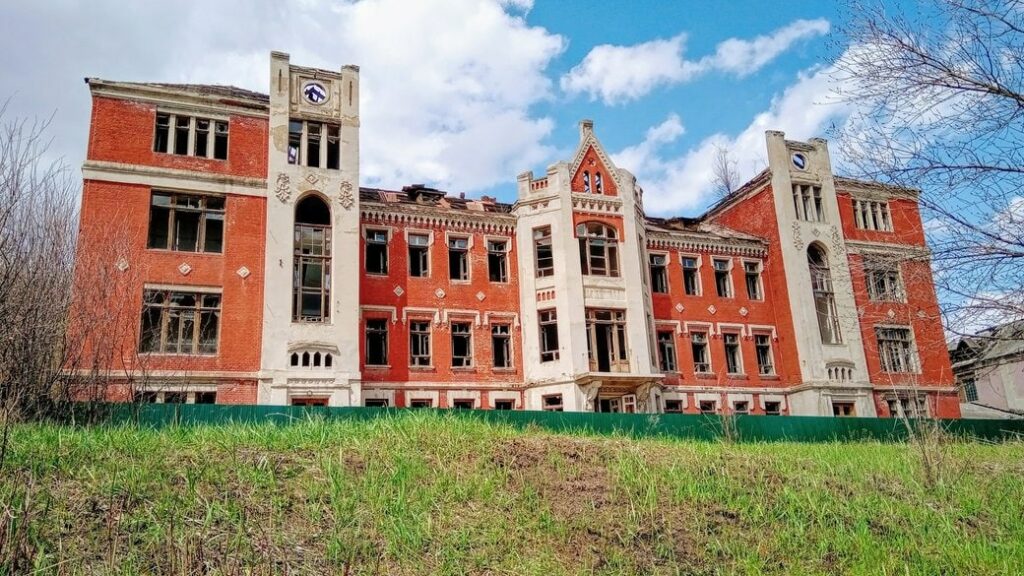 The provisional occupation "authority" will definitely not consider restoration of monuments, because they have an opposite goal. I am very worried about the residents of the Belgian houses, because there is practically no connection with the region. I hope we will be able to reinstall connection and everything is fine with them.
Could Belgium have saved all this before the war?
When the Belgians visited us, they wondered how everything had survived to the present. Why did they not take care of such important objects? Most likely, they were stopped by the fact that the territory had no owner. Only the Grammar School was included in the Cultural heritage register.
In 2017, Lysychansk received the Belgian Heritage Abroad Award. The diploma was presented by the Ambassador of Belgium to Ukraine, Luc Jacobs. "The tenth province of Belgium" – that's how the complex of buildings was named. The Belgians expressed a desire to restore their "heritage." All the local regional authorities had to do was to submit an official application, but they did not. Only last year, the region took it into its own hands, but February 24, 2022 came.
Has the historical nook of Belgium in the Ukrainian Luhansk Region disappeared forever?
Although I am a realist, I was an optimist in this matter and hoped that the Belgian heritage could be saved. Now we remain in uncertainty. Even if we assume that the war will end tomorrow and the regions will be de-occupied, I don't know if it is technically possible to restore everything. Experience suggests that nothing is impossible. Let's take the example of St. Michael's Golden-Domed Monastery in Kyiv, which was blown up by the bolsheviks in the mid-1930s, when the capital was transferred from Kharkiv to Kyiv. It was restored in the 2000s. It's more a question of finding drawings of those buildings, photos, pictures. I have a lot of videos. The outside can be done, but the inside is more difficult. Everything depends on the will of the authorities. We will do everything, when we return our lands, we can raise people, although we need to find housing for them, feed and warm them…
St. Michael's Golden-Domed Monastery was restored, but, in fact, it is a completely different building. Besides, even worse, we are losing people. The people who lived in the houses of Belgian heritage for years, each of whom had their own destiny; the entire history of generations. And we just started collecting information about families, about their daily life. It was interesting for me to do that, to visit the interiors of more than one hundred years old, to listen to stories about those people's childhood. We are also losing the opportunity to be recognized in Europe. Frankly speaking, the Belgian heritage is almost the only such valuable cultural attraction in the region. The attraction that could bring money to the city, become a tourist center given that sufficient financing is allocated and it is properly restored.
What should be done in this situation?
Of course, fight for every little Ukrainian, tell, teach them, and stir their interest. So that children love their country in their hearts rather than under compulsion. So that we, in their person, do not lose the future. And we will defeat the enemy. Because history, as I have already said, does not forgive mistakes. And the russians made a fatal historical mistake eight and a half years ago and sealed their own fates on February 24.
History must be preserved, I don't like this word, but here it is appropriate. For what? There is no future without the past. As a history teacher, I see and feel this very well. Sometimes children don't even know their hometown. So I digress from the main topics of the lesson and talk about, say, the Belgians. We are losing children. They don't know it, so they can't appreciate it and just don't care. What happens then? It is easy for them to leave their land. Especially now, when about 5 million Ukrainians have already left the Motherland. This is exactly what the russians have sought for years. They gradually erased our identity, because it is easier to destroy us that way. We know the consequences. The enemy has set about conquering not only our souls, but also the earth. Therefore, due to the loss of historical heritage, we also lose our future.
Kateryna Horyachko
9.08.2022