Situation in the combat zone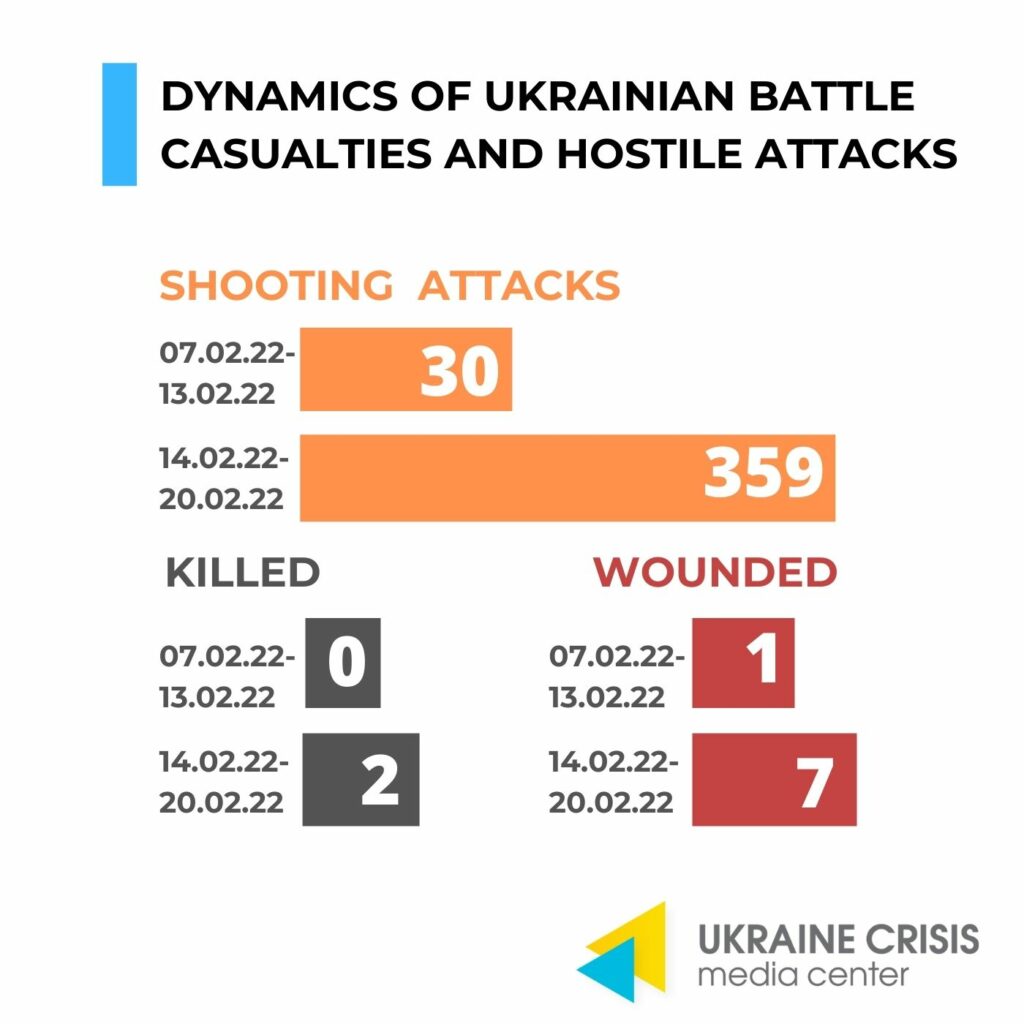 The situation in the combat zone in eastern Ukraine escalated sharply. On February 17, Russia-led forces renewed attacks all along the line of contact. On Sunday, they made 80 attacks, of which 72 included the use of weapons banned under the Minsk agreements.
A Ukrainian service member was wounded by shrapnel. He is in hospital in a fair condition.
Shelling of Luhansk. Around 9 p.m. on February 20, Russia-backed militants fired heavy weapons toward Luhansk from near the occupied town of Lobacheve. That was another provocation Russia staged to fault the Ukrainian troops, Ukraine's Joint Forces command said in a statement.
The incident comes as a show of no regard for civilian lives from the occupation force, the statement reads.
"This is the official statement and the Joint Forces command would like to inform everyone that the Joint Forces continue to strictly abide by the Minsk Agreements and the International Humanitarian Law. Therefore, the claims about the civilian settlement shelling carried out by the Armed Forces of Ukraine are completely false and provocative, as the only party responsible for those incidents is the aggressor-state," Ukraine's Joint Forces command said.
Russia's proxy leaders order mass evacuation of civilians: what is behind the move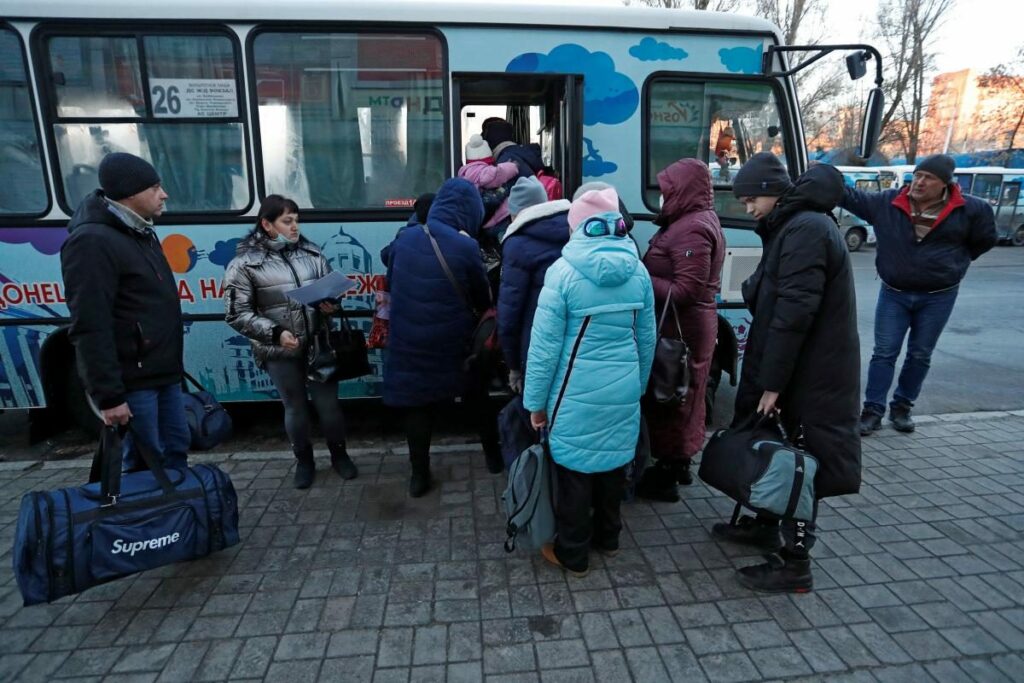 Evacuation order. On February 18, Kremlin-backed occupation authorities ordered evacuation of women, children, and seniors from occupied areas of Donetsk and Luhansk region to Russia. Evacuation order came as an emergency measure in response to intensified attacks that Russia's proxies made.
Yet chiefs of "LNR" and "DNR" recorded their video addresses two days earlier, on February 16, metadata shows. Men were required to sign up for "draft", they said.
Evacuation order followed Russia's disinformation efforts. Russia said Ukraine plans an offensive against the occupied territories, and faulted Ukraine for alleged explosions in Donetsk and damage of critical infrastructure. Russia also accused Ukraine of shelling the border area of the Rostov region.
Ukraine denies plans for a military offensive. In lockstep with U.S. and NATO intelligence reports, Ukraine warns of Russia's plans to use false claims and provocations as a pretext for a large-scale invasion.
Reports from Russia. More than 61,000 citizens arrived in Russia after being evacuated from the occupied areas of Ukraine's east, Russian authorities said. Nine trains carried the evacuees further into Russia. Six regions – Rostov, Voronezh, Kursk, Penza, Saratov, and Volgograd announced a state of emergency to accommodate the influx of evacuees from Donbas.
In Taganrog, recreation facilities and hotels secured for the evacuees were full after two days, Russia's RBC said.
Commentary by Ukraine's Defense Minister. Reports of the mass evacuation of citizens from Donbas are not true. People return back home on their own, Ukraine's Defense Minister Oleksiy Reznikov said in comments aired on 1+1 TV channel Sunday.
"The mass evacuation of Ukrainians from ORDLO into Russia is a farce," Ukraine's Defense Minister said. "They sent away a few thousand people to create a picture. Our intelligence reports say that people now return to their homes on their own. They did not have food or shelter. These are staged scenes," Reznikov said.
Wagner mercenaries arrive in Donetsk, Ukraine's intelligence says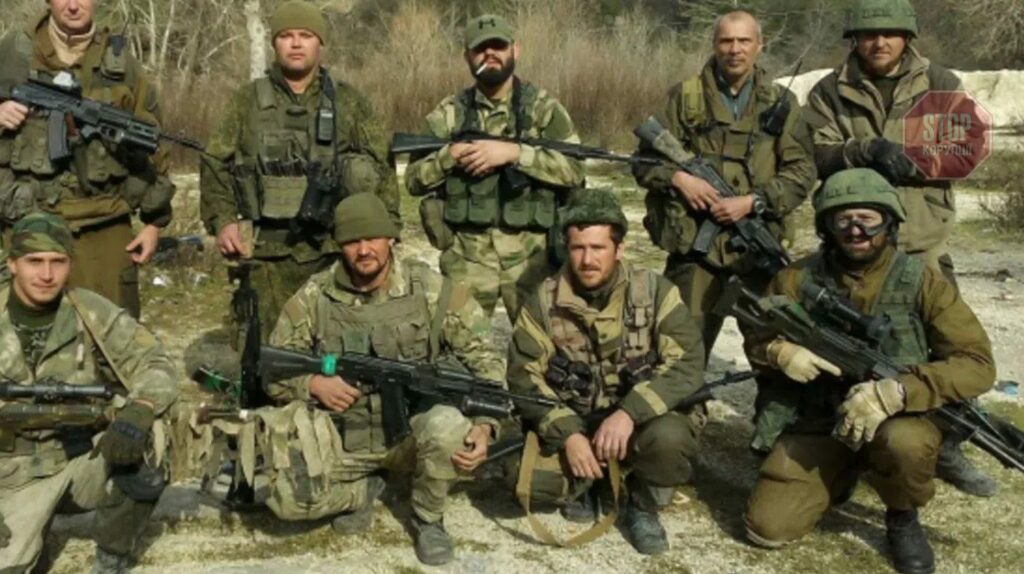 "According to intelligence reports, Wagner mercenaries arrived in Donetsk to carry out a series of terrorist acts with Russia's security services, particularly attacks on apartment buildings," the operational-tactical command Skhid (East) of Ukraine's Armed Forces said in a statement. "The provocations aim to fault Ukraine and escalate the situation."
The Ukrainian troops do not plan an offensive or other operations on the temporarily occupied territory, the operational-tactical command Skhid said.
"The Ukrainian troops maintain a defensive stance and use weapons only if there are threats to lives of service members or civilians," the statement reads.
Russia's security services mined several social infrastructure facilities in occupied Donetsk to blast them, the Main Intelligence Directorate of Ukraine's Defense Ministry said in a statement on February 18.
Zelenskyi speaks at Munich Security Conference, highlights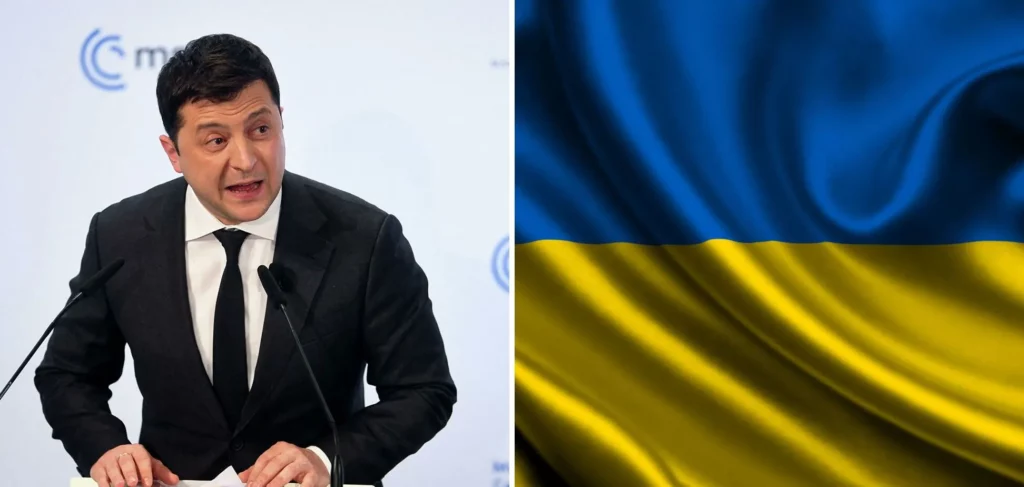 On February 19, President Zelenskyi spoke during the annual Munich Security Conference. Zelenskyi traveled to Germany despite President Biden's warnings that Putin has decided to invade Ukraine. Here are the highlights from Zelenskyi's remarks that were well-received in Ukraine.
"Why die for Danzig?", question that led to Dunkirk. "Ukraine wants peace. Europe wants peace. The world says it doesn't want to fight, and Russia says it doesn't want to attack. Someone is lying. This is not an axiom, but it is no longer a hypothesis."
"Two days ago I was in Donbas, on the delimitation line. Legally – between Ukraine and the temporarily occupied territories. In fact, the delimitation line between peace and war. Where on the one side there is a kindergarten, and on the other side there is a projectile that hit it. On the one side there is a school, on the other side there is a projectile hitting the school yard."
"And next to it there are 30 children who go… no, not to NATO, but to school. Someone has physics classes. Knowing its basic laws, even children understand how absurd the statements that the shelling is carried out by Ukraine sound."
"Someone has math classes. Children can calculate the difference between the number of shelling occasions in these three days and the occasions of mentioning Ukraine in this year's Munich Security Report without a calculator."
"And someone has history classes. And when a bomb crater appears in the school yard, children have a question: has the world forgotten its mistakes of the XX century?"
"What do attempts at appeasement lead to? As the question 'Why die for Danzig?' turned into the need to die for Dunkirk and dozens of other cities in Europe and the world. At the cost of tens of millions of lives."
Global security architecture fragile, needs update. "The architecture of world security is fragile and needs to be updated. The rules that the world agreed on decades ago no longer work. They do not keep up with new threats. They are not effective for overcoming them. This is a cough syrup when you need a coronavirus vaccine. The security system is slow. It crashes again. Because of different things: selfishness, self-confidence, irresponsibility of states at the global level. As a result, we have crimes of some and indifference of others. Indifference that makes you an accomplice. It is symbolic that I am talking about this right here. It was here 15 years ago that Russia announced its intention to challenge global security. What did the world say? Appeasement. Result? At least – the annexation of Crimea and aggression against my state."
"The UN, which is supposed to defend peace and world security, cannot defend itself. When its Charter is violated. When one of the members of the UN Security Council annexes the territory of one of the founding members of the UN. And the UN itself ignores the Crimea Platform, the goal of which is to de-occupy Crimea peacefully and protect the rights of Crimeans."
"Three years ago, it was here that Angela Merkel said: 'Who will pick up the wreckage of the world order? Only all of us, together.' The audience gave a standing ovation. But, unfortunately, the collective applause did not grow into collective action. And now, when the world is talking about the threat of a great war, the question arises: is there anything left to pick up? The security architecture in Europe and the world is almost destroyed. It's too late to think about repairs, it's time to build a new system. Mankind has done this twice, paying too high a price – two world wars. We have a chance to break this trend until it becomes a consistent pattern. And start building a new system before millions of victims. Having the old lessons of the First and Second World Wars, not our own experience of the possible third, God forbid."
Ukraine will defend itself with or without foreign support. "We will defend our land with or without the support of partners. Whether they give us hundreds of modern weapons or five thousand helmets. We appreciate any help, but everyone should understand that these are not charitable contributions that Ukraine should ask for or remind of."
"These are not noble gestures for which Ukraine should bow low. This is your contribution to the security of Europe and the world. Where Ukraine has been a reliable shield for eight years. And for eight years it has been rebuffing one of the world's biggest armies. Which stands along our borders, not the borders of the EU."
"To really help Ukraine, it is not necessary to constantly talk only about the dates of the probable invasion. We will defend our land on February 16, March 1 and December 31."
Ukraine deserves honest talk about prospects for EU, NATO membership. "Tomorrow in Ukraine is the Day of the Heroes of the Heavenly Hundred. Eight years ago, Ukrainians made their choice, and many gave their lives for that choice. Eight years later, should Ukraine constantly call for recognition of the European perspective? Since 2014, Russia has been convincing that we have chosen the wrong path, that no one is waiting for us in Europe. Shouldn't Europe constantly say and prove by action that this is not true? Shouldn't the EU say today that its citizens are positive about Ukraine's accession to the Union? Why do we avoid this question? Doesn't Ukraine deserve direct and honest answers?"
"This also applies to NATO. We are told: the door is open. But so far authorized access only. If not all members of the Alliance want to see us or all members of the Alliance do not want to see us, be honest. Open doors are good, but we need open answers, not open questions for years. Isn't the right to the truth one of our enhanced opportunities? The best time for it is the next summit in Madrid."
"Russia says Ukraine seeks to join the Alliance to return Crimea by force. It is gratifying that the words 'return Crimea' appear in their rhetoric. But they inattentively read Article 5 of the NATO Charter: collective action is for protection, not offensive. Crimea and the occupied regions of Donbas will certainly return to Ukraine, but only peacefully."
Security guarantees under Budapest Memorandum. "Ukraine has received security guarantees for abandoning the world's third nuclear capability. We don't have that weapon. We also have no security. We also do not have part of the territory of our state that is larger in area than Switzerland, the Netherlands or Belgium. And most importantly – we don't have millions of our citizens. We don't have all this."
"Therefore, we have something. The right to demand a shift from a policy of appeasement to ensuring security and peace guarantees."
"Since 2014, Ukraine has tried three times to convene consultations with the guarantor states of the Budapest Memorandum. Three times without success. Today Ukraine will do it for the fourth time. I, as President, will do this for the first time. But both Ukraine and I are doing this for the last time. I am initiating consultations in the framework of the Budapest Memorandum. The Minister of Foreign Affairs was commissioned to convene them. If they do not happen again or their results do not guarantee security for our country, Ukraine will have every right to believe that the Budapest Memorandum is not working and all the package decisions of 1994 are in doubt."
"I also propose to convene a summit of permanent members of the UN Security Council in the coming weeks with the participation of Ukraine, Germany and Turkey in order to address security challenges in Europe. And elaborate new, effective security guarantees for Ukraine. Guarantees today, as long as we are not a member of the Alliance and in fact are in the gray zone – in a security vacuum."
Ways to support Ukraine. "What else can we do now? Continue to effectively support Ukraine and its defense capabilities. Provide Ukraine with a clear European perspective, the tools of support available to candidate countries, and clear and comprehensive timeframes for joining the Alliance."
"Support the transformation in our country. Establish a Stability and Reconstruction Fund for Ukraine, a land-lease program, the supply of the latest weapons, machinery and equipment for our army – an army that protects the whole of Europe."
"Develop an effective package of preventive sanctions to deter aggression. Guarantee Ukraine's energy security, ensure its integration into the EU energy market when Nord Stream 2 is used as a weapon."
Escalation not evacuation: Russia moves people out of Ukraine's occupied territory
A new infographic by UCMC's Hybrid Warfare Analytical Group on Russia's forced evacuation of citizens from Ukraine's occupied territory.
How Ukraine is fighting COVID-19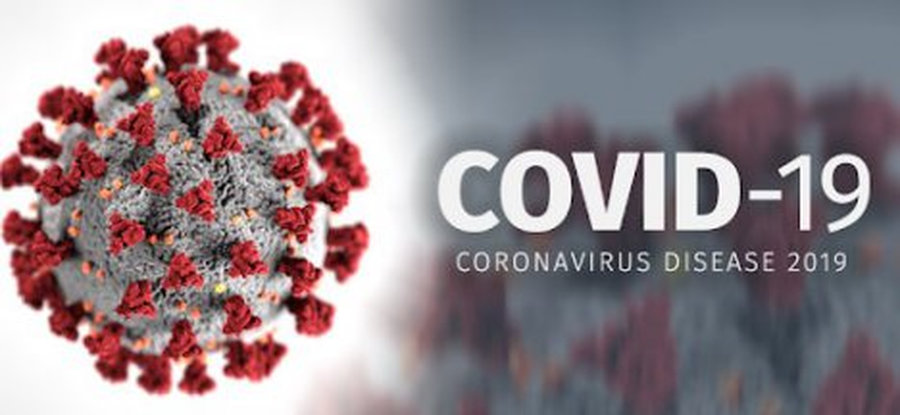 Coronavirus cases begin to decline across Ukraine. On February 20, Ukraine recorded 13,562 cases, and 127 deaths, a decline from last week.
Throughout the pandemic, Ukraine has reported 4,734,333 million cases, 104,645 deaths, and more than 3,952,363 million recoveries. There are presently 677,325 active cases.
Vaccinations. Since vaccinations began in Ukraine, 15,680,361 people have received the first dose of a Covid-19 vaccine, 15,121,999 people have been immunized with two doses, and 668,508 people have received a booster shot.