During the day of May 24, the Russian occupiers killed 18 civilians in Donetsk and Luhansk regions, and wounded 18 more. Russian war criminals fired on 39 settlements in eastern Ukraine.
This was reported in the press service of the Joint Forces and Luhansk and Donetsk Regional Military Administrations.
In Donetsk and Luhansk oblasts, at least 59 residential buildings and 12 other civilian facilities were destroyed and damaged, including a hospital, a railway station, a shopping center, a coke plant production facility, and a construction base.
Units of the State Emergency Service, which are part of the Joint Forces, extinguished 14 fires caused by shelling by Russian troops in Avdiivka, Bakhmut, Soledar, Toretsk, Nelypivka, Sloviansk, Sviatogorsk, and Lysychansk.
Pyrotechnicians found and neutralized 67 explosive devices in Kramatorsk, Bakhmut, Pokrovsky, Volnovakha, and Severodonetsk districts.
Over the past day, rescuers evacuated about a thousand people from the areas of hostilities in the Donbas.
Luhansk region
According to Serhii Haidai, head of the Luhansk Regional Military Administration, the Russians are targeting mass gatherings of people. Yes, they know that bomb shelters have been set up at Severodonetsk's Azot, and they are directing shells there. Yesterday they killed four locals there, three more were hospitalized.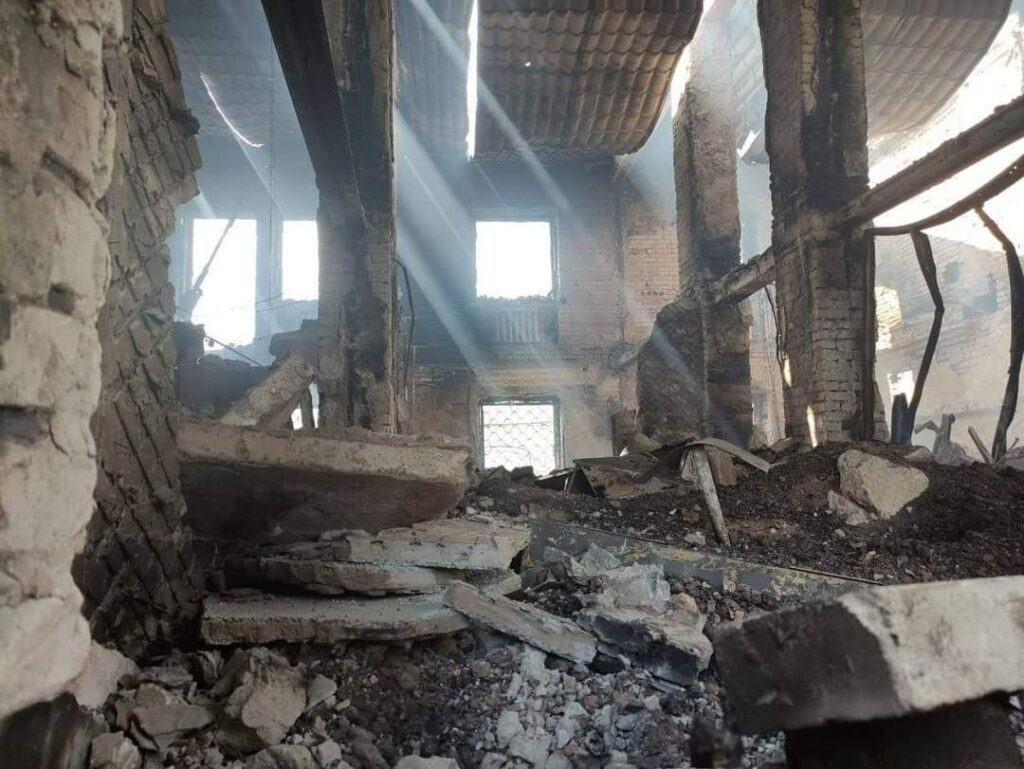 The enemy also knows which schools have shelter – it is not accidental. A woman was injured near one of the educational institutions yesterday, May 24.
The occupiers collects this information using drones, as well as data from gunners. That is why the head of the Luhansk Regional Military Administration urges people to be careful – traitors can be just among them.
Two more men were killed in the old districts of the city, and four more were injured.
In total, six people were killed and eight injured on May 24. One woman had her leg amputated.
It is difficult to count the number of homes damaged yesterday. Two houses in Severodonetsk were destroyed. Four each in Novodruzhesk, Vrubivka and Komyshuvasha, three each in Zolote and Toshkivka, two each in Katerynivka and Nyrkovo, and one in Hirske.
The Russian occupiers are advancing on Severodonetsk with the support of artillery.
Since the beginning of the Russian invasion of Ukraine, 320 civilians have been killed in shelling and bombing in the Luhansk region.
Donetsk region
According to Pavlo Kyrylenko, head of the Donetsk Regional Military Administration, on May 24, Russians killed 12 civilians in Donetsk: 3 in Bakhmut, 2 in Toretsk, 2 in Avdiivka, 2 in Raigorodka, 1 in Lyman, 1 in Mykolaivka and 1 in Kalynove. Another 10 people were injured.
It is currently impossible to determine the exact number of victims in Mariupol and Volnovakha.