The Selydove town territorial community was formed two years ago by uniting 9 settlements with the population of 35,000 people on the area of ​​150 square kilometers.
After the collapse of the Soviet Union, almost 84% of Selydove residents voted for the independence of Ukraine in a referendum. There was nothing surprising in this choice, because the settlement was founded by the Zaporizhzhia Cossacks. This area of the ​​Donetsk region respected the glorious Cossacks traditions even in Soviet times. Back in 1977, a monument "Cossack on guard" by the Donetsk sculptor Pavlo Geveke was erected in the town. The Cossack is looking towards the Crimea, with a pipe clutched in his left hand.
Today, this is the community's symbol of victory. Ruslan Sukov, the community head, says about the day the war ends that it will be a historical date, which people will not be able to believe for a long time. Even if there is victory, silence, no explosions tomorrow, it will take time for happiness to come.
"The war will remind of itself for a long time to come with thousands of pieces of the shells left on the streets among broken houses. Even if it's announced tomorrow that Ukraine has driven the invaders as far as Murmansk, returned its territories, the war will remain on our land for a long time, for it has caused too much pain and grief. It will take a few generations for the phrase "after the war" to become true," the head says.
Ruslan Sukov became head of the community last year. He planned a lot of activities to develop the area. Among the biggest ones were major repairs of the school, reconstruction of the sports school, construction of a modern TsNAP, road repairs and opening of an agricultural enterprise with new jobs. But time made adjustments.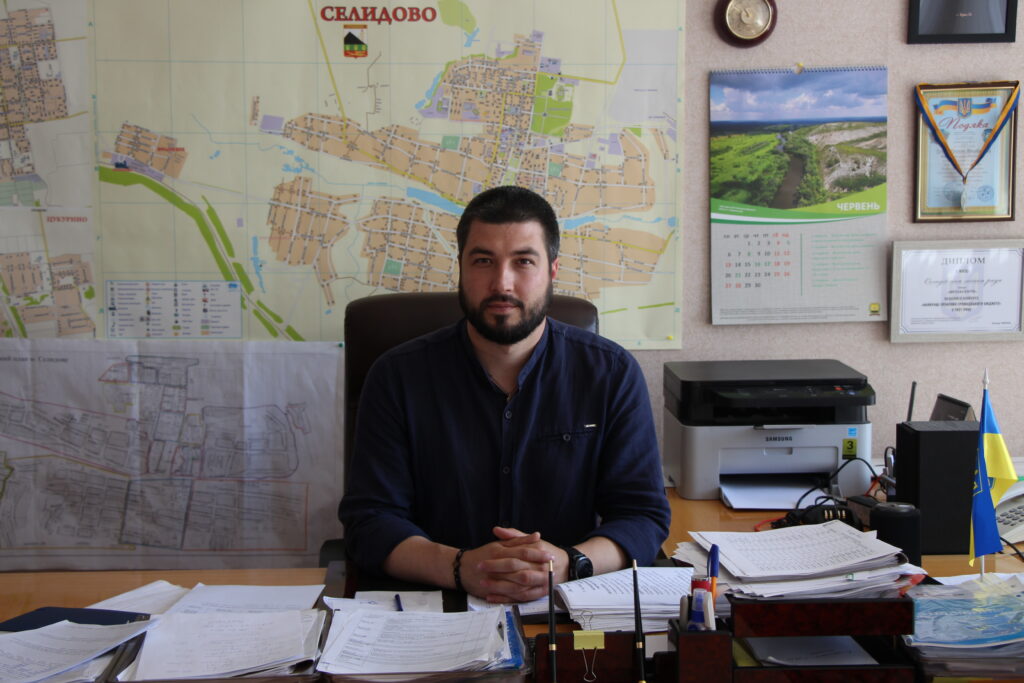 Donbas was on fire. Cities turned to ruins. Panic and hysteria were brewing. The flow of refugees from Volnovakha, Vuhledar, Avdiyivka, Maryinka, and Velyka Novoselivka became a big problem. People had to be accommodated, fed, and treated urgently. At that time, the Selydove community made kindergartens into reception centers for people from hot spots, provided them with three meals a day and everything they needed. Teachers and psychologists worked with the refugees.
Sukov recalls how shortages of food, water, and medicines led to humanitarian problems. They had to convince shop owners to bring food to the community:
"Our team used our own cars to deliver medicines. We looked for opportunities to provide people with humanitarian aid. In March, we had over 400 people living in institutions and about 3,000 in the community. The contact center, whose operators were on call 24 hours a day and received up to 700 calls a day – on issues of humanitarian aid, evacuation, medicines, etc. – took up a large workload."
Local self-government was active. They prepared 16 bomb shelters for people's safety: brought in water and food supplies, arranged places, and bought generators. They also arranged the simplest shelters (basements) in high-rise buildings: water, pallets, and first-aid kits. More than 3,000 wooden pallets were purchased, transported to the shelters and distributed to the community residents.
It was extremely difficult to do that when everything was so scarce. Moreover, they had to help the military simultaneously, because a fortified line of defense is a guarantee of people's safety. During the four months of the war, by taking money from unused subventions, the Selydove community spent 7 million hryvnias from its own budget to help the army. They bought quadcopters, thermal imagers, sights, helmets, and clothes. They welded Czech hedgehogs, dug trenches with excavators, and used other equipment.
After evacuation was announced in the Donetsk region, there were a lot of people willing to leave.
"We organized a free bus to Pokrovsk for the evacuation train. All institutions were evacuated. People left, abandoned their relatives and animals. We accepted elderly people in the Chaika kindergarten, and we helped animals find a new family. Today pharmacies, a post office and Oschadbank are open, and our community has all necessary food and fuel. I believe that, despite the absence of the majority of the staff, our team has coped," the head says.
Could it be different? Sukov is convinced: Ukrainians have one peculiarity – they may disagree, sort things out, but when trouble comes, they unite and together drive out enemies with the same zeal. That is why we cannot be broken, conquered.
"Russia saw a lot of rows, scandals, redistributions of power, battles in our parliament and made a big mistake, thinking that it is easy to defeat Ukrainians because they are constantly fighting among themselves. But it is not so. Ukrainians are not only good at fighting with each other but also at uniting to beat the enemy. Russia has bought into it, and now is paying for it," he explains.
The calamity united people. The Selydove community was one of the first in the Donetsk region to accept a large number of IDPs since the beginning of the big war and continued accepting them. Local people are ready to provide housing, to share their homes with them. When many people who were fleeing the war and the "russian world" were taken in at once, there was a need for bed linen, clothes, household chemicals, and food. The locals brought everything to the humanitarian headquarters in large quantities: cooked foods, canned foods, clothes and tableware, new things.
"This war has shown us what Ukraine is for each of us, how we should value our home, our community. And the crimes committed by the enemy will be enough a hundred years in advance not to provoke the demon. Since the first day, I've been impressed by how people united. The Ukrainians immediately decided that we would win, no one would surrender their territory. All this time, people help each other and the military; there is a lot of humanitarian aid. The military that come to us also provide great support to civilians. Since the first days of the war, people have cooperated, united and decided that we will celebrate the victory, and therefore we are taking steps towards it. This is an indicator of friendship, compatriotism. We needed a common enemy to see in what beautiful country we developed, lived, built, grew. Everything is known in comparison. We will manage, because we have united for a common goal – Victory," Ruslan Sukov emphasizes.
But until victory comes, we must constantly overcome difficulties. People are mentally and physically tired. It was a blow to the psyche – it is difficult to switch from economic development to a military regime. It will also be difficult to switch from martial law and survival mode to normal life.
It is difficult for children and parents. Children do not fully understand what is happening, and parents need to explain to them, to reassure them: it was a neighbor who slammed the door, it is not an explosion. It will take a long and difficult time for the child's psyche to recover.
"Each of us has a strong inner core, nothing can break it, but this core was created by blood, losses and deaths, and it is painful to realize," Ruslan Sukov says at the end of the conversation.
Olha Nikulina
29.06.2022
The material is prepared within the project "Countering Disinformation in Southern and Eastern Ukraine" funded by the European Union.