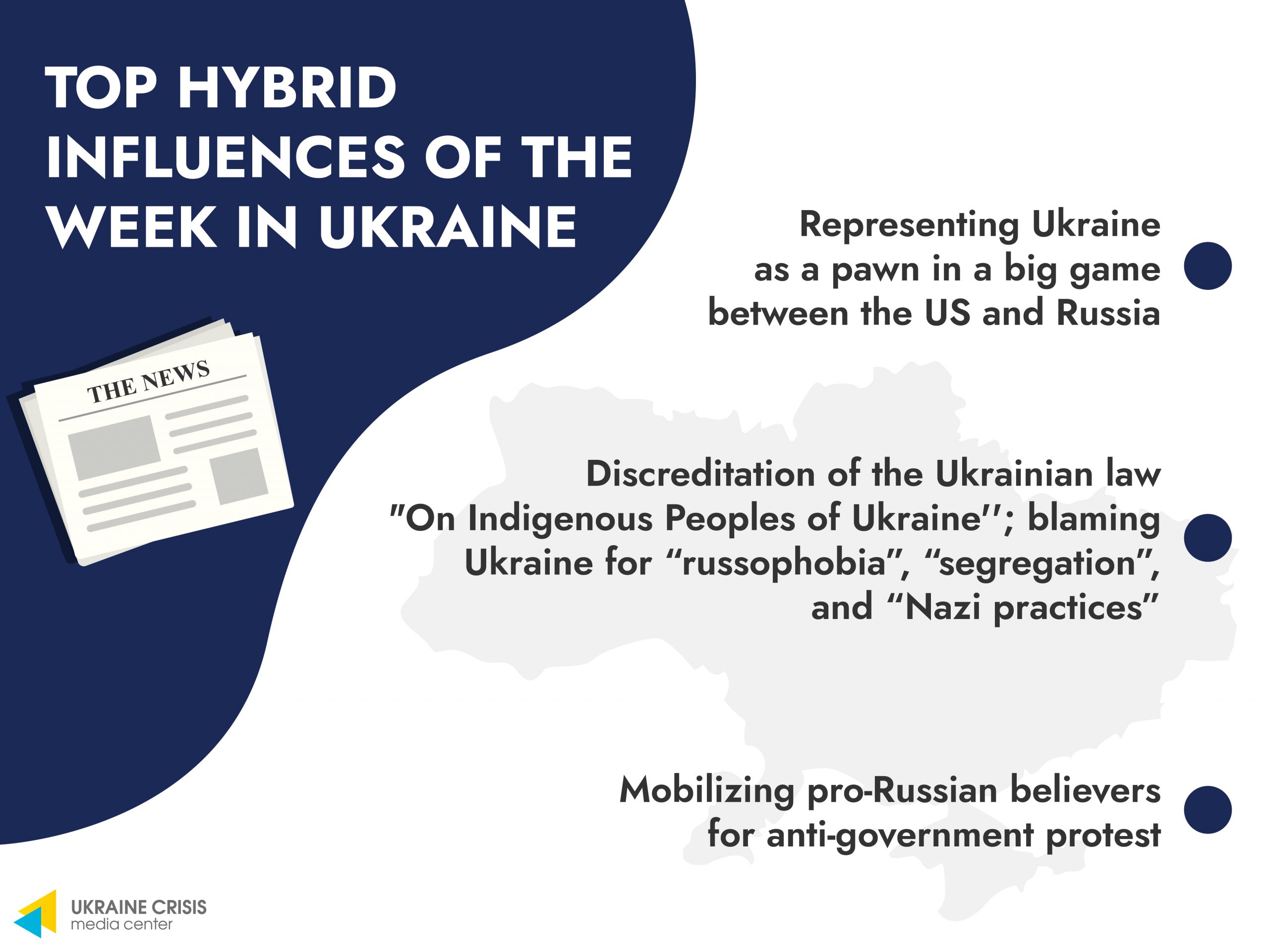 These are the key hybrid influences in Ukraine we have monitored within our #HybridWeekly rubric:
After the much-anticipated meeting of Presidents Biden and Putin on June 16, the pro-Russian forces continued to promote narratives aimed at marginalizing Ukraine on the global stage. Representing Ukraine as a pawn in a big game between the US and Russia, Kremlin-backed media try to portray Ukraine as a weak state that has no prospect to join NATO and all Ukrainian problems as "irrelevant" and "minor".
The Kremlin tried to discredit the Ukrainian law "On Indigenous Peoples of Ukraine" which establishes legal status of Crimean Tatars, the Karaims and Krymchacks blaming it for "russophobia", "segregation", and "Nazi practices". The law merely serves to lay out the instruments for the indigenous peoples' self-determination and dialogue with the state and has nothing to do with segregation, let alone suppressing Russian speakers in Ukraine. Russians were excluded from the list, as they are not indigenous but a national minority, which are different terms (national minorities have a historical homeland other than Ukraine, indigenous people do not). Ironically, a similar law was adopted in Russia in 1999.
The Kremlin-loyal Ukrainian Orthodox Church of the Moscow Patriarchate organized a rally through its newly founded "Mirianie" (Laity) organization, allegedly another Kremlin's project under the veil of an NGO. The protest was against the Ukrainian law that forces it to change its name to the Russian Orthodox Church (ROC). Despite the event being declared as a "religious procession", it showed signs of a well-organized political gesture since the protesters gathered outside the Verkhovna Rada building. The ROC is another instrument of Russia's hybrid war helping to promote its propaganda, denying Russian military aggression against Ukraine and imposing the idea of "one nation" myth.