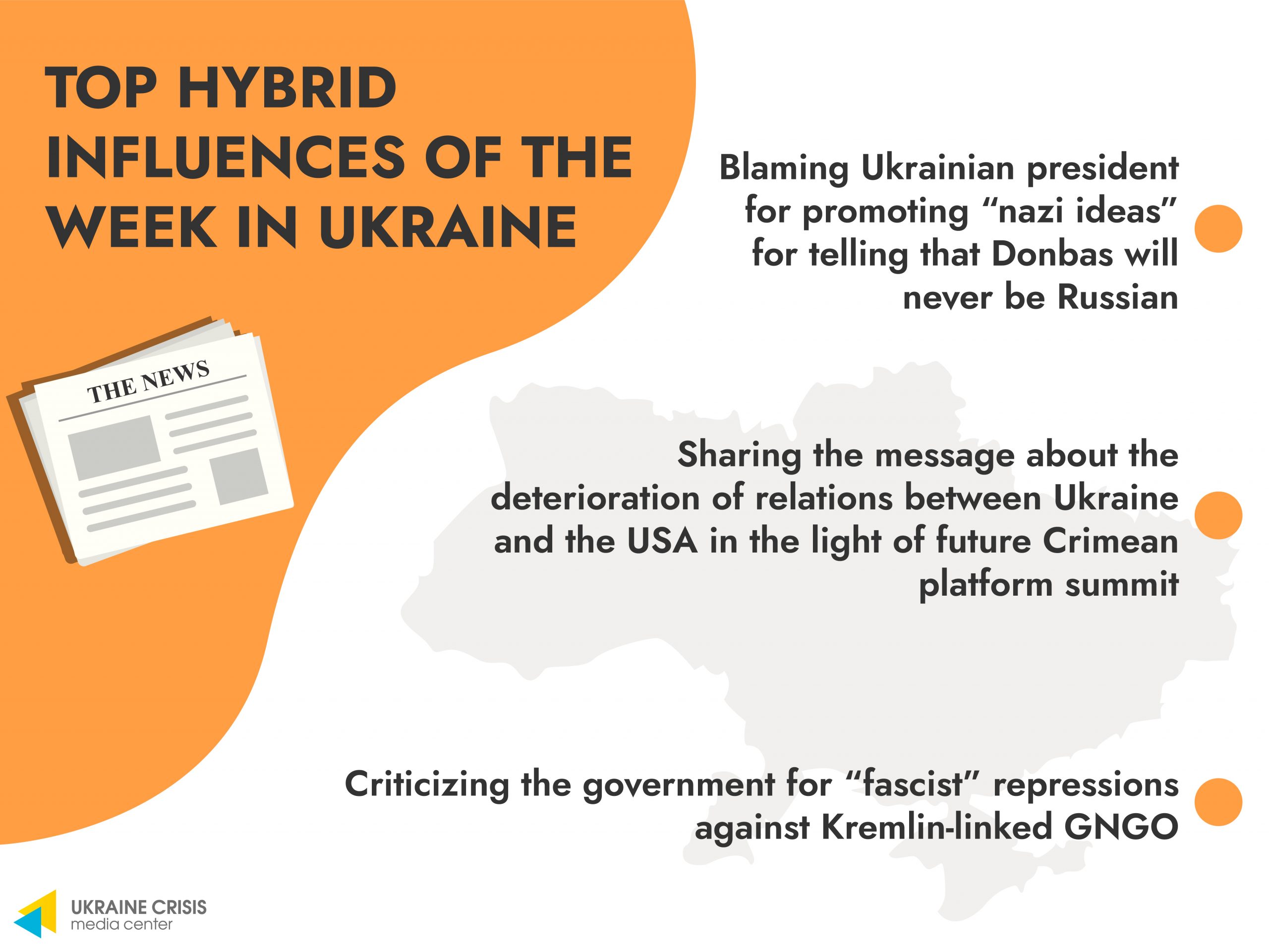 What have this week's hybrid influences been in Ukraine? Read our #HybridWeekly rubric to find out:
In a recent interview to the TV channel, Dom, Ukrainian President Volodymyr Zelensky said that the occupied territories of the Luhansk and Donetsk regions will never be Russian and encouraged all those who consider themselves Russian citizens to move to Russia, as those territories will be de-occupied. Such rhetoric sparked outrage from the pro-Russian forces: they blamed Zelensky for promoting "Nazi ideas", once again attempting to discredit Ukraine's image. This is the usual method of the Kremlin's propaganda, which labels anything that challenges Russian aggression as "Nazi".
As the first summit of the Crimean Platform, a consultative and coordination format for the de-occupation of Crimea, is approaching, the pro-Kremlin forces have intensified their efforts to undermine the partnership of Ukraine and the US. They promote the idea that the relations between the states are deteriorating, as though this is confirmed by the fact that US President Biden will not attend the Crimean Platform's summit. In fact, the US is still sending a high representative to the summit, and the US rhetoric has been extremely supportive of the initiative. The propagandists aim to sow discord between the states and cause disappointment in the audience.
The Kremlin's agents are blaming Ukrainian authorities for the persecution of "dissent, opposition and the freedom of speech" as a reaction to the Security Service of Ukraine blocking the Patriots for Life centers in several cities in the East of Ukraine. Patriots for Life is believed to be the Kremlin's proxy force led by Ukrainian MP Illia Kyva from the pro-Russian Opposition Platform – For Life party. This pseudo-NGO is positioned by the Kremlin's agents as an anti-fascist movement but is, in fact, a group of mercenary agents for hire used in pro-Russian rallies.