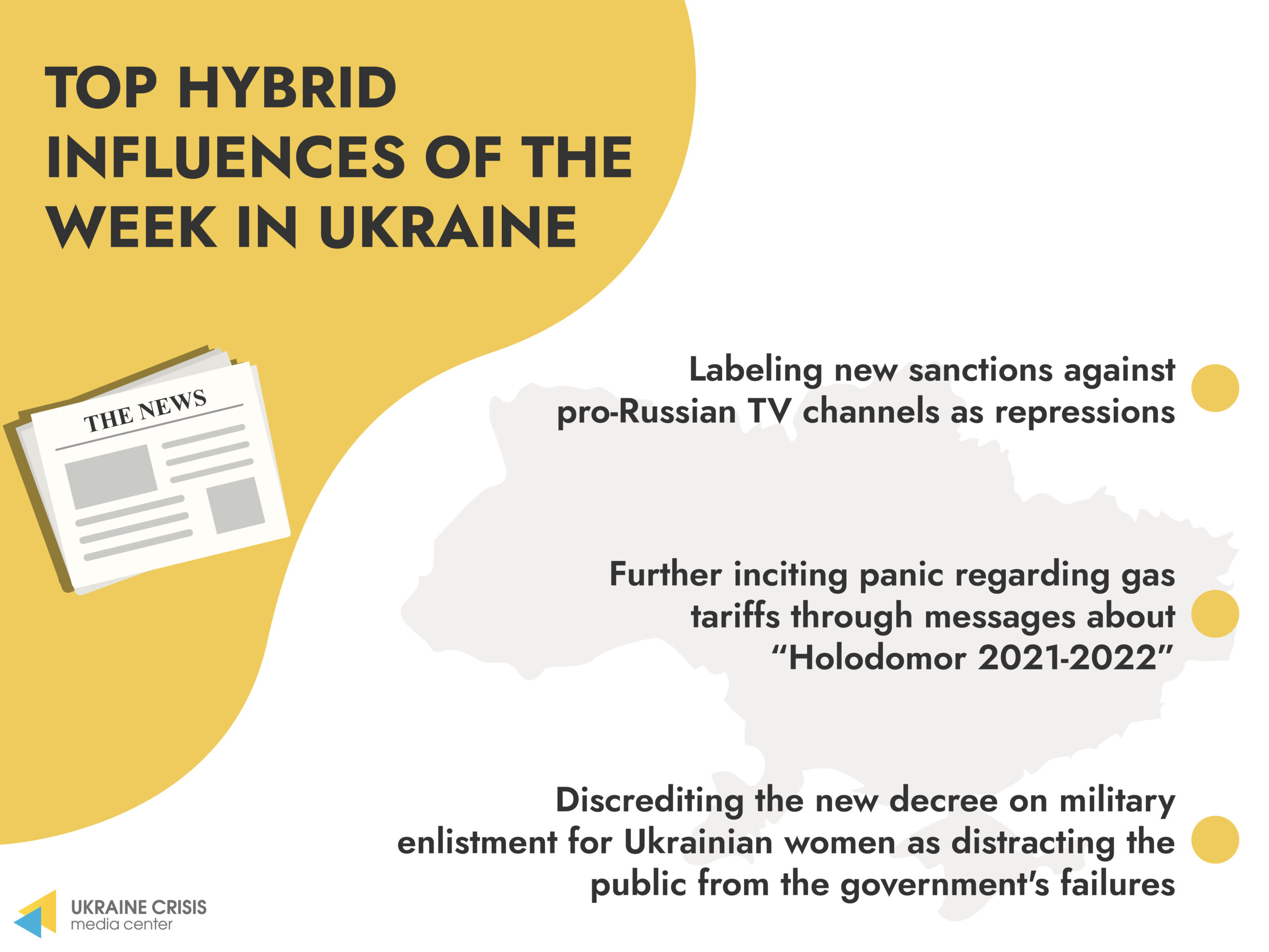 This week, new sanctions were enforced against two more pro-Kremlin channels in Ukraine that were indirectly controlled by Putin's allie Viktor Medvedchuk charged with high treason. One of the channels, Pershyi Nezalezhnyi (First Independent) was created solely to replace the mouthpieces of pro-Russian propaganda that were banned at the beginning of 2021. Another one, Ukrlive was bought by Medvedchuk's party colleague Nestor Shufrych in November 2021. Several TV channels were banned at the start of 2021 in regards to information terrorism charges against the channels' formal owner and Medvedchuk's right-hand man Taras Kozak. As then, the pro-Kremlin forces launched another discrediting campaign to attack the sanctions and portray them as "repressions against dissent" and suppression of the freedom of speech.
The pro-Kremlin forces continued inciting panic in regards to the energy crisis in Ukraine and the rise in gas tariffs for enterprises. They push messages that hunger awaits Ukraine, as the bread-making industry and other critical producers will shut down. The anonymous Telegram channels even compare the prospects for Ukrainians to the Holodomor, a genocide against the Ukrainian nation by the Soviet regime in 1932-1933. The indirect spread of protest sentiment also continued with "predictions" of another revolution. Sowing chaos and dismay serves the Kremlin to undermine the situation in Ukraine and make it easier to impose its agenda.
A new decree widening the range of professions that obliges Ukrainian women for military service was met with a wide discrediting campaign from the pro-Kremlin forces and labeled as another government's distraction from the internal problems. This was closely connected to the portrayal of Ukraine's and its partners' concern about Russia's military aggression as artificial, especially in the messaging of the "Opposition Platform – For Life" party. The government's communication to introduce the new rules of military enlistment was indeed problematic, and the pro-Kremlin forces exploited this to discredit the initiative as well as the Armed Forces at large. The innovation's goal is first and foremost to estimate the state's abilities in case of war and prepare the country for a possible Russian invasion. It is the latter that the Kremlin's puppets aim to downplay in the eyes of the audience.