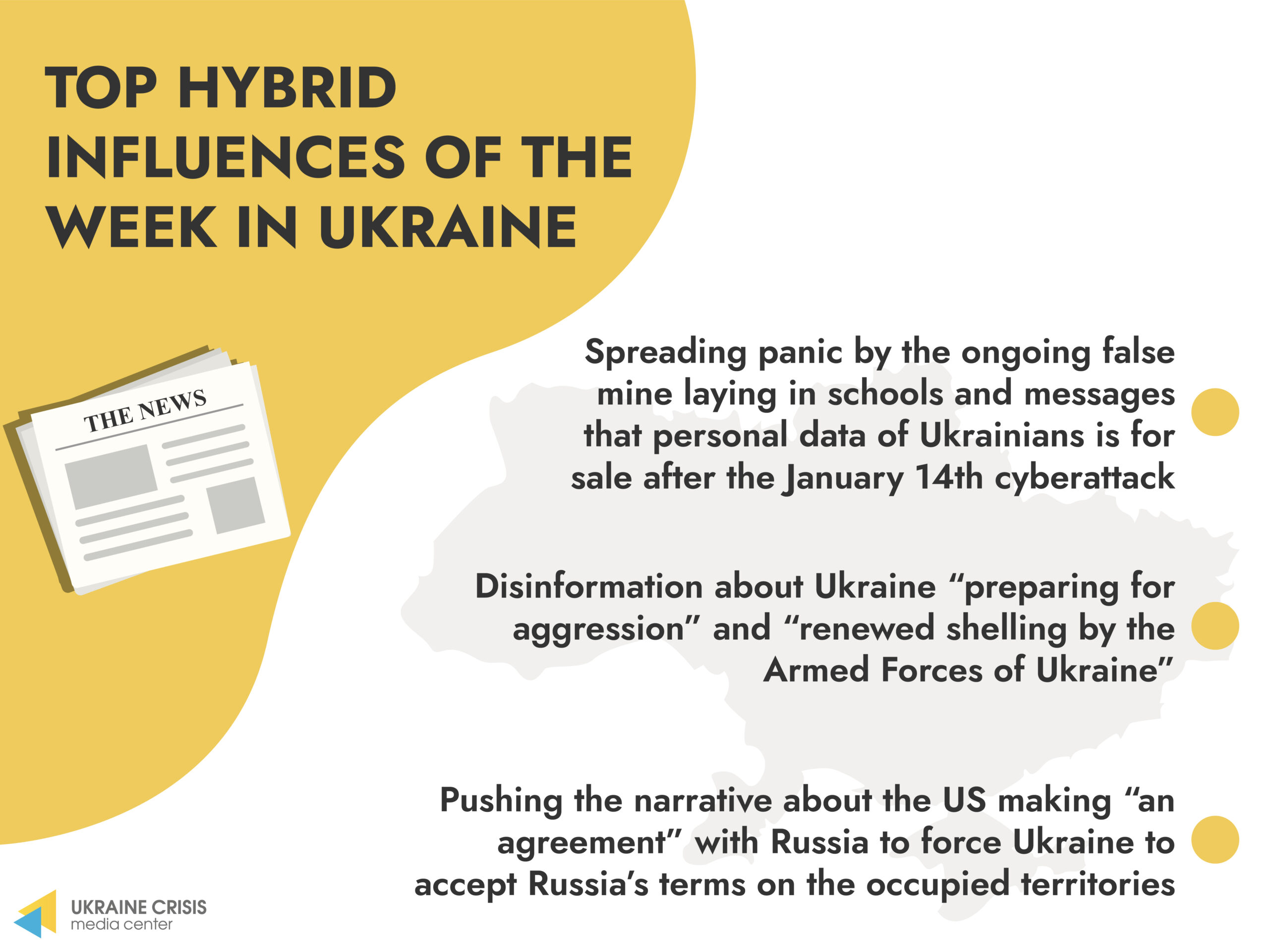 In this active stage of Russia's hybrid aggression, the Kremlin spares no efforts to undermine Ukraine not only by massing troops at its border but also by destabilizing the situation inside the country and sowing panic and chaos. In this regard, the wave of false bomb alerts continues to sweep through the country, and this week the SSU exposed another network coordinated from Russia.
To spread panic, the pro-Kremlin forces also speculated on the safety of the Ukrainians' personal data allegedly stolen in the January 14 cyberattack. Messages about the said data available for sale appeared on social media and were later spread by anonymous Telegram channels and pro-Kremlin media. While the investigation is still going on, the experts at the Ministry of Digital Transformation stress that it is a provocation and a fraud: the data posted for sale is old and composed of the sources leaked before 2019.
The pro-Kremlin forces continued positioning Ukraine as responsible for the escalation and spread messages that it is preparing for an offensive, mostly originating from the authorities of the puppet "LPR/DPR" republics and Russian officials. Following the meeting within the Normandy format, the "LPR" launched disinformation about Ukraine "renewing shelling" and killing an operative of the so-called "people's militia". Ukraine continues to adhere to the ceasefire and conducts solely defensive war, while the recent info attacks by the Russian hybrid forces may be part of fabricating a pretext for further aggression.
A new narrative consisting of the messages spread by pro-Russian propagandists over the recent escalation and providing a seemingly "perfect explanation" for the geopolitical situation around Ukraine was pushed this week. It states that the U.S. and Russian presidents made an "agreement" in Geneva as far as last spring to force Ukraine to bend to Russian terms within the Minsk format talks, the key point of which is starting direct negotiations with the leaders of the puppet republics. Thus the "artificial warmongering" and "inciting panic by the Western media". Pro-Kremlin media do this in the traditional war tactics to spread despair in the Ukrainian society and undermine Ukraine's partnership with the Western allies, crucial in the current situation.