Situation in the combat zone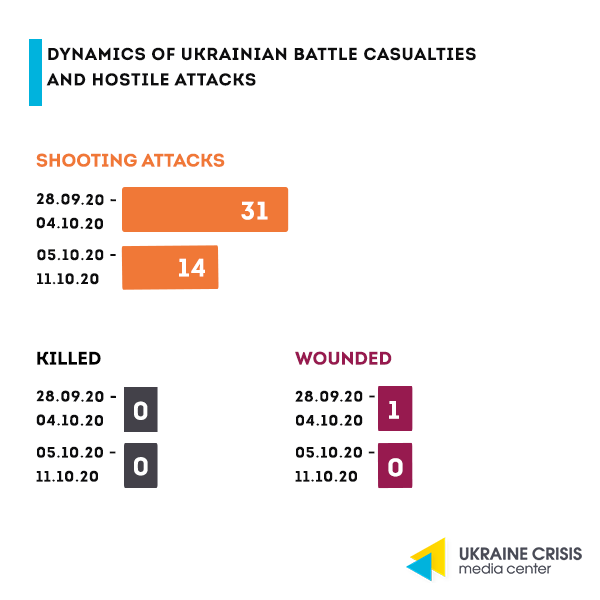 The situation in the combat zone remains tense. Over the last day, Russia-backed militants violated the ceasefire in effect since summer four times, the press center of the Joint Forces Operation command reported on October 12. Russia's proxies fired from hand-held grenade launchers near Maryinka, and from small arms outside Mayorsk and Zaitseve. Ukrainian troops' positions near Lomakyne were fired upon from automatic grenade launchers.
Similar provocations took place throughout last week.
Two months since the ceasefire established. Since the renegotiated ceasefire took effect, the occupation troops have violated it 130 times, used unmanned aerial vehicles 21 times, contrary to the agreement, and conducted engineering works to bolster their positions 20 times. The assessment was made by Yevhen Tsymbaliuk, Permanent Representative of Ukraine to the International Organizations in Vienna during the meeting of the OSCE Permanent Council in Vienna.
While the OSCE Special Monitoring Mission to Ukraine reports that the number of ceasefire violations in Donbas decreased by 97 per cent since July 27, which is an achievement in itself, "the security situation in Donbas remains fragile and unpredictable," Yevhen Tsymbaliuk elaborated.
Child victims since 2014. In its latest report covering the developments from April 2014 till July 2020, the UN Human Rights Monitoring Mission in Ukraine said child victims resulting from the aggression of the Russian Federation in Donbas were 148. Similar data was quoted by the acting head of the Office of the Prosecutor General in Donetsk region Yevhen Bilousov during a round table discussion on international humanitarian law violations in armed conflicts on October 9. The event had a particular focus on children's rights violations in the occupied territory. Bilousov said 147 children were killed and 392 were injured since the war started in Donbas.
---
The coronavirus and Ukrainian politicians who have tested positive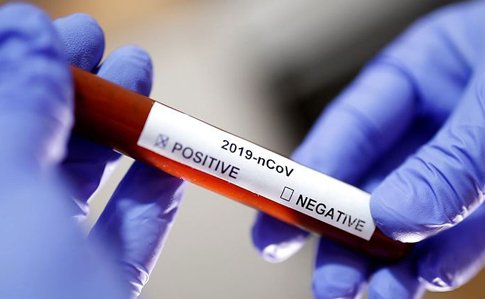 While preparations to the local elections of October 25 are underway, Ukraine is reporting record daily infection numbers. A number of Ukrainian politicians have contracted COVID-19.
Yulia Tymoshenko, "Batkivshyna" party leader. On August 23, the news was released that Yulia Tymoshenko tested positive for the coronavirus and was in serious condition. Between March and late August, 23 MPs and seven employees of the Secretariat got infected with COVD-19, head of the Parliament Dmytro Razumkov said on August 31. On September 11, Tymoshenko tested negative.
Kira Rudyk, "Golos" party leader. On September 29, Kira Rudyk, leader of "Golos" (Voice) party was reported to have contracted the coronavirus.
"I got a positive coronavirus test result today. I had a high temperature in the last few days, probably, the highest I've had in my life. All other symptoms are similar to the flu. I still have my sense of taste and smell, but it might not last long. Today I feel much better than I did yesterday," the MP wrote on Facebook.
She added that she regrets being sick amid campaigning, but she already got used to working remotely. Rudyk also called on everyone to respect the restrictive measures.
Petro Poroshenko, "European Solidarity" party leader. On September 29, the news that Petro Poroshenko, Ukraine's fifth President and "European Solidarity" (Yevropeiska Solidarnist) party leader tested positive for COVID-19, was made public.
On October 3, Poroshenko was hospitalized with double pneumonia to a Kyiv hospital. His daughter also got infected. Poroshenko's wife, Maryna, repeatedly tested negative. She continued to campaign to the Kyiv Council being the top candidate on the "European Solidarity" party list for local elections.
On October 12, Poroshenko was discharged from hospital. His condition improved.
---
Economy: Ukraine's international reserves drop by USD 2.5 billion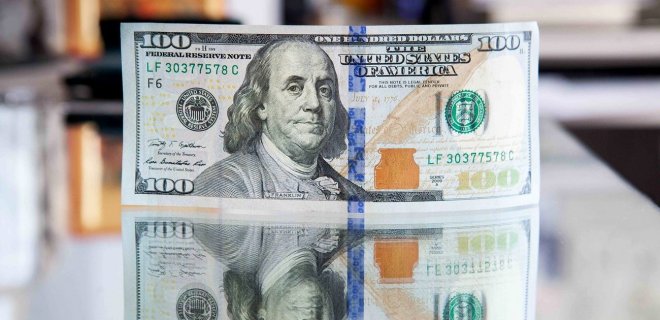 As external debt repayment peaked in September, Ukraine's international reserves that exceeded USD 29 billion as of September 1, decreased to USD 26.5 billion (by 8.7 per cent) in the beginning of October. Last month, Ukraine spent USD 2.67 billion to service and pay off the government and sovereign debt.
According to the National Bank, the overall demand for foreign currency in September exceeded the supply as business activities rebounded. Particularly, importers and companies were buying foreign currency to pay off external debts. To smooth out the exchange rate fluctuations that weakened the hryvnia, the National Bank intervened by selling USD 231.5 million. The central bank also made Forex purchases worth of USD 34 million.
Actual international reserves cover 4.3 months of future imports.
---
Opinion polling: disenchanted with reforms, Ukrainians stay ready to support peers in their communities
Despite having no certainty in the reform pace and government's commitment to reform, Ukrainians are well aware of civic participation and are ready to take part in the life of their communities. These are the results of a recent nationwide opinion poll on civic engagement held by USAID's Enhance Non-Governmental Actors and Grassroots Engagement (ENGAGE) program.
Active on community level. One in three Ukrainians (32.5 per cent) said they visit community gatherings either regularly, or occasionally. Similarly to previous surveys, a smaller group said they are involved in the activities of NGOs (18.6 per cent).
As for the awareness of civic engagement, seven in ten Ukrainians (70.8 per cent) said they are aware of the possibility to take part in assemblies to address the issues of interest. A majority of Ukrainians (70 per cent) said they know they can notify local authorities about the infrastructure problems either in person, or by phone, while 66.4 per cent are aware of ways to set up and participate in house, street or block associations. Ukrainians are least informed of civic participation activities that require experience and expertise, for example, membership in advisory committees under local self-government or local government (41.2 per cent), or presenting commentary to draft laws at national or local level (41.2 per cent).
Poverty, healthcare, and unemployment seen as most serious problems. Ukrainians named poverty as the most daunting problem of their household (46.9 per cent), followed by access to healthcare services (37.3 per cent) and unemployment (33.4 per cent).
No expectations for swift reforms. At the same time, Ukrainians have no expectations for swift reforms in the country. A majority (16.8 per cent) expect to see the reform results in four-five years, one in six (15.6 per cent) – in two-three years, same-size group (14.3 per cent) expects reform results to come in ten years or more.
Ukrainians feel no reform effect. Almost half of the surveyed (46.7 per cent) said they feel no effect of the reforms. At the same time, 15.8 per cent said they experienced both negative and positive effects. The negative effect was a more common answer – almost one in four (25.4 per cent) reported to have had one, while positive reform effects were felt by 1.8 per cent of Ukrainians.
---
How Ukraine is fighting COVID-19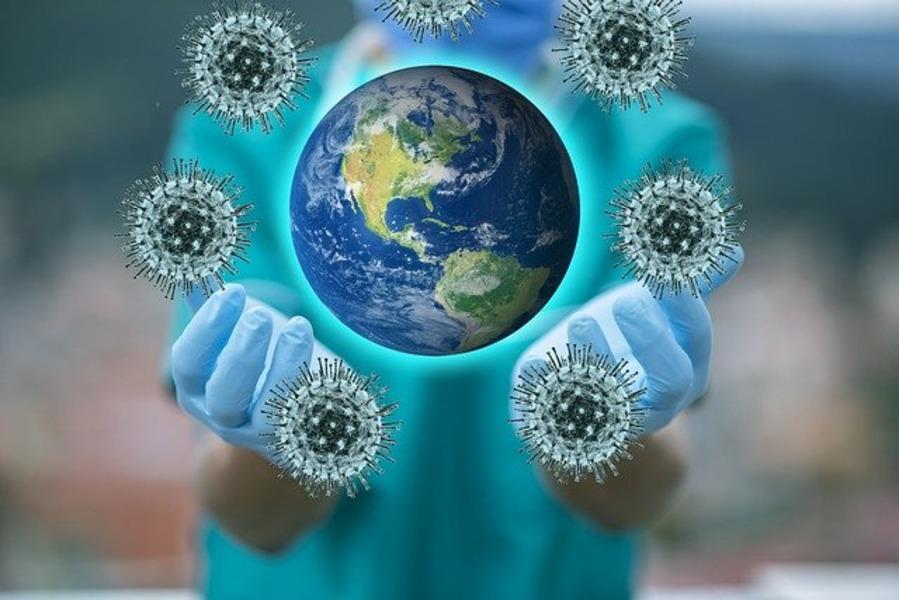 On October 11, Ukraine recorded 4,420 new coronavirus cases, 903 recoveries and 43 deaths.
Since the pandemic started, Ukraine has recorded 265,454 infections, 114,410 recoveries and 5,015 deaths. Currently, there are over 146,000 active cases.
Ukraine and global coronavirus spread. In Europe, France, the UK, Russia and Ukraine are among the countries setting records for the highest daily number of new infections. Ukraine ranks seventh in Europe, and 25th in the world.
Situation in the occupied territory. The situation with the spread of COVID-19 in the temporarily occupied territories of Luhansk and Donetsk regions is critical, said Ombudsman's representative in Luhansk and Donetsk regions Pavlo Lysianskyi.
"In the occupied territory, hospitals are full, personal protective equipment is scarce, restrictive measures, such as social distancing, mask-wearing etc. are not in place," Lysianskyi wrote on Facebook. Throughout 2020, occupation administrations that Russia installed in Donetsk and Luhansk regions never stopped issuing Russian Federation passports for local residents, taking them to Russia's Rostov region to issue the IDs, the Ombudsman's representative added.
Also, mass gatherings in the occupied territories never ceased.