Situation in the combat zone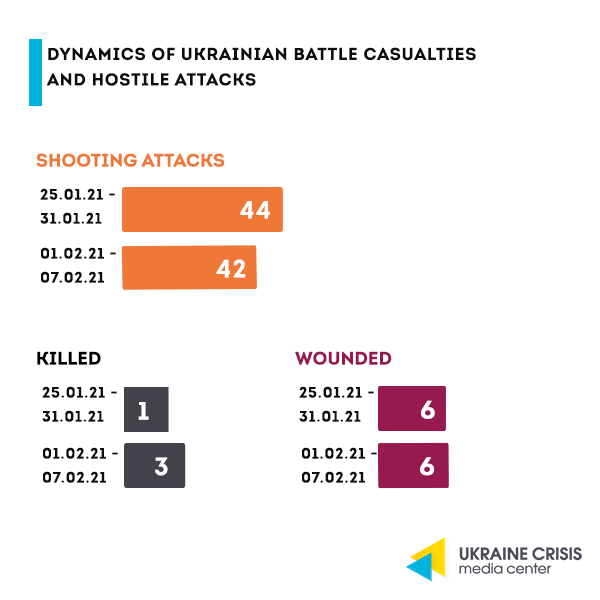 The situation in the combat zone in Donbas escalated. On February 7, the Joint Forces of Ukraine recorded four ceasefire violations in the combat zone. Russia-backed militants fired upon the Ukrainian troops' positions near Novomykhailivka from antitank grenade launchers and sniper rifles, the operational-tactical command "Skhid" (East) reported. "A serviceman of the Joint Forces suffered a gunshot wound. He was taken to hospital, and is getting treatment," the Joint Forces command said in a statement.
There were similar attacks throughout the week.
More casualties. On Saturday, February 6, two Ukrainian troops were killed by an explosive device near Novomykhailivka. Nazariy Polishchuk and Oleksiy Podvezennyi were servicemen of the 28th mechanized brigade named after the Warriors of the Winter Campaign. On Sunday, February 7, near Novomykhailivka, a Ukrainian serviceman was wounded by a sniper.
Head of the Ukrainian delegation to the Trilateral Contact Group Leonid Kravchuk said the Ukrainian troops need to respond to the hostile attacks in Donbas. "Let's look at the latest developments, they are obvious. Yesterday and today they killed our soldiers. They fire from 120-mm mortars in violation of all possible and impossible agreements."
"My position is, we need to respond: return fire after each shot is fired. Let's not dissect whether it is a provocation or not. A shot is a shot. If they fire, we respond."
"Let's not wait until someone gets killed or injured. They use any occasion to stage provocations. They blame Ukraine, make demands of Ukraine, and shoot at Ukrainian soldiers. Why do we need to pretend that nothing is happening? There has to be harsh reaction to all incidents, otherwise they will take our concessions for our weakness," Kravchuk said.
---
Why Ukraine is still not a NATO member: whose fault it is and what to do – public discussion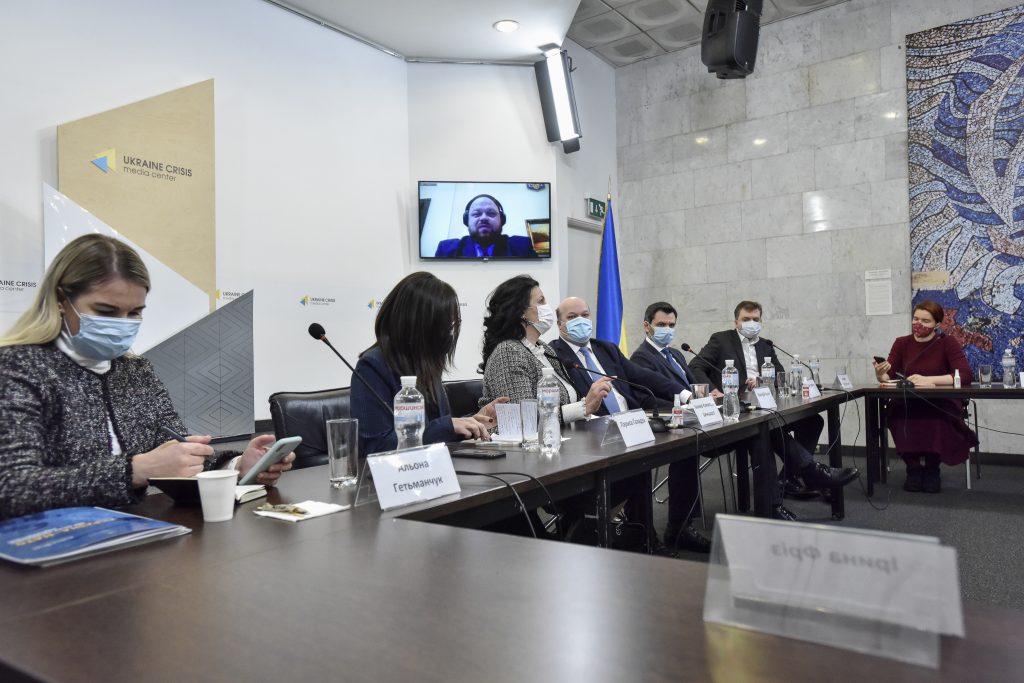 Ukraine cemented its course towards full-fledged NATO membership in the Constitution two years ago, while a NATO Membership Action Plan is part of the country's Strategy for National Security.
Recently, in a 15-minute interview for HBO's Axios program, President Zelenskyi claimed that NATO membership is a security matter of primary importance to Ukraine. The President of Ukraine said he is hopeful of a new era and a new start in Ukraine-U.S. relations. When asked, what he would say to President Biden, Zelenskyi answered: "Why are we still not in NATO?"
Following that statement, Ukraine Crisis Media Center organized a public discussion to shed light on a number of questions. Where does Ukraine stand on its way towards the NATO membership? What are the steps to bring Ukraine closer to the membership? In late 2020, Defense Minister Andriy Taran said Ukraine's ambition is to get a NATO Membership Action Plan (MAP) at the 2021 NATO summit. Is this a realistic scenario? What can Ukraine expect of the U.S. President Biden? Should Ukraine count on his support in receiving a Membership Action Plan? What would be the effect of Ukraine actively pursuing a MAP on the situation in Donbas and Crimea?
Follow the link to watch the discussion in English. 
---
Ukraine's economy already back to pre-pandemic level, Dragon Capital projects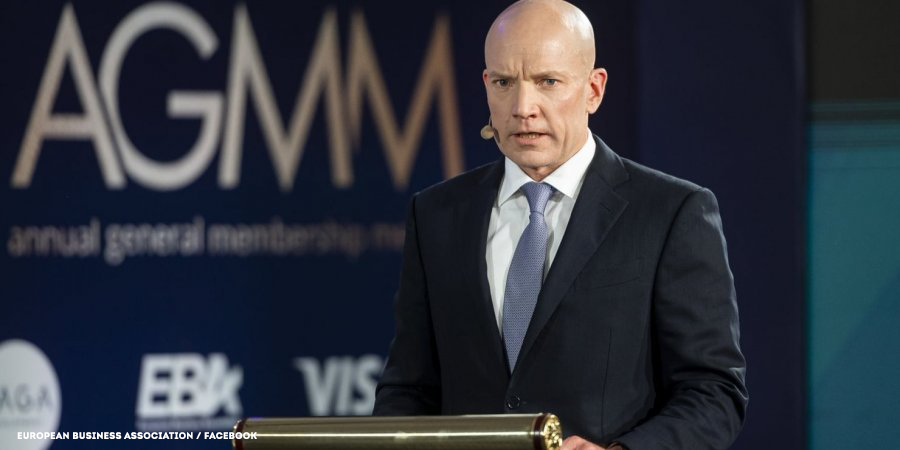 Investment company Dragon Capital projects that Ukraine's GDP decreased by four per cent in 2020, while the economy returned to its pre-pandemic level in the fourth quarter of 2020. The data were revealed by Tomas Fiala, CEO of Dragon Capital, and owner of the "Novoye Vremia" magazine, radio station, and web site NV.ua during the Global Outlook event by the European Business Association.
"We expect that last year, the GDP fell by four per cent only. On February 15, the State Service of Statistics will release the official data. We'll see if our forecast is true. That's one of the best results in Europe, only Poland recorded a slightly smaller drop. Overall, the euro zone reported a preliminary 6.8 per cent GDP contraction last year, the European Union – a nearly seven per cent decrease. Ukraine did much better last year. If our projection is correct, already in the fourth quarter of 2020, Ukraine's GDP reached similar levels to those seen in the fourth quarter of 2019, and returned to the pre-pandemic level. That's great. We are one of a few countries, as the global GDP is still below the pre-pandemic level, and is expected to catch up to the pre-pandemic level by the middle of this year," Fiala said.
---
Survey: 77 per cent of Ukrainians feel negative about the state of the nation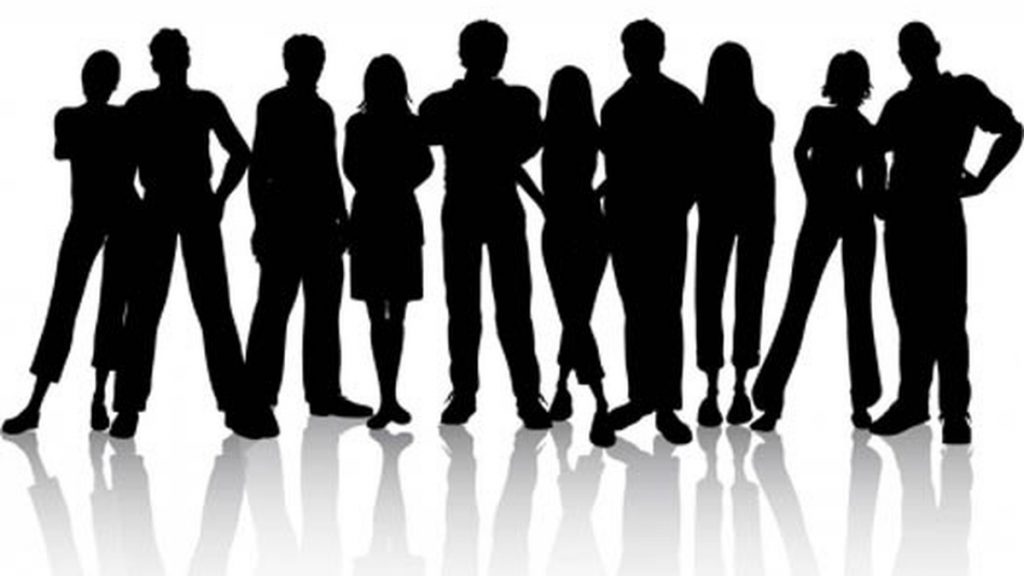 The Ilko Kucheriv Democratic Initiatives Foundation and the Center for Political Sociology teamed up over a national survey on the protest moods in Ukraine. The research was conducted on November 3-16, 2020. The sample represents all adults nationwide, but in the occupied areas.
Most Ukrainians dissatisfied with the state of nation. An absolute majority of Ukrainians (77 per cent) feel negative about the state of the country these days. These views are more widespread among the senior respondents (79 per cent). The largest share of Ukrainians that reported feeling optimistic thinking about current national conditions is in western Ukraine, where 36 per cent say they feel the state of the nation is calm, and prosperous (5.5 per cent). One-in-three respondents in central (33 per cent) and eastern (31 per cent) Ukraine feel the current conditions are critical or on the verge of exploding.
Not ready to protest. Against a backdrop of the major dissatisfaction with the state of the nation, Ukrainians do not expect massive protests to start in their home towns. As little as 28 per cent expect rallies or protests to be staged in their communities. The largest share of Ukrainians (38 per cent) to expect that is in central Ukraine.
Protests driven by social and economic conditions. Older groups (ages 54 and older) are more likely than other age groups to say that the most probable reason for the protests to start is the rise in utility bills (39 per cent). A younger group with similar expectations is 8.5 per cent smaller. Factory shutdowns and coronavirus lockdowns are major reasons for the protests to erupt, as seen by the younger groups, compared with the older respondents, 11 per cent and seven per cent more respectively.
---
How Ukraine is fighting COVID-19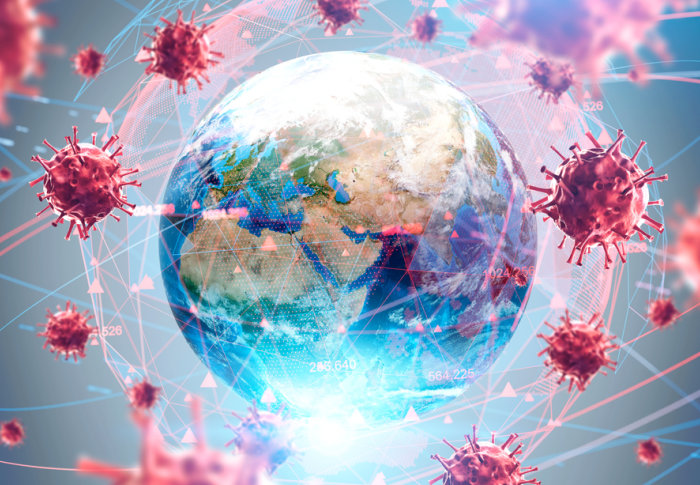 According to official reports, the coronavirus pandemic is slowing down in Ukraine. On February 8, Ukraine recorded 2,141 new cases, 1,020 hospitalizations, 47 deaths, and 2,697 recoveries.
Overall, since the pandemic began, 1,246,990 people in Ukraine have tested positive for COVID-19, and 1,075,743 people have recovered. The country's death toll from the coronavirus is 23,644.
Vaccinations. Ukraine's first confirmed shipment of COVID-19 vaccines will include 12 million doses of the AstraZeneca and Novavax vaccines, and will start in February 2021, the Health Minister Maksym Stepanov said. The vaccinations are to begin in February.