This town in the north of Donbas appeared when a large chemical plant was built nearby in Soviet times, so the first name of the settlement – Lyskhimbud – did not raise any objections.
However, there was some confusion later. As soon as the workers' settlement grew to the scale of a town, it was necessary to change its name. Even now there are people, especially abroad, who consider Severodonetsk to be northern Donetsk. It is not. The town got its name from the River Siverskyi Donets.
There is also confusion with belonging to the opposite parties during the Russian invasion of Ukraine. Eight years ago, this border territory was occupied by separatists supported by Russian troops. Later they were kicked out. Today, the "Russian world" reigns in Severodonetsk again, and a lot of people wonder: is it for long? Anyway, the Armed Forces of Ukraine are getting closer and closer.
All that affected the local population. The scared people had to flee the dangerous town. As of June, there were no more than 8,000 people in Severodonetsk.
From russia to Ukraine
Katya and Vadym are a family from Severodonetsk. They have been together for 12 years. They met the "great war" at home, in their apartment. Like many people in the Luhansk region, they expected everything to pass quickly – the town would be recaptured, and the locals would march with Ukrainian flags down their native streets. But that was not to be – the fighting was getting fiercer, so in March the couple decided to leave.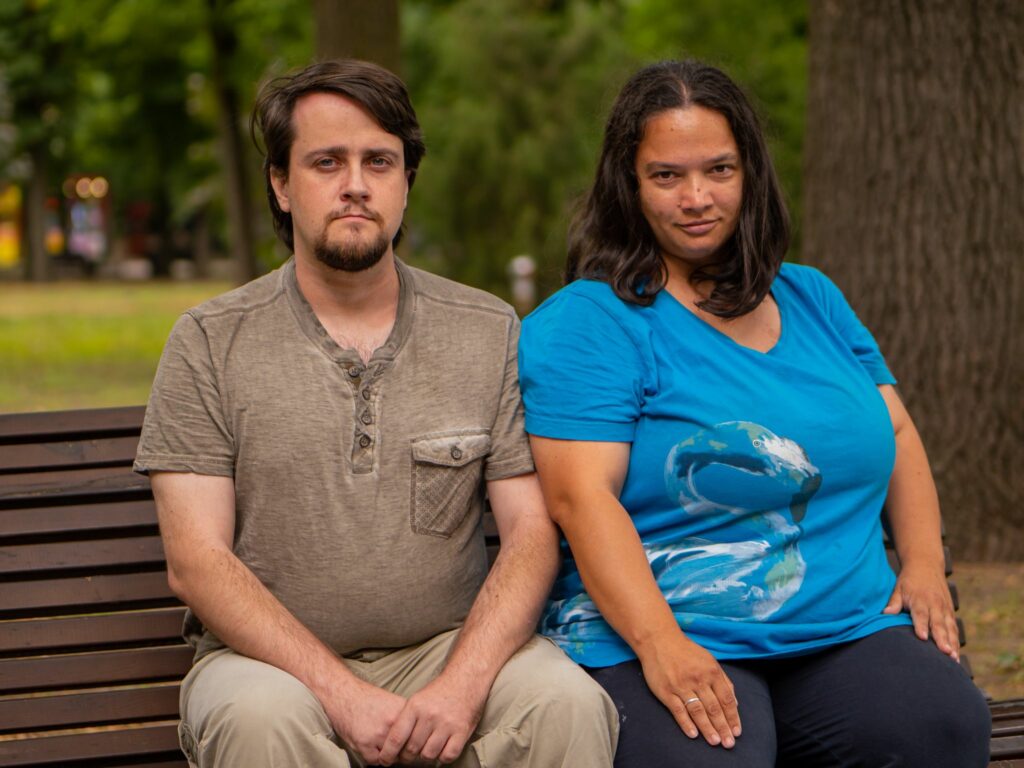 Kateryna Tikhonova is Russian. She came to Ukraine, to Severodonetsk, in 2010, and remained to live there. "I met Vadym at a writer's forum. He invited me to his place, I came and stayed there. I fell in love with this country and realized that I will stay here and now this is my country," she says.
Vadym Skumbriev is a native of Severodonetsk, a software engineer, worked in the Severodonetsk archive. "And I am an animal photographer. I take pictures of animals, sometimes people. Rather a housewife than anyone else," says Katya.
"We lived in a new district in Severodonetsk, District 77, "Bombay", Vilesova Street, next to the church. The locals will understand," Vadym says.
He also says that what happened in 2014 cannot be compared with what they have experienced since February 24, 2022, when Russia began bombing Ukrainian cities.
"The outbreak of the war did not come as a surprise to me, because I had followed the news and understood that war was inevitable. Just a few days before it began, I told my friends there would be a war and asked them not to lose touch. So on February 24, I went routinely to withdraw cash from an ATM and so on. Then, when the shelling started, of course, there was a slight shock, because in 2014 we weren't fired upon. But already on March 5, Grads hit our house. It quickly became habitual, and everyday problems came to the fore – how to find a place with a mobile signal, how to keep warm, because it was +5⁰ in the apartment, etc. So we began to perceive it all calmly, as a usual routine. Later, when I arrived in Dnipro, I began to listen to the news and look at photos and videos. When we drove through the city, of course, we could see the destruction, especially in the eastern areas, but several months had passed since then, and it was bombed all the time. Now I look at the ruins of the city, the ruins of the Ice Palace, the ruins of the theater and realize that I walked those streets a year ago," says Vadym.
Katya also recalls the experience of 2014.
"In 2014, I was in Severodonetsk. It cannot be compared with the current situation. Sometimes we stood on the porch, listening to the explosions – and it was déjà vu. We also stood on the porch in 2014 and there were explosions somewhere far away. But what happened next was an unforgettable experience."
They stayed because of a friend
The spouses say that as soon as the full-scale invasion began, Katya's relatives called her to Russia, but they decided that to stay in Ukraine.
"I would never go to that country. They called us, but we let them know at once that we would not go there. And the second reason why we did not leave was trivial. I have a friend Anya, we took her children to Severodonetsk, because she lived in Metelkino, and her children stayed with us for three weeks. There were seven people and four German shepherds in the apartment. We just could not leave because we felt responsible, we had to save and take care of the children. Now my friend and the girls are fine. They are as safe as possible under the current circumstances," says Kateryna.
All the time they stayed in their apartment on the first floor of an apartment building. The location of the house made it safer than the basements around. Moreover, even now the house is in more or less normal condition, compared to the town. And, just imagine, every day they took the dogs for a walk.
"Every day we took them for a walk. In fact, there were advantages in this, because after March 5, electricity was cut off – the substation was hit. As far as I remember, the heating was turned off even earlier, and the mobile signal and the Internet disappeared. And you know that Maslow's pyramid must have WiFi at the very bottom. We found a place in the wasteland about 300 meters north of the house and would run there with the dogs when it was quiet, catch a signal, scroll the news and text our friends that we were alive, everything was fine with us. I documented, recorded the time, and wrote: "Our house was shelled with Grads." I could send messages in the morning. It was very cold, and a mobile signal was very poor even there. You come there, take out your mobile, wait for it to load. Your fingers are numb, something is exploding nearby, and you look at your house and wonder if you can reach it in time if anything happens. Then a mobile signal appears, you want to read more news but realize that you'd better go home. We turned around with the dogs and walked on. Later, a mobile signal appeared in the yard. It was poor, but we had it. That was how we lived for two weeks," Vadim recalls.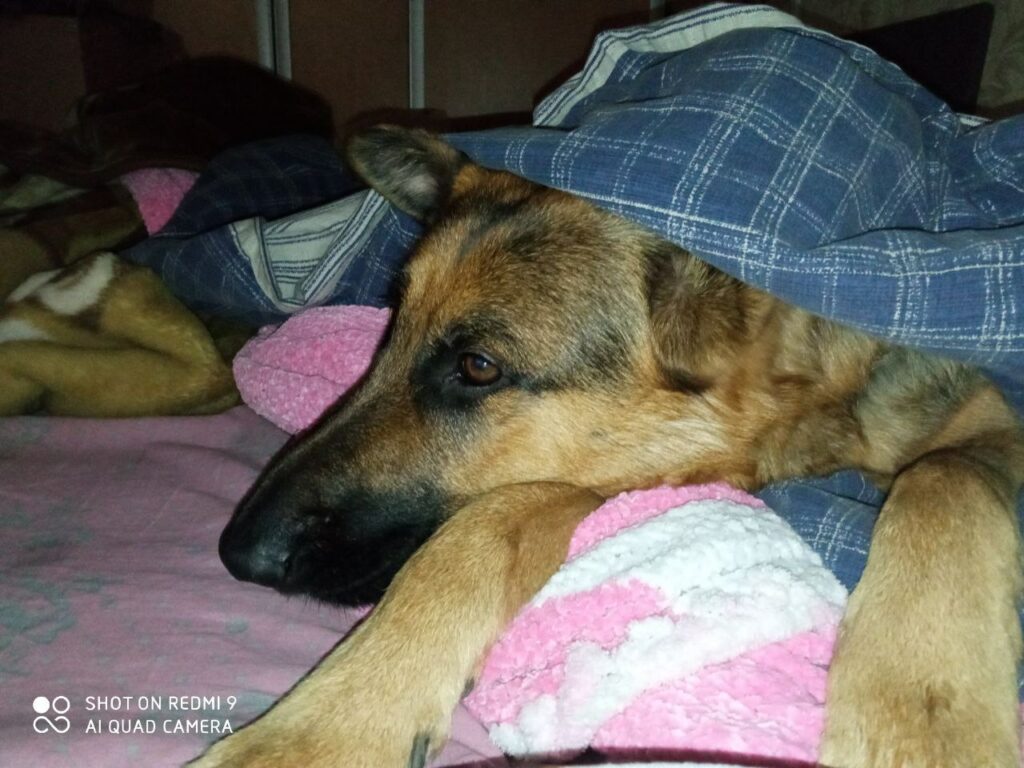 In addition to texting his relatives, he kept a diary of events in Severodonetsk, with the dates and time of all the shelling he had witnessed.
"I started keeping a diary just to get hold of myself. I had tried keeping a diary before, but failed. And now there were events worth recording. I kept an account of the time and wrote briefly: 'Grad hit our house,' 'The neighboring house was hit,' 'Fire at the market.' The market was bombed on March 12. There was very heavy shelling. The neighboring 9-story buildings burned from top to bottom there. Our house was also hit then. The blast knocked out a picture from the apartment above us. A watercolor landscape and a yellow ball were on the snow. On March 5, the roof of our house was hit; the blast knocked out a reinforced concrete wall, and a yellow kid ball from an apartment on the fifth floor," Vadym says.
"That yellow kid ball is one of the memories I'll never forget," Kateryna adds.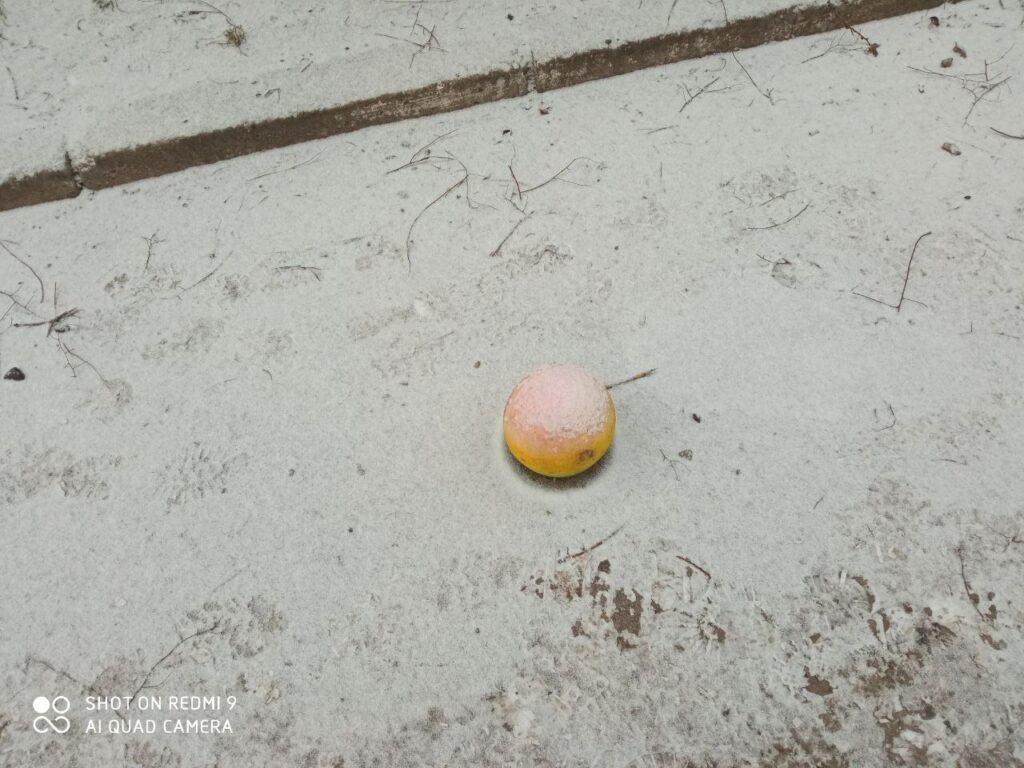 We were lucky in terms of living conditions
"We lived on the first floor. We were very lucky with water. Water disappeared almost immediately, as did the electricity, but there was pressure in the pipes, and we always had water. It trickled down from the upper floors. While it was flowing, we filled all the containers, everything we could. As long as the shops were open, there were crazy queues of 100-200 people at the Amstor supermarket. We went there and shopped. Luckily, we had money. We stocked the freezer and the fridge. We bought cereals, pasta, whatever we could, and it saved us. The food did not spoil even when electricity went off. We lived on it for a very long time even after we left," Kateryna recalls those weeks.
When the water ran out, they used snow.
"We used snow for technical needs. Anyone who was in Severodonetsk knows that a huge snow fell in late February. Never in my lifetime did I see knee-deep snow," Kateryna says.
"We cleaned dishes with snow. We collected it in basins and buckets," Vadym adds.
When the light and gas were completely gone, they cooked over a fire in the yard.
"After March 5, gas lines were ruptured and we were left without utilities at all. We cut down a dry tree in the yard. I collected branches. I had a machete that I used to chop reeds with. I walked around, chopped branches and piled them in the yard. We cut the tree with an ax and then sawed it. We cooked over open fire: tea, soups, etc. Of course, explosions and shots were heard constantly. But we set up a kitchen next to the entrance. You can usually hear strikes: sometimes, it's only a volley, and sometimes, a volley and a roar. This means that a Grad or a projectile is flying. If it whistles, it's a mine. Then everyone rushes to hide in the entrance. Anyway, there are iron doors, ceilings, there's some protection there. Of course, it isn't safe. The artillery fired at our yard. A concrete slab was knocked out; the house was cut by shell fragments. But no one from our house died when we were leaving," Vadym recalls.
At the time of the couple's departure, about 10 of their neighbors remained in the house.
The road to Dnipro
According to Kateryna, they were not going to leave, but her friend was very persistent and found a carrier.
"We were told to be ready at 9 a.m. and wait for a call. At about 7 a.m., there was no mobile signal in Severodonetsk at all. We ran around the district from 7 a.m. No one calls us at 9, 10, 12 o'clock. We start calling ourselves. I called my friend Olena, she called the carrier, the carrier called us and explained that the crowded buses travelled one after the other; he was looking for another bus. They find another bus and say it will be at 2 p.m. That is, we have been outside since 7 in the morning; we cannot sit at home, because there is no mobile signal. We stand near the entrance, hiding, waiting for a mobile signal. The last time we stood at the end of the house. There was a shot, a whistle and that noise – the mortar shelling began. We ran to the entrance, and there were already dents and holes in the iron door. What I also remember are those knocked-out slabs in the entrance. We hid behind them and waited for the carrier to call us. At 2 p.m., a man calls and says: "Go out, I'm here." But he didn't drive up to our house; we had to walk about 400 meters through the schoolyard under fire. We threw documents and things into a single backpack and ran. It was a mistake; we should have taken more things with us. It was a miracle that we managed to reach the bus, got on and left," Katya recalls.
Along the way, the young people saw what state Severodonetsk was in at that time.
"Our neighborhood had such a lunar landscape – a crater here, a crater there. And when the bus went to pick up other people in the vicinity of school No.20, we saw 9-story buildings burned from top to bottom, collapsed. We realized that we were going for a reason, because it was obvious that the rest of the city would face the same fate. And I was not mistaken," says Vadym.
Katya adds that her father-in-law and her granny stayed in Severodonetsk, and her mother-in-law and a dog stayed with them in Dnipro. The elderly said that they would not go anywhere. Fortunately, the spouses know that everything is fine with them; they even managed to deliver a package of groceries to their relatives. Vadym and Katya do not know what will happen next, but they believe that Severodonetsk will be Ukraine again. They say that it is impossible to live without hope, so they hope for the best.
Maryna Tereshenko
13.08.2022