At the online press-conference for foreign media (the US, Canada, the UK, Germany, France, Sweden, Poland, Romania, Norway, Latvia, Belgium – more than 80 mass media overall), heads of communities spoke about the situation in their cities and villages, demanding from the western partners to close the sky over Ukraine.
---
Below are the main talking points of the press-conference participants.
Oleksii Chernyshov, the Minister of Community and Territories' Development stated that Ukraine "has a package of activities aimed at supporting communities in this difficult time." However, he highlighted: "Closing the sky is the most vital issue for our country/ There is no other way to secure peace for Ukraine."
Serhii Orlov, Deputy Head of Mariupol municipality:
"This time is not merely difficult, its horrible. For the last 9 days, Mariupol has been shelled from all types of weapon the Russian army has: residential areas are under artillery and aviation strikes. The war conducted by Russia is not a mere crime. We are being killed; it is a genocide. Putin wants to conquer Mariupol at any cost, no matter how many human lives it takes. From the beginning, he aims at killing people rather than at the victory of his army. Putin wants to kill as many of us as possible, to have Ukraine without Ukrainians.
On the first day of wat all the networks were destroyed. Mariupol used to have as many as 15 electricity networks – they were all destroyed on the first day. When communal services went out to repair the networks, they were fired upon. Now I can say that we are unable to repair what has been ruined.
Two days ago, the Russians bombed the gas pipe, and the humanitarian crisis turned into genocide. The city residents actually live in the Middle Ages. Bonfire is the only place to cook. People are happy when the snow is falling because they can get water from it. They compete for some twigs for bonfires. This night they bombed "Azovstal", the largest metallurgy plant employing 30 thousand. It is gone. The police counted 1207 civil casualties. I want all the journalists to hear this. They were all civilians.
About 3000 infants do not get food today. These are the conditions our residents have to live in. These are all war crimes which must be properly punished."
Ihor Terekhov, Kharkiv City Mayor:
"All the communal services are actually at the frontline because they keep working while being fired at. We repair transformer substations, renew boiler houses, repair waterworks destroyed by the Russian weapons. We take household waste from the residential areas, remove debris from roads. We are doing everything possible for the city to see that we live, work, even under non-stop attacks of the Russian army.
Every day Kharkiv undergoes massive shelling. They fire at residential buildings and areas, deliberately destroy transformer substations, gas pipes, pipelines. Now over 400 buildings are uninhabitable, so people live in the basements and schools. Every day we get artillery strikes and bombs falling from the sky. So it is vital for us that the demand to close the sky over Ukraine is fulfilled."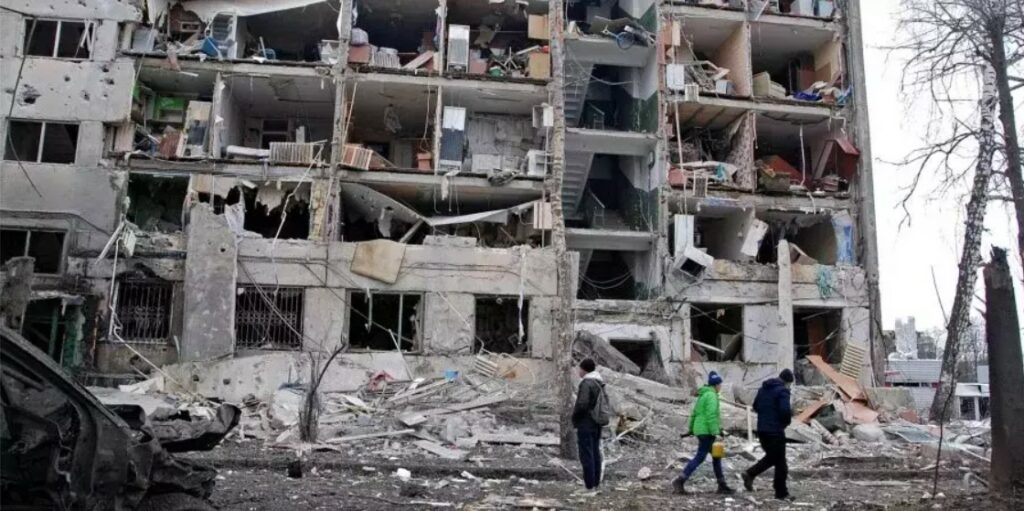 Yurii Bova, the Mayor of Trostianets:
"Trostianets located less than 40 km from the border with Russia, has been occupied for 14 days. During this time, over a hundred columns of Russian military vehicles crossed our city. The Russian soldiers destroy the social infrastructure; they push people out to the streets and occupy their apartments. They seize private vehicles, they took away all the municipal buses to use them as shields at their roadblocks. They fire at cars, occasional pedestrians. They do not allow to bury people at the cemeteries, they shot all the funeral service vehicles. There is no food in the town, it is not delivered. Instead, they brought to the town dozens of Grad launchers, self-propelled artillery, flamethrowers "Buratino", placing them next to residential buildings to prevent backfire by the Ukrainian Army. Please close our sky immediately, as every day of delay brings new deaths of innocent people. People need to be protected from this horror."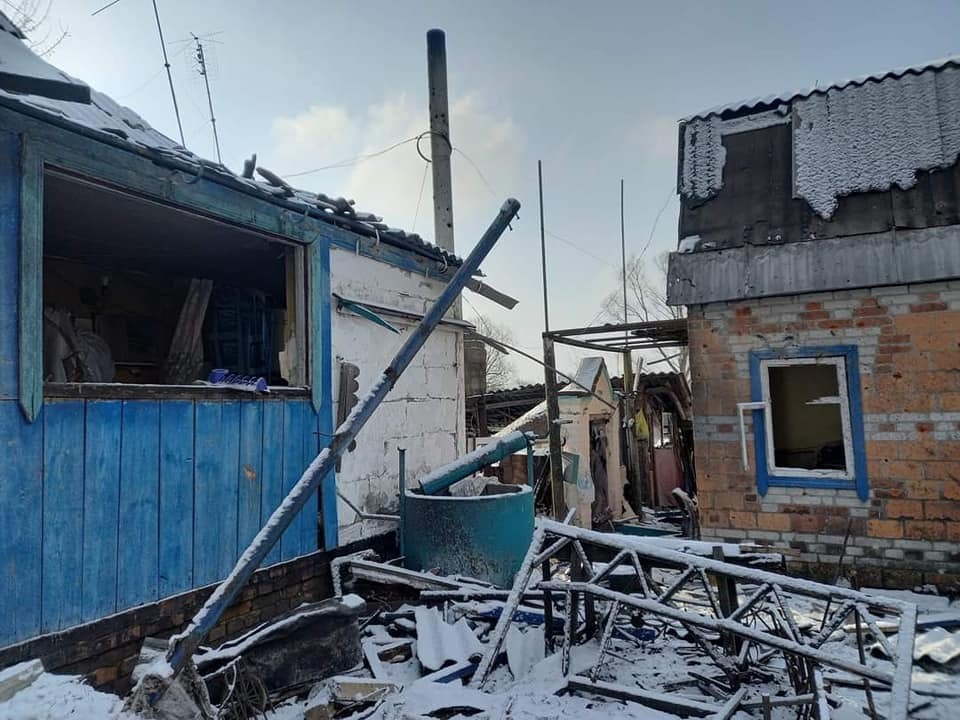 Veniamin Sitov, Head of Merefa municipality:
"There was an airstrike at community, as a result the village of Yakovlivka was bombed. The village school and people's house were destroyed, four people died and many were injured. People did not expect this at night, but the rockets flew up. We were working thought the night to save as many people as possible. Many people left the town. We still don't get it why we were shelled. There were no military sites around…"
Is it possible to get information about the so-called "evacuation corridors" in your towns? Do they work?
Serhii Orlov:
"For such corridors to be efficient, they need to meet several criteria: for example, the silence regime and secured road safety. However, for five days nothing is secured. About 200 thousand people are willing to leave the city, but we do not have enough buses to provide transportation. Before the war we had 150 buses, and now only 21 remain, the rest are destroyed by the russian army.
As soon as we receive information about new location of evacuation, this location is shelled and bombed. The corridors were negotiated but never provided. Once the road was mined, the other time we were not let beyond the roadblock, still other time fire started. Zaporizhzhia from the other side is ready to send buses to pick up people but the Russians do not let them to Mariupol. It is impossible to leave the city in a private vehicle – the Russian soldiers start shooting in front of the car or up, forcing it to go back. The road from Mariupol to Zaporizhzhia is bombed all the time."
Yurii Bova:
"It is impossible to leave the town. Now there are more than 200 military vehicles in Trostianets which is forwarded there for regrouping. We keep thinking how to bring food to the town, at least in smaller batches. This problem becomes more and more acute every day. The Russians once were calling people "for evacuation" during the whole day, but no one showed up – people were afraid they will be shot, and there were no guarantees that the buses would take them to a safe place."
Ihor Terekhov:
"Today, many people want to leave Kharkiv. Currently they can do it by train. Also, it is still possible to leave Kharkiv by car. However, the situation in the town of Izium is very difficult. Now they will organize a corridor to give people an opportunity to away from horrible shelling."
What are the needs of the people at the time of war?
Ihor Terekhov:
"Closing the sky is most important. We are asking for this because death comes down from the sky. It is very scary when a SU bombardier is flying to attack to city. You see it going lower to drop the bomb and you don't know if it is going to drop it on you or somewhere nearby. If any of the decision-makers would get under such bombing, I am sure the decision would be positive.
All other needs are secondary. We need food, and humanitarian aid comes from everywhere. Even from New York where the Ukrainian flag now flies over the municipality building. We need diesel and gasoline fuel. These are the needs of the residents. But above all that, we need a closed sky."
What about the humanitarian situation and healthcare?
Yurii Bova:
"The hospital operates 24 hours a day, but we are running out of medications. Insulin-dependent people and others are in a very difficult situation now. It is impossible to deliver these things to the city. Maybe the Red Cross can do something. We receive phone calls from all over the world offering help, but we have no opportunity to send the aid to the occupied city. The Russian tanks destroyed the power line poles and high-voltage lines in villages, so many villages are without electricity supply. The communal services are doing their best, but every next shelling cancels out all their efforts."
How well the communities are able to provide public services? Is it relevant now at all?
Oleksii Chernyshov:
"I want to thank the employees of communal services for the work they are doing. Thanks to them, these services are still provided. However, in twelve oblasts, the service delivery is limited. I want to highlight that service provision is not a priority during artillery shelling and bombing. Let's better talk about closing the sky. It is the only thing that can save us!"
Serhii Sukhomlyn, Zhytomyr City Mayor:
"Airborne alerts are announced ten times a day. We know how much time it takes for a rocket to fly, for a SU bombardier to fly and drop the bombs on the city. However, all the facilities are working in Zhytomyr, including public transport. This is despite that every day we are attacked by rockets and shells. A six-floor building of a maternity hospital is damaged, a school and several residential buildings are ruined… Now the city has turned into a fortress built by the city residents. Concrete blocks, tank traps, sandbags are everywhere. Yes, now we are getting a lot of humanitarian aids, but there are cases when it does not reach us going somewhere else. I would also like to notice that some vehicles with humanitarian aid spend more than 24 hours at Volyn customs checkpoint."
Oleksandr Lysenko, the Mayor of Sumy:
"The situation is under control, the attack from all sides, bringing to the city hundreds of military vehicles. At first, they were trying to breach with tanks, then during the week there were four air raids. Tonight, they hit the city center, the residential area, injuring 6 people. The hospital operates providing medical care to the wounded, but there are problems with insulins and antibiotics.
People are trying to reach Poltava with their own vehicles. Yesterday refugees were trying to reach Romny. One column made it, while the other one faced the Russian tanks. They turned the column around and used it as a cover to get closer to the city. There's nothing human in the Russians. They are firing at the civilians, some civilians were shot and killed on the road at the attempt to leave the city."
What do the Russian-speaking Ukrainians and Russians living in Ukraine think and say? Do they join Russian or Ukrainian army?
Oleksii Chernyshov:
"All the citizens of Ukraine, regardless of what language they speak, protect their country and stand for its future. Your question confirms the Russian narrative that was imposed on you. In Ukraine it does not matter what language people speak."
Serhii Orlov:
"As of yesterday, 1207 persons were killed in Mariupol, half of them are ethnic Russians. For example, in the town of Sartana next to Mariupol many ethnic Greeks were killed. The Russian peace kills everyone indiscriminately. We are a multinational city, inhabited by Armenians, Greeks, people of other ethnic background, alongside with Ukrainians and Russian. Noone cares what language they speak. I am a Russian speaker at home, and no one ever prevented me to speak Russian."
You are being protected by the Azov Battalion which is one of the main aims of the Russian propaganda. Does it affect the situation in Mariupol?
Serhii Orlov:
"Didn't you understand it that the Russian army shelling Mariupol, has no military goal? What does Azov have to do with it if we are talking about ruining Municipal hospital # 9, a large hospital for 600 beds? Yesterday an administrative service center was destroyed which had been visited twice by the President of Ukraine. This used to be the country's pride. What about 1207 civilian casualties? What does Azov have to do with these? No, their ultimate goal is killing the Ukrainians. But this will not happen."
What will you do if your cities become occupied?
Serhii Orlov:
"The only future for Mariupol is the future in Ukraine. Before the war, our city was the showroom of the restored Donbass. What will happen to Mariupol under the flag other than Ukrainian? It will become a ghost city, like many on the occupied territories of Donetsk and Luhansk oblasts. I don't want such future for Mariupol!"
Oleksii Chernyshov:
"I am very grateful to every city, town and village heads. None of them has left their communities. It is hard to think how to sustain the work of the local networks under non-stop bombing. And it is still quite cold, so we need to supply heat to the houses.
Our cities must not suffer from Russian planes and rockets. We must immediately stop this insanity! We cannot let the country in the center of Europe to suffer from constant bombing. These are the lives of individuals who are building a democratic society. If we are members of the European family, this family must save us."
How long will Mariupol be able to defend itself?
Serhii Orlov:
"This is a question to the army. The Russian army cannot defeat the Ukrainian Army on the ground, having significant losses. Our soldiers will fight until the last bullet. They have strong morale and motivation. Putin wants to defeat us through genocide, and I could not have dreamt such a nightmare. Yesterday a six-year-old kid died for dehydration. How is that possible in the 21st century? So, I ask everyone to support us. Every new sanction against Russia means one saved life of a Ukrainian. Help us to protect ourselves from genocide!"
What can the mayors of municipalities all over the world do to help the communities?
Oleksii Chernyshov:
"Demand closing the sky over Ukraine from your governments. Of course, humanitarian aid means a lot. But it can happen that there will be no one to receive the aid, as everyone will die from Russian bombs and shells. Or the Russians will merely seize the aid giving it to their soldiers. What we need is immediate cessation of the aggression and introduction of the most painful sanctions against the Russian federation."