Erik Møse, Chair of the Commission of Inquiry on Ukraine:
On behalf of the United Nations Independent International Commission of Inquiry on Ukraine, composed of Erik Møse (chair), Jasminka Dzumhur and Pablo de Greiff, I want to welcome you to this press conference.
Since our first visit to Kyiv by the three Commissioners in June, our investigators have carried out several visits in Ukraine. The current visit is the tenth mission of the Commission.
In conformity with the Commission's mandate from March this year, we have provided an oral update to the Human Rights Council on 23 September 2022 and submitted a written report to the General Assembly on 18 October 2022. It contained our findings concerning events during late February and March 2022 in the four regions of Kyiv, Chernihiv, Kharkiv, and Sumy, as requested by the Human Rights Council. As you will know, the Commission found that war crimes had been committed in those regions.
Since then, the Commission has devoted more of its resources to the broader temporal, geographical, and thematic framework set out in our mandate. Investigations are on-going, and we are now preparing the Commission's comprehensive report which will be submitted to the Human Rights Council in March next year.
This week we have had meetings with different stakeholders in Kyiv, including the Supreme Court of Ukraine, the Prosecutor General, the Ukrainian Parliament Commissioner for Human Rights, the Minister of Health, the Ministry for Reintegration of the Temporary Occupied Territories, the Ministry of Education and several other Ministries, government institutions and non-governmental organisations. This week also included meetings with diplomatic representations. In Odesa, the Commissioners met with the Deputy Prosecutor of Kherson region and internally displaced persons.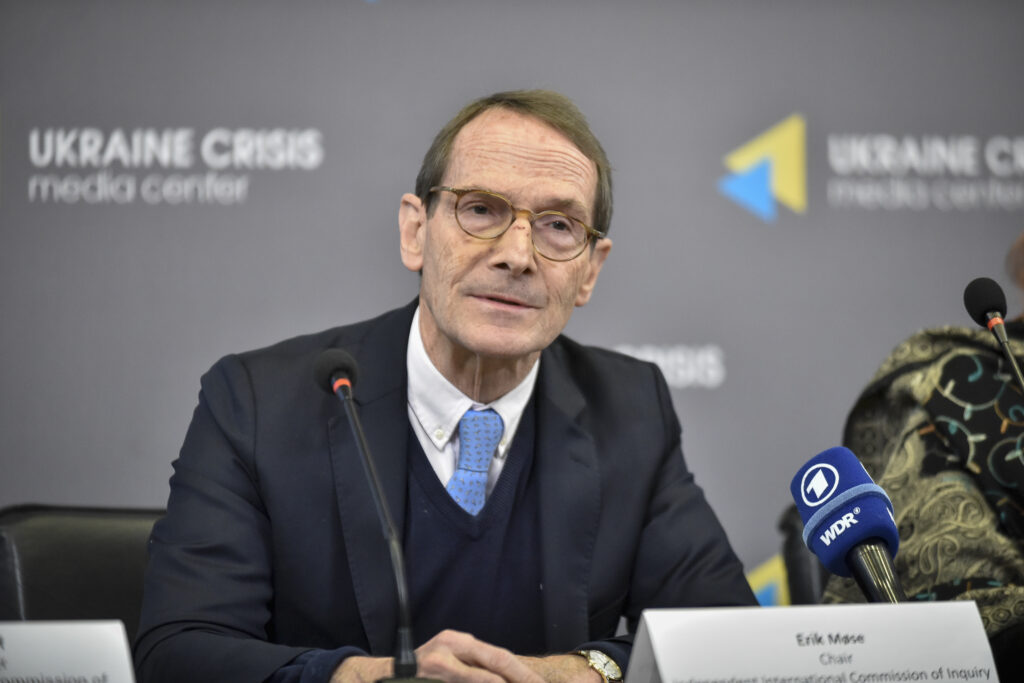 Jasminka Džumhur, Member of Commission of Inquiry on Ukraine
During this visit, the Commission devoted significant attention to the issue of the destruction of the civilian infrastructure of the country, particularly the destruction of its energy and transportation grids. Both are preconditions for accessing rights, and civilian infrastructure is protected by international humanitarian law. The Commission intends to examine this issue in detail and will return to it in its report to the Human Rights Council next March.
The Commission expresses concern about the devastating situation which continues to affect children's rights and lives. The spectrum of their endangered rights is constantly multiplying. In addition to documented cases of violations to the personal integrity of children, mothers told us that children are facing challenges accessing education. Destroyed and demolished schools in many cases, especially in the zone of military operations, prevent physical access to education. Furthermore, the online education system established during the COVID-19 pandemic continued to be used as one of education models during the armed conflict. However, attacks on the energy system compromises this model's effectiveness. Ensuring access to education for children in de-occupied regions, such as Kharkiv and Kherson, is a particular challenge.
Destruction and devastation of medical institutions by attacks prevents people to access health protection. Additionally, attacks on transport and energy infrastructure limit mobility of patients and indirectly reduces enjoyment of the right to health. Patients with chronic conditions and those who have need for urgent medical treatment are particularly affected by this situation.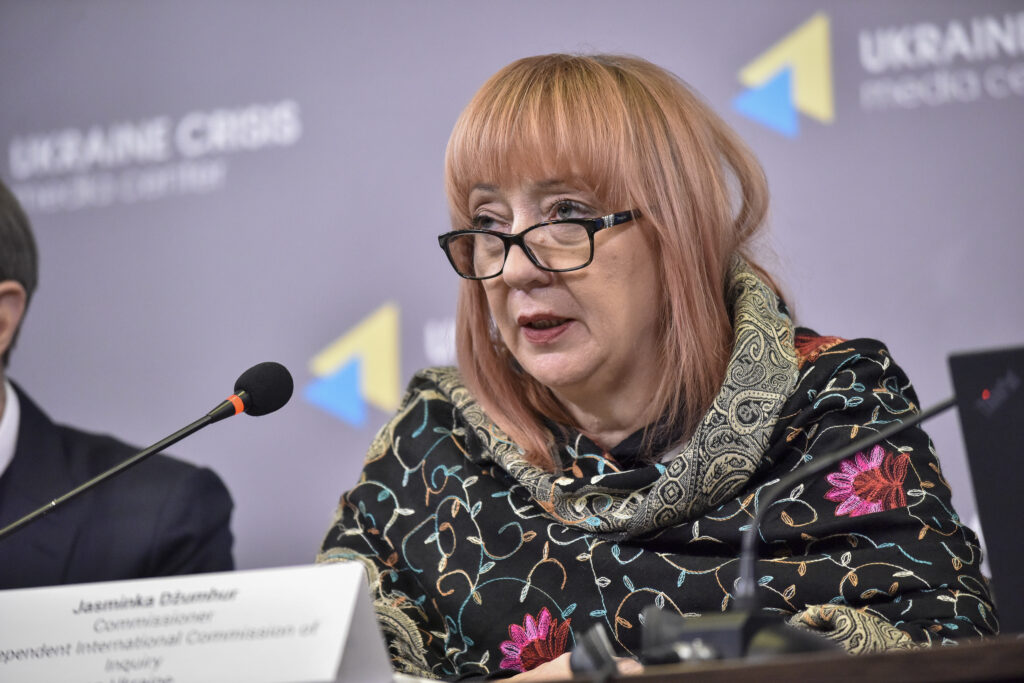 Pablo de Greiff, Member of Commission of Inquiry on Ukraine
The Commission has long insisted that it would take a victim-centric approach to its work, and that this covers accountability in broad terms, including criminal justice, victims' rights to truth and reparations, as well as guarantees of non-repetition. This is the notion of accountability contained in existing international legal instruments. Exchanges with stakeholders this week confirms the importance of this multidimensional conception of accountability.
The right to truth in the sense of full accounts of what happened to individual victims, or a more comprehensive account of the conflict, will require proper truth-gathering strategies and structures that may come later. In conflict situations, it is not uncommon to begin the process by the recovery of remains and information about missing persons.
In most cases of interstate conflict, 'reparations' is often understood mainly in terms of reconstruction, and there is certainly a lot of reconstruction to be done in Ukraine. But reparations go well beyond reconstruction. The establishment of a comprehensive reparations programs is a long-term process, which calls for consultations with those most affected. While its final design and implementation will take time, there are some immediate steps that can be taken by the Ukrainian government without exempting the Russian Federation from its responsibility. Victims have needs that require immediate attention. To this end, the establishment of a victims' registry or a victim-friendly functional equivalent will facilitate access to support services, for example mental health and psychosocial support to those exposed to violence, including displaced persons.
Consistent with our mandate, we will continue to investigate violations of international human rights law, international humanitarian law and related crimes, and, where possible, seek to identify those responsible. National and international efforts being carried out in Ukraine for this purpose are well-known. The Commission continues to try to contribute to these manifold initiatives. It is important to note that the achievement of criminal justice in circumstances of conflict is a resource-intensive and time-consuming exercise. In its comprehensive report in March 2023, the Commission will also make recommendations concerning the various possible mechanisms of accountability.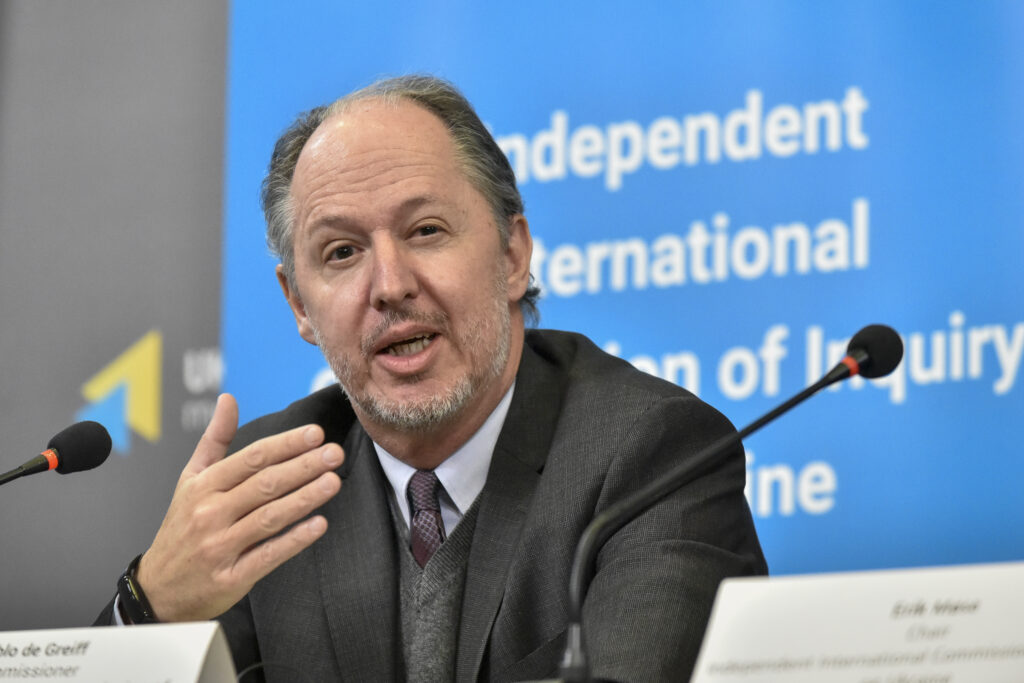 Background: The UN's Human Rights Council created the Independent International Commission of Inquiry on Ukraine to investigate all alleged violations and abuses of human rights, violations of international humanitarian law, and related crimes that may have been committed in the context of the aggression by the Russian Federation against Ukraine. The fact-finding mission is led by three Commissioners: Erik Møse of Norway (Chair), Jasminka Džumhur of Bosnia and Herzegovina and Pablo de Greiff of Colombia. The Commission is required to present its findings and recommendations, including on accountability measures relating to those responsible for the violations, to the UN Human Rights Council in March 2023. More information about the work of the Commission can be found here