Kyiv, 12 November 2014 – Terrorists supported by direct participation of Russian military and instructors continue preparations to the offensive against the Ukrainian Armed Forces and civilians. Military equipment and convoys with manpower arrive in Ukraine from the territory of Russia. Such statement was made by Colonel Andriy Lysenko, spokesman of the Information Analytical Center of the National Security and Defense Council of Ukraine (NSDC) at a briefing in the Ukraine Crisis Media Center. "As per intelligence information yesterday at midnight the so-called "Cargo-200" (possibly Russian Federation military casualties) was moved from the territory of Ukraine through the closed "Dovzhansky" border crossing point (Luhansk region) in 5 trucks owned by a Rostov funeral services company," added the NSDC spokesman.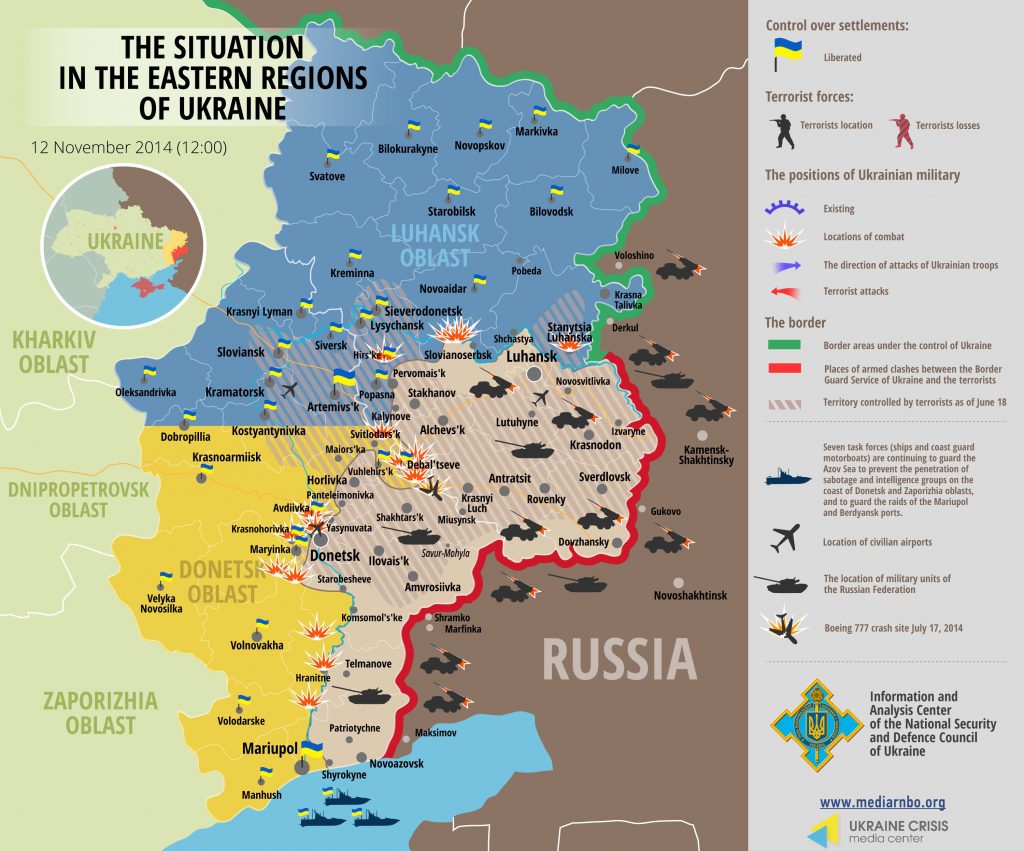 Within the last day terrorists have been most active at Debaltseve, Donetsk and Luhansk directions. At Luhansk direction militants used Grad MRLS and mortars over ten times. "Yesterday at 17.25 joint unit of border guards and servicemen of the Ukrainian Armed Forces while patrolling Stanytsia-Luhanska discovered the enemy's subversive group near the central district hospital and engaged in combat. There are no losses among our military, the enemy was repelled. At the moment the mop-up operation is on to clear the area from terrorists," noted NSDC spokesman. As per intelligence data in Luhansk militants are wearing Ukrainian uniforms with insignia of Aidar battalion to commit provocations and subversions.
As a result of shelling and engagements within the last day 1 serviceman was killed, 5 injured.
UN Security Council will hold an extraordinary session today due to the escalation of the situation in the East of Ukraine. At the session representatives of UN Secretariat will report on the situation in Ukraine, Yuriy Sergeyev Permanent Representative of Ukraine to the United Nations will take part. The session will start at 14.30 local time (21.30 Kyiv time) and will be open.
General Philip Breedlove, the Supreme Allied Commander Europe of NATO Allied Command Operations said that NATO is concerned about convoys of trucks taking artillery and supplies into east Ukraine from Russia. The General noted that the number of Russian troops inside east Ukraine who were helping and training militant forces to use sophisticated weaponry had probably risen. Breedlove also said Russia continued to keep about eight battalions of troops on Ukraine's border, and had moved forces capable of delivering nuclear weapons to Crimea.
Danish Foreign Minister Martin Lidegaard dubbed inacceptable continued supply of equipment and of militants from Russian territory. He also underlined that the humanitarian situation on the territory controlled by the militants is worsening.
Spokesperson of the high EU representative for foreign affairs and security policy Maja Kocijancic stated that on 17 November EU Foreign Affairs Ministers will discuss a possibility of introducing new sanctions against Russia in regard to the situation in Ukraine. According to her new restrictive measures for Russia have been prepared in Brussels, these suggestions continue being topical.