Kyiv, January 10, 2015. Operatives of the State Security Service of Ukraine have detained a member of the "Skhid" ["East"] criminal group nicknamed "Korol" ["King"] who was going to organize a number of terrorist acts in the Zaporizhzhia oblast, reported Col. Andriy Lysenko, ATO spokesperson, during the press-briefing at Ukraine Crisis Media Center. Another detained terrorist belonged to the "Oplot" terrorist group; he attacked Ukrainian servicemen and worked as a bodyguard for several terrorist leaders.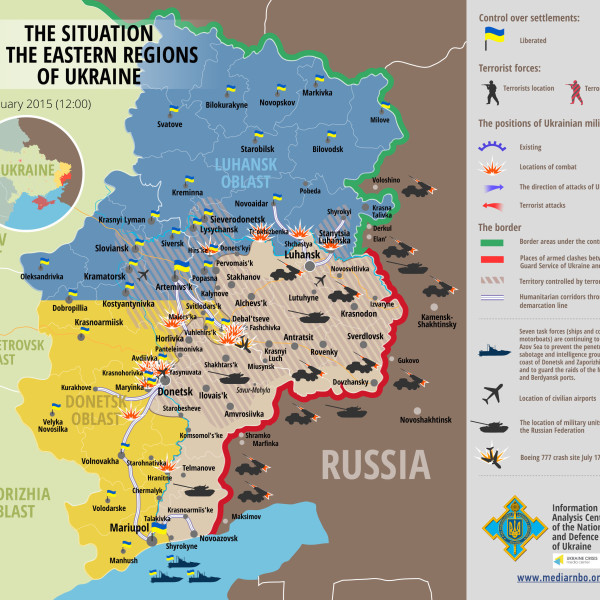 Col. Lysenko noted that the number of armed provocations against Ukrainian soldiers decreased. However, terrorists keep using heavy arms, particularly the "Grad" missile systems. These attacks coincide with the recent arrival of Russian so-called "humanitarian convoy" to Ukraine.
"On January 9th, around 12:30 pm, terrorists attacked a battalion of the National Guard of Ukraine. Ukrainian servicemen repelled the attack. Two soldiers were killed and 20 got wounded in the last 24 hours throughout the entire ATO zone," said the ATO spokesperson.
It has been noted that due to the terrorists' activity 20 towns in the ATO zone have suffered power cuts, while four towns lost their gas supply.
Residents of Donbas do not want to fight against the battle-hardened Ukrainian Army. Due to the lack of manpower, terrorists are forced to throw an aggressive recruitment campaign among the members of the pro-Russian military groups in Crimea, but to no avail.
A police unit from the Transcarpathia oblast was sent to the ATO zone for the ninth time as part of the military rotation process.
Col. Lysenko highlighted that according to Derek Chollet, U.S. Assistant Secretary of Defense for International Security Affairs, the United States would continue the rotation of its troops in Eastern Europe. NATO, on the other hand, plans to increase its military presence in Central and Eastern Europe, as well as to further develop military collaboration between Ukraine, Georgia and Moldova with the NATO member-states.