Kyiv, September 13, 2015. Ukrainian Defense Minister Stepan Poltorak came to the ATO area to congratulate the military on the holiday and discuss the political situation in Ukraine. During his visit, Poltorak awarded 50 soldiers of the 1st separate tank brigade and 17-th separate tank brigade with the Defense Ministry insignia, valuable gifts and cash prizes for dedication and perseverance. "On this occasion we want to congratulate Ukrainian tankmen and wish them to be true armor for protecting peace and tranquility in our country," expressed his congratulations during a press briefing at Ukraine Crisis Media Center the spokesperson of the Presidential Administration of Ukraine for ATO-related issues Colonel Olexandr Motuzyanyk.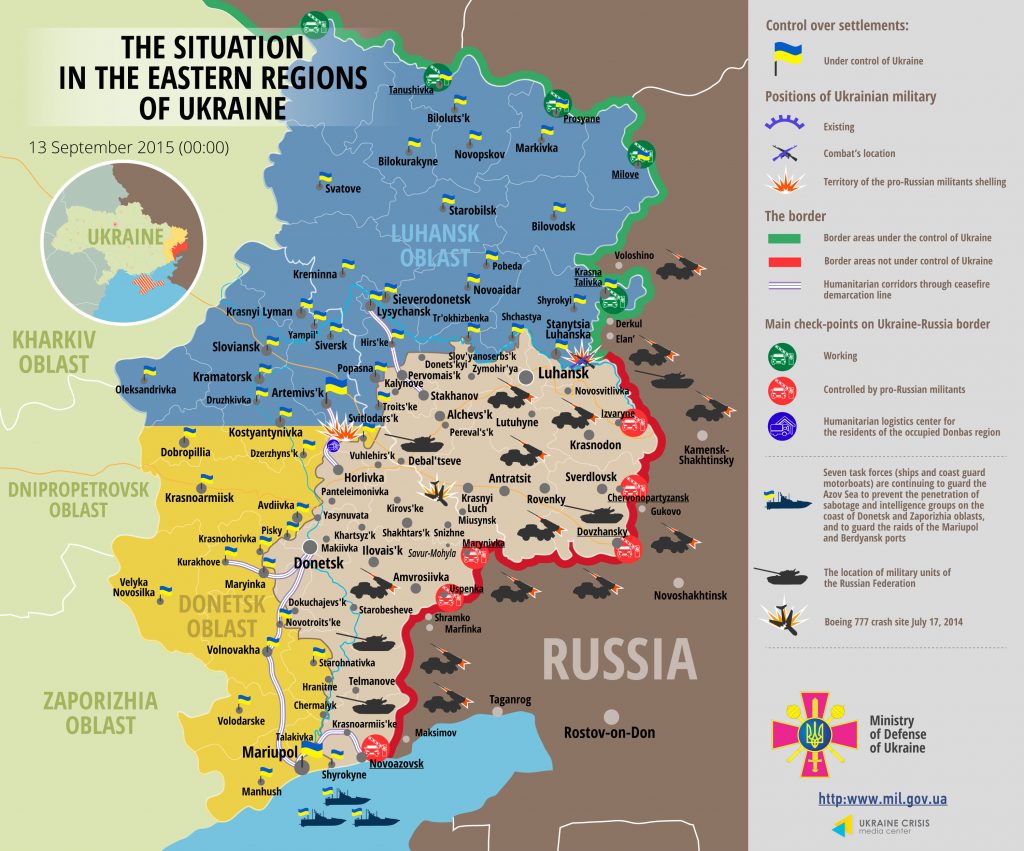 Ceasefire still holds in the ATO zone. Militants violated the truce only 3 times over the day.
In Luhansk sector a sabotage and reconnaissance group tried to attack the Ukrainian stronghold near Syze. "Thanks to the skillful actions of the Ukrainian military the enemy quickly retreated. The ATO forces did not suffer any losses in this battle," said Motuzyanyk.
In Donetsk sector militants showed only minor activity in Horlivka northern outskirts. Thus, according to Motuzyanyk, militants used small arms twice near Travneve and Zaitseve last evening.
Complete ceasefire held in Mariupol sector yesterday.
Over the last 24 hours, Ukrainian Armed Forces did not suffer any lethal casualties, one soldier was wounded.
Employees of the State Border Service of Ukraine detained two Russians who illegally crossed the Ukrainian state border near Milove in Luhansk region. "One of them was a Russian Armed Forces military contractor. Currently, Ukraine's Security Service conducts investigative actions," said Motuzyanyk.
The Ukrainian Security Service discovered a hiding place with guns and explosives in Luhansk region.
According to Motuzyanyk, the arsenal was discovered near the former Butkivka school in Starobilsk district, Luhansk region. "Four guns, four Kalashnikov machine rifles, three Degtyarev machine rifles and TNT charge with total weight over six kilograms were found. According to the latest data, it had been planned to smuggle weapons to the central regions of Ukraine," concluded Motuzyanyk.