Kyiv, October 6, 2015. ATO forces did not register attacks on Ukrainian positions by militant groups over the last day. Yesterday, in the morning, a militant subversive reconnaissance group crossed the Sieversky Donets river in Luhansk region near Tryokhizbenka. "ATO forces quickly discovered the hostile group and forced them to withdraw. One Ukrainian serviceman was wounded while chasing the enemy," said spokesman of Administration of the President of Ukraine on ATO-related issues Colonel Andriy Lysenko at a press briefing at Ukraine Crisis Media Center. Three flights of militant unmanned aerial vehicles (UAVs) were registered in the ATO zone yesterday – near Maryinka and Mariupol, both in Donetsk region.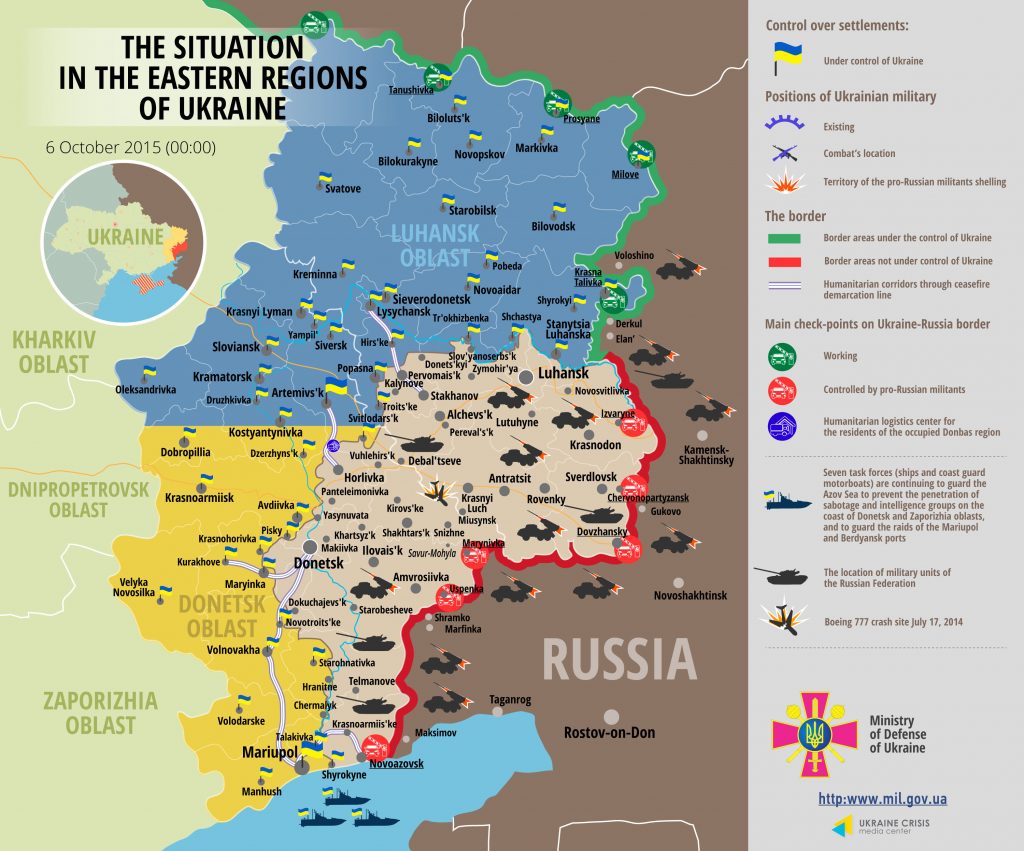 Ukrainian troops are proceeding with withdrawal of weapons of caliber under 100mm. A tank unit of the 24th mechanized brigade of the Ukrainian Armed Forces is one of those that were ordered to relocate to 15km from the combat line. "Already yesterday, in the morning, one company of the tank battalion relocated. We remind that T-64 and T-72 tanks, 85-mm cannons and 82-mm mortars are subject to withdrawal," noted Colonel Lysenko.
Engineering and sapper units of the National Guard destroyed an unexploded ordnance found in the ATO zone. "Around 40 explosion-prone items including grenades, large-caliber rounds of ammunition and ammunition for grenade launchers were neutralized in a chalk quarry in Rayhorodok not far from Sloviansk," reported the ATO spokesman.
Law enforcement officers together with the Ukrainian Armed Forces servicemen detained two  militants from the so-called 'Donetsk People's Republic' ('DPR'). The perpetrators confessed that they enlisted into militant groups voluntarily and actively participated in combat actions against the Ukrainian Armed Forces last year. A female militant informer was detained in Myronivsky, Donetsk region. "The local citizen was passing information on movement of military equipment and manpower as well as data on combat positions and fortifications of the Ukrainian Armed Forces to the militants," said Colonel Lysenko.