A seminar "Government Communication in practice: Estonian experience for Ukraine" was held at Ukraine Crisis Media Center on November 12-13. Program →  
Team of nine Estonian experts  held a series of sessions on various aspects of communication.
Sten Hansson, Expert on government communication, doctoral student of Lancaster University (UK) spoke about different approaches to the concept of public communication.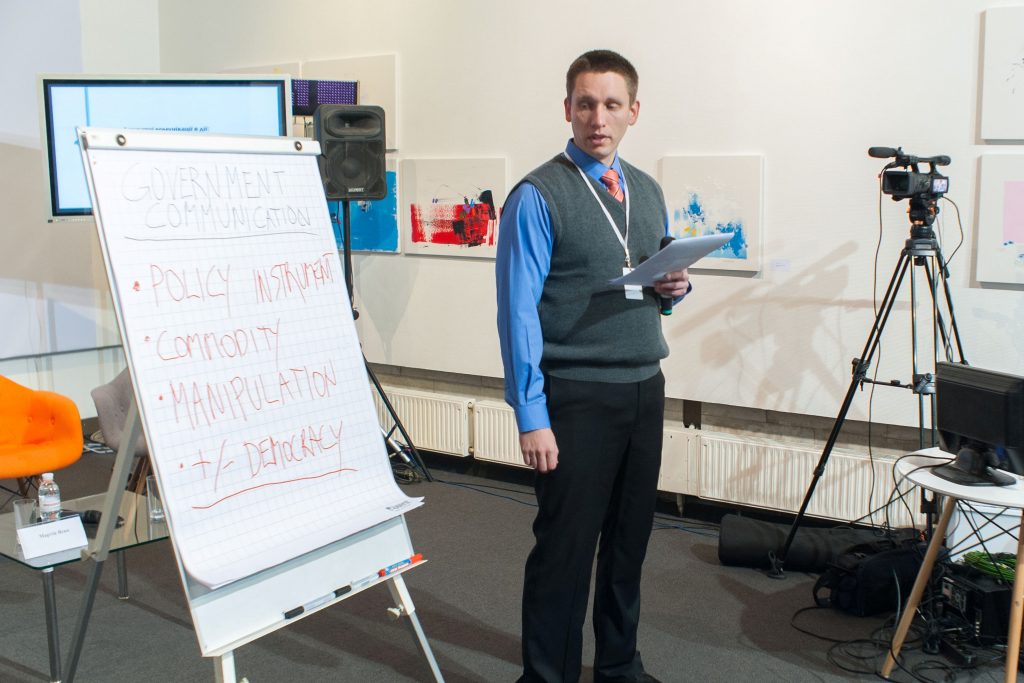 An interesting aspect of this session was the question if there may be too much communication. According to Hansson, it may happen when the government is verbose, produces a lot of boring and improper data, and keeps repeating things. "Too much information does not help, it rather confuses everyone." More on this aspect in Sten Hansson's article .
A separate session was dedicated to measuring government communication. This aspect was presented by Martin Yasko, Former Deputy Head of the Estonian Government Communication Office. In Estonia they measure government communication by the following criteria:
– evaluation given by media;
– level of confidence in government;
– dynamics of patriotic sentiment;
– treatment of national symbols;
– attitude to the European Union.
Uku Arold, Deputy Head of Strategic Communications Department of the General Staff of the Armed Forces of Estonia, shared communication experience of the biggest military training in the history of independent Estonia – Hedgehog 2015. Its symbol was a hedgehog – a little non-aggressive animal, which can defend itself. The campaign had a slogan: "Every needle matters".
According to Arold, "Early initiatives should not be based on public opinion. First you need to implement the initiative, and then measure the attitude to it. "
"Communication with the public is part of each civil servant's daily work, with the exception of accountants," said Hille Hinsberg, Expert on Governance at PRAXIS Centre for Political Studies, a former communications advisor to Estonian Government.
A fact that aroused special interest was that in Estonia, a ministry responsible for drafting the bill is responsible for its communication. No bill can be adopted by a ministry until its communication team prepares a short reference with clear explanation of the key points.
All presentations:
Uku Arold. Measurement in defence communications 
Uku Arold.  Developing modern veteran policy and raising servicemen image in society  
Dmytro Burnashev. 25 years of integration: Estonian experience  
Erki Peegel. Low-budget communication campaigns. Case studies from Estonia.
Kristiina Herodes.  Communication of the prosecutor's office and the courts in Estonia.
Hille Hinsberg. Information, consultation and collaboration and their different promises for participation.
Martin Yasko. Measuring communication.