Kyiv, December 17, 2015. Combat actions in ATO zone yesterday were not intense. Militants were not active in the Luhansk and Mariupol sectors. No incidents of heavy weapons use by militant groups were registered. At the same time a "sniper war" goes on near Avdiivka and Pisky, said Presidential Administration spokesperson on ATO related issues Col. Andriy Lysenko at a press briefing at Ukraine Crisis Media Center.
He said militants violated the ceasefire on Svitlodarsk salient near Luhanske using grenade launchers and machine guns. A similar situation exists on the outskirts of Horlivka – in Zaitseve, Leninske and Novhorodske. "All these attacks were not targeted and in most cases lasted not more than 15 minutes," noted Colonel Lysenko. Two thirds of militant provocations yesterday were registered in Pisky.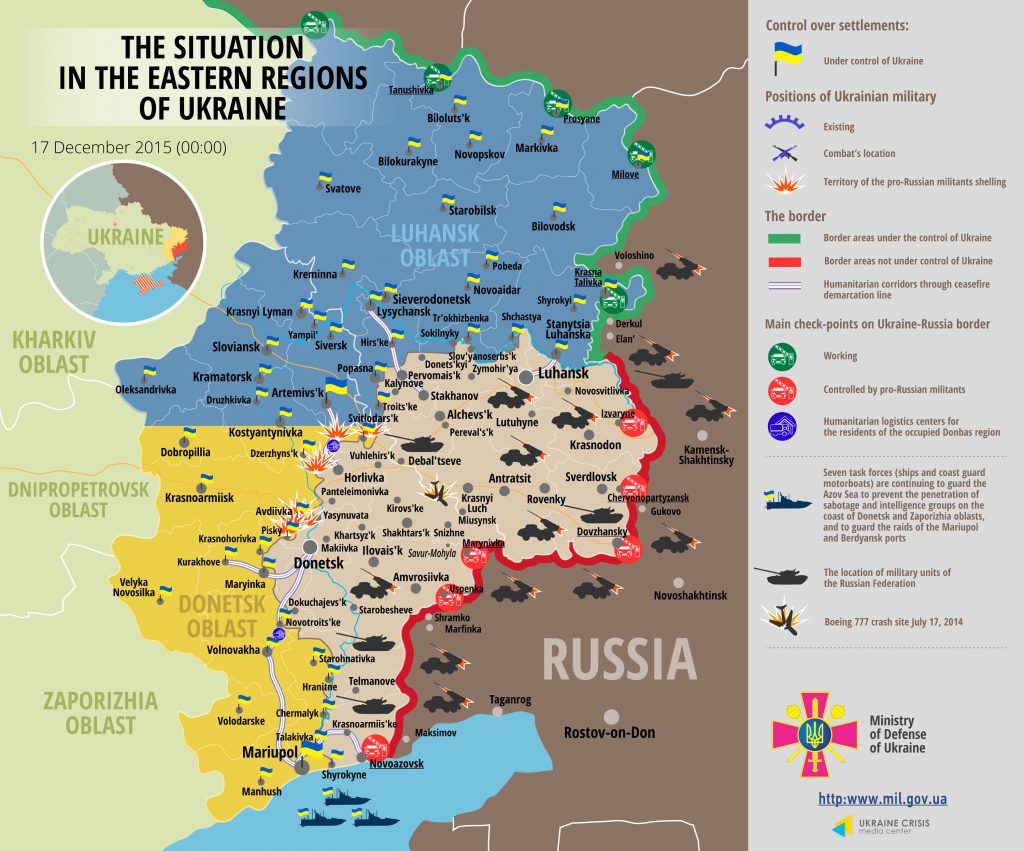 Militant snipers on their positions at the Donetsk chemical plant and on the cemetery by the airport made four targeted attacks upon Ukrainian troops yesterday. "The ceasefire was also violated between Avdiivka and Opytne where a militant sniper was firing from the direction of Spartak," added Presidential Administration spokesperson on ATO related issues.
Ukrainian troops incurred no casualties over the last day, two servicemen were wounded in action.
Colonel Lysenko also said that Ukrainian border guards detained an artillerist of the so-called "LPR" who was in try to illegally cross the border. Law enforcement staff discovered one of the biggest weapon caches. "Law enforcement staff seized weapons and ammunition from an abandoned warehouse in Novoaidar, Luhansk region including RPG-22 hand-held antitank grenade launchers, about 300 pieces of ammunition for various grenade launchers, over 40 RGD-5, F-1 and RGN grenades, two boxes with 23-mm rounds of ammunition and over five thousand of small arms rounds," elaborated Colonel Lysenko.