Kyiv, February 23, 2016. Ceasefire is holding in the Luhansk sector of the ATO zone. In the Donetsk sector militants once used a 120-mm mortar near Opytne village. Militant snipers intensified activities in Pisky. Highest number of hostile attacks took place in Novhorodske and Avdiivka. Considerable part of them included precision fire. In the Mariupol sector two short-lasting mortar attacks were registered over the last day – in Krasnohorivka and Hnutove. Both of them were made in the dark time of the day. Militant sniper was firing upon Ukrainian troops in Maryinka. Ukrainian troops incurred no fatalities over the last day, two servicemen were wounded in action. At the same time according to the Main Intelligence Directorate of Ukraine's Defense Ministry four Russian troops were killed in action and seven more were wounded in action near Krasnohorivka and the Donetsk airport, said Colonel Andriy Lysenko, spokesman of Presidential Administration on ATO-related issues at a press briefing at Ukraine Crisis Media Center.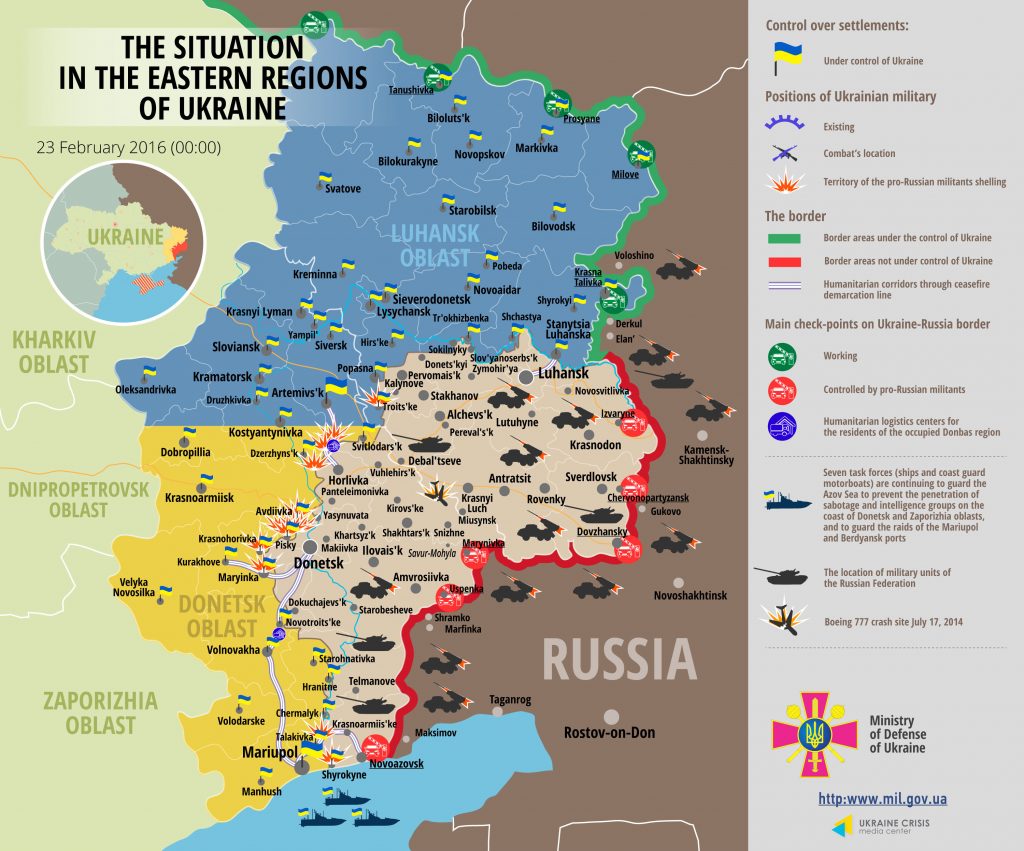 Ukrainian military intelligence reports on decrease of morale and discipline on the part of militants, they are being forced to conduct subversive raids in proximity to positions of the Ukrainian Armed Forces. "Thus militants of the two units of the so-called "100th separate motor-rifle brigade" of the "Donetsk People's Republic" ("DPR") militant group deployed to Donetsk refused to follow the orders issued by their commanders," added Colonel Lysenko.
He also said that two militant sappers were killed on February 21. They used to belong to the so-called "7th separate motor-rifle brigade" of the "Luhask People's Republic" ("LPR") militant group (deployed to the area of Debaltseve). Conflicts between local residents and militants are in place. "In Horlivka civilian incurred grave stab wounds in course of the conflict with a militant," explained the ATO spokesman.
Colonel Lysenko said that Ukraine's Security Service detained a female militant who served as informer and artillery spotter. She was guided by the militant nicknamed "Starshyna". She was paid for her activities. Border guards detained one more militant in Kramatorsk. He was actively taking part in clashes across the city and was later standing guard at checkpoints.