Dramatic increase in shelling at the positions of Ukrainian soldiers, mostly attacked area – Donetsk sector.
Kyiv, May 23, 2016.  Over the past day, Avdiyivka remained the main hot spot in the ATO area. "Just after midnight the enemy artillery battery located in the village of Spartak opened fire on our positions. 240 shells were fired within an hour. In the afternoon, the enemy fired about 30 mortar bombs from 82-mm mortars," informed Col. Andriy Lysenko, Presidential Administration spokesperson on ATO related issues, at a press briefing at Ukraine Crisis Media Center. Militants also violated the ceasefire in Zaitseve, Nevelske and Krasnohorivka. In Donetsk sector, the illegal armed groups carried out a total of 10 attacks, six of which – with the use of heavy weapons.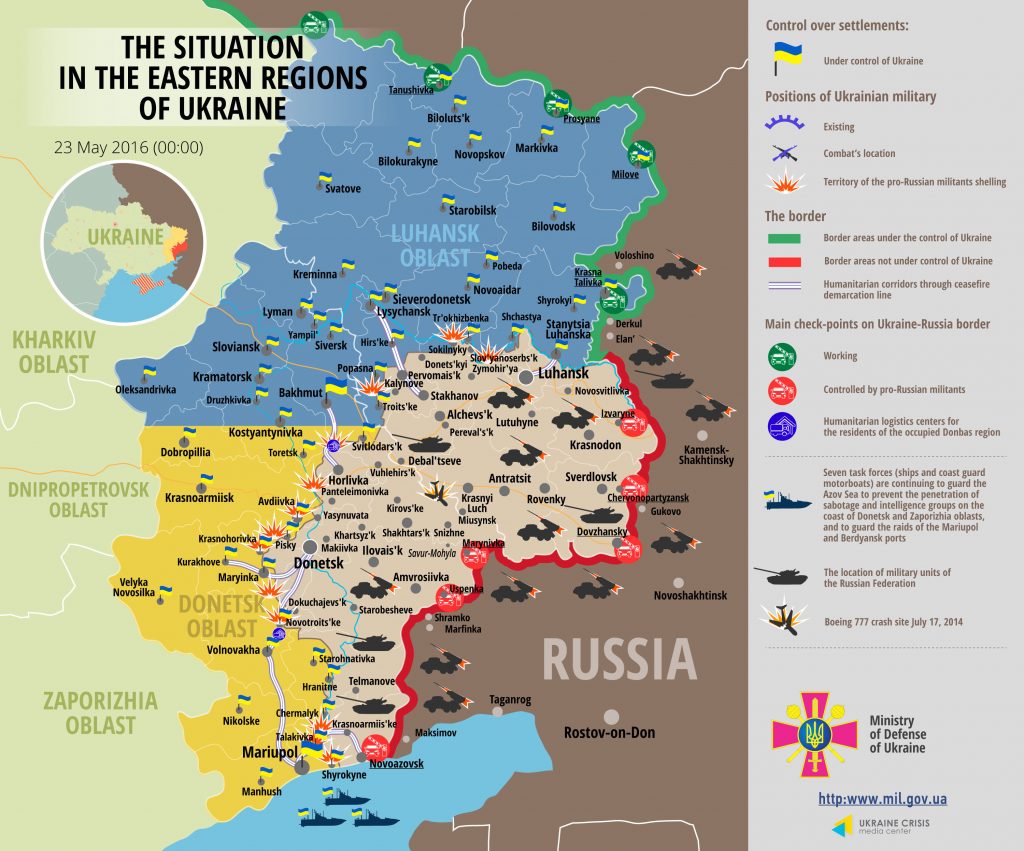 In Mariupol sector, militants carried out 17 attacks, four of them – with the use of heavy weapons. "In particular, they held a series of mortar attacks in Krasnohorivka and an artillery attack in Shyrokyne. In addition, the enemy used infantry combat vehicles, ATGM vehicles anti-aircraft guns and snipers. It was restless on all fronts yesterday, except the area of Maryinka and Granitne," informed Colonel Lysenko. In Luhansk sector the illegal armed groups violated the ceasefire 4 times. "In particular, the militants fired in Zhovte and Sokilyki, where usually it is quite calm. Besides, the enemy snipers opened fire twice in Nozvanivka," noted the Presidential Administration spokesperson on ATO related issues.
"Over the past day of hostilities one Ukrainian serviceman was killed and three were injured as a result of the enemy mortar attack in the Avdiyivka industrial zone," noted Andriy Lysenko. According to the available information, three enemy fighters were injured. They belonged to the sabotage and reconnaissance groups.
According to the Chief Intelligence Directorate of the Ministry of Defense of Ukraine, yesterday the militants used 2 drones in Mariupol and Donetsk sectors. "Drones from Russia crossed the uncontrolled section of the border of Ukraine near the village of Markyne (Novoazovsky district) and near Ulyanivske (Amvrosiivskyi district)," noted the spokesperson.
Yesterday, the police detained the inhabitant of Novovasylivka (Krasnoarmiysk district, Donetsk region), who fired with automatic weapons in his yard. "During the searches of the incident perpetrators' houses the police seized 10 hand grenade launchers, more than 100 grenades for a rifle-attached grenade launcher, 10 hand grenades, nearly 3,000 rounds of ammunition of different caliber and automatic AKSU-74 submachine gun," informed Colonel Lysenko.
Andriy Lysenko also informed that yesterday 18 trucks with nearly 320 tons of food for residents of temporarily occupied territories crossed "Zaitseve" checkpoint. The humanitarian aid was given by a charitable organization.
The Presidential Administration spokesperson on ATO related issues also noted that yesterday the military snipers completed their training course conducted for the third time. They were trained under the guidance of instructors of the Armed Forces of the United Kingdom.