Situation is intense in the Mariupol sector, in Donetsk sector situation is restless in the "usual" city of Avdiivka, militants get heavy arms reinforcement from Russia.
Kyiv, October 21, 2016. Intense mortar attacks at Ukrainian troops' positions continue in the Mariupol sector in Krasnohorivka – Mariinka frontline area, Taramchuk and Shyrokyne, informed the spokesman of the Ministry of Defense of Ukraine on ATO related issues Colonel Andriy Lysenko at a press briefing at Ukraine Crisis Media Center. "According to the military intelligence, the so-called 9th regiment of Russian troops which occupies positions in the Mariupol sector, was reinforced by anti-aircraft mount battery MSTA-B," said Col. Lysenko. In total, 26 militants' attacks took place in the Mariupol sector yesterday, and 11 of them involved use of heavy armor. The total number of missiles launched at Ukrainian positions exceeded 170.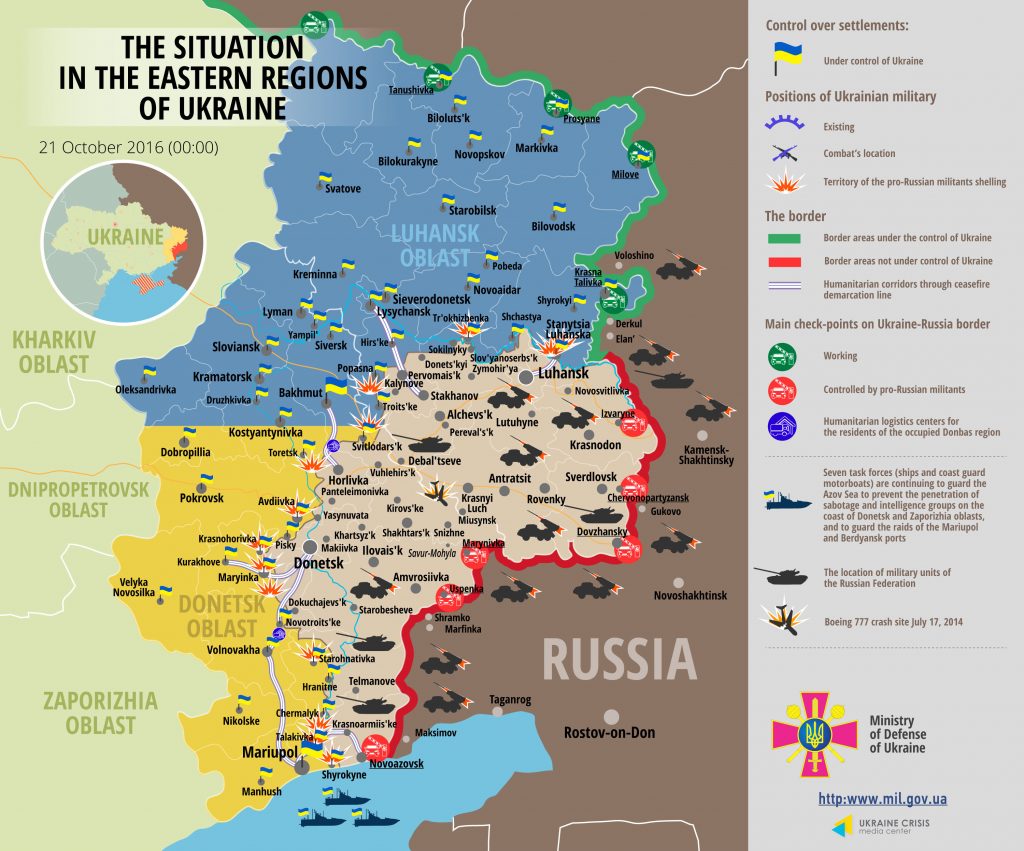 It was the first time in recent months that the epicenter of combat moved to Stanytsia Luhanska district. In addition to attacks on the frontline, south of the town, militants violated the ceasefire in other areas several times – in Valuiske and Kindrashivska station. Mortar launchers were used in addition to small weapons. "Moreover, attacks took place in Triokhizbenka and Novozvanivka. Adversaries' activity in Popasna district reduced almost to zero," emphasized the spokesman. In total, nine militants' attacks happened in Popasna district, and one of them involved use of heavy armor.
Ukrainian Armed Forces incurred no losses, and one serviceman was injured in Avdiivka as a result of militants' attack. Insurgents' confirmed losses amounted to two people dead.
Main hostilities in the Donetsk sector take place in the Avdiivka industrial area, like in the previous days. In addition to mortar launchers, militants were using a tank and 152-mm cannons.
The total number of missiles launched from heavy armor reached 60. "Moreover, Russia-backed militants violated the armistice in Luhanske and Novhorodske.  Both attacks took place during the hours of darkness and lasted about 20 minutes," said Col. Lysenko. In total, militants conducted six attacks in the Donetsk sector yesterday, and four of them involved use of heavy armor.
Another batch of reinforcement for militants arrived from Russia. For instance, 10 railway wagons with ammunition arrived to Ilovaisk station. "Afterwards the ammunition will be taken to Mospyne and Donetsk. Four wagons with ammunition arrived at Amvrosiivka station," said the spokesman.
The Security Service of Ukraine (SBU) prevented a separatism attempt in Chernihiv region. A group of criminals was trying to organize a quasi-state formation "Titular sovereign nation of Ukraine." "They were producing all the attributes – "passports", "IDs", "car plates" and "regulations." Pretrial investigation is in process now," informed Col. Lysenko.