April 13, 2020. Situation in the combat zone
Russia-backed militants keep firing at Ukraine's Joint Forces' positions continuously violating the ceasefire.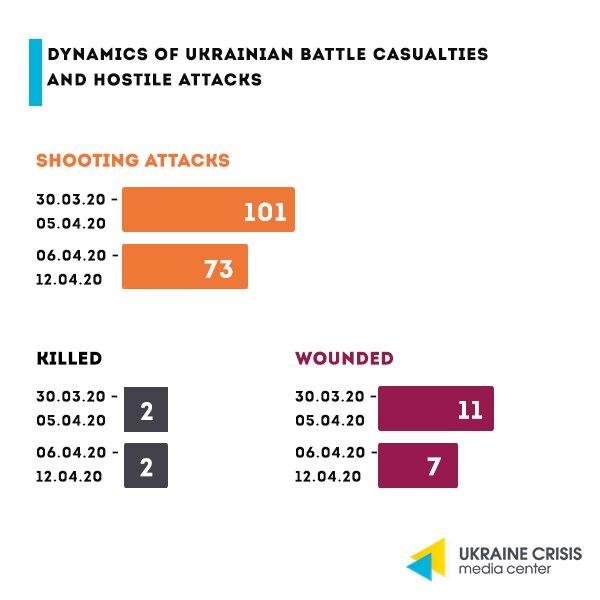 They fired upon Ukrainian troops' strongholds from antitank missile systems, weapons mounted on infantry fighting vehicles, grenade launchers, heavy machine guns and small arms.
On April 11 Russia's proxies fired from Minsk-proscribed 122-mm artillery, 82-mm and 120-mm mortars as well as from grenade launchers, heavy machine guns and small arms.
COVID-19. The number of confirmed coronavirus cases in the Ukrainian Armed Forces reached 19, one person has recovered and one death has been recorded. Two hundred and fourteen persons were isolated, some are self-isolating. Twenty-five servicemen are to end isolation in the next three days.
---
Economy: "anti-crisis" budget and macroeconomic projections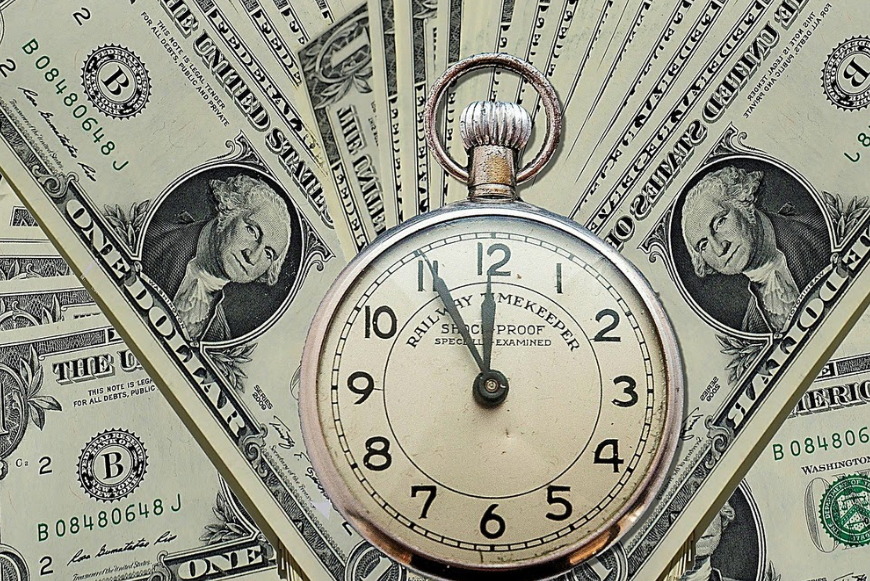 On April 13 the Parliament adopted amendments to the state budget 2020. According to the draft law published on the Parliamentary web site, the government expects GDP decline, increase of unemployment rate and depreciation of hryvnia.
The government expects GDP decline of 3,9 per cent. The forecast released before the crisis projected 3,7 per cent economic growth. Actual unemployment rate will reach 9,4 per cent against 8,1 per cent of the projected. Real wages will decrease by 0,3 per cent.
The projected hryvnia to U.S. dollar annual average exchange rate is UAH 29,5 per one USD. According to the previous forecast, the rate would have been UAH 27 per one USD. Inflation will temporarily accelerate reaching 8,7 per cent, while next year it may decrease to five per cent as forecast. At the same time economic growth is projected to resume in the second half of the year and rise over the next years.
It will be possible due to the high demand on Ukrainian agricultural products in world markets, cost decrease on imported energy products and a more stable banking system compared to previous crises.
---
Maidan activists persecuted: State Bureau of Investigation vs Tetyana Chornovol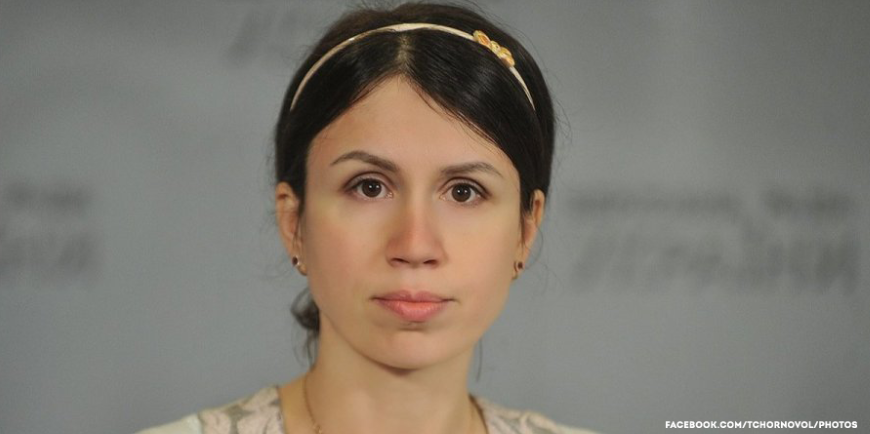 In early hours of April 10 agents of the State Bureau of Investigation searched the house of former MP Tetyana Chornovol as part of investigation into the death of a man in a fire at the office of the "Party of Regions" during the Revolution of Dignity in 2014. Afterwards the State Bureau of Investigation (DBR) charged Chornovol with premeditated murder of the man.
To remind, Tetyana Chornovol became widely known as a journalist investigating into corruption schemes of Yanukovych's regime representatives. She was also active in Maidan during the Revolution of Dignity. She was severely beaten during Maidan, it caused an outrage in the society and was widely covered by domestic and international media. Tetyana started the procedure that enabled confiscating Yanukovych's assets into the state budget after the Maidan.
Tetyana's husband, Mykola Berezovyi was the local chair of "UDAR" (Hook) party in Horlivka, he volunteered to serve in the "Azov" police battalion. On August 10, 2014 he was killed by a sniper while saving a wounded brother-in-arms near Ilovaysk.
On February 18, 2014 a fire broke out in the premises of the "Party of Regions" on Lypska street, protesters then seized the office. DBR claims that the fire casualty was a victim of premeditated murder instigated by Chornovol.
What does Chornovol say? Tetyana Chornovol, MP in 2014-2019, said charges brought against her that accuse her of the arson at the "Party of Regions" office on February 18, 2014 are political persecution as she was an activist during the Revolution of Dignity. She recognizes that she set on fire the premises of the Party of Regions but says the goal was to redirect Berkut's attention and save the protesters. Instead, DBR claims that as of when the building was set on fire, there were no wounded or killed protesters.
Reaction of Petro Poroshenko: DBR is rewriting history at Kremlin's order. Former President of Ukraine Petro Poroshenko accused DBR of lies, he considers the criminal proceeding against Tetyana Chornovol being an attempt to rewrite history at Kremlin's order. He said that DBR is lying when it says that the "Party of Regions" office went on fire, while there were no casualties among the protesters on Instytutska street and in Kriposnyi lane, so Chornovol had no need to distract the murderers by the arson.
"On February 18, 2014 a real massacre in Maryinskyi park started not in the afternoon but in the morning. I was there as well. I was helping the wounded who were beaten by tityshky (thugs) and shot by Berkut," Poroshenko said.
"Why DBR is lying? Current authorities have consciously let Yanukovych's lawyer take over the agency. The actual chair of DBR, or the State Bureau of Repressions, as it is unofficially called, is Babikov who was paid by his 'Rostov-based' client."
"The criminal case against Tetyana Chornovol is an attempt to attack and cross out the values that hold our independence. It is an attempt to put all Maidan participants on trial fabricated by Russia: starting from Heaven's Hundred heroes to those who supported the protest by bringing wood or food. It is a sign of revenge. It is an attempt to rewrite history at Kremlin's order," Poroshenko wrote on his Facebook page.
Interior Minister Avakov: DBR acts inadequately. Interior Minister Arsen Avakov called the search of Tetyana Chornovol's house by DBR as well as murder charges brought against her inadequate and disgraceful. He also suggested that the first deputy head of DBR Oleksandr Babikov resigns and leaves the civil service. "Tanya (Tetyana Chornovol – edit.) was in Maidan, same as hundreds thousands of Ukrainians, she took part in civil protests. Mister Babikov, me too, I was in Maidan on February 18, 2014, I am like Tanya, come to me, I am waiting. Do try. You'd better get the heck out of civil service or return back to Yanukovych. Don't obstruct the President in rebuilding the country, that's already not easy!" Avakov wrote on his Facebook page.
---
Opinion polling: would Ukrainians accept compromises to achieve peace in Donbas?

The Ilko Kucheriv Democratic Initiatives Foundation held a regional survey in Donetsk and Luhansk regions between February 18 and March 2, 2020 assisted by Ukrainian Sociology Service. They interviewed 500 adult respondents in each of the two regions but in the occupied parts.
Compromises for peace. According to the survey, 14 per cent of respondents in Donetsk region are ready to accept any compromises for peace, two years ago they were 45 per cent. In Luhansk region the number decreased from 47 per cent recorded in 2018 to 34 per cent.
Direct talks between Ukraine and occupied areas. The survey revealed that direct talks between representatives of Ukraine's state agencies and occupied areas are seen as acceptable by 71 per cent of respondents in the government-controlled part of Luhansk region and 49 per cent in Donetsk region respectively.
"Special status". Forty-eight per cent of respondents in the government-controlled part of Donetsk region and 52 per cent in the government-controlled part of Luhansk region support granting of a special status to the currently occupied areas and cementing it in the Constitution. Sixty per cent in both regions would support amendments to the Constitution called to make Russian the second official language.
Amnesty and elections. For majority of Donbas residents elections on militants' terms, full amnesty and law enforcement agencies formed of representatives of occupied areas is unacceptable.
Sixty-eight per cent of residents in Donetsk region and 35 per cent in Luhansk region would not accept elections on militants' terms. They would be acceptable though to 15 per cent of respondents in Donetsk region and 36 per cent in Luhansk region.
Fifty-five per cent of the interviewed in Donetsk region and half of the interviewed in Luhansk region disagree with full amnesty to all fighters against the Ukrainian troops. Twenty-two per cent of respondents in Donetsk region and 16 per cent in Luhansk region would agree to it.
As of 9am April 13, 3.102 coronavirus cases including 93 deaths were recorded in Ukraine. Over the last day 325 new cases including 10 deaths were recorded. Ninety-seven persons recovered since the start of the outbreak.
Over the last day Kyiv recorded the record-high number of coronavirus cases – 79, 63 of which are members of the clergy at the Kyiv-Pechersk Lavra. The overall number of cases in Lavra exceeds 90.
On April 13 portable X-ray machines and medical units will be sent to Lavra to take PCR tests. Kyiv's municipal emergency commission put Lavra in quarantine, police is taking control of the measures.Follow Ukraine World's live updates for more details.