Situation in the combat zone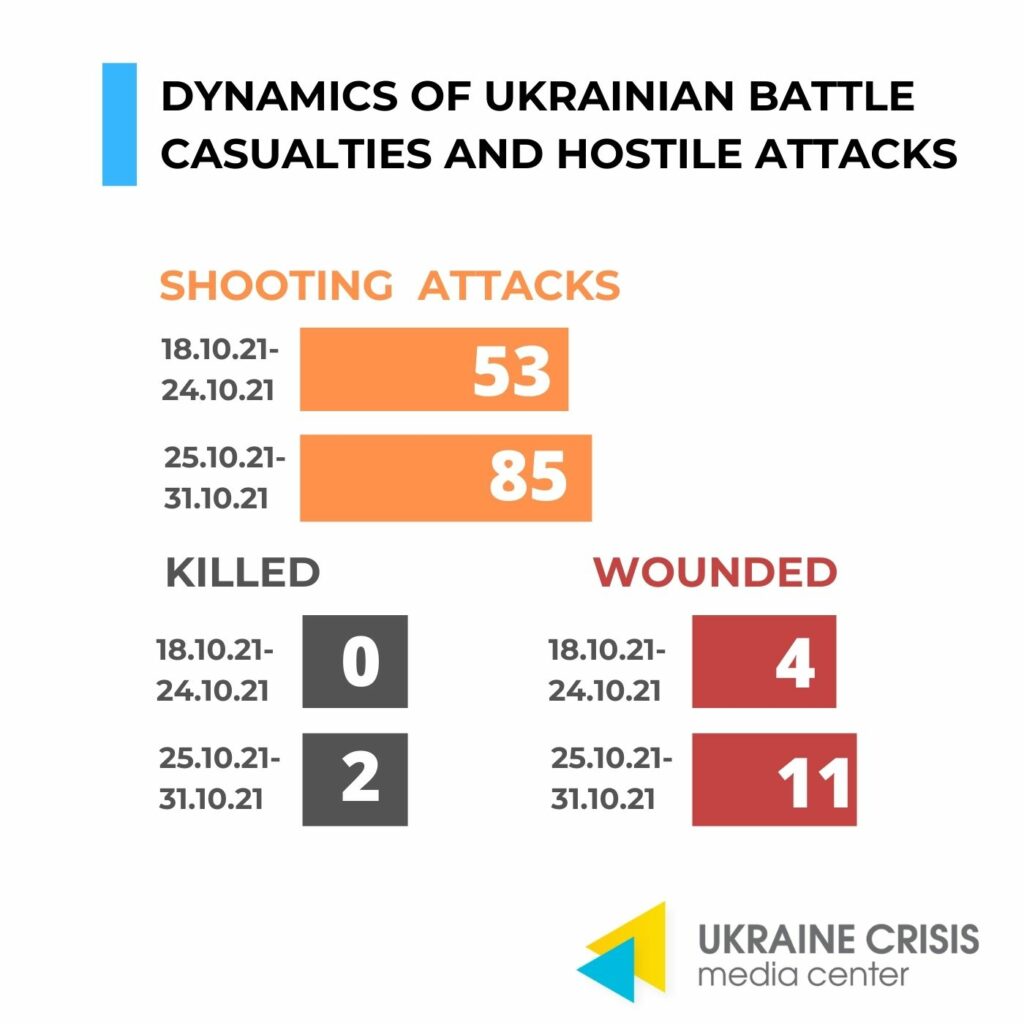 Russia-backed militants continue to launch attacks on the Ukrainian Armed Forces' positions ignoring the ceasefire.
On October 31, Russia's proxies made 14 attacks, of which four included the use of weapons banned under the Minsk agreements. There were similar attacks throughout last week.
Russia again masses troops near Ukraine border
Russia again masses troops on Ukraine border. Russian troop movements have raised concern in the U.S. and Europe as tensions between Moscow and NATO loom.
A renewed buildup of Russian troops near the Ukrainian border has reignited concerns among officials in the United States and Europe who are tracking what they consider irregular movements of equipment and personnel on Russia's western flank, The Washington Post said, citing anonymous officials.
Videos have surfaced on social media in recent days showing Russian military trains and convoys moving large quantities of military hardware, including tanks and missiles, in southern and western Russia. Officials in the U.S. and Europe began noticing the movements particularly in recent weeks, The Washington Post said.
A renewed buildup of Russian troops is happening against a backdrop of rising tensions between the Kremlin and NATO over Kyiv's clear course toward NATO and Russia's own disagreements with the Alliance. Russia suspended its mission to NATO in Brussels on Oct. 18 after the alliance expelled eight members of the Russian mission on accusations of espionage, The Washington Post said.
Ukraine uses Turkish-made Bayraktar drone in Donbas. Key things to know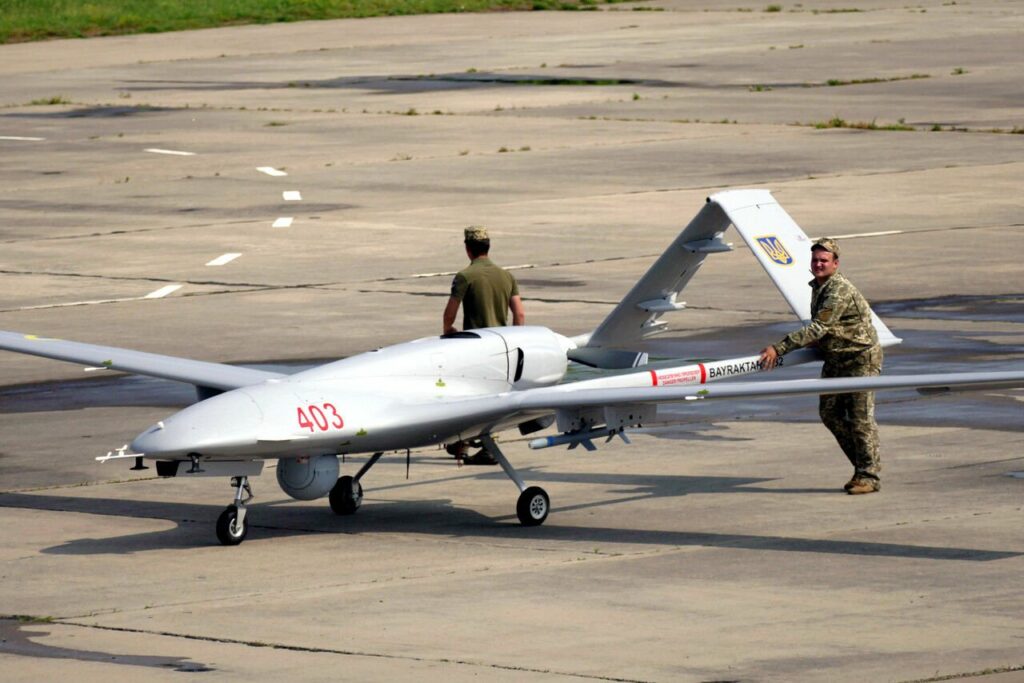 On October 26, the Ukrainian Armed Forces used a Turkish-made unmanned aircraft Bayraktar against Russia's proxy forces. Ukraine launched a drone strike targeting Russian artillery that fired at the Ukrainian troops' positions, prompting an outcry from the Kremlin. Russia responded with a fresh disinformation campaign, and Russian Foreign Minister Sergey Lavrov and the Russian president's spokesperson Dmitry Peskov escalated the rhetoric. Germany and France expressed concern over presumed violation of the Minsk agreements. Despite worries, the U.S. voiced support for Ukraine. Here's a look at the Bayraktar drone, and whether the strike operation violates the Minsk agreements or risks escalating tensions in Donbas.
What are Bayraktar drones? Bayraktar TB2 is a Turkey's built medium altitude tactical drone. Manufactured by Baykar Makina, the unmanned aircraft took its first flight in 2009. The drone gets its name from the surname of the company's owner Özdemir Bayraktar, meaning "flag bearer" in Turkish.
The unmanned aircraft measures 6.5 meters long with a wingspan of 12 meters. Bayraktar TB2 flies at speeds up to 200 kilometers per hour and can stay in the air for up to two days. The drone is capable of hitting targets from a height of seven kilometers. It flies at altitudes beyond the reach of many outdated and low-altitude anti aircraft systems.
Turkey used the drones for the first time in the Kurdistan region in 2014. They have since been used in various military campaigns by other countries. Turkey used the aircraft in the Olive Branch Operation in Syria in 2018 and in a war in Libya. In the conflict over Nagorno-Karabakh in autumn 2020, Bayraktar drones secured an advantage over Armenian troops to Azerbaijani forces. Bayraktar started to be called a "star" in the drone market.
Ukraine acquires unmanned aircraft. In early 2019, Ukraine and Turkey stroke a deal to supply Bayraktar TB2 drones to Ukraine.
The strategic vision released in 2020 projects that the Ukrainian Armed Forces will deploy from six to 12 Bayraktar TB2 ground control stations, bringing the total number of Bayraktar drones to 48 (three to four unmanned aircraft per station).
As of October 2021, Ukraine has 12 Bayraktar drones. Prior to October 26, they were not used for combat purposes.
Implications of the first use of Bayraktar drone in Donbas. On October 26, a D30 howitzer artillery unit of Russia's proxy forces fired at the Ukrainian troops' positions near Hranitne, in Donetsk region, the General Staff of the Ukrainian Armed Forces reported.
"Russians deployed the battery on the road. They did not hide, being convinced that it will go unpunished," said journalist Yuriy Butusov.
They carried out an attack between 14:25 and 15:15. Two Ukrainian service members were wounded in action, later one of them died. Ukraine urged to stop fire through OSCE's Special Monitoring Mission to Ukraine and diplomatic channels. "Occupants did not respond," the General Staff said.
Commander of the Ukrainian Armed Forces Valeriy Zaluzhnyi ordered a Bayraktar drone strike to suppress fire. The drone destroyed a hostile artillery system without crossing the contact line. The attack on the Ukrainian troops stopped.
Are unmanned aircraft banned under Minsk agreements? Russia and its proxy militants accused Ukraine of violating the Minsk agreements by using combat drones within 30 kilometers of the contact line.
The German Foreign Ministry spokeswoman Andrea Sasse expressed concern over growing intensity of hostilities in Donbas. Drones only mandated to the OSCE mission are used by "all sides", Sasse was quoted as saying by DW and Bild.
Ukraine used the unmanned aircraft responding to an attack that Russia's proxies launched from the banned weapons, said Ukraine's Ambassador to Germany Andrij Melnyk.
"Ukraine firmly rejects today's statement by the (German) Ministry of Foreign Affairs," Melnyk told Bild. Ukraine "has the legitimate right to self-defense, if its territory is bombarded day and night with Russian heavy weapons, and civilians and soldiers are killed," he added.
Ukraine has not violated the Minsk agreements, country risk analyst, expert on Russia and Ukraine at HIS Market Alex Kokcharov was quoted as saying by Bild. "The Minsk agreements on ceasefire ban deployment of heavy weapons near the contact line, not the use of unmanned aerial vehicles. Ukraine did not have combat drones when the Minsk agreements were signed in 2014-2015," he said.
Spokesperson of the Ukrainian delegation to the Trilateral Contact Group Oleksiy Arestovych released screenshots of the Minsk agreements in Russian and English. The document bans the use of "foreign unmanned aerial vehicles", and Bayraktar drones are in service with the Ukrainian Armed Forces and are not foreign aircraft, he said.
Ukraine used a combat drone responding to an attack launched by Russia and its proxy militants from 122-mm artillery, he added. One Ukrainian service member was killed, one was wounded, and several civilian houses were damaged in the attack. Coordination mechanism used in response to violation of ceasefire failed.
"The Ukrainian Armed Forces precisely hit the target – hostile artillery that fired at our frontline positions. We could have used artillery, as the target was more than 10 kilometers away, but chose a targeted strike to avoid civilian losses," Arestovych said.
How Ukraine is fighting Covid-19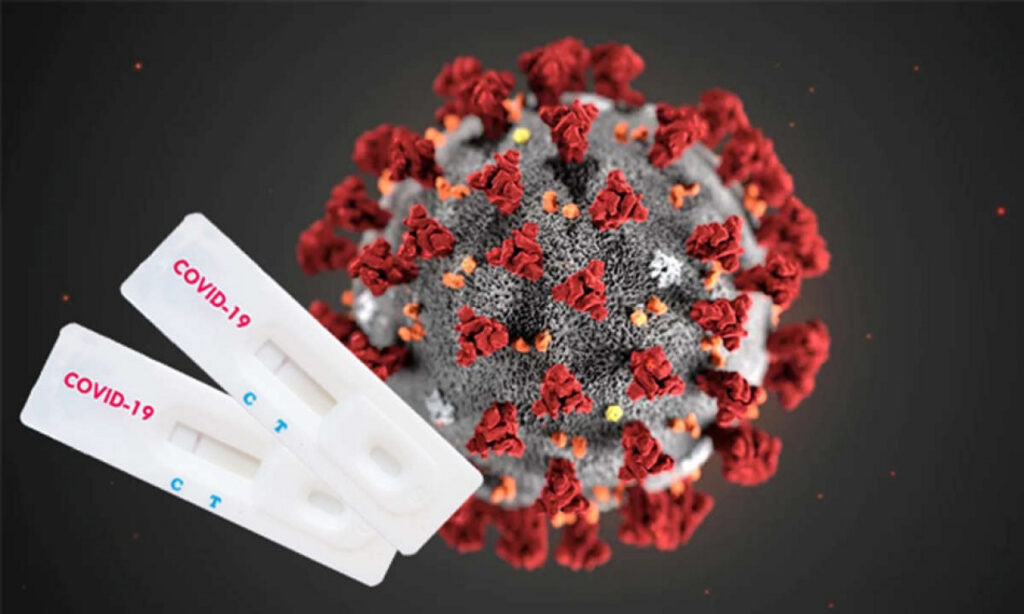 On October 31, Ukraine recorded 13,936 coronavirus cases, 298 deaths, and 5,885 recoveries. Hospitalized were 3,828 people with suspected or confirmed Covid-19. Throughout the pandemic, Ukraine has reported 2,936,238 cases, 2,442,098 recoveries, and 68,027 deaths.
Vaccine mandates. Last week, a majority of regions moved to red zone. Starting November 1, proof of vaccination or a recent negative test result grant access to public transport, shopping malls and indoor dining.
Vaccinations. Last week, Ukraine administered a record number of vaccine doses against looming vaccine mandates. Ukraine made 1,740,231 jabs, exceeding the whole number in June. Soaring infections and vaccine mandates caused a spike in vaccinations.