Situation in the combat zone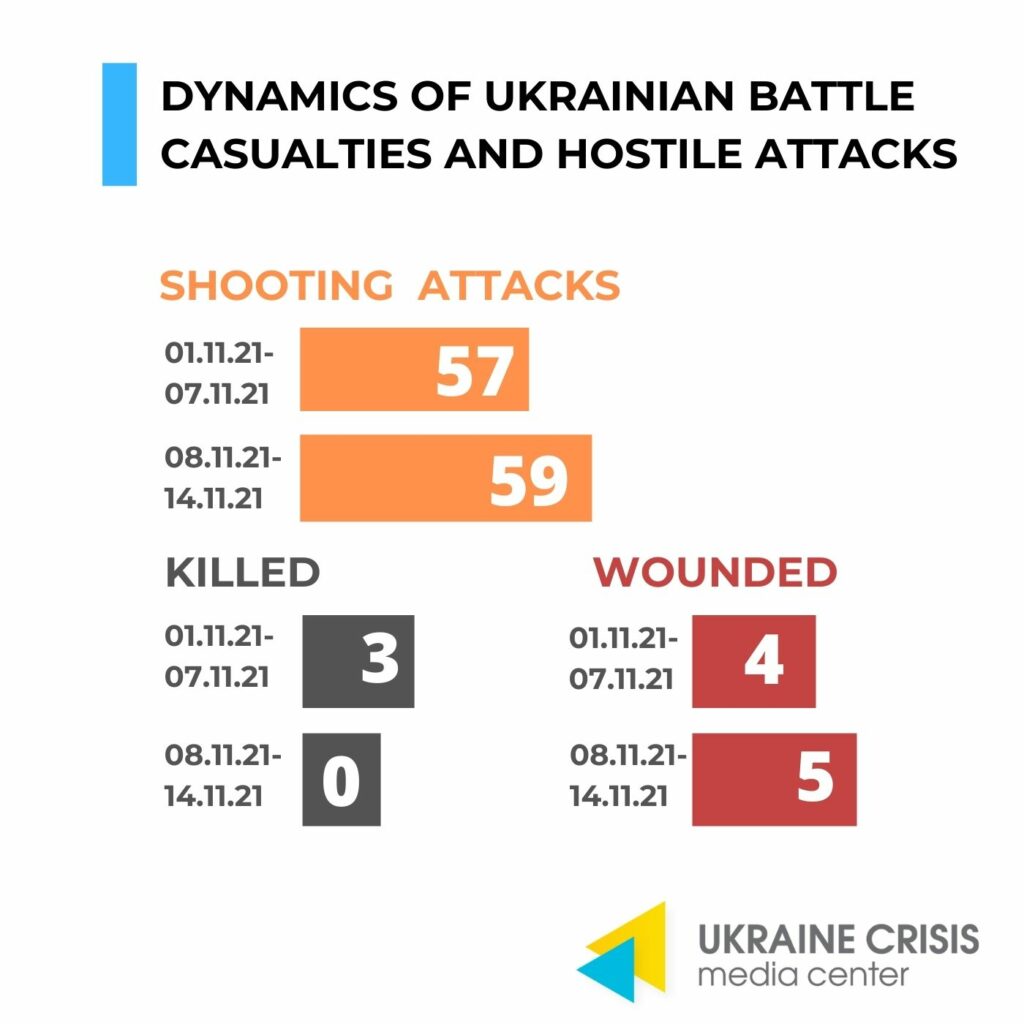 Russia-backed militants continue to ignore the agreements achieved by the Trilateral Contact Group.
On November 14, Russia's proxies carried out 19 attacks, of which seven included the use of weapons banned under the Minsk agreements. There were similar attacks throughout last week.
Buildup of Russian troops on Ukraine border is a real threat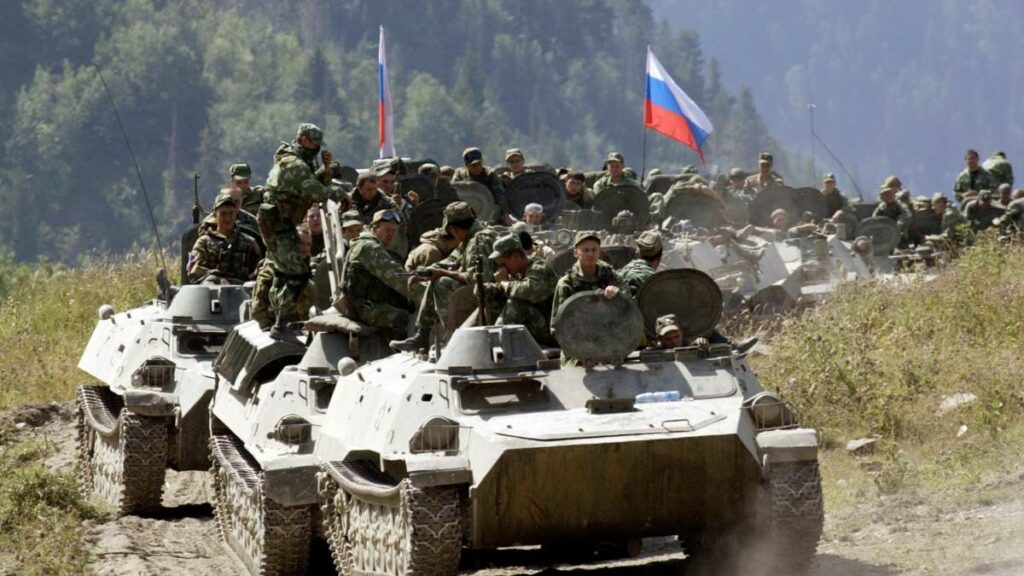 Last week, President Zelenskyi for the first time publicly acknowledged a recent buildup of Russian troops on Ukraine border. More than 100,000 Russian troops are stationed near the border, he said in a video address to the nation.
What Zelenskyi said. The western allies shared information with Ukraine showing intense movement of Russian troops along the Ukrainian border and a buildup of troops, Zelenskyi said.
"The whole world clearly sees who wants peace and who masses almost 100,000 troops on our border," the President said.
He also sent a critical message to media and social media users that "made a fuss".
"There are attacks, buildup and movements of troops in the combat zone for the eighth year in a row. Psychological pressure from Russia doesn't have an impact on us. Your panic will not help us, but may help the adversary. It can be made part of information war, and harm our country as much as military warfare," Zelenskyi said.
Initial reports of troop buildup. In the last days of October, The Washington Post wrote that Russia was once again massing troops on Ukraine border. That happened against a backdrop of Ukraine's talks with NATO over its membership prospects, the outlet said.
Later, Politico released satellite images made on November 1 near the Russian town of Yelnya, 300 km north of Ukraine's Sumy region. The imagery shows a large buildup of materiel. Also, T-80U battle tanks and self-propelled artillery from Russia's tank division were moved to areas around Bryansk and Kursk close to Ukraine's northern border, Politico said. Images of those areas were not provided.
Earlier statements by Ukraine government. Responding to reports by Western media, Ukraine's Defense Ministry initially said Ukraine did not record additional deployment of Russian troops and materiel near the border. Reports of the troop buildup were part of the information psychological warfare, the Ministry said.
The Ukrainian government initially denied the buildup of Russian troops on the border reported by the Western media. On November 7, the Office of the President said it could not confirm reports by U.S. media of a buildup of Russian troops in Crimea, in occupied areas in Ukraine's east, and near the Ukrainian border.
Yet Zelenskyi's latest video address shows that the threat is real, analysts say.
Situation on Belarus-Poland border: latest developments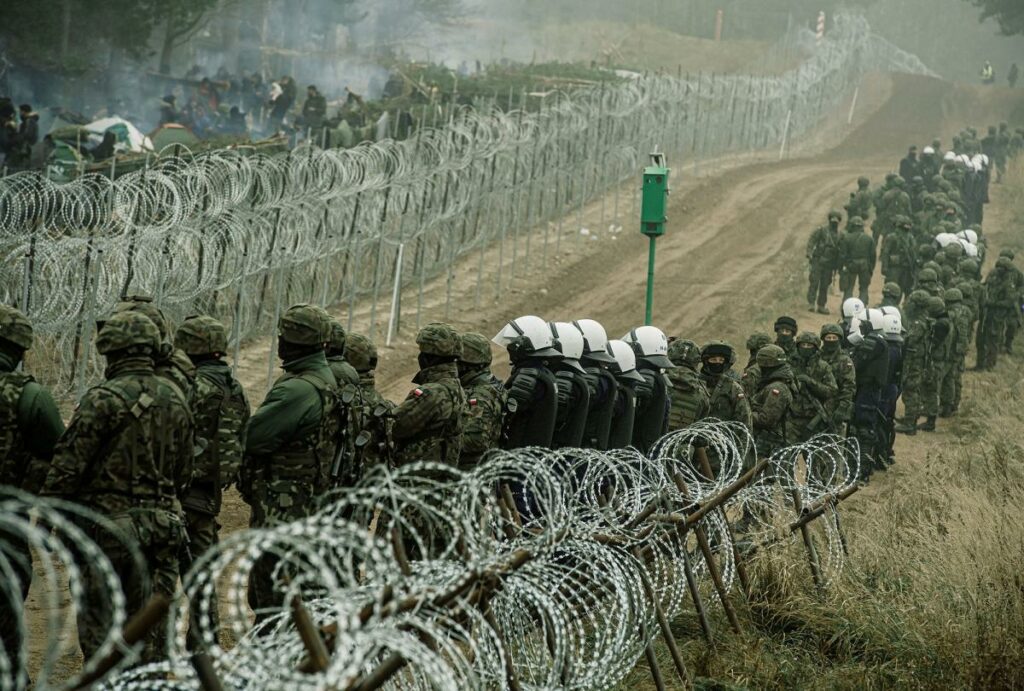 Belarus prepares for a war. Belarus's self-proclaimed president asked Russia's president Putin for military assistance in anticipation of what he views as a possible war. Lukashenka asked to send him several divisions of Iskander tactical missile systems.
"I need several divisions on the western and southern flank. (The range of the missile systems) is 500 kilometers, and our Polonez has the range of 300 kilometers. I am annoying your president (Putin – edit.) as I need those 500-mile range missiles here," Alyaksandr Lukashenka said in an interview with the Russian magazine National Defense as quoted by Interfax Ukraine.
Russia's airborne unit in Belarus. Russia sent an airborne unit to Belarus to train in Grodno region that borders on Poland and Lithuania. They will have joint tactical drills with the Belarusian armed forces, the Russian Defense Ministry said. Russian paratroopers were dropped by Il-76 planes.
Russian paratroopers will return to their permanent bases in Russia after the drills, the Defense Ministry said.
Russia, Belarus strike deal to supply Belarus with military aircraft and weapons. Earlier this year, Moscow and Minsk struck deals to supply Belarus with fighter jets, helicopters, and air defense systems, said Dmitriy Shugayev, director of Russia's federal service of military and technical cooperation. He did not name supply dates.
Russia has nothing to do with escalation, Putin says. Europe blames Russia for the migrant crisis on the Poland-Belarus border in a bid to avoid responsibility, President Putin said. "We have nothing to do with it, nothing at all," he said in an interview with Rossiya 1 television channel. "The key point in the chain is in the EU," Putin said.
He learned about the situation on the border with Poland from media reports and never discussed it with Lukashenka, the Russian president added.
Fake referendum in South Ossetia 15 years on
Fifteen years since the illegal referendum in South Ossetia in a new infographic by UCMC's Hybrid Warfare Analytical Group.
How Ukraine is fighting COVID-19
In Ukraine, Covid cases dip from the latest peak. On November 14, Ukraine recorded 10,802 new coronavirus cases, 442 deaths, and 2,798 hospital admissions.
More than 91 per cent of Ukrainians entering hospitals with Covid-19 last week were unvaccinated, the Health Ministry said.
Vaccinations. Since vaccinations began in Ukraine, 12,228,642 people have received the first dose of a Covid-19 vaccine, and 8,722,235 people have been fully immunized.